AWIS Weather Forecast: One More Night of Frost
Find this article at:
go.ncsu.edu/readext?781802
en Español

El inglés es el idioma de control de esta página. En la medida en que haya algún conflicto entre la traducción al inglés y la traducción, el inglés prevalece.

Al hacer clic en el enlace de traducción se activa un servicio de traducción gratuito para convertir la página al español. Al igual que con cualquier traducción por Internet, la conversión no es sensible al contexto y puede que no traduzca el texto en su significado original. NC State Extension no garantiza la exactitud del texto traducido. Por favor, tenga en cuenta que algunas aplicaciones y/o servicios pueden no funcionar como se espera cuando se traducen.

English is the controlling language of this page. To the extent there is any conflict between the English text and the translation, English controls.

Clicking on the translation link activates a free translation service to convert the page to Spanish. As with any Internet translation, the conversion is not context-sensitive and may not translate the text to its original meaning. NC State Extension does not guarantee the accuracy of the translated text. Please note that some applications and/or services may not function as expected when translated.

Collapse ▲
AWIS Weather Advisory 3/15/2021
Forecast Summary 3/15/2021
created by Karl Harker, AWIS Weather Service; 
It was a cold weekend from about extreme Northern North Carolina thru
VA and into MD and DE, with freezing temperatures. Some areas
got as cold as the middle 20s as colder air was moving into
Eastern areas of the US from Southeast Canada. In the coming days, this cold air will gradually move East by mid-week as warmer air moves in. Some rains will move across the area early this week as this happens, but most totals around 1/2 inch or less. Showers and storms will increase later this week, some locally
strong to severe late Wednesday and Thursday. Rain totals of 1-2 inches, with usual variability possible with these showers and storms.
Potential for at least a light freeze and/or frost this weekend and perhaps next Monday morning.
While not as cold as this past weekend for Northern areas, the
threat of a light freeze or frost will likely extend further South
into the Carolinas and perhaps into Central and Eastern areas of
Georgia.
This Weekend and Early Next Week is to Watch
Minimum temperatures in northern North Carolina will be still in the critical range tonight (Figure 1). However, there is a chance for frost this coming weekend. With warmer temperatures in the forecast for this week, blossoms are expected to be on plants in wide areas of NC. We will update you later this week on weather forecasts for this weekend.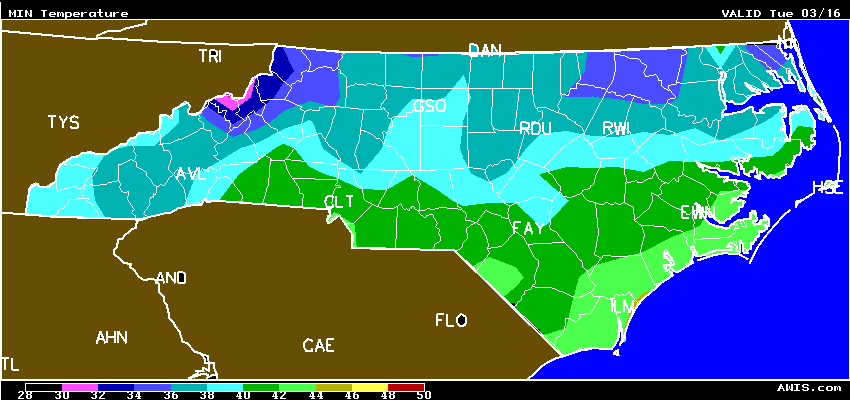 Figure 1: AWIS Weather Service Minimum temperatures for the night of 3/15-3/16 2021 in North Carolina.
Min and Max Temperature Forecasts for Several Regions Across the East Coast
Tables created by AWIS Weather Service
North Carolina
| | | | | | | | | |
| --- | --- | --- | --- | --- | --- | --- | --- | --- |
| | Mon | Tue | Wed | Thu | Fri | Sat | Sun | Mon |
| 3 | /15 | 16-Mar | 17-Mar | 18-Mar | 19-Mar | 20-Mar | 21-Mar | 22-Mar |
| STATION | MAX | MIN MAX | MIN MAX | MIN MAX | MIN MAX | MIN MAX | MIN MAX | MIN MAX |
| ——————– | — | ——- | ——- | ——- | ——- | ——- | ——- | ——- |
| Western North_Carolina | | | | | | | | |
| Andrews | 57 | 36  60 | 40  67 | 48  67 | 42  59 | 33  54 | 32  59 | 34  64 |
| Asheville_Munic | 52 | 38  58 | 43  66 | 52  66 | 45  57 | 37  52 | 34  56 | 37  61 |
| Banner_Elk | 48 | 33  53 | 38  60 | 46  57 | 40  50 | 30  46 | 29  51 | 31  54 |
| Beech_Mountain | 41 | 31  45 | 36  53 | 44  50 | 38  42 | 29  38 | 27  44 | 29  47 |
| Bent_Creek | 57 | 38  59 | 41  67 | 50  67 | 44  58 | 35  53 | 33  59 | 36  63 |
| Black_Mountain | 58 | 39  60 | 42  68 | 50  68 | 45  59 | 36  55 | 34  60 | 36  64 |
| Blowing_Rock | 45 | 33  50 | 38  57 | 46  54 | 40  47 | 31  43 | 29  48 | 31  52 |
| Brevard | 59 | 38  61 | 41  69 | 50  69 | 44  60 | 35  55 | 33  61 | 36  65 |
| Burnsville | 52 | 32  56 | 36  64 | 45  61 | 39  53 | 29  50 | 27  55 | 30  58 |
| Canton | 56 | 37  58 | 41  66 | 49  66 | 43  57 | 34  52 | 33  58 | 35  62 |
| Celo | 53 | 33  55 | 36  63 | 45  63 | 39  54 | 30  50 | 28  55 | 31  59 |
| Charlotte | 55 | 41  52 | 44  67 | 55  70 | 50  62 | 38  54 | 36  59 | 40  64 |
| Concord | 56 | 39  54 | 42  67 | 52  69 | 46  62 | 37  56 | 35  60 | 38  65 |
| Coweeta | 57 | 37  59 | 40  66 | 48  67 | 43  58 | 34  53 | 32  58 | 34  63 |
| Cullowhee | 59 | 38  61 | 41  69 | 50  69 | 44  60 | 35  55 | 33  61 | 36  65 |
| Enka | 54 | 40  56 | 43  64 | 51  64 | 45  55 | 36  51 | 35  56 | 37  60 |
| Fletcher | 55 | 35  57 | 38  64 | 46  65 | 41  56 | 32  51 | 30  57 | 32  61 |
| Forest_City | 61 | 42  64 | 46  71 | 54  71 | 48  63 | 39  58 | 38  63 | 40  68 |
| Franklin_AG | 59 | 38  61 | 41  68 | 50  68 | 44  60 | 35  55 | 33  60 | 36  65 |
| Gastonia-Gaston | 58 | 44  56 | 47  70 | 56  71 | 51  64 | 39  57 | 38  61 | 41  66 |
| Gastonia_AG | 56 | 40  55 | 43  67 | 54  69 | 48  62 | 38  56 | 36  60 | 40  65 |
| Grandfather_MTN | 41 | 31  45 | 36  53 | 44  50 | 38  42 | 29  38 | 27  44 | 29  47 |
| Hayesville | 61 | 44  63 | 47  70 | 56  71 | 50  62 | 41  57 | 39  63 | 42  67 |
| Hendersonville | 57 | 39  59 | 43  67 | 51  67 | 45  58 | 36  54 | 35  59 | 37  63 |
| Hickory | 52 | 39  52 | 43  67 | 52  65 | 48  59 | 37  53 | 35  58 | 38  62 |
| Highlands | 50 | 36  52 | 39  59 | 48  60 | 42  51 | 33  46 | 32  52 | 34  56 |
| Hot_Springs | 57 | 41  59 | 45  66 | 53  67 | 47  58 | 38  54 | 37  59 | 39  63 |
| Jefferson_AG | 51 | 35  55 | 39  62 | 48  60 | 42  52 | 32  48 | 30  54 | 33  57 |
| Jefferson_AP_NC | 44 | 34  55 | 44  62 | 48  57 | 43  48 | 31  44 | 31  49 | 34  54 |
| Lenoir | 59 | 40  63 | 44  71 | 52  68 | 47  60 | 37  57 | 35  62 | 37  65 |
| Lincolnton | 56 | 40  55 | 43  67 | 53  69 | 48  63 | 38  56 | 36  60 | 39  66 |
| Long_Valley | 54 | 36  56 | 39  64 | 47  64 | 41  55 | 32  51 | 30  56 | 32  60 |
| Marion | 60 | 42  62 | 45  70 | 53  70 | 48  61 | 39  57 | 37  62 | 39  66 |
| Marshall | 55 | 37  57 | 40  64 | 48  65 | 42  56 | 34  51 | 32  57 | 34  61 |
| Mocksville | 51 | 35  49 | 40  66 | 50  64 | 46  57 | 34  52 | 33  57 | 36  62 |
| Morganton | 61 | 40  63 | 44  70 | 52  71 | 46  62 | 38  57 | 36  63 | 38  67 |
| Mount_Airy | 57 | 38  62 | 42  69 | 51  67 | 45  59 | 35  55 | 33  61 | 36  64 |
| Murphy | 58 | 37  60 | 40  67 | 48  68 | 43  59 | 34  54 | 32  60 | 34  64 |
| North_Wilkesboro | 56 | 36  60 | 40  68 | 48  65 | 43  57 | 33  54 | 31  59 | 33  62 |
| Oconaluftee | 57 | 34  59 | 37  67 | 45  67 | 40  58 | 31  54 | 29  59 | 31  63 |
| Old_Fort | 55 | 37  57 | 40  64 | 48  65 | 42  56 | 34  51 | 32  57 | 34  61 |
| Pisgah_Forest | 56 | 35  58 | 38  65 | 47  66 | 41  57 | 32  52 | 30  57 | 33  62 |
| Rosman | 59 | 38  61 | 41  69 | 50  69 | 44  60 | 35  55 | 33  61 | 36  65 |
| Salisbury | 54 | 39  52 | 43  68 | 54  67 | 50  60 | 37  54 | 36  60 | 40  65 |
| Shelby | 57 | 39  56 | 43  68 | 53  70 | 47  64 | 37  57 | 36  61 | 39  67 |
| Statesville | 53 | 35  52 | 39  68 | 50  66 | 46  60 | 33  54 | 32  59 | 36  65 |
| Tapoco | 60 | 42  62 | 46  70 | 54  70 | 48  61 | 39  57 | 37  62 | 40  66 |
| Transou | 50 | 34  55 | 38  62 | 46  59 | 40  52 | 31  48 | 29  53 | 31  57 |
| Tryon | 62 | 43  65 | 47  72 | 55  72 | 49  64 | 40  59 | 39  64 | 41  68 |
| Vale | 56 | 40  55 | 43  67 | 54  69 | 48  62 | 38  56 | 36  60 | 40  65 |
| W_Kerr_Scott_Reservo | 56 | 36  60 | 40  68 | 48  65 | 43  57 | 33  54 | 31  59 | 33  62 |
| Waterville | 58 | 41  60 | 44  67 | 53  68 | 47  59 | 38  54 | 36  60 | 39  64 |
| Waynesville | 57 | 37  59 | 41  67 | 49  67 | 43  58 | 34  53 | 33  59 | 35  63 |
| West_Jefferson | 51 | 35  55 | 39  62 | 48  60 | 42  52 | 32  48 | 30  54 | 33  57 |
| Yadkinville | 59 | 40  63 | 44  70 | 52  68 | 46  60 | 37  57 | 35  62 | 37  65 |
| | | | | | | | | |
| Central North_Carolina | | | | | | | | |
| | Mon | Tue | Wed | Thu | Fri | Sat | Sun | Mon |
| Albemarle | 58 | 40  56 | 43  69 | 54  71 | 48  64 | 38  58 | 36  62 | 40  67 |
| Apex | 51 | 39  50 | 44  66 | 54  64 | 50  58 | 38  52 | 37  57 | 40  63 |
| Arcola | 50 | 38  48 | 42  66 | 52  63 | 48  58 | 36  52 | 36  57 | 38  63 |
| Asheboro | 53 | 40  51 | 44  68 | 55  66 | 51  60 | 38  54 | 37  59 | 41  65 |
| Badin_Ag | 58 | 40  56 | 43  69 | 54  71 | 48  64 | 38  58 | 36  62 | 40  67 |
| Burlington-Burl | 53 | 39  51 | 41  69 | 52  67 | 49  59 | 35  53 | 34  59 | 38  64 |
| Burlington_AG | 50 | 38  49 | 42  66 | 52  63 | 48  58 | 36  52 | 36  57 | 38  63 |
| Carrboro | 50 | 37  49 | 41  66 | 51  63 | 47  58 | 35  52 | 35  57 | 37  63 |
| Carthage | 55 | 40  54 | 44  66 | 54  68 | 48  62 | 38  55 | 37  59 | 40  65 |
| Chapel_Hill | 50 | 37  49 | 41  66 | 51  63 | 47  58 | 35  52 | 35  57 | 37  63 |
| Clayton | 54 | 40  58 | 44  65 | 51  71 | 52  64 | 39  54 | 38  60 | 42  64 |
| Clinton | 55 | 40  56 | 46  67 | 53  71 | 52  64 | 38  55 | 38  60 | 41  66 |
| Danbury | 48 | 34  47 | 38  64 | 49  61 | 45  56 | 32  50 | 33  55 | 35  61 |
| Durham_AG | 51 | 35  49 | 39  66 | 49  64 | 46  58 | 33  52 | 33  58 | 35  63 |
| Eden | 48 | 37  46 | 41  63 | 52  61 | 48  55 | 35  49 | 35  55 | 38  60 |
| Ellerbe | 55 | 42  56 | 47  67 | 54  71 | 53  63 | 40  55 | 39  60 | 42  65 |
| Erwin | 53 | 40  53 | 45  65 | 52  69 | 51  61 | 38  53 | 37  58 | 40  63 |
| Fayetteville_AG | 54 | 40  54 | 46  66 | 53  70 | 52  62 | 38  54 | 38  59 | 41  64 |
| Fayetteville_AP | 54 | 40  51 | 46  68 | 56  73 | 54  64 | 39  54 | 38  59 | 42  64 |
| Goldsboro_AFB | 53 | 40  54 | 44  67 | 52  70 | 54  63 | 39  52 | 38  59 | 42  64 |
| Goldsboro_AG | 54 | 41  58 | 45  65 | 51  71 | 52  64 | 40  54 | 39  60 | 42  64 |
| Graham_AG | 50 | 38  49 | 42  66 | 52  63 | 48  58 | 36  52 | 36  57 | 38  63 |
| Greensboro | 51 | 38  47 | 43  65 | 53  63 | 48  56 | 35  51 | 34  56 | 37  61 |
| Hamlet | 59 | 39  57 | 42  70 | 53  72 | 47  65 | 37  59 | 36  63 | 39  68 |
| Henderson | 50 | 35  48 | 39  65 | 49  63 | 46  57 | 33  51 | 33  57 | 36  62 |
| High_Point | 51 | 39  50 | 44  67 | 54  64 | 50  59 | 37  53 | 38  58 | 40  64 |
| Jackson_Springs | 55 | 40  54 | 44  66 | 54  68 | 48  62 | 38  55 | 37  59 | 40  65 |
| King | 52 | 37  50 | 41  67 | 51  65 | 47  59 | 35  54 | 35  59 | 37  64 |
| Laurinburg | 55 | 42  56 | 47  67 | 54  71 | 53  63 | 40  55 | 39  60 | 42  65 |
| Lexington | 54 | 39  52 | 43  68 | 53  67 | 50  60 | 37  55 | 36  60 | 39  65 |
| Louisburg | 51 | 33  49 | 38  67 | 48  64 | 44  59 | 31  53 | 32  58 | 34  64 |
| Lumberton_AG | 54 | 40  55 | 45  66 | 52  70 | 52  63 | 38  54 | 37  59 | 41  65 |
| Lumberton_AP_NC | 55 | 44  54 | 48  69 | 55  74 | 54  64 | 39  54 | 39  59 | 43  64 |
| Maxton | 57 | 44  57 | 47  70 | 55  75 | 54  66 | 39  56 | 38  60 | 42  65 |
| Mcleansville | 49 | 38  47 | 42  65 | 52  62 | 48  56 | 36  51 | 36  56 | 38  61 |
| Monroe | 58 | 41  56 | 45  68 | 55  70 | 49  64 | 39  57 | 38  61 | 41  67 |
| Monroe_AP_NC | 54 | 42  53 | 45  67 | 54  70 | 51  61 | 38  53 | 36  57 | 40  63 |
| Nashville | 51 | 36  53 | 43  63 | 48  67 | 49  60 | 38  54 | 38  58 | 41  63 |
| Oxford | 50 | 38  49 | 42  66 | 52  63 | 48  58 | 36  52 | 36  57 | 38  62 |
| Oxford_AG | 50 | 38  49 | 42  66 | 52  63 | 48  58 | 36  52 | 36  57 | 38  62 |
| Pittsboro | 51 | 35  50 | 39  66 | 50  65 | 46  58 | 33  52 | 33  57 | 36  63 |
| Raeford | 56 | 39  56 | 44  68 | 52  72 | 51  64 | 37  56 | 37  61 | 40  66 |
| Raleigh | 53 | 40  52 | 45  68 | 55  66 | 51  60 | 38  54 | 38  59 | 41  65 |
| Raleigh-Durham | 51 | 37  46 | 43  65 | 53  67 | 51  58 | 37  51 | 36  56 | 39  63 |
| Raleigh_State_Univ | 51 | 39  50 | 44  66 | 54  64 | 50  58 | 38  52 | 37  57 | 40  63 |
| Randleman | 53 | 40  51 | 44  68 | 55  66 | 51  60 | 38  54 | 37  59 | 41  65 |
| Reidsville | 48 | 37  46 | 41  63 | 52  61 | 48  55 | 35  49 | 35  55 | 38  60 |
| Rocky_Mount-Wilson | 52 | 38  47 | 43  64 | 51  67 | 51  59 | 37  50 | 36  57 | 39  63 |
| Roxboro | 49 | 36  48 | 41  65 | 51  62 | 47  57 | 35  51 | 35  56 | 37  62 |
| Siler_City | 51 | 35  50 | 39  66 | 50  65 | 46  58 | 33  52 | 33  57 | 36  63 |
| Smithfield | 54 | 39  58 | 43  65 | 50  70 | 51  64 | 38  54 | 38  59 | 41  64 |
| Swann | 53 | 39  51 | 43  68 | 53  66 | 49  59 | 37  54 | 36  59 | 39  64 |
| Wadesboro | 57 | 42  55 | 45  67 | 55  70 | 50  63 | 40  56 | 38  61 | 41  66 |
| Wilson_AG | 53 | 39  57 | 43  64 | 49  70 | 50  63 | 38  53 | 37  59 | 40  63 |
| Winston-Salem | 51 | 38  51 | 42  68 | 52  64 | 49  57 | 35  52 | 35  57 | 38  62 |
| | | | | | | | | |
| Eastern North_Carolina | | | | | | | | |
| | Mon | Tue | Wed | Thu | Fri | Sat | Sun | Mon |
| Aurora | 52 | 41  57 | 45  64 | 51  69 | 53  62 | 40  53 | 39  58 | 42  62 |
| Burgaw | 58 | 42  58 | 47  69 | 55  74 | 54  66 | 40  57 | 39  63 | 42  68 |
| Cape_Fear | 56 | 42  57 | 47  68 | 55  72 | 54  64 | 40  56 | 39  61 | 43  66 |
| Cape_Hatteras | 48 | 42  51 | 49  60 | 53  64 | 54  57 | 44  51 | 44  55 | 46  60 |
| Cape_Hatteras_AG | 49 | 45  61 | 51  58 | 54  66 | 57  60 | 46  52 | 47  56 | 48  59 |
| Cedar_Island | 53 | 44  57 | 48  64 | 54  69 | 55  63 | 43  53 | 42  58 | 45  63 |
| Cherry_Point | 52 | 41  61 | 46  65 | 51  70 | 54  65 | 41  53 | 40  59 | 45  63 |
| Columbia | 52 | 38  55 | 46  64 | 50  68 | 51  62 | 40  55 | 41  59 | 43  65 |
| Edenton | 52 | 39  54 | 47  64 | 51  68 | 52  61 | 41  55 | 42  59 | 44  64 |
| Elizabeth_City | 48 | 36  51 | 45  61 | 47  66 | 50  59 | 40  52 | 40  56 | 43  61 |
| Elizabethtown | 56 | 42  57 | 47  68 | 55  72 | 54  64 | 40  56 | 39  61 | 43  66 |
| Greenville_AG | 54 | 40  58 | 44  66 | 50  71 | 52  64 | 39  55 | 38  60 | 41  64 |
| Greenville_AP_NC | 54 | 40  49 | 44  64 | 51  69 | 53  60 | 38  51 | 38  58 | 42  62 |
| Halifax_AG | 50 | 36  53 | 43  62 | 47  67 | 48  60 | 38  53 | 38  58 | 40  63 |
| Hatteras | 49 | 43  52 | 50  61 | 54  65 | 56  58 | 45  52 | 45  56 | 47  61 |
| Hofmann_Forest | 57 | 41  57 | 46  69 | 54  73 | 53  65 | 39  57 | 38  62 | 41  67 |
| Jackson | 50 | 36  53 | 43  62 | 47  67 | 48  60 | 38  53 | 38  58 | 40  63 |
| Jacksonville | 55 | 44  59 | 48  66 | 53  71 | 56  63 | 40  54 | 40  60 | 44  64 |
| Kinston_AG | 54 | 39  58 | 44  65 | 50  70 | 51  64 | 38  54 | 38  59 | 41  64 |
| Kinston_AP | 54 | 40  51 | 45  65 | 52  70 | 54  61 | 38  52 | 38  59 | 41  63 |
| Lewiston | 51 | 35  53 | 42  63 | 47  67 | 48  60 | 37  54 | 37  58 | 40  63 |
| Manteo | 50 | 40  52 | 47  62 | 51  66 | 53  59 | 42  52 | 42  57 | 44  62 |
| Milwaukee | 51 | 35  53 | 42  63 | 47  67 | 48  60 | 37  54 | 37  58 | 40  63 |
| Morehead_City | 53 | 43  57 | 48  65 | 54  70 | 55  63 | 42  53 | 42  59 | 45  63 |
| Mount_Olive_6SE | 58 | 41  62 | 45  69 | 52  75 | 53  68 | 40  58 | 39  64 | 42  68 |
| New_Bern | 54 | 43  57 | 47  65 | 52  71 | 55  64 | 40  54 | 40  60 | 44  63 |
| New_Holland | 54 | 42  58 | 46  66 | 52  71 | 53  64 | 41  54 | 40  60 | 43  64 |
| Newport_NC | 53 | 43  57 | 48  65 | 54  70 | 55  63 | 42  53 | 42  59 | 45  63 |
| Plymouth | 54 | 37  56 | 44  65 | 48  69 | 50  63 | 39  56 | 39  60 | 41  66 |
| Roanoke_Rap_AG | 50 | 36  53 | 43  62 | 47  67 | 48  60 | 38  53 | 38  58 | 40  63 |
| Roanoke_Rap_AP | 49 | 34  46 | 39  62 | 46  62 | 47  56 | 34  48 | 33  56 | 37  60 |
| Rocky_Mount | 51 | 37  54 | 44  63 | 48  68 | 50  61 | 39  54 | 39  58 | 41  64 |
| Shallotte | 54 | 43  54 | 48  65 | 56  69 | 55  62 | 41  53 | 40  58 | 44  63 |
| Snow_Hill | 54 | 41  58 | 45  65 | 51  71 | 52  64 | 40  54 | 39  60 | 42  64 |
| Southport | 54 | 43  54 | 48  65 | 56  69 | 55  62 | 41  53 | 40  58 | 44  63 |
| Tarboro | 52 | 35  54 | 42  64 | 46  68 | 48  61 | 37  54 | 37  59 | 39  64 |
| Warsaw | 55 | 40  56 | 46  67 | 53  71 | 52  64 | 38  55 | 38  60 | 41  66 |
| Whiteville | 55 | 41  55 | 46  67 | 53  71 | 52  63 | 39  55 | 38  60 | 41  65 |
| Willard | 58 | 42  58 | 47  69 | 55  74 | 54  66 | 40  57 | 39  63 | 42  68 |
| Williamston | 52 | 38  54 | 45  63 | 50  68 | 51  61 | 40  54 | 40  59 | 42  64 |
| Wilmington_AG | 56 | 43  56 | 48  68 | 56  72 | 55  64 | 41  55 | 40  61 | 44  66 |
| Wilmington_AP_NC | 56 | 46  61 | 49  68 | 55  74 | 55  66 | 40  56 | 40  61 | 45  66 |
| | | | | | | | | |
South Carolina
                   Mon   Tue     Wed     Thu     Fri     Sat     Sun     Mon
                   03/15  03/16   03/17   03/18   03/19   03/20   03/21   03/22
STATION              MAX MIN MAX MIN MAX MIN MAX MIN MAX MIN MAX MIN MAX MIN MAX
-------------------- --- ------- ------- ------- ------- ------- ------- -------
Northwestern South_Carolina
Anderson_Co_Air       60  44  55  47  65  55  72  48  64  40  57  37  60  41  66
Anderson_FD           61  41  57  45  67  53  74  46  66  39  59  36  62  39  68
Caesars_Head          48  36  50  42  59  51  62  44  54  36  48  34  52  36  57
Calhoun_Falls         60  43  57  47  66  55  73  46  65  39  56  35  61  39  67
Chesnee_7WSW          60  42  56  46  67  55  73  48  65  40  59  37  62  41  67
Clemson               56  39  58  44  67  54  70  47  62  39  56  37  60  39  65
Clinton               59  39  55  43  65  51  71  45  64  37  57  34  60  37  66
Greenville-Spartbg    56  41  54  46  65  55  70  48  63  40  56  37  59  40  65
Greenville_Ag         57  41  54  45  64  54  70  47  63  39  56  36  59  40  64
Hunts_Bridge          56  41  59  46  67  56  70  49  63  41  56  38  60  41  65
Jocassee_8WNW         54  37  56  42  64  51  68  45  60  37  53  34  58  37  63
Laurens_Ag            59  39  55  43  65  51  71  45  64  37  57  34  60  37  66
Longcreek             54  37  56  42  64  51  68  45  60  37  53  34  58  37  63
Ninety_Nine_Islands   58  36  54  41  65  49  71  42  63  34  57  32  60  35  65
Pickens_Ag            58  42  55  46  65  55  71  48  64  40  57  37  60  41  66
Rock_Hill             56  42  54  44  67  54  70  49  62  37  54  35  58  39  64
Salem                 57  39  60  44  68  53  71  46  63  39  57  36  61  38  66
Sandy_Springs         57  39  53  43  64  52  70  45  62  37  56  35  59  38  64
Santuck               60  42  56  46  67  55  73  48  65  40  59  37  62  41  67
Spartanburg_3SSE      60  42  56  46  67  55  73  48  65  40  59  37  62  41  67
Table_Rock_Dam        48  36  50  42  59  51  62  44  54  36  48  34  52  36  57
Tigerville            58  39  60  44  69  53  72  47  64  39  58  36  62  39  67
Union_Ag              59  37  55  41  65  49  72  42  64  35  57  32  61  35  66
Walhalla              57  39  60  44  68  53  71  46  63  39  57  36  61  38  66
West_Pelzer           58  39  54  43  64  52  71  45  63  37  56  35  60  38  65
Winthrop_University   57  43  54  47  66  57  71  50  63  40  55  39  59  42  65
York_Ag               57  43  54  47  66  57  71  50  63  40  55  39  59  42  65

Central South_Carolina
                     Mon   Tue     Wed     Thu     Fri     Sat     Sun     Mon
Aiken_Ag              64  47  61  50  70  58  76  49  69  43  60  39  64  42  71
Bamberg               66  53  71  55  73  58  78  50  71  42  61  40  63  44  70
Barnwell_5ENE         66  53  70  56  73  58  78  50  70  42  61  40  63  44  70
Batesburg             57  43  55  48  66  56  73  48  64  37  54  36  58  39  64
Bennettsville         58  46  59  48  68  56  74  52  66  40  57  39  61  43  66
Bishopville           56  44  55  49  65  57  72  49  64  38  53  37  57  40  64
Blackville            66  53  70  56  73  58  78  50  70  42  61  40  63  44  70
Blythewood            60  50  59  54  69  62  76  54  68  44  57  42  61  45  68
Cades                 59  45  60  47  68  54  75  51  67  39  57  37  61  41  67
Camden                59  40  56  44  68  53  73  47  65  37  56  35  61  38  67
Camden_3W             58  42  56  47  67  56  72  49  65  39  56  38  60  41  67
Cheraw                56  42  57  45  65  52  72  48  64  36  54  35  59  39  64
Cheraw_Wtr_Plt        56  42  57  45  65  52  72  48  64  36  54  35  59  39  64
Chester_Ag            57  40  54  44  66  54  71  47  63  37  55  35  59  39  65
Chesterfield          56  42  57  45  65  52  72  48  64  36  54  35  59  39  64
Clark_Hill            61  45  58  49  67  57  74  48  66  41  57  38  61  41  68
Columbia_Metro        59  47  57  51  68  60  75  51  66  41  56  39  60  42  66
Columbia_USC          59  46  57  51  68  59  75  51  66  40  56  39  60  42  66
Darlington_Ag         60  47  61  49  69  56  76  52  68  41  58  39  63  43  68
Dillon_Ag             57  43  58  45  67  52  73  48  65  37  56  35  60  39  65
Effingham_SC          58  48  59  50  68  57  74  54  66  42  57  40  61  44  66
Elgin-Sand_Hill_E_S   56  46  54  50  65  59  72  51  63  40  53  38  57  42  63
Eutawville            66  54  71  56  73  59  78  51  70  43  61  41  63  45  70
Florence_SC           58  47  57  49  69  57  76  53  66  40  55  38  59  42  65
Greeleyville_5N       59  45  60  47  68  54  75  51  67  39  57  37  61  41  67
Greenwood_Ag          59  42  56  45  66  53  72  45  64  38  56  34  60  38  66
Hartsville_Ag         60  47  61  49  69  56  76  52  68  41  58  39  63  43  68
Holly_Hill            61  49  60  53  70  62  77  54  68  43  58  41  62  45  68
Johnston              59  45  56  48  66  57  72  48  64  41  56  37  60  41  66
Kershaw               58  42  55  46  67  55  72  49  64  39  56  37  60  40  66
Kingstree             59  45  60  47  68  54  75  51  67  39  57  37  61  41  67
Lake_City             58  46  59  48  68  55  74  51  66  40  57  38  61  42  66
Little_Mountain       60  47  58  51  67  59  73  50  66  43  57  40  61  43  68
Longtown              58  42  56  47  67  56  72  49  65  39  56  38  60  41  67
Manning               59  45  58  50  68  58  75  50  67  39  56  38  60  41  67
McColl                58  46  59  48  68  56  74  52  66  40  57  39  61  43  66
Mc_Cormick_9E         61  45  58  49  67  57  74  48  66  41  57  38  61  41  68
Newberry_WKDK         62  45  59  48  69  57  75  48  67  41  59  37  63  41  69
Orangeburg-Oran       62  51  64  54  70  60  76  53  67  42  56  39  59  43  66
Orangeburg_Ag         59  48  57  52  67  61  75  53  66  42  55  40  60  44  66
Pageland              56  44  57  46  66  53  72  50  64  38  55  36  59  40  64
Parr                  59  39  56  43  68  53  73  46  65  36  56  34  61  38  67
Pee_Dee_Exp_Sta       56  48  58  50  66  57  72  54  65  42  55  40  59  44  65
Pelion                60  46  58  50  68  59  76  51  67  40  56  38  61  42  67
Saluda_Fltr_Plt       60  43  57  47  67  55  73  46  65  39  57  36  61  39  67
Sandy_Run             59  46  57  51  68  59  75  51  66  40  56  39  60  42  66
Sumter_Ag             59  47  57  51  68  59  75  51  66  41  56  39  60  42  66
Sumter_SC             58  46  57  51  68  59  75  52  65  40  55  38  59  42  65
Wateree_Dam           59  40  56  44  68  53  73  47  65  37  56  35  61  38  67
Wedgefield            59  47  57  51  68  59  75  51  66  41  56  39  60  42  66
Winnsboro             58  42  56  47  67  56  72  49  65  39  56  38  60  41  67

Coastal South_Carolina
                     Mon   Tue     Wed     Thu     Fri     Sat     Sun     Mon
Allendale             68  54  72  57  74  59  80  51  72  43  62  42  64  45  72
Andrews               60  49  62  51  70  58  76  54  69  43  59  41  63  45  68
Beaufort_Ag           65  57  70  59  72  62  77  54  69  46  60  44  62  47  69
Beaufort_SC           65  58  73  60  73  61  75  53  68  45  59  43  61  47  68
Brookgreen_Gardens    58  48  60  50  68  58  74  54  66  42  57  40  61  45  66
Charleston_City       61  59  65  62  68  64  73  56  65  48  55  47  58  50  65
Charleston_Muni       63  56  71  58  71  60  77  53  68  44  58  43  60  45  67
Conway                59  47  60  49  68  56  75  53  67  41  57  39  61  43  67
Edisto_Island         61  55  65  57  68  60  73  52  65  44  56  43  58  46  65
Georgetown_Ag         60  49  61  51  69  59  76  55  68  43  58  41  62  45  68
Givhans_Ferry         65  52  69  54  71  56  76  48  69  41  59  39  61  42  69
Hampton_Ag            68  54  72  57  74  59  80  51  72  43  62  42  64  45  72
Hemingway_8ESE        60  49  62  51  70  58  76  54  69  43  59  41  63  45  68
Hilton_Head           65  57  70  59  72  61  77  53  69  46  59  44  62  47  69
Jamestown             65  54  70  56  72  58  77  50  70  43  60  41  62  44  69
Loris                 58  44  59  46  67  54  74  50  66  38  56  36  60  40  66
Marion_Ag             61  47  62  49  70  56  76  53  69  41  59  39  63  43  69
McClellanville        64  53  68  56  71  58  76  50  68  42  58  40  61  44  68
Mullins               61  47  62  49  70  56  76  53  69  41  59  39  63  43  69
Myrtle_Beach          56  51  63  53  66  57  73  54  65  42  55  41  58  45  63
Myrtle_Beach_Ag       58  48  60  50  68  58  74  54  66  42  57  40  61  45  66
Pinopolis_Dam         63  52  68  54  70  56  75  49  67  41  58  39  60  42  67
Ridgeland             68  54  72  57  74  59  80  51  72  43  62  42  64  45  72
Ridgeville            65  52  69  54  71  56  76  48  69  41  59  39  61  42  69
Saint_George          65  52  69  54  71  56  76  48  69  41  59  39  61  42  69
Sullivans_Island      63  57  67  59  69  61  75  54  67  46  57  44  59  48  67
Summerville           65  52  69  54  71  56  76  48  69  41  59  39  61  42  69
Walterboro            67  54  71  56  73  58  79  50  71  43  61  41  63  44  71
Williams              67  54  71  56  73  58  79  50  71  43  61  41  63  44  71
Yemassee              68  54  72  56  75  58  80  51  72  43  62  41  65  44  72


Georgia
    Mon   Tue     Wed     Thu     Fri     Sat     Sun     Mon
                   03/15  03/16   03/17   03/18   03/19   03/20   03/21   03/22
STATION              MAX MIN MAX MIN MAX MIN MAX MIN MAX MIN MAX MIN MAX MIN MAX
-------------------- --- ------- ------- ------- ------- ------- ------- -------
Northern Georgia
Allatoona_Dam         68  48  66  51  67  57  72  46  61  42  58  40  64  41  70
Alpharetta_5SSW       65  44  63  48  65  54  69  43  61  38  57  37  61  39  68
Alto                  57  38  51  42  61  49  67  41  60  36  53  33  56  35  63
Athens_Municipa       63  45  56  51  65  58  72  48  64  42  57  40  61  43  69
Atlanta/DeKalb        65  48  59  53  65  59  71  48  61  42  56  40  60  42  66
Atlanta/Fulton        67  51  62  53  67  59  71  47  61  42  57  40  61  43  68
Atlanta_Intl_Ar       67  50  61  54  67  61  71  48  60  43  56  41  60  45  68
Ball_Ground           62  46  60  49  63  56  67  45  58  40  55  38  59  41  65
Blairsville           61  41  59  44  61  51  66  40  57  35  53  34  58  36  64
Calhoun_83-94         67  48  65  50  66  56  71  46  60  41  57  39  63  40  69
Carrollton            73  53  67  53  72  57  72  43  62  39  59  37  63  40  69
Cartersville_AG       69  50  68  52  69  59  73  48  62  43  60  41  65  43  71
Cartersville_AP       67  48  62  51  67  57  71  46  61  41  57  39  63  42  70
Cedartown             71  50  69  53  70  59  75  48  64  43  61  42  66  43  73
Chatsworth            66  49  65  51  66  57  70  47  60  42  57  40  62  41  69
Clarksville           57  38  51  42  61  49  67  41  60  36  53  33  56  35  63
Clayton_1SSW          59  37  53  42  63  49  70  41  62  35  55  32  58  35  65
Clayton_Ag            59  37  53  42  63  49  70  41  62  35  55  32  58  35  65
Cleveland             65  45  63  48  66  54  70  44  61  39  57  37  62  39  68
Commerce              67  47  66  50  68  57  72  46  64  41  60  39  64  42  71
Cornelia              57  38  51  42  61  49  67  41  60  36  53  33  56  35  63
Cumming               65  44  63  48  65  54  69  43  61  38  57  37  61  39  68
Dahlonega             63  45  61  48  63  54  68  44  59  39  55  37  60  39  66
Dallas_7NE            67  48  65  50  67  57  71  46  60  41  58  39  63  41  69
Dalton                66  49  65  51  66  57  70  47  60  42  57  40  62  41  69
Danielsville          61  41  56  45  66  53  72  45  65  39  58  36  61  39  68
Elberton              63  40  58  44  68  51  74  44  67  38  60  35  63  37  70
Ft_Oglethorpe         65  49  64  51  65  58  69  47  59  42  56  40  62  42  68
Gainesville_AG        64  47  63  50  65  56  69  46  61  41  57  39  61  41  68
Gainesville_AP_GA     61  43  56  50  62  58  70  48  61  42  55  40  59  43  66
Hartwell              61  42  55  47  65  54  72  46  64  40  57  38  61  40  67
Hartwell_Dam          61  42  55  47  65  54  72  46  64  40  57  38  61  40  67
Helen                 65  45  63  48  66  54  70  44  61  39  57  37  62  39  68
Hiawassee             61  41  59  44  61  51  66  40  57  35  53  34  58  36  64
Jasper_1NNW           62  46  60  49  63  56  67  45  58  40  55  38  59  41  65
La_Fayette_4SSW       67  45  65  48  66  54  71  43  60  38  57  37  63  38  69
Lincolnton            63  43  57  48  67  55  74  47  66  41  59  39  62  41  69
Mableton              68  48  66  51  69  57  73  46  64  41  61  40  65  42  71
Marietta              66  51  64  53  67  59  73  47  60  42  57  40  61  43  67
Rome_Ag               68  48  66  51  68  57  72  46  61  41  59  40  64  41  70
Rome_GA               68  50  66  52  69  58  72  48  61  42  60  41  65  42  70
Sautee                65  45  63  48  66  54  70  44  61  39  57  37  62  39  68
Summerville           67  45  65  48  66  54  71  43  60  38  57  37  63  38  69
Toccoa                59  40  54  44  64  52  70  44  62  38  56  36  59  38  65
Washington_Ag         61  41  56  45  66  52  72  45  64  39  58  36  61  38  67
Watkinsville          67  50  65  53  68  60  72  49  63  44  59  42  64  45  70
Winder                68  48  66  51  68  57  73  46  64  42  60  40  64  42  71
Winterville           67  50  65  53  68  60  72  49  63  44  59  42  64  45  70

Central Georgia
                     Mon   Tue     Wed     Thu     Fri     Sat     Sun     Mon
Abbeville_4S          76  58  77  60  77  63  76  49  66  46  60  43  63  45  69
Ailey                 76  58  73  59  77  64  79  51  70  46  63  42  67  46  74
Americus              77  58  74  59  76  61  74  47  64  44  60  42  63  43  69
Appling_2NE           67  50  65  52  70  57  74  45  66  39  57  36  61  39  67
Augusta/Bush_Fi       66  52  64  55  72  60  77  50  69  42  59  39  62  43  70
Augusta_Daniel_Field  64  52  62  56  70  63  76  52  67  44  58  42  61  47  68
Brooklet              72  58  69  59  74  64  79  52  70  47  61  43  65  46  72
Buena_Vista           77  58  71  58  76  62  76  48  66  45  63  42  67  45  73
Butler                78  55  72  55  76  59  77  45  67  42  63  39  67  42  74
Byron                 73  56  70  58  74  62  76  49  67  44  60  41  64  44  71
Claxton               75  57  80  59  79  60  81  49  71  46  62  43  63  45  70
Clyo                  73  56  70  58  75  63  80  51  71  45  62  42  66  45  73
Columbus_GA           79  60  73  60  76  64  75  48  64  45  60  42  65  45  71
Cordele               79  59  79  61  80  63  79  49  69  47  62  44  66  45  72
Covington             69  53  65  54  70  58  72  45  63  41  55  37  60  40  67
Dublin_2              74  54  70  55  75  59  77  47  68  42  61  38  65  41  72
Eastman               74  57  70  59  74  63  77  50  68  45  60  41  64  45  72
Eden                  75  57  80  59  79  60  81  49  71  46  62  43  63  45  70
Experiment-Griffin    71  55  66  55  70  59  70  45  61  42  57  39  61  42  67
Forsyth_6NNW          71  51  67  52  72  57  74  44  65  39  57  36  62  39  69
Franklin              76  55  70  55  75  59  75  45  65  42  62  39  66  42  72
Glennville            77  58  82  60  81  61  82  51  73  47  64  44  65  46  71
Greenville_2NNW       76  54  70  54  74  58  74  45  65  41  61  38  65  41  71
Hawkinsville          74  55  71  56  75  60  77  47  69  43  61  39  65  42  72
Irwinton              75  56  71  58  76  62  78  49  69  44  62  41  66  44  73
Jonesboro             71  56  65  56  70  60  70  46  60  43  57  40  61  43  67
La_Grange             76  55  70  55  75  59  75  45  65  42  62  39  66  42  72
Louisville_1E         71  55  69  56  74  62  78  50  69  44  61  40  65  44  71
Lumber_City           78  56  78  58  78  60  77  46  68  44  61  41  64  42  70
Lyons                 76  56  82  58  81  60  82  49  72  45  64  42  65  45  71
Macon_AP              75  57  70  58  74  62  76  49  67  43  59  40  64  43  70
Marshallville         78  58  72  58  76  62  77  48  67  45  63  42  67  45  74
McDonough             72  54  66  54  71  58  71  44  61  41  57  38  62  41  68
Metter                74  58  71  59  76  64  80  53  72  47  63  43  67  46  73
Midville              69  54  66  55  72  61  76  49  67  43  59  40  63  43  69
Midville_AG_83-96     69  54  66  55  72  61  76  49  67  43  59  40  63  43  69
Milledgeville         72  52  69  53  73  57  75  45  67  40  59  36  63  39  70
Millen_4N             72  54  69  56  75  61  79  49  70  43  62  40  66  43  72
Monticello            73  57  69  58  74  62  76  49  67  45  59  41  64  44  71
Mulberry_Grove        74  54  69  54  73  58  73  45  63  41  60  38  64  42  70
Newington             72  57  69  58  74  64  79  52  70  46  61  42  65  46  72
Newnan_5N             74  55  69  55  73  59  73  46  64  42  60  39  64  42  71
Peachtree_City        71  53  63  55  70  60  73  47  62  42  57  40  61  41  68
Plains                77  59  73  60  76  62  74  48  64  46  59  43  63  44  69
Rocky_Ford            72  54  69  56  75  61  79  49  70  43  62  40  66  43  72
Sandersville          71  54  67  55  71  59  73  47  65  42  57  38  61  41  69
Siloam                70  53  66  54  70  58  72  45  64  41  56  37  60  40  68
Springfield_GA        72  58  69  59  74  64  79  52  70  47  61  43  65  46  72
Swainsboro            72  56  70  58  75  63  79  51  70  45  62  42  66  45  72
Sylvania              72  54  69  56  75  61  79  49  70  43  62  40  66  43  72
Talbotton             77  55  71  55  75  60  76  46  66  42  62  39  67  43  73
Thomaston             78  55  72  55  76  59  77  45  67  42  63  39  67  42  74
Vidalia               73  60  77  63  76  63  79  54  68  46  60  44  62  46  69
Warrenton             68  52  65  53  71  58  75  47  66  41  57  37  62  40  68
Waynesboro            69  52  66  53  72  58  76  47  67  41  59  37  63  40  69
West_Point            74  54  69  54  73  58  73  45  63  41  60  38  64  42  70

Southern Georgia
                     Mon   Tue     Wed     Thu     Fri     Sat     Sun     Mon
Albany_AG             80  59  76  59  78  61  77  48  67  45  62  42  65  43  72
Albany_Municipa       81  62  81  64  81  65  78  51  66  47  61  44  64  45  72
Alma/Bacon_Co         78  58  83  61  82  63  81  50  70  45  61  42  63  45  69
Ashburn               76  58  76  60  76  63  75  49  66  46  59  44  62  45  69
Bainbridge            81  62  77  62  79  65  78  51  68  48  63  45  66  47  73
Blakley               80  60  76  61  78  63  76  49  67  46  62  43  65  45  72
Brunswick/Glync       73  59  81  60  79  59  83  53  72  46  63  44  64  47  68
Brunswick_Ag          75  59  80  61  79  62  81  52  71  48  62  45  63  47  70
Brunswick_GA          69  60  74  60  74  63  78  55  70  50  60  47  62  51  67
Cairo                 83  63  79  63  82  65  80  52  70  49  65  46  68  47  75
Camilla               82  63  79  63  81  65  79  52  69  49  65  46  68  47  74
Colquitt_2W           83  63  79  63  81  66  80  52  70  49  65  46  68  47  75
Crisp_Co_Power_Dam    79  59  79  61  80  63  79  49  69  47  62  44  66  45  72
Cuthbert              81  62  77  62  79  64  78  51  68  48  63  45  67  46  73
Donalsonville         83  63  79  63  81  66  80  52  70  49  65  46  68  47  75
Douglas               79  57  79  59  79  61  78  48  69  45  62  42  65  43  72
Fargo_17NE            80  58  85  61  84  62  86  51  76  47  67  44  68  47  74
Fitzgerald            76  58  77  60  77  63  76  49  66  46  60  43  63  45  69
Folkston_9SW          80  58  85  61  84  62  86  51  76  47  67  44  68  47  74
Fort_Gaines           81  62  77  62  79  65  78  51  68  48  63  45  66  46  73
Fort_Stewart          77  58  82  60  81  61  82  51  73  47  64  44  65  46  71
Georgetown            80  59  77  59  79  61  77  47  67  44  63  42  66  43  72
Hazlehurst            78  56  78  58  78  60  77  46  68  44  61  41  64  42  70
Homerville            78  57  79  59  79  62  78  48  68  45  62  42  65  44  71
Jesup_8S              78  56  83  58  82  59  83  48  74  44  65  42  66  44  72
Jesup_AG              78  56  83  58  82  59  83  48  74  44  65  42  66  44  72
Millwood              77  58  82  60  81  62  83  51  73  47  64  44  65  46  71
Morgan_1W             82  62  78  62  80  64  79  50  69  48  64  45  68  46  74
Moultrie              80  60  80  62  80  64  79  50  70  48  63  45  66  46  72
Nahunta               77  57  83  59  82  60  83  50  73  46  65  43  66  45  72
Patterson             78  56  83  58  82  59  83  48  74  44  65  42  66  44  72
Pridgen               76  58  77  60  77  63  76  49  66  46  60  43  63  45  69
Quitman_2NW_89-93     80  59  80  61  81  63  80  50  70  47  63  44  67  45  73
Sapelo_Island         71  57  76  60  75  61  76  50  67  46  58  44  59  46  65
Savannah              69  59  79  61  75  62  80  53  69  46  60  43  62  47  69
Surrency              77  56  82  58  82  59  83  49  73  45  65  42  66  44  72
Thomasville_3NE       83  63  79  63  82  65  80  52  70  49  65  46  68  47  75
Tifton                77  59  77  62  77  64  76  50  67  47  60  45  63  46  70
Valdosta              82  61  83  64  83  64  80  52  69  49  65  45  66  46  72
Waycross_AG           77  54  82  56  82  57  83  47  73  43  64  40  66  42  72
Waycross_AP           80  59  84  61  83  64  83  51  71  46  63  43  65  46  72
Willacoochee          79  57  79  59  79  61  78  48  69  45  62  42  65  43  72
Woodbine              77  57  83  59  82  60  83  50  73  46  65  43  66  45  72
Virginia
                  Mon   Tue     Wed     Thu     Fri     Sat     Sun     Mon
                   03/15  03/16   03/17   03/18   03/19   03/20   03/21   03/22
STATION              MAX MIN MAX MIN MAX MIN MAX MIN MAX MIN MAX MIN MAX MIN MAX
-------------------- --- ------- ------- ------- ------- ------- ------- -------
Western Virginia
Abingdon_3S           54  34  61  40  69  46  63  39  54  30  54  31  59  33  62
Abingdon_AP           56  40  63  44  69  51  65  45  53  34  52  33  57  35  61
Beaks_Interstate_Pk   52  37  59  43  66  49  61  42  52  33  51  34  57  36  60
Blacksburg_AG         50  33  57  38  64  44  59  38  50  29  49  29  55  32  58
Blacksburg_WSO        50  33  57  38  64  44  59  38  50  29  49  29  55  32  58
Bland                 51  31  58  36  66  43  60  36  51  27  51  27  56  30  59
Burkes_Garden         46  31  53  36  61  42  55  36  46  27  46  27  51  29  54
Christiansburg        50  33  57  38  64  44  59  38  50  29  49  29  55  32  58
Clintwood_1W          52  37  59  43  66  49  61  42  52  33  51  34  57  36  60
Clintwood_AP          52  37  59  43  66  49  61  42  52  33  51  34  57  36  60
Floyd                 52  33  59  38  66  44  61  38  52  29  51  29  57  31  60
Galax                 53  34  60  40  68  46  62  39  53  30  52  31  58  33  61
Grundy                55  36  63  41  70  47  65  40  56  32  55  32  61  34  64
Hillsville            53  34  60  40  68  46  62  39  53  30  52  31  58  33  61
John_Flannagan_Lk     52  37  59  43  66  49  61  42  52  33  51  34  57  36  60
Marion                54  34  61  40  69  46  63  39  54  30  54  31  59  33  62
Mount_Rogers          46  31  53  36  61  42  55  36  46  27  46  27  51  29  54
North_Fork_Lake       52  37  59  43  66  49  61  42  52  33  51  34  57  36  60
Pennington_Gap        54  34  62  39  69  46  63  39  55  30  54  30  59  33  63
Pulaski               51  33  59  38  66  44  60  38  52  29  51  29  56  31  59
Radfrod               51  33  59  38  66  44  60  38  52  29  51  29  56  31  59
Richlands             46  31  53  36  61  42  55  36  46  27  46  27  51  29  54
Saltville             54  34  61  40  69  46  63  39  54  30  54  31  59  33  62
Staffordsville        53  36  60  42  68  48  62  41  53  32  53  33  58  35  61
Virginia_Tech_A       45  33  53  40  63  47  55  41  48  33  48  33  54  34  57
Willis                52  33  59  38  66  44  61  38  52  29  51  29  57  31  60
Wise                  52  37  59  43  66  49  61  42  52  33  51  34  57  36  60
Wytheville            51  31  58  36  66  43  60  36  51  27  51  27  56  30  59

Central Virginia
                     Mon   Tue     Wed     Thu     Fri     Sat     Sun     Mon
Altavista             52  37  50  39  67  48  60  44  56  34  55  34  61  35  63
Amelia_4SW            52  34  49  37  65  46  59  43  55  32  53  33  60  34  63
Amelia_8NE            52  34  49  37  65  46  59  43  55  32  53  33  60  34  63
Appomattox            49  34  47  36  64  45  57  42  53  31  51  31  58  32  60
Ashland_Ag            52  35  49  38  65  46  59  44  55  33  53  33  60  34  63
Ashland_VA            49  34  44  38  61  45  57  44  51  32  49  32  57  36  61
Bedford               52  37  50  39  67  48  60  44  56  34  55  34  61  35  63
Berryville            48  32  43  35  58  41  52  38  47  29  49  29  56  33  58
Big_Meadows           39  27  34  30  49  37  43  33  38  24  39  25  47  28  49
Boston_4SE            49  31  44  34  60  40  53  37  49  28  50  28  57  31  60
Bremo_Bluff           50  34  46  37  63  46  57  43  53  32  51  32  58  34  61
Brookneal             50  36  48  38  66  47  58  43  54  33  53  33  59  34  61
Buchanan              56  37  61  43  70  49  64  44  57  33  57  33  63  36  67
Buena_Vista           55  35  60  41  69  48  62  42  56  31  56  31  62  35  66
Camp_Pickett          52  34  49  37  65  46  59  43  55  32  53  33  60  34  63
Charlotte_Court_Hse   50  36  48  38  66  47  58  43  54  33  53  33  59  34  61
Charlottesvile_2W     49  37  47  39  65  49  57  45  53  34  52  35  58  36  61
Charlottesville_AP    53  36  48  40  65  48  55  44  51  33  52  33  59  36  63
Chase_City            53  34  49  37  65  46  60  43  55  32  53  32  61  34  63
Chatham               50  33  49  35  66  44  58  41  55  30  53  30  59  31  62
Corbin                49  35  45  38  62  46  56  43  51  33  50  33  57  34  60
Covington             56  35  60  41  70  47  63  42  56  31  57  31  62  34  67
Crozier               50  34  46  37  63  46  57  43  53  32  51  32  58  34  61
Culpeper              53  35  48  39  64  45  57  41  53  33  54  33  61  36  64
Dale_Enterprise       51  34  56  40  65  47  58  41  52  30  52  30  57  34  62
Danville              49  37  49  39  68  49  61  46  56  34  53  34  59  35  62
Danville_AG           53  36  51  39  68  48  61  44  57  34  55  34  62  35  64
Earle_Hurst           56  35  60  41  70  47  63  42  56  31  57  31  62  34  67
Edinburg_VA           52  33  47  36  62  42  56  39  51  30  53  30  60  34  62
Farmville             50  35  45  39  64  47  60  44  52  34  50  33  58  34  60
Farmville             52  34  49  37  65  46  59  43  55  32  53  33  60  34  63
Fincastle_7NE         54  38  58  44  67  50  61  45  54  34  54  34  60  38  64
Fredericksburg        47  30  46  36  58  40  62  41  54  33  50  34  56  36  60
Free_Union            49  37  47  39  65  49  57  45  53  34  52  35  58  36  61
Front_Royal           48  32  43  35  58  41  52  38  47  29  49  29  56  33  58
Gathright_Dam         56  35  60  41  70  47  63  42  56  31  57  31  62  34  67
Glasgow               55  35  60  41  69  48  62  42  56  31  56  31  62  35  66
Gordonsville          52  34  48  38  65  46  59  43  54  32  53  33  60  34  62
Hot_Springs           49  31  53  37  63  44  56  38  49  27  50  27  55  31  59
Huddleston            52  37  50  39  67  48  60  44  56  34  55  34  61  35  63
John_H_Kerr_Dam       50  35  44  40  63  48  65  47  55  35  50  35  57  38  62
Keysville             50  36  48  38  66  47  58  43  54  33  53  33  59  34  61
Lake_Of_The_Woods     50  34  45  38  61  44  54  40  49  31  51  32  58  35  60
Lawrenceville         53  35  50  38  66  47  60  44  56  33  54  33  61  35  63
Lexington             55  35  60  41  69  48  62  42  56  31  56  31  62  35  66
Lincoln               51  34  47  38  62  44  55  40  51  31  52  32  59  35  62
Louisa                52  34  48  38  65  46  59  43  54  32  53  33  60  34  62
Luray                 49  30  45  34  60  40  54  36  49  27  50  28  58  31  60
Lynchburg_2           49  36  47  39  65  48  57  44  53  34  52  34  58  35  61
Lynchburg_AP          49  37  48  40  66  49  57  45  54  34  53  34  59  34  62
Madison               50  34  45  38  61  44  54  40  49  31  51  32  58  35  60
Manassas              52  35  48  38  63  44  56  41  52  32  53  32  60  36  63
Martinsville          52  33  50  36  68  45  60  41  56  31  55  31  61  32  63
Meadows_Of_Dan        49  36  47  38  64  47  57  44  53  33  51  33  58  35  60
Monterey              46  27  50  33  59  40  53  34  46  23  46  24  52  27  56
Mount_Weather         42  31  37  35  52  41  46  37  41  29  42  29  50  32  52
Philpott_Dam          50  34  49  36  66  46  58  42  55  31  53  31  59  33  62
Piedmont_Res_Sta      50  34  45  38  61  44  54  40  49  31  51  32  58  35  60
Quantico              48  36  44  40  60  46  54  43  49  34  50  34  57  38  61
Richmond              50  34  43  40  62  46  60  45  52  35  50  35  57  37  61
Roanoke_8N            54  38  58  44  67  50  61  45  54  34  54  34  60  38  64
Roanoke_AP            47  37  50  42  66  49  58  44  54  36  53  36  59  37  62
Rocky_Mount           49  34  47  37  65  46  57  42  53  32  52  32  58  33  60
Sandston              52  36  49  40  65  48  59  45  55  35  53  35  60  36  63
Somerset              50  34  45  38  61  44  54  40  49  31  51  32  58  35  60
South_Boston_Ag       53  36  51  39  68  48  61  44  57  34  55  34  62  35  64
South_Boston_River    53  36  51  39  68  48  61  44  57  34  55  34  62  35  64
Sperryville           49  31  44  34  60  40  53  37  49  28  50  28  57  31  60
Staunton-Shenan       48  32  47  35  62  43  53  38  47  27  48  27  55  30  60
Staunton_AG           51  33  55  39  64  45  58  39  51  29  51  29  57  32  61
Sterling_RCS          48  33  44  36  59  43  53  39  48  30  49  30  57  34  59
Stuart                49  36  47  38  64  47  57  44  53  33  51  33  58  35  60
The_Plains            49  34  44  37  60  43  53  40  48  31  50  31  57  34  59
Timberville           52  34  56  40  66  46  59  41  52  30  53  30  58  33  63
Tye_River             50  34  49  36  66  45  58  41  55  31  53  31  59  32  62
Vienna_Dunn_Loring    48  33  44  36  59  43  53  39  48  30  49  30  57  34  59
Warrenton             49  34  44  37  60  43  53  40  48  31  50  31  57  34  59
Washington            49  31  44  34  60  40  53  37  49  28  50  28  57  31  60
Washington_Dulles     49  35  45  37  60  44  53  41  48  31  50  31  57  35  61
Waynesboro            51  33  55  39  64  45  58  39  51  29  51  29  57  32  61
Winchester_7SE        47  32  42  36  58  42  51  38  47  30  48  30  55  33  58
Winchester_WINC       47  32  42  36  58  42  51  38  47  30  48  30  55  33  58
Woodstock             52  33  47  36  62  42  56  39  51  30  53  30  60  34  62

Eastern Virginia
                     Mon   Tue     Wed     Thu     Fri     Sat     Sun     Mon
Back_Bay_Wildlf_Ref   47  37  46  43  59  47  62  48  54  40  51  40  56  43  60
Colonial_Beach        48  33  47  40  59  43  63  44  55  36  51  37  57  39  61
Eastville             46  35  46  42  58  45  61  46  54  38  50  39  55  41  60
Emporia               49  32  49  38  61  42  64  43  57  35  53  35  58  38  62
Holland               49  34  48  40  60  44  64  45  56  37  53  38  58  40  62
Hopewell              52  35  51  41  63  45  67  46  59  38  55  38  61  41  65
Langley_AFB           45  35  46  43  59  46  62  47  54  38  50  39  54  42  57
Mathews               47  34  46  41  58  44  62  45  54  37  50  38  56  40  60
Newport_News          47  35  46  43  59  46  62  47  54  38  50  39  55  39  58
Norfolk_NAS           45  36  50  44  58  46  60  48  56  39  49  40  55  43  59
Norfolk_South         47  36  46  43  58  46  62  47  54  39  50  40  55  42  60
Norfolk_VA            45  37  47  45  58  47  62  48  55  40  50  41  54  44  59
North                 47  34  46  41  58  44  62  45  54  37  50  38  56  40  60
Oceana                45  35  48  45  59  47  64  48  56  40  51  40  55  44  61
Oyster                46  35  46  42  58  45  61  46  54  38  50  39  55  41  60
Painter               46  34  45  40  57  44  61  45  53  37  49  37  55  40  59
Petersburg_VA         52  35  51  41  63  45  67  46  59  38  55  38  61  41  65
Stony_Creek           49  32  48  38  61  41  64  43  57  35  53  35  58  37  63
Suffolk_Lake_Kilby    49  35  48  42  60  45  64  46  56  38  52  39  57  41  62
Tangier_Island        43  35  42  41  55  44  58  46  50  38  46  38  52  40  56
Wakefield_1NW         49  32  48  38  61  41  64  43  57  35  53  35  58  37  63
Wakefield_AP          50  34  44  41  62  47  63  48  54  36  50  36  56  38  61
Walkerton             49  32  48  38  61  41  64  43  56  35  53  35  58  38  62
Wallops_Island        44  33  44  42  56  43  57  43  52  35  50  36  54  39  57
Warsaw                48  33  47  39  59  43  63  44  55  36  51  37  57  39  61
West_Point            49  33  48  40  61  43  64  44  56  36  53  37  58  39  62
Williamsburg          49  33  49  39  61  43  64  44  57  36  53  36  58  39  63

Delaware
                 Mon   Tue     Wed     Thu     Fri     Sat     Sun     Mon
                   03/15  03/16   03/17   03/18   03/19   03/20   03/21   03/22
STATION              MAX MIN MAX MIN MAX MIN MAX MIN MAX MIN MAX MIN MAX MIN MAX
-------------------- --- ------- ------- ------- ------- ------- ------- -------
All Delaware
Bridgeville           45  29  43  36  54  39  55  39  47  32  49  33  55  35  58
Dover_AFB             44  31  42  38  53  41  52  40  46  32  47  33  53  37  57
Georgetown_5SW        45  29  43  36  54  39  55  39  47  32  49  33  55  35  58
Georgetown_AP         44  30  44  39  55  41  54  41  48  33  48  33  54  38  58
Greenwood_2NE         45  29  43  36  54  39  55  39  47  32  49  33  55  35  58
Lewes                 45  31  43  39  54  41  55  41  47  34  48  35  55  37  58
Middletown            46  29  43  34  55  39  55  38  48  30  51  31  56  35  60
Milford               46  30  45  38  56  40  57  40  49  33  50  34  57  36  60
Newark_University     46  28  43  33  55  38  55  37  48  29  51  31  56  34  60
Odessa                46  29  43  34  55  39  55  38  48  30  51  31  56  35  60
Prices_Corner         44  29  41  35  53  39  53  38  46  30  49  32  54  35  58
Wilmington_DE         44  29  41  36  54  40  53  39  46  32  49  33  55  36  59
Wilmngton_Porter_Rsv  43  29  40  34  51  38  52  38  45  30  47  31  53  34  57

Maryland
 Mon   Tue     Wed     Thu     Fri     Sat     Sun     Mon
                   03/15  03/16   03/17   03/18   03/19   03/20   03/21   03/22
STATION              MAX MIN MAX MIN MAX MIN MAX MIN MAX MIN MAX MIN MAX MIN MAX
-------------------- --- ------- ------- ------- ------- ------- ------- -------
Northern Maryland
Aberdeen              44  30  41  35  55  38  53  37  46  29  49  30  56  33  60
Baltimore/Wash        48  33  44  38  57  43  54  40  48  32  50  32  57  36  61
Baltimore_Sci_Cen     47  35  43  38  56  43  52  40  47  32  50  34  56  37  60
Benson                48  31  45  35  58  39  55  36  49  29  53  30  58  33  61
Boyds                 47  32  45  37  57  41  54  38  49  31  52  32  58  35  61
Chestertown           45  32  42  37  54  40  52  39  47  32  48  33  54  36  58
Conowingo_Dam         45  30  42  34  55  39  52  36  46  28  50  30  55  33  58
Cumberland            52  32  50  36  61  40  57  38  51  30  56  30  61  33  64
Damascus              47  32  45  37  57  41  54  38  49  31  52  32  58  35  61
Emmitsburg            46  29  44  34  56  38  54  35  48  28  51  29  57  32  60
Frederick_2NNE        46  27  43  31  55  36  53  33  47  25  50  26  56  30  59
Frederick_Gas_Plant   46  27  43  31  55  36  53  33  47  25  50  26  56  30  59
Frederick_MD          47  32  44  37  58  42  53  40  47  30  51  31  57  34  61
Frostburg             45  27  43  31  55  36  50  33  44  25  49  25  54  28  57
Hagerstown_AP         47  34  43  37  57  43  51  39  46  31  50  32  56  35  60
Hancock               47  31  46  35  57  39  53  37  47  29  52  29  57  31  60
Middle_River          45  33  41  38  54  42  52  41  47  33  49  34  55  38  58
Millington            46  29  43  35  55  38  53  37  48  30  49  31  55  34  59
Oakland               45  29  48  34  55  36  51  33  43  24  47  25  52  29  55
Parkton               44  29  41  33  53  38  51  35  45  27  48  28  54  32  57
Rockville             48  31  45  36  57  40  55  37  49  30  52  31  58  34  61
Savage_River_Dam      44  30  47  35  54  37  50  34  42  25  46  27  51  30  54
Sharpsburg_5S         49  29  47  33  58  38  54  35  48  27  52  27  58  30  61
Smithsburg            45  31  43  35  55  40  52  37  47  29  50  31  55  34  59
Towson                47  32  45  36  57  41  55  38  49  30  52  32  58  35  61
Unionville            46  27  43  31  55  36  53  33  47  25  50  26  56  30  59
Westminster           45  31  42  35  54  39  52  37  46  29  50  30  55  34  58
Williamsport_MD       48  33  47  37  58  42  53  39  48  31  52  32  57  34  61
Woodstock             47  31  44  35  57  40  54  37  48  29  52  30  57  34  61

Central Maryland
                     Mon   Tue     Wed     Thu     Fri     Sat     Sun     Mon
Annapolis             50  35  45  39  59  45  54  41  49  33  51  33  57  37  61
Beltsville            49  32  44  36  57  42  53  38  47  30  49  31  56  34  59
Cambridge             46  35  45  40  57  43  56  43  50  36  49  35  56  37  61
Centreville           48  31  44  36  56  40  55  39  49  31  50  33  57  36  60
College_Park          50  35  45  39  59  44  54  41  48  33  51  33  57  36  60
Dalecarlia_Reservoir  53  34  48  38  61  43  57  39  51  32  53  32  60  35  63
Denton                46  33  45  38  57  42  56  41  50  34  49  33  56  36  60
Easton                45  35  44  41  56  44  55  43  49  37  48  36  55  38  59
Glenn_Dale_Bell_Stn   52  32  48  36  61  41  57  38  51  30  53  30  60  33  63
La_Plata              48  34  45  39  59  44  55  41  50  33  50  34  57  37  60
Laurel                49  34  45  39  58  44  53  40  48  33  50  33  56  36  60
Mechanicsville        47  35  44  39  57  44  54  41  49  34  49  34  56  37  59
Nat'l_Arboretum_DC    50  34  46  38  59  44  55  40  49  32  51  33  58  36  61
Owings_Ferry_Landing  46  35  43  39  57  44  53  42  49  34  48  34  55  37  59
Oxon_Hill             46  38  44  42  57  47  53  45  49  37  48  37  55  41  59
Patuxent_River        44  34  45  40  56  43  55  42  50  34  48  35  55  39  59
Royal_Oak             45  35  44  41  56  44  55  43  49  37  48  36  55  38  59
Solomons              46  35  43  39  57  44  53  42  49  34  48  34  55  37  59
Stevensville          48  31  44  36  56  40  55  39  49  31  50  33  57  36  60
Upper_Marlboro        49  32  45  37  58  42  54  38  48  31  50  31  57  34  60
Washington_DC_AP      50  37  46  41  60  46  54  43  49  34  50  35  57  39  61

Southeastern Maryland
                     Mon   Tue     Wed     Thu     Fri     Sat     Sun     Mon
Crisfield_Somrs_Cove  44  36  44  42  55  46  55  45  49  38  48  39  54  41  57
Ocean_City_AP         42  33  43  41  52  43  53  42  49  36  46  38  50  39  55
Princess_Anne         47  33  46  39  57  42  58  41  51  35  50  35  57  37  60
Salisbury             45  31  43  40  57  42  57  42  49  35  48  34  53  36  59
Snow_Hill             46  33  45  40  56  43  57  42  50  35  49  35  56  38  59
Vienna                47  35  46  40  57  44  57  43  51  36  49  35  57  38  61