Management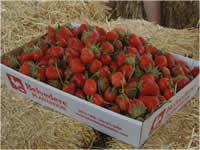 In addition to growing a quality crop, farmers must be adept at business management. Business management includes not only financial responsibility, but also marketing, food safety, postharvest handling and risk management. A farmer might produce a bumper crop of berries, but if any one of these management areas is overlooked, the profit potential for the season will not be fully realized.
Budgets / Cost Estimates
Risk Management
Direct Marketing
Wholesale Marketing
Food Safety
Was the information on this page helpful?