Cold Protection and Weather Update Follow Up (Fr. Mar. 2, 2018)
Find this article at:
go.ncsu.edu/readext?513888
Good evening,
Barclay and I will tag team the weather forecasts over this season. We have a very early season this year and his experience is most appreciated by me and I'm sure by all of you as well.
When I was visiting Ron Edwards from Spring Farms in SC last week, some plants were in 5-10% bloom already. However, we both decided to wait with fertigation for another week or two, due to the early season and the possibility of cold events. However, if the weather generally stays the way it was the last weeks, some of you in South Carolina and in the eastern plains of North Carolina might consider picking fruit end of March/begin of April.
Here are some advises for you:
(1) Make sure that your market is ready. Have enough labor force/customers to pick the berries.
(2) Make sure not only to watch our weather advisories frequently, but also measure temperatures on blossoms with thermo couples. To learn how to do that, please see: https://strawberries.ces.ncsu.edu/2009/12/mauris-sed-leo-aliquam-aliquam/
As Barclay indicated, your choice to protect your blossoms from cold injury is based on (1) your crop status (pre-bloom or transitioning to bloom?) and (2) the type of cold event (frost, frost/freeze, freeze) (3) temperatures at the blossom.
Table 1 has critical temperatures for cold protection in several stages of plant development. We usually recommend to start protection open blossoms when temperatures are predicted to drop under 35 F.
Table 1: Critical temperatures for cold protection (according to Perry and Poling, 1986)
| | |
| --- | --- |
| Stage of Development | Critical Temperature (F) |
| Tight bud | 22 |
| Popcorn | 26.5 |
| Open blossom | 30 |
| Fruit | 28 |
While in the pre-bloom and popcorn stage, row covers are a good protection agains cold, that might be different when your plants are transitioning into open blossom. That is especially the case with early blooming varieties such as Sweet Charlie.
Frost events are based on radiation and often on building of ice crystals, characterized by low wind speeds. Freeze events however are based on moving cold air, weather fronts etc. Freeze events are often characterized by high wind speeds and temperatures below 32 F. Frost/Freeze events have elements of both. The way you protect your blossoms depends on the event and the windspeed. Table 2 gives a good overview of effectiveness and non effectiveness of certain cold protection methods.
Table 2: Cold protection decision tool during bloom
| | | | |
| --- | --- | --- | --- |
| Method | Frost | Frost/Freeze | Freeze |
| Row Cover | effective/very effective | effective | limited effectiveness |
| Row Cover + Sprinkler | not advised | very effective | effective |
| Sprinkler (alone) | very effective | limited effectiveness | no effect |
Wind direction and speed is a decisive factor. A good wind prediction tool (and it is for free) is: http://www.windy.com Wind speeds are shown in kts (=1.1 mph) on surface level.
Temperature forecasts:
North Carolina: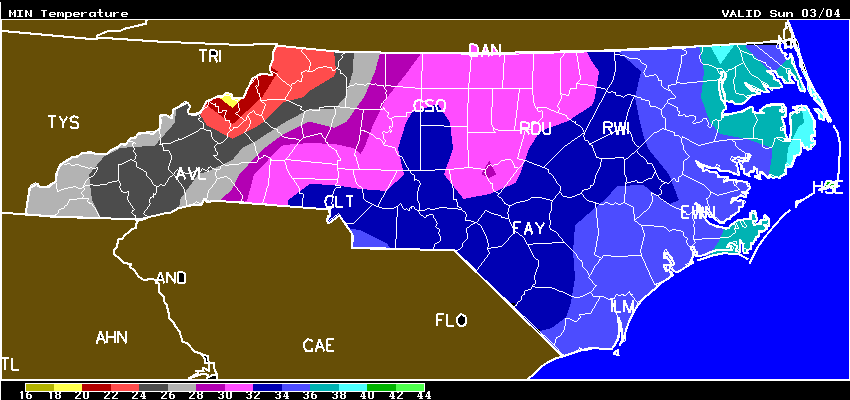 Fig.1: Minumum temperatures over the weekend are in the upper 30s in the coastal areas and lower 30s in the plains. 
According to windy.com, wind speed will remain above 10 mph in most regions in NC for the next few days. If you want/need to frost protect, row covers would be more effective than sprinkling, giving the higher wind speeds.
5-DAY hourly forecast:
South Carolina:
5-DAY hourly forecast:
Georgia:
5-DAY hourly forecast:
Virginia:
5-DAY hourly forecast:
Maryland:
5-DAY hourly forecast:
Thank you and I hope that helps. Barclay and I will keep you updated.
If you have questions, ask your local extension service or write an email to mark.hoffmann@ncsu.edu
Thanks,
Mark
---