Frost preparations will depend on crop stage and minimum temp forecast for your area (2pm, Thur., March 1, 2018)
Find this article at:
go.ncsu.edu/readext?513370
en Español

El inglés es el idioma de control de esta página. En la medida en que haya algún conflicto entre la traducción al inglés y la traducción, el inglés prevalece.

Al hacer clic en el enlace de traducción se activa un servicio de traducción gratuito para convertir la página al español. Al igual que con cualquier traducción por Internet, la conversión no es sensible al contexto y puede que no traduzca el texto en su significado original. NC State Extension no garantiza la exactitud del texto traducido. Por favor, tenga en cuenta que algunas aplicaciones y/o servicios pueden no funcionar como se espera cuando se traducen.

English is the controlling language of this page. To the extent there is any conflict between the English text and the translation, English controls.

Clicking on the translation link activates a free translation service to convert the page to Spanish. As with any Internet translation, the conversion is not context-sensitive and may not translate the text to its original meaning. NC State Extension does not guarantee the accuracy of the translated text. Please note that some applications and/or services may not function as expected when translated.

Collapse ▲
Good afternoon!
I was just in touch earlier today with Dr. Mark Hoffmann, Small Fruit Extension Specialist, NCSU, and I said that I would  appreciate an opportunity to weigh in regarding the colder temperatures headed our way over this weekend, and into next week.
For the next week or so, we are fortunately not looking at anything like what happened here last March, but for growers with early blooming varieties, like Sweet Charlie, there is potential  for blossom-damaging "white frosts" in some areas as early as this weekend! I am afraid these frosty conditions will continue into next week as well.
So, let's get started with some updates from the field
Our first grower to provide a crop update is Eric Hunter, Easley, SC, and I really think his comment about how this season is shaping up to be another "early season" is particularly appropriate – he is anticipating being open 2 weeks earlier…
1. Eric Hunter of Easley, South Carolina (near Clemson)
Our plants look excellent and we expect another early season and the potential for another record crop. It seems our crop season has a new normal. This will be 4 years in a row that we have opened at least two weeks early.
At the moment, we don't have a large amount of blossoms, but within a week, we will be in a fairly heavy bloom status. We have a large amount of buds protruding from the crown, and a fairly amount of emerged buds/popcorn stage.
We did not use row covers over the fall or winter as we usually do due to the mild weather. We only covered for two weeks around the first of the year when that severe cold spell came through.
We will begin our fertilizations this week…and may be a little late in doing so, but we should be ok there.
I'll get some pictures to you over the next few days.
Luckily, we are NOT dealing with anything remotely like the freeze conditions of last March (2017)…thank goodness!
2. Danny Van Meter, Clarkson, KY
We have a lot of buds and near popcorn/popcorn stage blossoms. At this point, I'm not 100% sure. We have rain all day today and the covers will be soaked, plus we have high wind warnings tomorrow afternoon through Saturday evening. Right now, I am leaning towards not doing anything. I have several growers just south of me who are loaded with open blooms.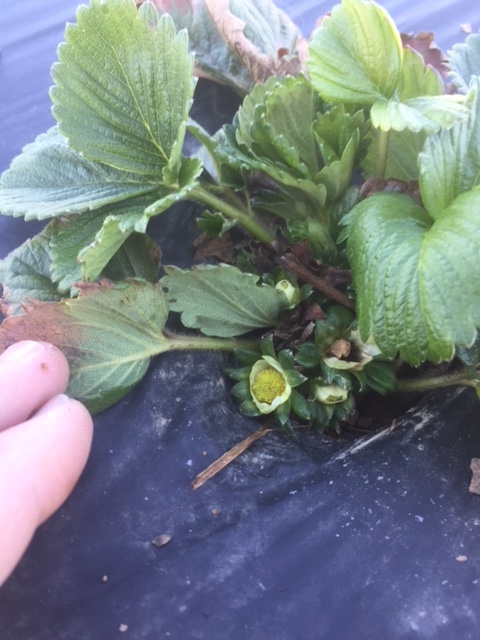 Fig. 1. Photo of Chandler in Clarkson, KY.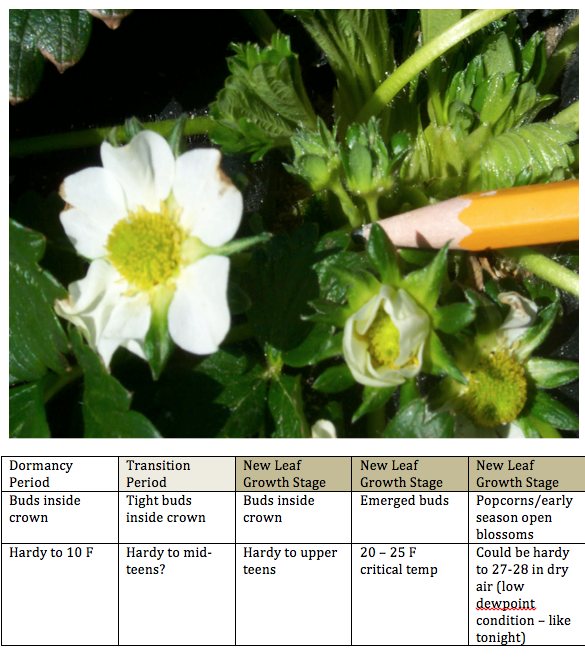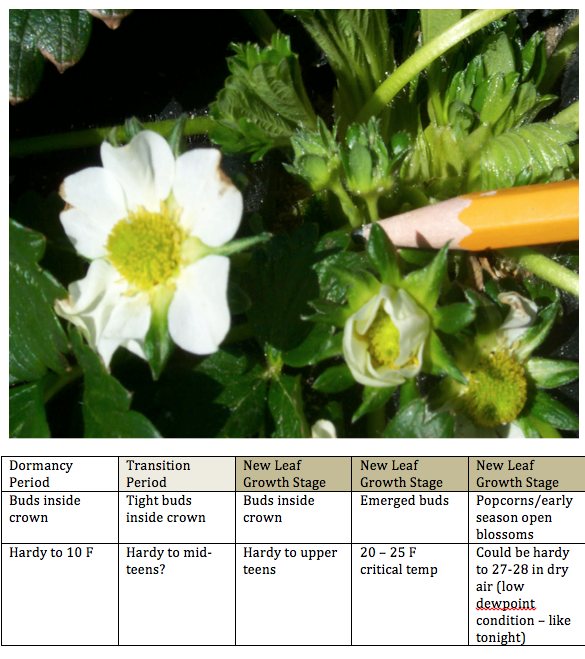 Fig. 2. Many of you are familiar with this table that shows a photo of the actual flower stages (tight bud next to pencil, popcorn just below pencil, and open blossom to left), and the table below the photo indicates the critical temperatures for each of these stages. For example, the emerged buds that are not yet open are very hardy, and can handle temperatures as low as 20 F. But, when you reach the popcorn and open blossom stages, the crop is MUCH MORE VULNERABLE for frost damage. PLEASE NOTE that the 27-28 F critical temp for open blossoms ONLY applies to situations with DRY AIR. I am afraid that the types of frosts we will  be experiencing in this weekend and into next week, can cause serious injury even at 30 F ~ assuming these are going to be "white frosts."
3. Rob Woodard, Hertford, NC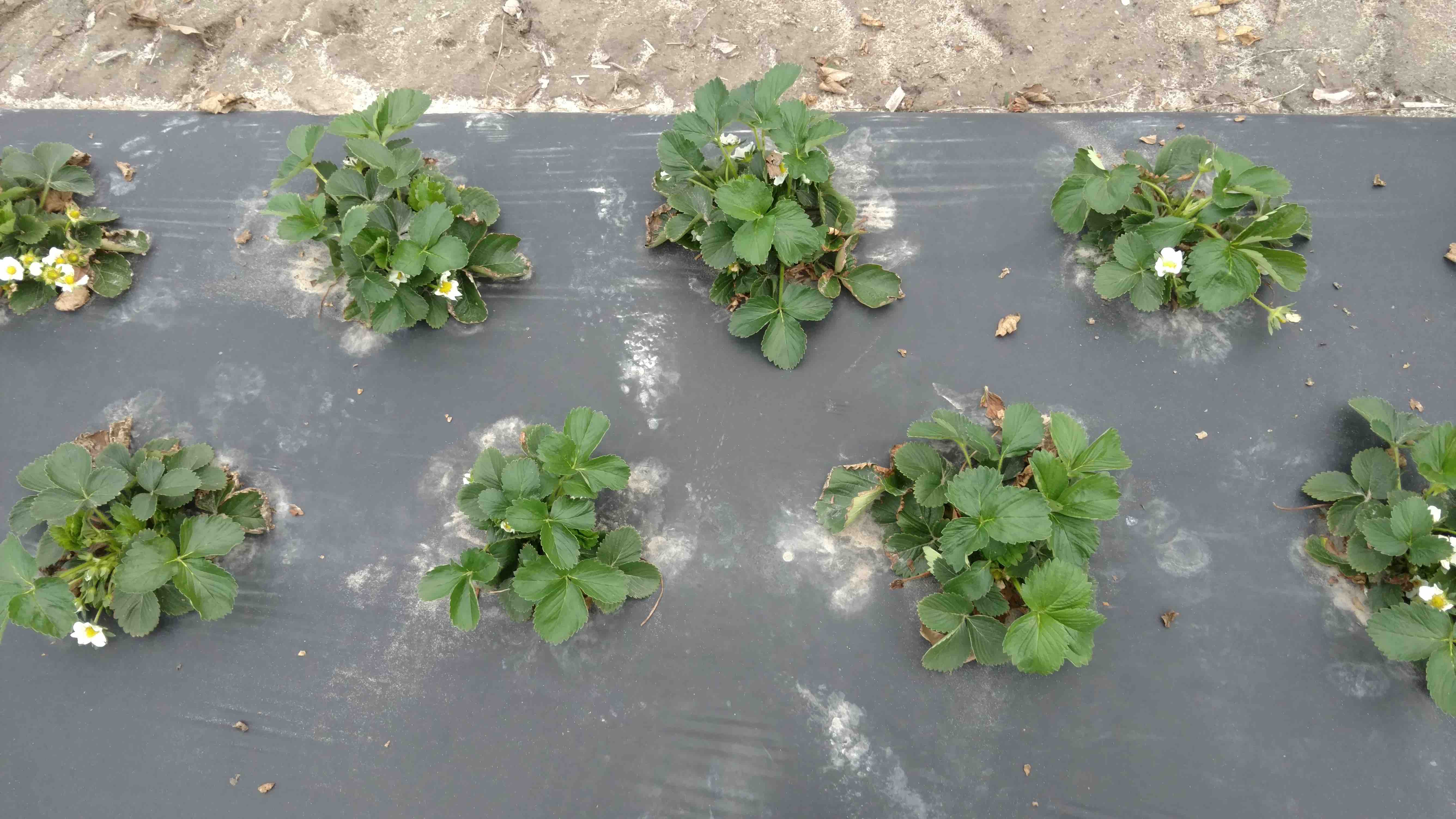 Fig. 3. Sweet Charlie crop in Hertford, NC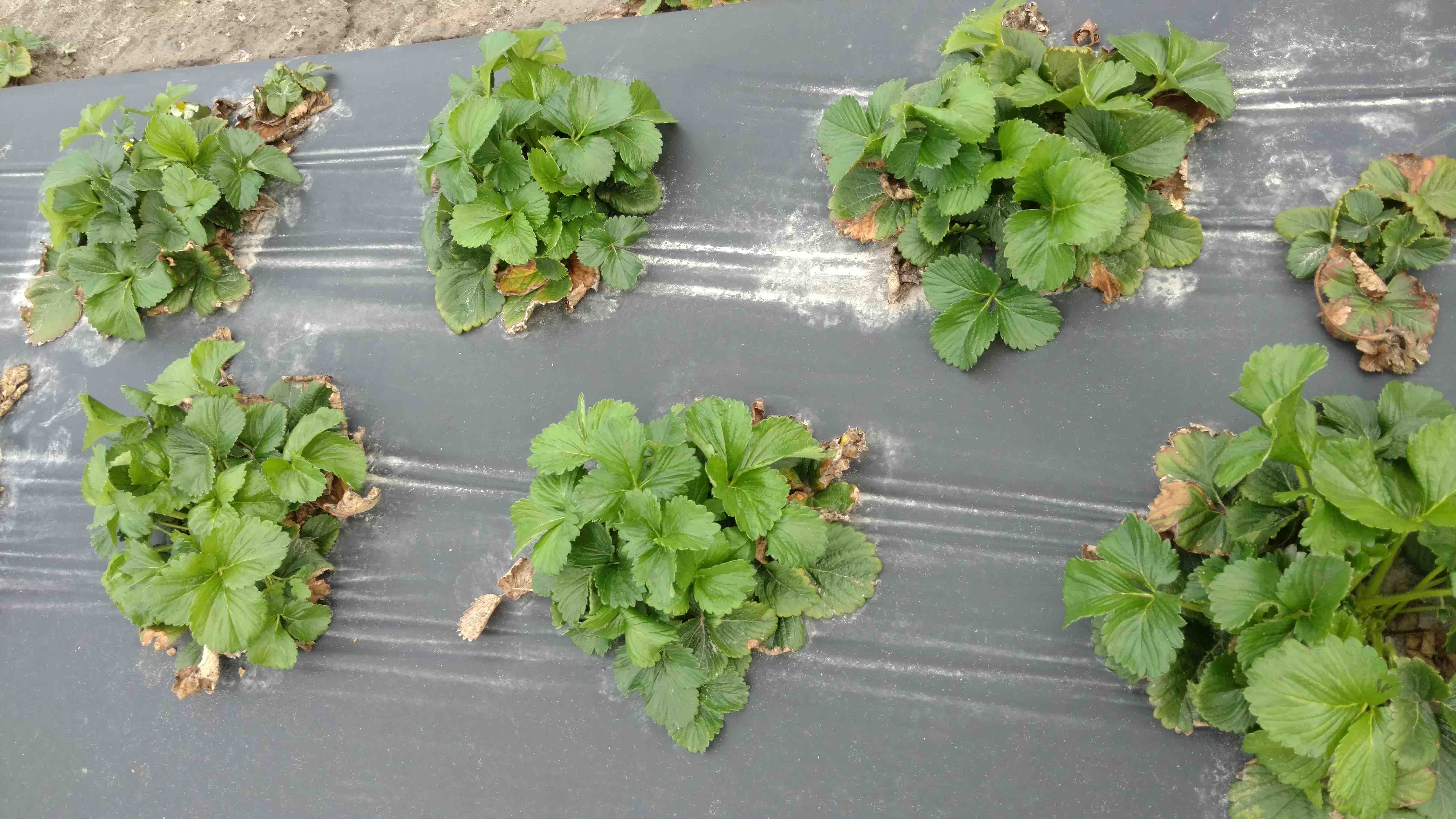 Fig. 4. Chandler crop in Hertford, NC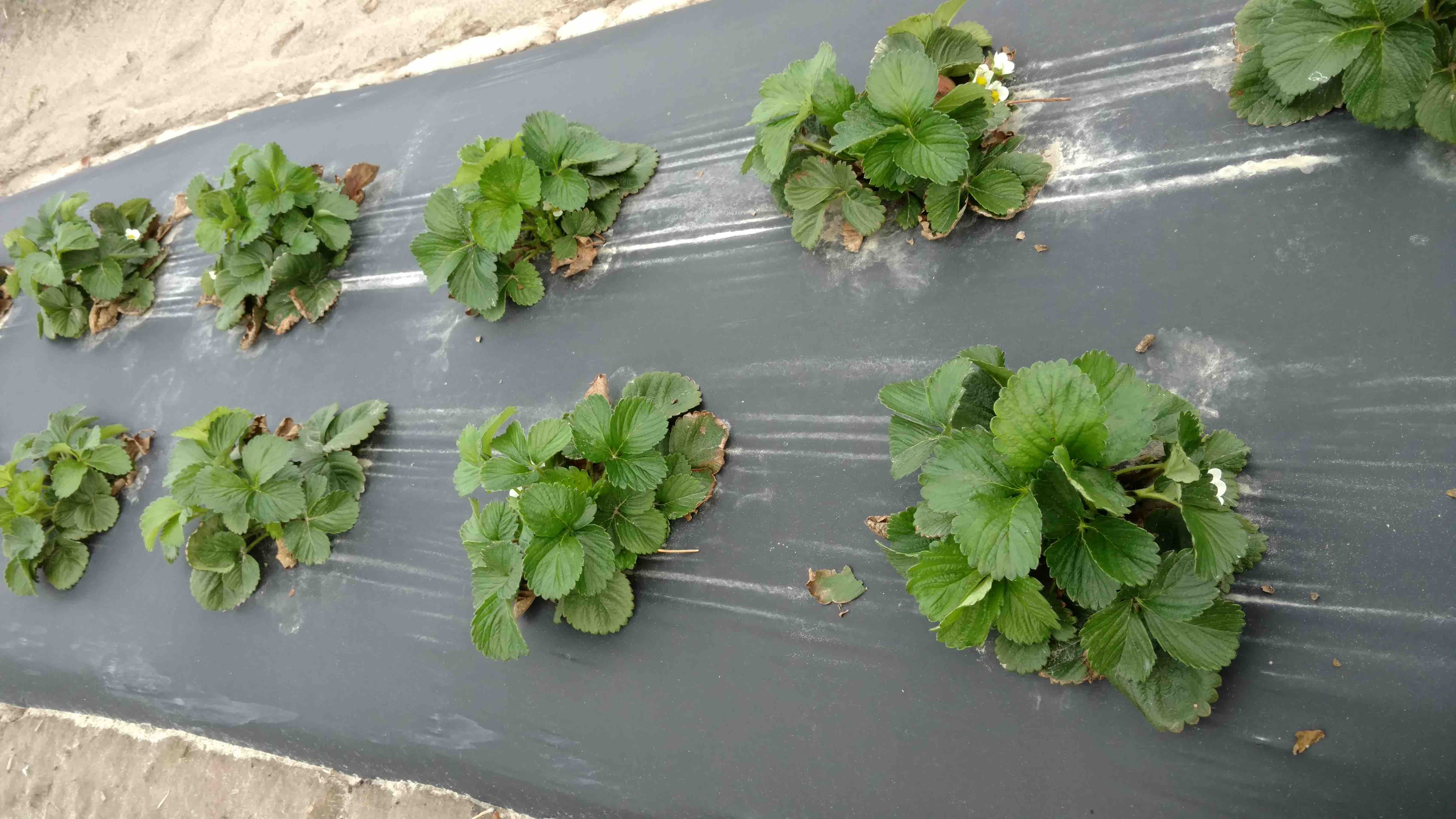 Fig. 5. Camarosa crop in Hertford, NC
I met Rob at the Virginia Winter Strawberry School in VA Beach on Tuesday (2/27), and he sent this note today (3/1):
Thanks for the information you shared with me at the meeting Tuesday. I have attached a picture of all three varieties Sweet Charlie (Fig. 3), Camarosa (Fig 4) and Chandler (Fig 5). After arriving home I went to the field and noticed my Sweet Charlies have really gone into bloom with some plants with as many as 10. I plan on after this rain event today to start with my fertigation.
Thanks again for your advice – Rob Woodard
4. John Gross, Sanford, NC (Sandhills)

I spoke with John last night from my home in Williamsburg, VA. I used to visit John's farm just south of Raleigh quite often when I was at NC State. Basically, John has about 15 open blossoms with some green fruit as well on his Sweet Charlie! That is a lot of exposed crop. So, we carefully looked over all the different forecast information for his area, and something that got my attention this morning is how the AWIS 10-day forecast for Sanford, NC, has changed overnight, and now he is possibly looking at a frost on Sunday morning (3/4) according to this latest AWIS forecast Sanford – AWIS 3.1.18
As of last evening, AWIS was not forecasting a frost in Sanford area for Sunday morning: Sanford- Feb 28, 2018 at 7:20 p.m.
So, things are changing! And, I am glad that John has taken some precautions to "cover up"  his Sweet Charlie, and John also told me that his Camarosa are about "half as far along" as the Sweet Charlie (7-8 open blossoms). He  pulled the row covers yesterday (ahead of today's rain and some of the high winds expected Friday), and his plan is to  leave them in place through the middle of next week. AWIS is saying there will be frost in Sanford area forecast each morning from  Sunday through Wednesday. There is a good possibility that Thursday morning (3/8) could be even colder? But, winds are expected to be higher Wed night/Thursday morning, and less potential for frost formation Thursday morning.
Check out your AWIS forecast!
If you have as many as 10-15 open blossoms right now, you definitely need to carefully study the AWIS forecast below, and look at the row that is 3rd from the bottom that begins with "DEWF" and see if an "F" for frost is indicated. But, beaware that a lot can change in the next 24-48 hours with these forecasts, and Mark and I will be working together to keep publishing these important AWIS updates until we get past this patch of frosty weather!
Wind issues:  In the Sanford area, for example, winds will finally begin to die down in late afternoon on Saturday (3/3) for easier application of row covers. At this point,  row covers appear to be the best option. Sprinkling can be effective, but winds could still be "up" in the 7-8 mph range on Monday morning
Sprinkling option – because of winds in the forecast for Sun/Mon in Sanford, for example, you would  need to start-up sprinkling before the wet bulb temp drops below 33 F — around midnight to 1 a.m. on Monday morning (3/5) (see the AWIS  table for early Monday morning). Here is a nice review of the do's and dont's of sprinkling:StrawberryPlasticulureAdvisoryApril1505
State by State 10-Day Detailed AWIS forecasts (note: immediately by each state name is the 7 day max/min temp table — this table covers even more locations in each state than the AWIS 10-day detailed forecast)
Maryland – MD Min Temp 7 days
10-DAY DETAILED HOURLY WEATHER FORECASTS
Virginia – VA Min Temps for 7 days
10-DAY DETAILED HOURLY WEATHER FORECASTS
North Carolina NC Min Temp 3.1.18
10-DAY DETAILED HOURLY WEATHER FORECASTS
South Carolina – SC AWIS 7 Day
10-DAY DETAILED HOURLY WEATHER FORECASTS
Georgia – Ga AWIS 7 day
10-DAY DETAILED HOURLY WEATHER FORECASTS
Kentucky
AWIS Weather Services, Inc. Western Kentucky Frost/Freeze Forecast
Produced at  504 a.m. CST on Thu Mar  1 2018

... Forecast for Tonight ... Southwest Kentucky                      
NWS Fcst Zones 1-13                               

**** NEAR FREEZING COLD LOCATIONS  ****
**** LITTLE IF ANY FROST DUE TO WIND **** 

Lowest Temperatures:      35 - 38
Murray Min                  38 
Range Dewpoint Temps:     30 - 43
Range Wetbulb  Temps:     32 - 48
AVG Wind Direction/Speed:  NW 10                          
AVG Sky Condition:         Clear    

Extended Forecast: Range of Lowest Min Temperatures in the Above Zones
Min Temps Valid For Morning of Given Date (May NOT include ALL cold pockets)

  03/03/18  03/04/18  03/05/18  03/06/18  03/07/18  03/08/18
  --------  --------  --------  --------  --------  --------
   30 - 33   31 - 34   40 - 42   35 - 39   30 - 34   26 - 28
--------

Grayson County Area                     
NWS Fcst Zones 23-24,26-28,61-63                  

**** FREEZE COLD LOCATIONS  ****
**** LITTLE IF ANY FROST DUE TO CLOUDS/WIND **** 

Lowest Temperatures:      31 - 36
Leitchfield Min             34 
Durations at/below 32:     0 -  2
Range Dewpoint Temps:     27 - 40
Range Wetbulb  Temps:     33 - 47
AVG Wind Direction/Speed:  NW 16                          
AVG Sky Condition:     Mostly Cloudy

Extended Forecast: Range of Lowest Min Temperatures in the Above Zones
Min Temps Valid For Morning of Given Date (May NOT include ALL cold pockets)

  03/03/18  03/04/18  03/05/18  03/06/18  03/07/18  03/08/18
  --------  --------  --------  --------  --------  --------
   26 - 31   26 - 32   32 - 40   35 - 40   29 - 33   21 - 26
--------

For more detailed information visit www.awis.com or call 888-798-9955. Copyright 2018 AWIS Weather Services, Inc. All rights reserved.
10-DAY DETAILED HOURLY WEATHER FORECASTS
Grower question:
Dr. Poling
Will the Skybit weather be offered this year for strawberry growers? I haven't seen any info on it and found it very beneficial for our operation last year here in Kentucky at Fox Farms. If so, I want to sign up and also send an application to a new grower in Harrodsburg, KY that Danny Van Meter got started this season.
Thanks
✈️Troy Montgomery
Fox Farms
Lancaster, KY
Hi Troy – I am still doing this at cost. You can send me an email at:
strawberrydoc@gmail.com
and I will send you the details – I can still get you signed up for a 3 month subscription. My winter season has been unusually busy this year, and I did not send out as many reminders about this service as I should have. For growers who don't know what we're talking about, here is an example of SkyBit for Danny Van Meter – note it will be pretty cold Saturday morning in his location!