UPDATE on MONDAY FROST POTENTIAL in NC, VA, MD, KY, SC, & GA (1:30pm, Sun., 4/29/18)
Good Afternoon,
I was definitely not expecting to be issuing  frost advisories this late in the season for strawberry growers in the Carolinas, Virginia, and other areas. This brief advisory is intended to only identify any changes that may have taken place since yesterday's frost alert for this evening and tomorrow morning.
Mid-Atlantic Region
Fig. 1. This is the latest minimum temp map from AWIS for Virginia and Mid-Atlantic Region – see the map below to see how things have changed since yesterday (Fig. 2)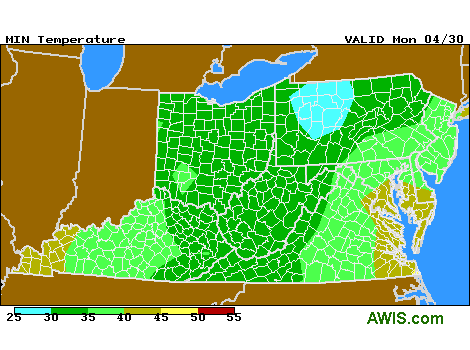 Fig. 2. Yesterday's forecast for Monday morning differs somewhat from today's (Fig. 1), and you can now see in Fig. 1 some more of the powder blue (25-30) in some areas.
North Carolina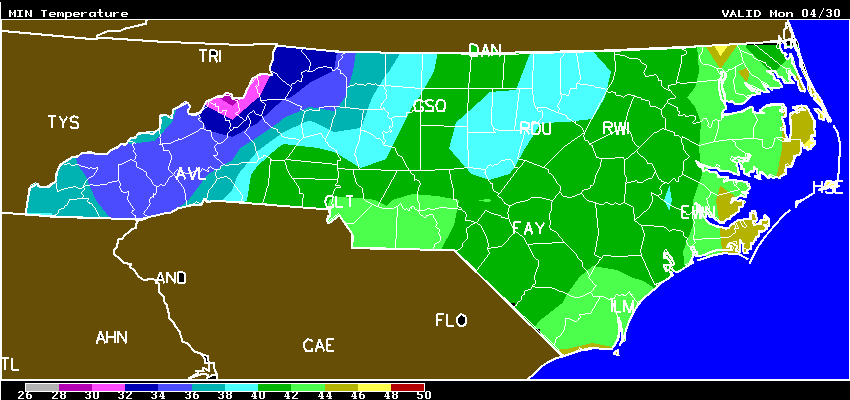 Fig. 3. The latest minimum temp map for NC – compare this to yesterday's forecast (Fig. 4).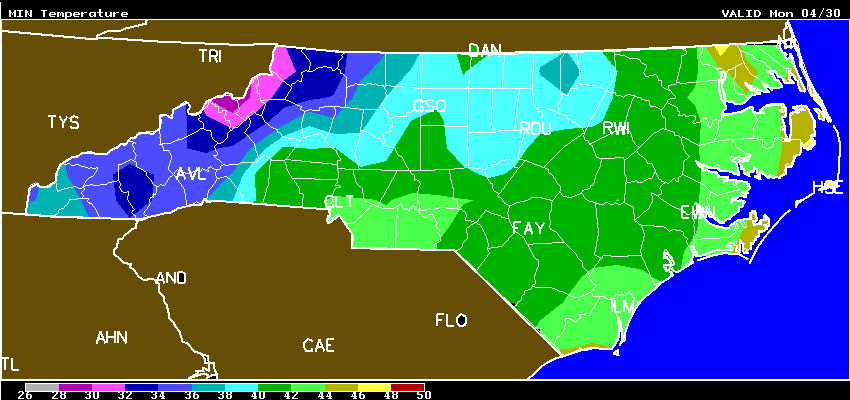 Fig. 4. This was yesterday's AWIS forecast for Mon 4/30, and the changes here have been mostly good ones! In the current forecast (Fig. 3) you do not see that teal area (36-38) in the counties north of Raleigh and RDU area.
So, PLAY IT SAFE, and be sure to consult the latest AWIS frost forecast for the city/town closest to your farm:
10-Day Detailed Hourly Forecasts for MD, VA, NC, SC, GA, and KY
MD
10-DAY DETAILED HOURLY WEATHER FORECASTS
VA
10-DAY DETAILED HOURLY WEATHER FORECASTS
NC
10-DAY DETAILED HOURLY WEATHER FORECASTS
SC
10-DAY DETAILED HOURLY WEATHER FORECASTS
---
GA
10-DAY DETAILED HOURLY WEATHER FORECASTS
KY
10-DAY DETAILED HOURLY WEATHER FORECASTS