FAQ This Morning: What to Do in Situation With Wet Covers That Could Freeze Up? (12:27pm, Sat., April 7, 2018)
Good morning,
In Dr. Mark Hoffman's advisory yesterday he mentioned the problem of of wet row covers becoming frozen, and how this could be damaging to a strawberry crop in bloom. If you own a digital thermometer with thermocouple inserted in blossom, you can very precisely monitor blossom temps tonight and tomorrow morning. Before covers freeze up, it is necessary to "add heat back into the system" with sprinkling, and you start sprinkling when blossom temps start dropping below 32-33, and you keep running until blossom temps get above 32-33. I think many growers are quite worried about the current situation, as one producer just wrote:
"Dr. Piling,
We have strawberries under row cover. We are expecting some heavy rain with freezing temperatures as the rain is ending. Will the row cover being wet when it freezes offer any protection or is it a problem? Also, is it possible to sprinkle over the top of the row cover?"
Answer:
We don't have a very good handle on how much blossom protection to expect from a soaked rain cover – that might also be covered in snow?? It would be nice if someone had done research on this, but in the absence of more research in this area,  I would play safe!  AND, what I would do is have my irrigation system ready to run tonight/early tomorrow morning, when the wet bulb temp drops below 32-33 F (at this time the air temp will likely be up around 37 F).
Every area is different, and that is why Mark keeps providing these incredibly helpful local forecasts from AWIS for several states. The first thing I would do is click on the AWIS location closest to your farm. I did this for someone near King, NC — their closest AWIS location is Mt. Airy, and Mt. Airy is likely going to have a frost tomorrow morning. I emphasize the word "likely" as there are no certainties in this business at all! But, the one thing you can do is plan for the possibility of a frost happening. If your cover is covered in snow, there is a chance you will derive some benefit from this snow layer. However, unless you have an inch or more of snow, I would not put much stock in the snow providing adequate protection of blooms beneath the cover. If you do not own a digital thermometer, you are going to be in a difficult position of not really knowing the blossom temps beneath the wet covers (again, we turn on irrigation to add heat into the system when blossom temps register 32-33). So, alternatively, something you can do is simply monitor the condition of the row cover — if you feel the covers icing up, you should start up sprinkling. I would do this at the first sign of covers icing up.
Here is a very helpful 2014 advisory (3/25/14) when we had a similar situation with wet/frozen covers (you can search this website for other older older advisories on same subject – just use words wet frozen row covers):
Sprinkling on Top of Covers Is an Option to Consider
I would also make sure you get a digital thermometer with thermocouple for accurate blossom temp measurement so you don't have to go through all the torture of trying to figure out what the blossom temp actually is under the row cover? It is one of the most important pieces of equipment you can own as a strawberry grower.
MD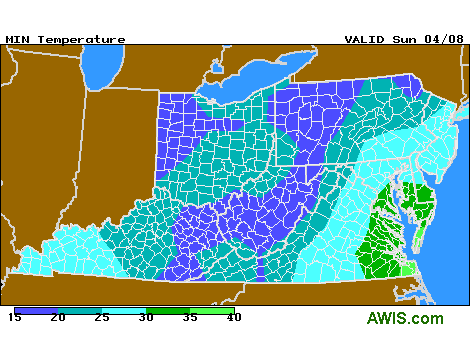 10-DAY DETAILED HOURLY WEATHER FORECASTS
KY
10-DAY DETAILED HOURLY WEATHER FORECASTS
VA
10-DAY DETAILED HOURLY WEATHER FORECASTS
NC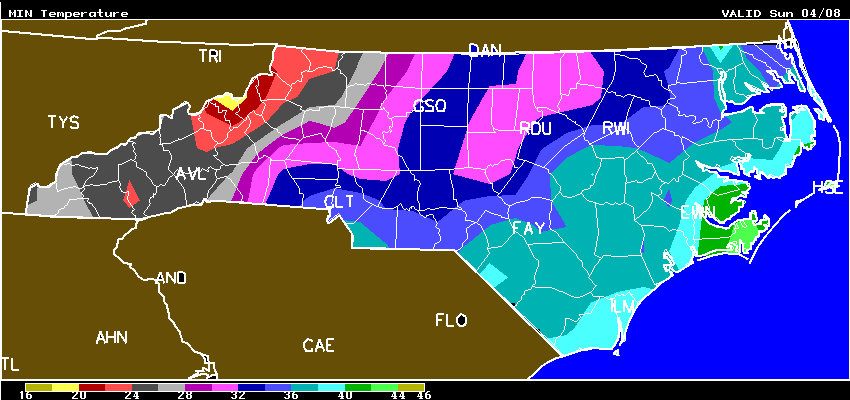 10-DAY DETAILED HOURLY WEATHER FORECASTS
SC
10-DAY DETAILED HOURLY WEATHER FORECASTS
GA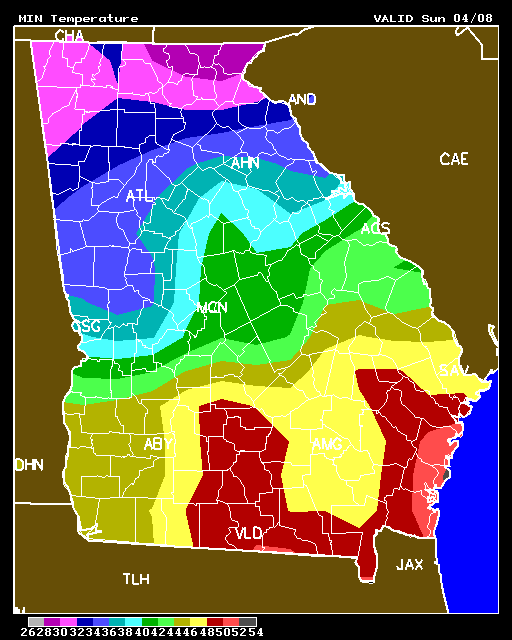 10-DAY DETAILED HOURLY WEATHER FORECASTS
Good luck!