AWIS Weather Update (3/20/18): Snow in VA, MD and North Central NC. Colder Temperatures Return on Wednesday/Thursday. Increased Predicted Risk for Botrytis in Some Regions
Find this article at:
go.ncsu.edu/readext?516776
Dear all,
A quick update on temperatures and precipitation. The next two days will be wet and relatively mild. Parts of NC, VA and MD will see quite a bit of new snow.
After this weather front passes through, temperatures will drop again (see Figure 2 and 3). Frank Louws contacted me yesterday and asked to include disease warnings into the weather updates. I think it makes a lot of sense, especially when the predicted humid and mild conditions are perfect for Botrytis and other pathogens (see Figure 1).
Disease Pressure:
Please check for daily updates on disease risk here: https://agroclimatenc.ncsu.edu/plantdisease/strawberry.aspx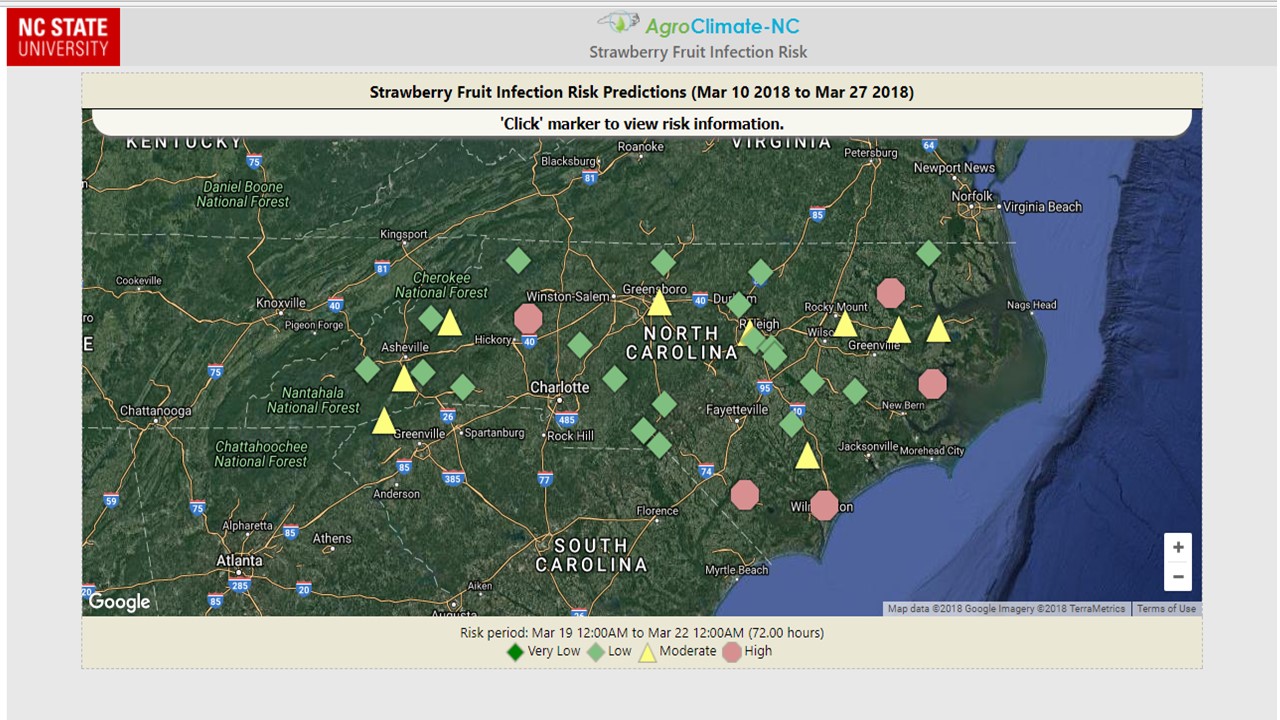 Figure 1: Disease risk prediction for NC (3/20). Please follow the link (https://agroclimatenc.ncsu.edu/plantdisease/strawberry.aspx) and click on an area closest to your location.
In parts of the Piedmont and in the Eastern parts of NC, risks for Bortrytis to develop are fairly high over the next few days. If you are in such an area, try to build in a schedule for a Botrytis spray in you busy schedule after the rain has passed and before the cold nights will start.
TO SELECT BOTRYTIS AND ANTHRACNOSE FUNGICIDES, PLEASE SEE THIS LINK:
https://strawberries.ces.ncsu.edu/2017/02/fungicide-selection-for-botrytis-and-anthracnose-fruit-rot-management-2017/
Temperatures: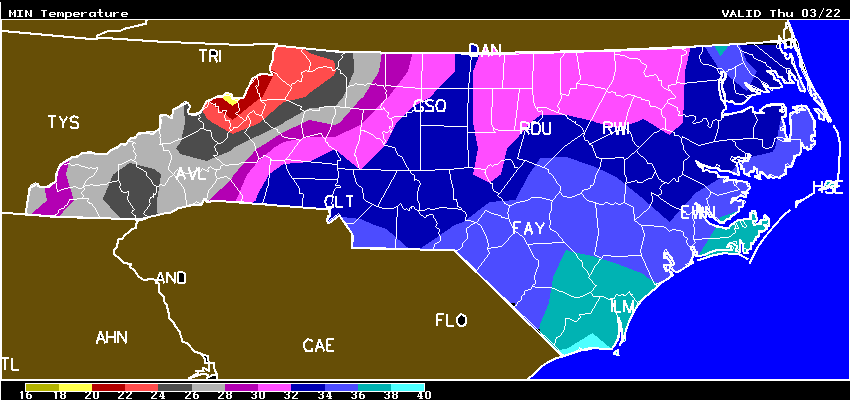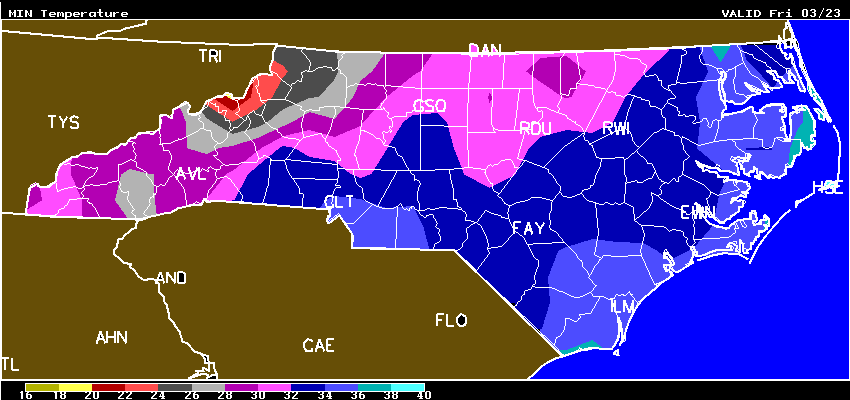 Figure 2: Predicted Minimum Temperatures from Tuesday morning (3/20) to Friday Morning (3/23). Temperatures will fall into low 30s/upper 20s Wednesday-Thursday night in most parts of NC and the Southeast.
New Snow: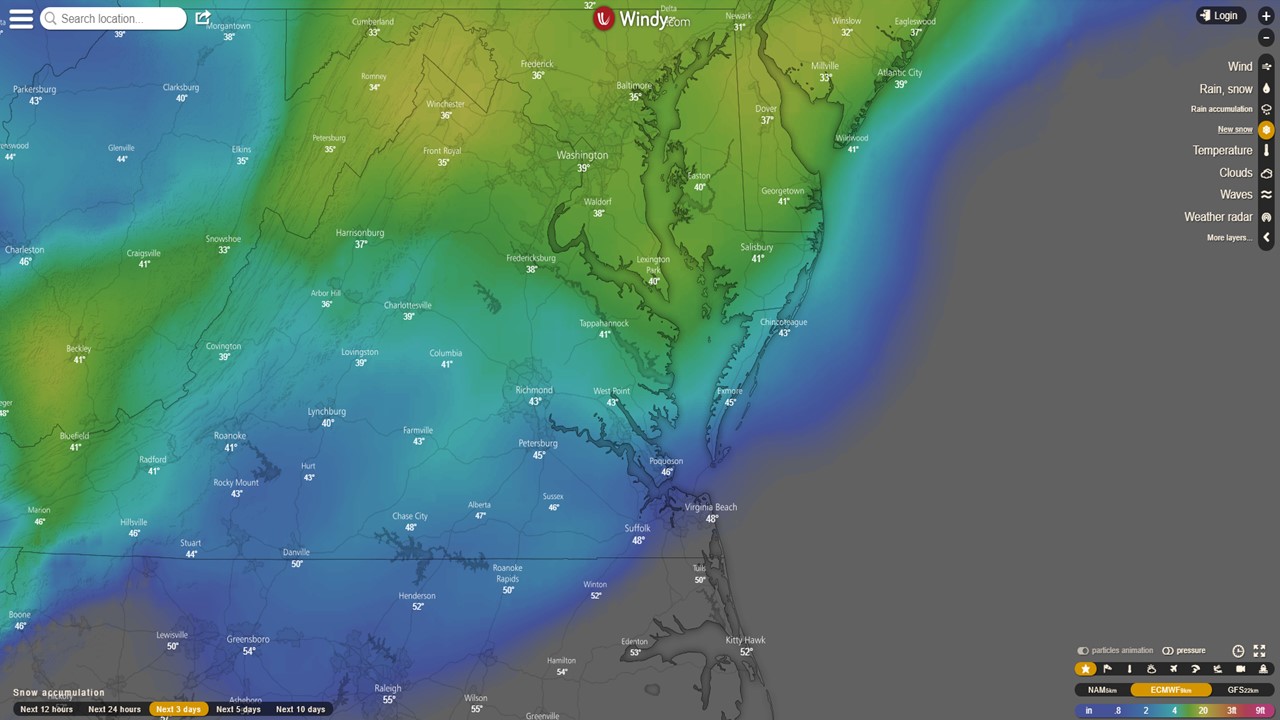 Figure 3: Predicted new snow in parts of NC, VA and Maryland over the next 2 days.
Hourly Forecast:
NC:
VA:
MD:
SC:
GA:
As always I hope that helps. Please contact your local extension office, me or Barclay if you have questions.
Thanks and stay safe,
Mark