AWIS Weather Update (3/10/2018): Rain / Snow Sat-Mon, Frost Nights Tue-Thur in Most of NC
Dear all,
Rain and snow are predicted, starting today afternoon through Monday. After this weather front passed from W to NE, minimum temperatures in the low 30s, upper 20s are predicted for the mornings of Tuesday – Thursday (see below). Maximum Temperatures are predicted to be in the upper 50s in some regions.
This can be a challenging time: protect your blossoms from cold injury on the one hand and try not to advance the crop on the other hand. The decision how often and when to pull on and off row coves is really based on many factors such as overall crop stage, market readiness, labor availability etc.
As a rule of thumb, if you don't protect at all right now, you will most likely not have a crop in three or four weeks. Especially growers with early varieties which are partly in bloom already (such as Sweet Charlie) should protect as good as they can.
Air temperatures above 50 F will most likely lead to temperatures under a row cover which will lead to crop enhancement. Overcast days with lower light intensity are better to handle than days when direct sunlight can heat up the air under a row cover.
Especially in frost events (radiation events), the temperature at your blossoms can be much lower than the minimum predicted temperature in a weather report.As I discussed with at few growers over the last days and Barclay has indicated yesterday (https://strawberries.ces.ncsu.edu/2018/03/some-eastern-nc-areas-will-likely-see-frost-again-saturday-morning-5 p.m.-friday-march-9-2018/) predicted air temperatures are based on measurements in 2m (6.25ft) height. 
At the Rockingham County Strawberry Meeting a few days ago, I've met a grower who has the good practice to measure temperatures at the blossoms with a handheld temperature measurement device (https://strawberries.ces.ncsu.edu/2018/03/some-eastern-nc-areas-will-likely-see-frost-again-saturday-morning-5 p.m.-friday-march-9-2018/\)
He and others reported that temperatures at blossom level can differ as much 5 F and more to air temperatures in 2m height.
That means that the temperatures at your blossoms can easily exceed the protection you get from a row cover! Table 1 indicates the level of protection row covers give you.
Table 1: Maximum Protection of Row Covers 
| | | | | |
| --- | --- | --- | --- | --- |
| | Light | Medium | Medium | Heavy |
| Weight (oz/yd) | .06oz | 1.0oz | 1.2oz | 1.5oz |
| gsm | 20 grams | 34 grams | 40 grams | 51 grams |
| Protection | 27F | 24F | 22F | 20F |
At this time of the year, having a second strategy of protection could decide about the loss of fruit. Double covering or cover-sprinkling might be options.
At the Central Crops Research Farm in Clayton, NC we decided to leave covers off over the weekend. However, in many regions that strategy would be too risky right now. Piedmont min temperatures will be lower over the weekend and it is advisable to leave covers on.
Precipitation Forecast: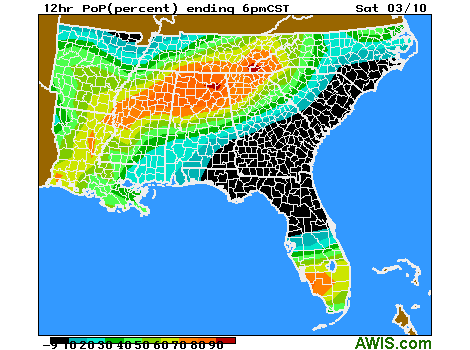 Figure 1: Predicted Rain Saturday (3/10/2018) to Monday (3/12/2018).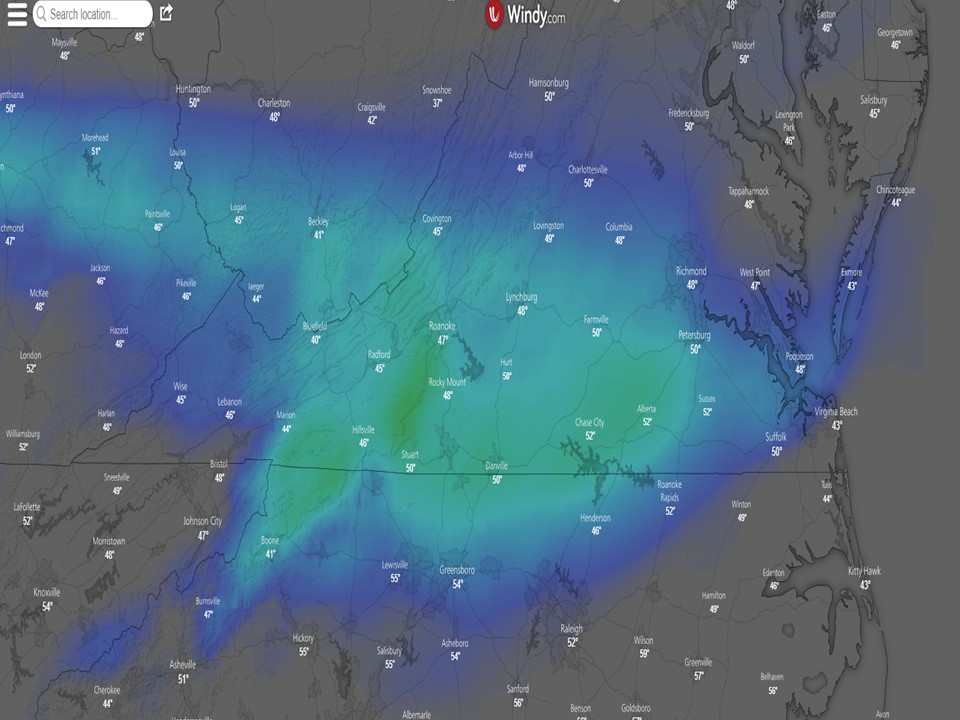 Fig. 2: Predicted snow accumulation in Northern North Carolina and Virginia. Most Snow Accumulation will occur Sunday and Monday (see regional weather reports)
Minimum Temperatures:
Fig.3: Predicted minimum Temperatures for the nights of Tuesday (3/13) to Thursday (3/15). Grey areas indicated air temperatures can go down to 26-24F.
From Tuesday (3/13) to Thursday (3/15) predicted air temperatures can go down to 26-24F! That definitely pushes the limits of even one row-cover. Please be prepared for a second method of protection in those areas (see hourly forecast below).
North Carolina:
Virginia:
Maryland:
South Carolina:
Georgia:
As always I hope that helps. Please let us know if you have questions,
Thanks,
Mark
Was the information on this page helpful?
This page can also be accessed from:
go.ncsu.edu/readext?515284