AWIS Weather Report: SNOW (1/16/18)
Good evening,
Snow is moving into North Carolina. The National Weather Service predicts up to 5-10 Inches of snowfall in several regions.
Snowfall is beginning tonight and will last until tomorrow night (Figure 1).
In the eastern plains, conditions will warm up after the snow (see county forecasts) and there should be enough time for row covers to dry after the heavy snow.
I hope you all stay safe over the next days.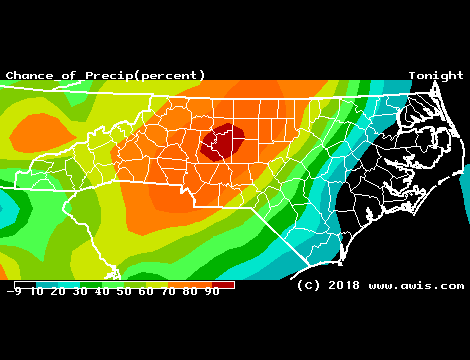 Fig 1.: Chance of precipitation from tonight to tomorrow night. Heavy snowfall are expected in the Mountains, Piedmont and part of the eastern plains.
Local Weather Forecasts:
North Carolina:
South Carolina:
Georgia:
Virginia:
Maryland:
Thank you. I hope that helps. If you have questions or concerns, please contact your local extension office, me (mark.hoffmann@ncsu.edu) or Barclay.
Stay safe,
Mark Hoffmann