Update: AWIS Weather for the Weekend (12.8.17)
Good afternoon,
Dr. Barclay Poling approached me yesterday with the request to aid him in his efforts to support up-to-date weather forecasts. He faces some computer related problems and I will try to do my best to help him and all of you, providing advice and forecasts in the same high quality.
Minimum Temperatures: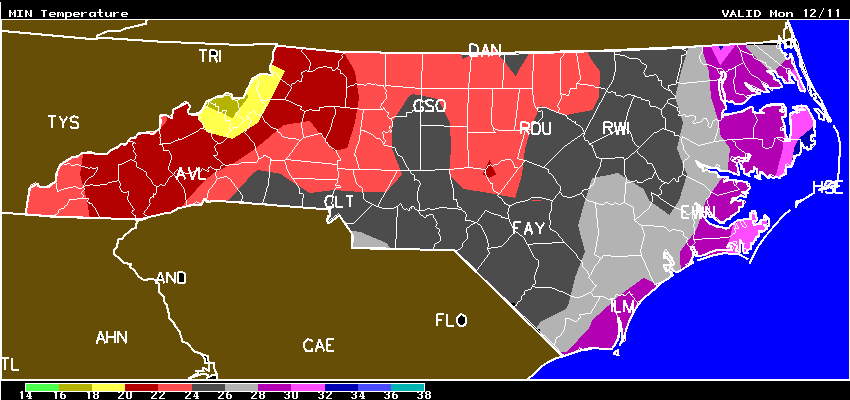 Fig.1: Updated predicted minimum temperatures for Monday 12/11.
As Barclay has indicated two days ago, this time of the year, it's important to induce 'hardiness' in your plants. We are not too concerned about cold injury as long as temperatures are not predicted in the low twenties or mid-upper teens.
The coldest night will be on Monday 12/11, with temperatures down to 16 F in some regions in the West of NC. 
However, if temperatures are predicted to be low in your region and you had covers over your crop to enhance floral initiation, row covers for frost protection could be needed. You have chance of dry weather on Sunday.
Predicted Rainfall:
Fig.2: Predicted Rainfall for the Southeast from Friday 12/8- Sunday 12/10
Rain is predicted for today (Friday 12/8) and Saturday 12/9. Sunday is dry and you will have a chance to put row covers if needed.
Please also consult with your local extension service if you are not sure what to do!
Local Predictions for the Weekend:
North Carolina:
South Carolina:
Georgia:
Virginia:
Maryland:
We will continue providing information through the Winter and Spring,
I hope that helps
If you have any questions or remarks, please contact me:
mark.hoffmann@ncsu.edu.
Thanks,
Mark