AWIS Weather Update for Regional Strawberry Growers (12.6.17)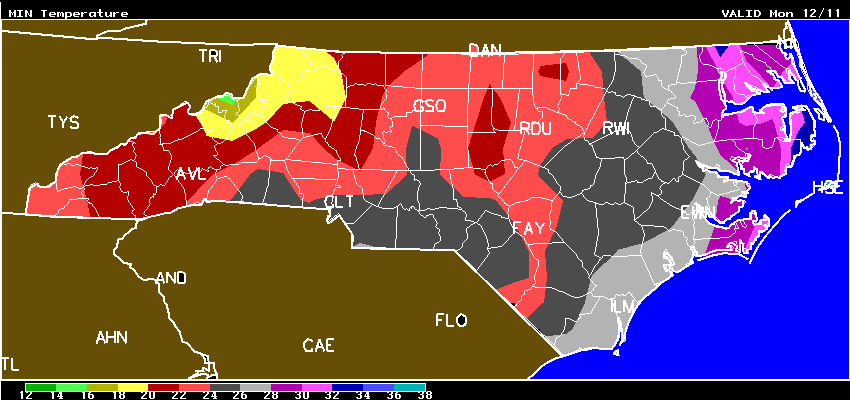 Fig. 1. Colder temperatures will be pouring into the region over the weekend. This map shows the minimum temperatures expected across NC next Monday morning, 12/11/17.
Good afternoon,
I received a call this late afternoon from a strawberry grower near my home in Williamsburg, VA, who had some concerns about colder temperatures headed our way this weekend. His weather source was indicating lows in the Chesapeake area ranging from the  mid-teens to lower 20s on Monday (12/11/17), and he was very concerned about getting his row covers "back on."   As he explains below, he just pulled his covers back off because it was nearly 70 F in this area of VA yesterday.
Situation:
We pulled row covers OFF Camarosas and Ruby Junes Monday afternoon (12/4/17) so covers would not be on during yesterday's nearly 70-degrees/partially-sunny-part-of-the-day weather.
Today (now 1 p.m.) it's about 50, Thursday's high ~50, Fri and Sat highs to be mid-40s; nighttime lows mid-upper 30s until Saturday night 31.
Covers are damp (not soaked) from <0.2" rain last night.
Forecast to get about 0.015" more rain tonight (very little).
Thursday (tomorrow's) forecast probably no more rain, so should be able to pull "damp" covers back over Cams and RJs tomorrow (Thursday). A bit of a chore but they aren't "soaked."
Friday to mid-day Saturday forecast is for another 1"-plus of rain, so covers would be far too wet to pull Saturday or Sunday; gotta pull 'em tomorrow if at all.
Sunday's forecast is cold mid-40s, mostly sunny, quite breezy so covers, if re-pulled tomorrow would probably dry on Sunday.
He also asked this question:  "how long" do berries that were covered to enhance fall floral initiation but recently (Monday) un-covered need to be cold-acclimated?
Let's start by checking with another weather service (AWIS) to see what they have to say about next Monday's low? 
Hourly Detailed Weather Forecast-Ches
If AWIS was calling for 14 or 15 F for next Monday morning, I would be racing out tomorrow (Thursday) to pull covers back on. But, as you can see from this pdf file for Chesapeake, AWIS is calling for a minimum of only 25 F on Monday, Dec. 11th – what a relief! And, if temperatures only drop to 25 F on 12/11/17, I don't see any real problem.
At this time of year, the goal is to "enhance plant hardiness" and temperatures just below freezing, and even into the mid-20s, are very beneficial for plant hardening-off. In the case of plants that have been under row covers for much of the fall, you can safely assume that they have not had an opportunity to harden-off as well as plants that have been uncovered all fall season.
With a forecast for only 25 minimum for a few hours next week, I am doubtful there will be any potential for cold injury in the Chesapeake area. But, for growers in areas that may actually experience mid-to-upper teens and low 20s early next week, I could see potential for cold damage to newer leaves, especially if the plants have had row covers most of the fall. In that scenario, I would be inclined to  re-apply covers. Here are the 10-day forecasts from AWIS for various locations in VA, NC, SC, MD and GA.
VA 10-DAY DETAILED HOURLY WEATHER FORECASTS
NC – 10-DAY DETAILED HOURLY WEATHER FORECASTS
SC – 10-DAY DETAILED HOURLY WEATHER FORECASTS
MD – 10-DAY DETAILED HOURLY WEATHER FORECASTS
GA – 10-DAY DETAILED HOURLY WEATHER FORECASTS
Hope this helps,
Barclay