AWIS Weather Update (12/12/17)
Good afternoon,
I would like to give a short weather update. Here are the two main take-home messages to consider:
Min. Temperatures will be back to upper 20s to upper 30s in North Carolina again by end of this week
Snow and Rain is predicted in the whole Southeast over the weekend, starting on Friday
The coldest night this week: Tuesday (12/12) to Wednesday (12/13)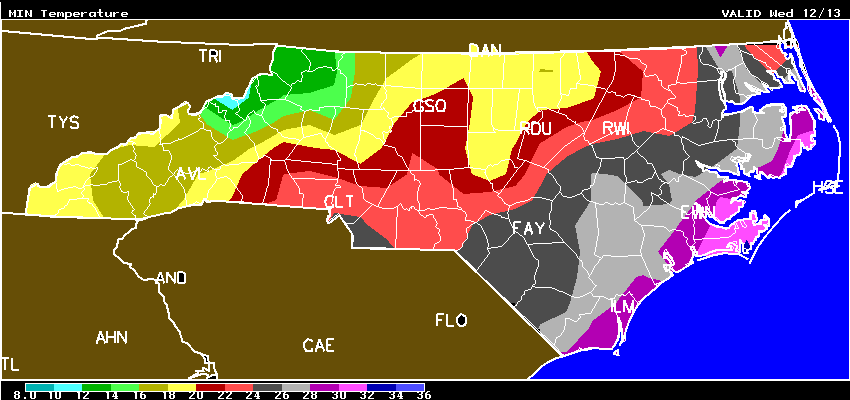 Fig.1: Minimum Temperatures from Tuesday (12/12) to Wednesday (12/13) night: lower teens for the mountains, the upper teens to low twenties for the piedmont and upper twenties to low 30s for the coastal plains.
If you expect lower teens in your area, row covers could be considered to avid cold injury on leaf tissue. However, temperatures will be warmer at the end of the week (see tables at the end). If are in a situation in which you decided to put row covers on your crop, you might want to consider pulling them off before the a possible rain or snow in over the weekend. Please check predicted temperatures in your area (tables at the end).
Precipitation:
Fig.2: Predicted possibility of precipitation for Friday (12/15) to Sunday (12/17).
Possibility of rain and snow increase over the weekend and will be between 20-60% in some areas.
Please also contact your local extension service if you have questions.
You find your county agent under https://www.ces.ncsu.edu/ and click on 'county centers' in the upper right corner.
Local Predictions for the Weekend:
North Carolina
South Carolina:
Georgia:
Virginia:
Maryland:
I hope that helps. As always, if you have questions please contact me
mark.hoffmann@ncsu.edu
Thank you,
Mark