Further Update on Colder Temperatures for Next Week (10:15am, Friday, May 5, 2017)
Find this article at:
go.ncsu.edu/readext?463438
Further update from last Sunday's Outlook:
Some of you may recall that in last Sunday's "Outlook" (April 30), it was mentioned for the period of May 6-8 (Sun-Mon) that: " Temperatures (will) continue to cool to below normal; isolated rain showers through the period. " 
Last Sunday's Outlook went on to say:  There is a slight threat that some locations in the far northern sections of the forecast region to have below freezing overnight temperature. Low temperatures will range from the 30s in the far north of our region (e.g. MD and Northern and Central VA) to low 50s in the far southern sections of the forecast region.
So, I wanted to share today's AWIS mulit-state forecast with our readership for early next week, especially for the benefit of growers in Central VA and MD, and the mountains of VA and NC.
Before sharing the AWIS forecast information, I am also reproducing a SkyBit for a Central VA farm west of Richmond (see below). Please note that SkyBit is calling for a minimum of 38 in the canopy on Tuesday morning.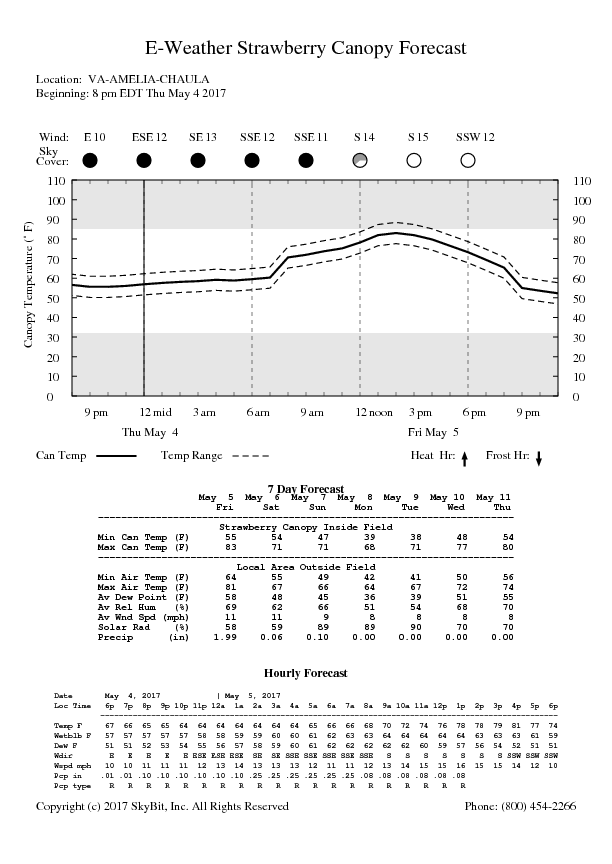 In probing this Tuesday morning low of 38 F a bit further, I thought it would be well to click on AWIS's Farmville location (below) to see if they are forecasting a possible frost? And, what I noted was FROST for the early morning on Tuesday, May 9th Farmville
10-DAY DETAILED HOURLY WEATHER FORECASTS (VIRGINIA)
I know that SkyBit subscriptions for many of you will continue until mid-May (that's a good thing), and you may want to take special note this weekend of what they (SkyBit) are saying the minimums will be for your farm next week.
Here is the multi-state AWIS update:
MD
10-DAY DETAILED HOURLY WEATHER FORECASTS
VA – see above
NC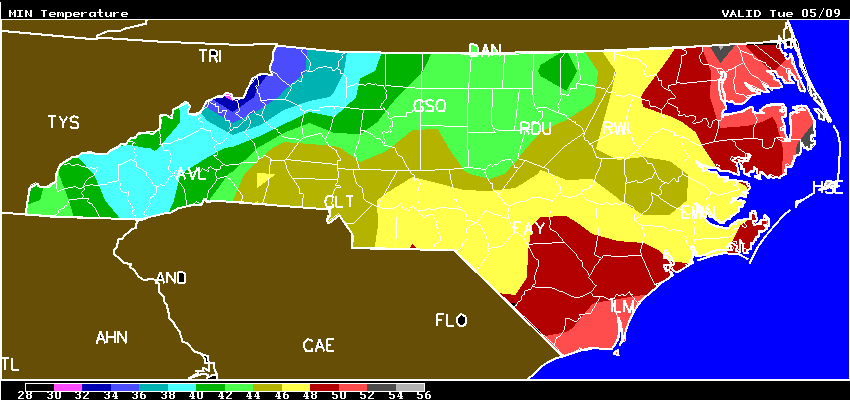 Fig. 1. Minimum temperature map for May 9 (Tue)
10-DAY DETAILED HOURLY WEATHER FORECASTS
SC
10-DAY DETAILED HOURLY WEATHER FORECASTS
GA
10-DAY DETAILED HOURLY WEATHER FORECASTS
KY
10-DAY DETAILED HOURLY WEATHER FORECASTS