Some Risk of White Frost Saturday Morning That Could Damage Open Blossoms (10am, Thur., April 6. 2017)
Find this article at:
go.ncsu.edu/readext?458371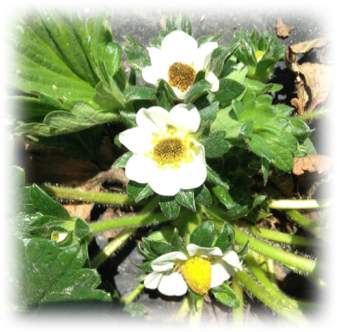 Good morning!
In a quick review of this morning's AWIS minimum temperature map for North Carolina on Saturday morning, it is apparent that a larger area of the state may now see a 'white frost' type of event that could be damaging to open blossoms exposed to the sky (see Fig. 1). With the crop in very heavy harvest right now across the Carolinas, there may be some question about the worth of saving these blossoms? I think the answer to this question lies in whether you are interested in having more red ripe berries in a month? With so much Camarosa fruit being picked in early to mid April, there is concern about a production lull, or gap, in late April-early May. Mother's day falls on May 14.
Fig. 1. Frost damaged strawberry blooms. Any areas with minimum temperatures of 38 F, or less, could be prone to frost on Saturday morning (Fig. 2). It takes about 27-28 days for an open blossom to develop a red ripe berry. The impact of blossoms lost this weekend would be felt in early May.
NC Frost Watch:
In taking a quick look at the newest AWIS minimum temperature map for Saturday morning (Fig. 2), we can see that there has been some change! And, it will be colder across a larger region than what we anticipated just last night.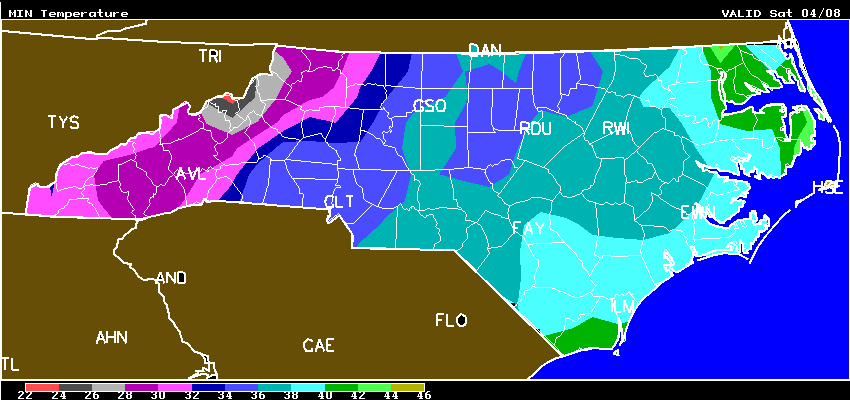 Fig. 2. You can see sort of a 'swelling' in the teal colored region southeast of Raleigh since last night's update (Fig. 3). Teal color = 36-38 F, and that is definitely cold enough for a white frost at strawberry plant level on Saturday morning IF winds die down enough?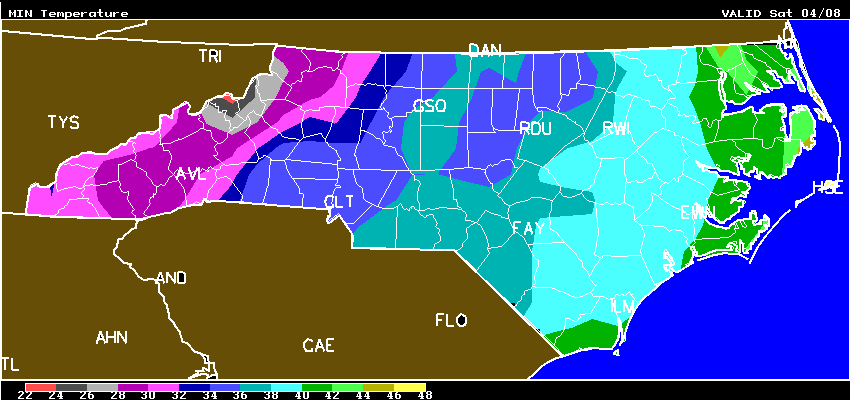 Fig. 3. This was the minimum temperature map issued last evening for Saturday morning.
If we look at an area like Kinston, NC (Lenoir County), it has gone from the powder blue color (Fig. 3) to teal (Fig. 2), and if we take a moment to examine the AWIS pdf for Kinston , we can see there is potential for a short duration frost on Saturday morning — even with a minimum air temperature of 37 F. What you have to remember is that the air temperature minimum of 37 F is for weather shelter height, but under radiation frost type conditions, it will be colder at the ground level (strawberry canopy), and if it drops below 32 F at the strawberry crop level, there is a very good chance of seeing frost form (the air is going to be very very moist).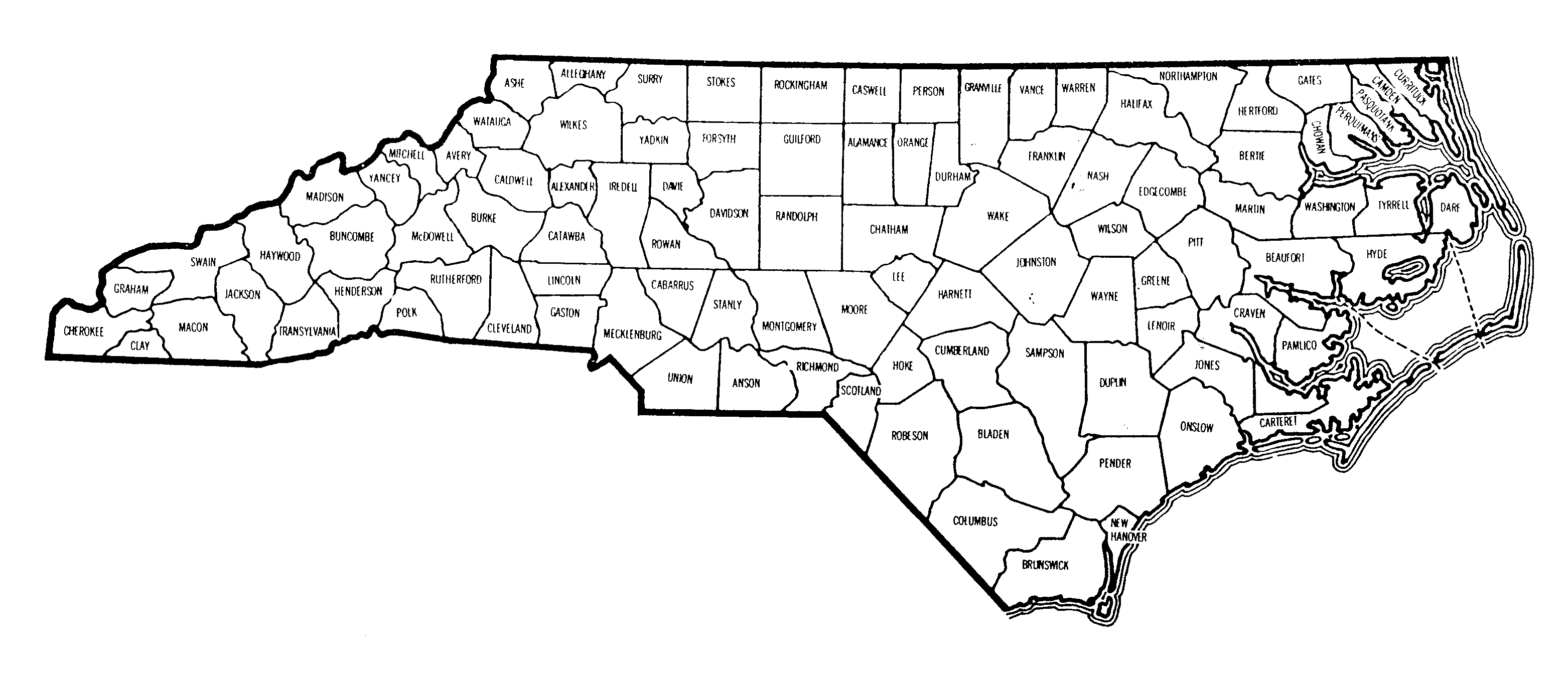 Fig. 4. NC County Map
With air temperature minimum of 41 for Sunday in Kinston area, I see very little potential for frost. But, areas that may be in the 36-38 F range for Sunday morning, need to keep very careful watch, and even areas in powder blue (Fig. 5) could see patchy frost.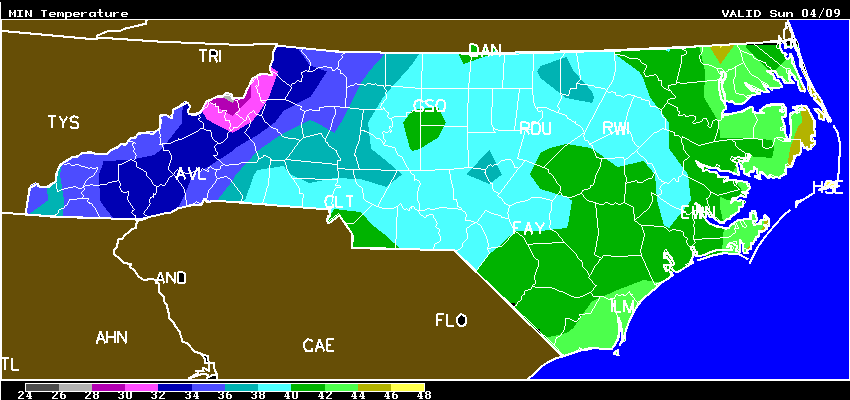 Fig. 5. Some areas may be seeing frost on Sunday morning as well.
Please check out these latest detailed hourly weather forecasts for a location near your farm in North Carolina
10-DAY DETAILED HOURLY WEATHER FORECASTS
Other states:
Maryland
10-DAY DETAILED HOURLY WEATHER FORECASTS

Virginia

10-DAY DETAILED HOURLY WEATHER FORECASTS

South Carolina

I had a very helpful update from Eric Hunter yesterday at noon, and at that time they were under tornado threat (as we are now in Williamsburg, VA). He is still seeing a fair number of blooms with his Camarosa crop, and his plan is to use row covers for protection. Due to the fact that row covers interfere with pollination, he is planning to pull his covers back during the day on Saturday, and then re-apply late in the afternoon,or early evening, on Saturday (for Sunday morning frost). The last I spoke with him, he indicated concern about tonight, and his plan was to row cover. He may provide an update today, and I will add his update to these comments.
10-DAY DETAILED HOURLY WEATHER FORECASTS

Georgia

10-DAY DETAILED HOURLY WEATHER FORECASTS

Kentucky

10-DAY DETAILED HOURLY WEATHER FORECASTS