Shocking Night of Frost Protection! PICKING HAS STARTED UP (8:55am, Friday, March 17, 2017)
GROWERS GLAD FROST PROTECTION WORKED – OPEN TODAY!
QUESTION FROM KINSTON AREA – "WOULD YOU REMOVE COVERS AND RE-APPLY SUNDAY FOR FROST SUN/MON?
YES, IT IS VERY BENEFICIAL TO OPEN THEM UP FOR POLLINATION
SUNDAY/MONDAY NEXT FROST!
Good morning,
I am afraid that saying, "No rest for the weary," is true! I became wary of a problem OF much colder air temps at the strawberry canopy level (relative to 6 1/2 ft up) when I saw my Clayton SkyBit yesterday morning (published in yesterday's advisory).
Anyway, it looked like conditions were going to be much colder at ground level this morning, and they were!  See this morning's Skybit for Clayton. Note the canopy level was 21 F and Min Air Temp 26, or 5 degree difference!  What has made things more worrisome this morning is that AWIS "called it high" for a location I watch closely, Kenansville. Yesterday, AWIS was indicating 23 minimum for this morning. It was actually a few degrees colder this morning (21). So, if you take into account that things at canopy level are about 4 degrees colder this morning, the Kenansville canopy temp could be closer to 19 right now. Ouch!
And, it just so happens that I got a text from a grower who uses the AWIS Hourly for Kenansville a few minutes ago, and he said its 19.4. Not happy!! So, if you were planning on mid-20s and got 19, that means a single row cover DID NOT give adequate blossom protection.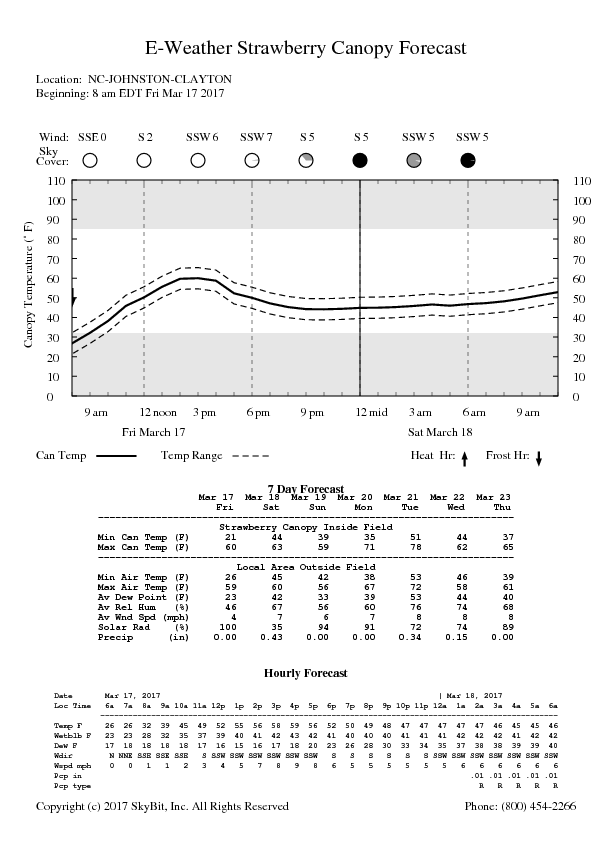 Table 1. This table shows a 5 degree spread between canopy level and weather shelter height air temp.
GROWER REPORTS FROM THIS MORNING:
6:47 AM, ROPER NC
Good Morning from Roper NC.I have been following with great interest the way that growers to the west and north of me have been dealing with the cold.I had been lucky not to use anything but covers to protect strawberries until last night.At 10:30 we had a heavy frost and the temp was 28 degrees.At midnight the temp went up to 33 degrees at 3:45 the temp started dropping and by 4:30 the temp was 26 degrees and bloom temp was 38.I started pumping water ,had the normal sub freezing problems and by the time water was flowing it was 24 degrees and bloom temp was 33.I had started drip earlier. Ice started forming as I skated and checked sprinklers.When I went for my coffee temp was 21 degrees.Looks like I'll be until 9:30 this morning.I guess if it was easy everybody would grow strawberries.    Scot Luton
NC
10-DAY DETAILED HOURLY WEATHER FORECASTS
MD
10-DAY DETAILED HOURLY WEATHER FORECASTS
Virginia
10-DAY DETAILED HOURLY WEATHER FORECASTS
South Carolina
10-DAY DETAILED HOURLY WEATHER FORECASTS
Georgia
10-DAY DETAILED HOURLY WEATHER FORECASTS
Kentucky
10-DAY DETAILED HOURLY WEATHER FORECASTS
Was the information on this page helpful?
This page can also be accessed from:
go.ncsu.edu/readext?454739