Frost in Forecast for Sun / Mon (10am, Saturday, March 18, 2017)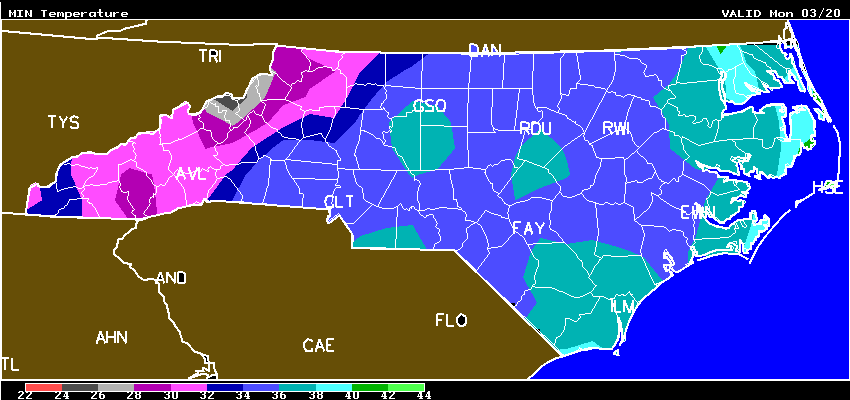 Fig. 1. Minimum temps for Monday morning – white frost is a real possibility, and growers need to assess their crops today to see if it might be worth frost protecting Sunday/Monday. In cases were crops were badly frozen last Wed morning (March 15), there may be no real benefit. But, if you have live flower buds and popcorns, it will be important to consider protection. Also, on Sunday (tomorrow), we will be previewing the weather outlook for the next 2 weeks – be sure to check that out later on Sunday evening (about 9 p.m.).
Good morning,
I appreciate a number of nice phone calls from strawberry growers over the last few days to express their appreciation for these advisories and taking time to look at their individual situations, and offer suggestions on how to handle one of the worst freeze episodes any of us can ever remember. When I wrote the advisory,
Big problem for "water throwers" tonight (9:26 a.m., Tue., 3/14/17)
I had no idea just how destructive this Tue/Wed freeze would be. It was truly devastating in its effects, and I have gathered that a number of growers who went with irrigation alone and could not keep sprinklers going, had very serious losses. The row cover story has been mixed – when I wrote an advisory the next day (Wed, 3/15), I was of the impression that the row covers had done a very good job of protecting against what I called the "Big Daddy" of windborne freezes, but the next 2 cold events (Wed/Thur and Thur/Fri), revealed the serious limitations of a row cover strategy when temperatures fall into low 20s and teens. The "hard freeze" of Thur/Fri also revealed limitations in our capability to forecast just how cold it would get Friday morning — in locations we were expecting 25 minimum, it went to 19! Further, the temperature gradients from the ground level (canopy level) to just 5-6 ft above the crop, were also shocking (it was common to see 5 degree differentials).
Today, growers are assessing their crop situations, and trying to decide whether they need to do anything about the frost coming this Sun/Mon. In this advisory I will concentrate on this particular cold event, but I do wish to suggest that in situations where you had only row covers this past week, that it would likely be valuable to take measures to protect your crop, despite your losses. Strawberry plants are simply amazing how they spring back to life! And, I would invite you to closely inspect the condition of your emerged tight buds, and I happen to think you will be seeing pretty good livability with that stage.
Where I am most concerned is with crops that were irrigated on Tue/Wed, and the irrigation system subsequently froze up. You should inspect the the emerged flowers buds on these plants first, and see if some of the less advanced flower buds survived? If your plants have a blackened look, I recommend that you cut into some of the crowns to assess the condition of the internal crowns? You can just search "crown damage" on this website for photos of what this damage looks like. Here are 3 older advisories that focused on such damage:
Mar 21, 2015 … But, this amount of internal crown damage is not as concerning to me as the … Each strawberry inflorescence may produce 15 or more fruit, …
https://strawberries.ces.ncsu.edu/…/crown-and-flower-bud-damage-related-to- feb-1920-freeze-noon-sat-32115/
Mar 8, 2010 … Freezing injury in strawberry is easily seen by cutting the crowns … Crownstructure: The strawberry crown is actually a much shortened plant stem. …. it also has better shelf-life and resistance to rain damage than Chandler.
https://strawberries.ces.ncsu.edu/…/cold-injury-to-strawberry-crowns/Situation where the grower elected to sit this one out:   I just spoke to a grower in Faison area who elected to "do nothing" Tue/Wed with one block of plants, and these are actually showing new popcorn blooms today that will protection against this next go round.
Situation where the grower elected to sit this one out (Tue/Wed windborne freeze):   I just spoke to a grower in Faison area who elected to "do nothing" Tue/Wed with one block of plants (did not have irrigation or covers), and these are actually showing new popcorn blooms today that will protection against this next go round.
Interesting observation from call this morning – where the grower relied pretty much on one or two row covers, the blossom losses were still quite extensive in his Camino Real variety. The Caminos are more moderate in plant size than Camarosa. The large Camarosa bushes had only 10% bloom damage!
Question on sprinkler heads freezing up
Barclay,
One of my grower's sprinkler heads were freezing up (stopped turning) the first two "rounds" of these crazy nights and they had spent the night running about knocking the ice off of them. Last night, they had gone out in the day and applied WD-40 to the heads. In the morning they reported that only two heads stopped all night, and they just tapped the ice off of them and the started back.
Is WD-40 something regularly used like this, or that we recommend?
Thanks,
Tom Dyson
County Extension Director
North Carolina Cooperative Extension Service
Lincoln County, NC
Reply – I seen "Pam" cooking oil spray work as well. Last week I posted this photo of a white lithium grease product (got this photo on Amazon), and this can work as well. A very large strawberry grower in Louisiana told me yesterday that they have been through some horrific windborne freeze events over the years (apparently, one went to 5 F), and they always spray their nozzles with Pam and/or lithium grease. He also shared an excellent suggestion of using gallon milk jugs for placing over nozzles that are getting frozen up, and the water still coming out of nearly frozen nozzle will effectively wash the ice off.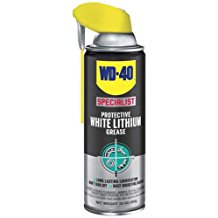 AWIS HOURLY FORECAST
Here are the AWIS hourly forecasts in this next section. I decided to take a peak at the situation in Greenboro, NC, Greensboro – Hourly Detailed Weather Forecast – and, they will potentially see some (white) frost around 5 a.m. Monday morning. This will be a more familiar radiation frost with temperatures that will be hovering around the freezing mark at the canopy  level. This type of frost could be damaging to open blossoms, but is unlikely to affect emerged flower buds.
NC
We are now closely watching for potential frost on Thursday (3/23) as well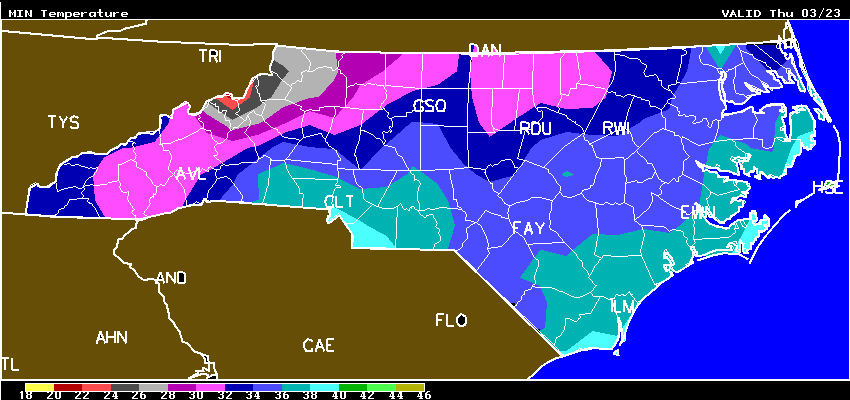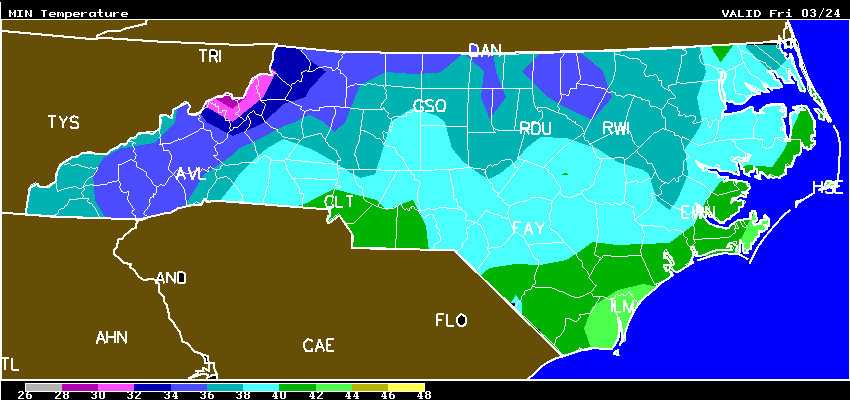 10-DAY DETAILED HOURLY WEATHER FORECASTS
MD
10-DAY DETAILED HOURLY WEATHER FORECASTS
Virginia
10-DAY DETAILED HOURLY WEATHER FORECASTS
South Carolina
10-DAY DETAILED HOURLY WEATHER FORECASTS
Georgia
10-DAY DETAILED HOURLY WEATHER FORECASTS
Kentucky
10-DAY DETAILED HOURLY WEATHER FORECASTS