Exciting Success With Just Row Covers Last Night – Provided It Did Not Get Too Cold! (9:29am and 2:45 PM, Wed., 3/15/17)
Find this article at:
go.ncsu.edu/readext?454046
en Español

El inglés es el idioma de control de esta página. En la medida en que haya algún conflicto entre la traducción al inglés y la traducción, el inglés prevalece.

Al hacer clic en el enlace de traducción se activa un servicio de traducción gratuito para convertir la página al español. Al igual que con cualquier traducción por Internet, la conversión no es sensible al contexto y puede que no traduzca el texto en su significado original. NC State Extension no garantiza la exactitud del texto traducido. Por favor, tenga en cuenta que algunas aplicaciones y/o servicios pueden no funcionar como se espera cuando se traducen.

English is the controlling language of this page. To the extent there is any conflict between the English text and the translation, English controls.

Clicking on the translation link activates a free translation service to convert the page to Spanish. As with any Internet translation, the conversion is not context-sensitive and may not translate the text to its original meaning. NC State Extension does not guarantee the accuracy of the translated text. Please note that some applications and/or services may not function as expected when translated.

Collapse ▲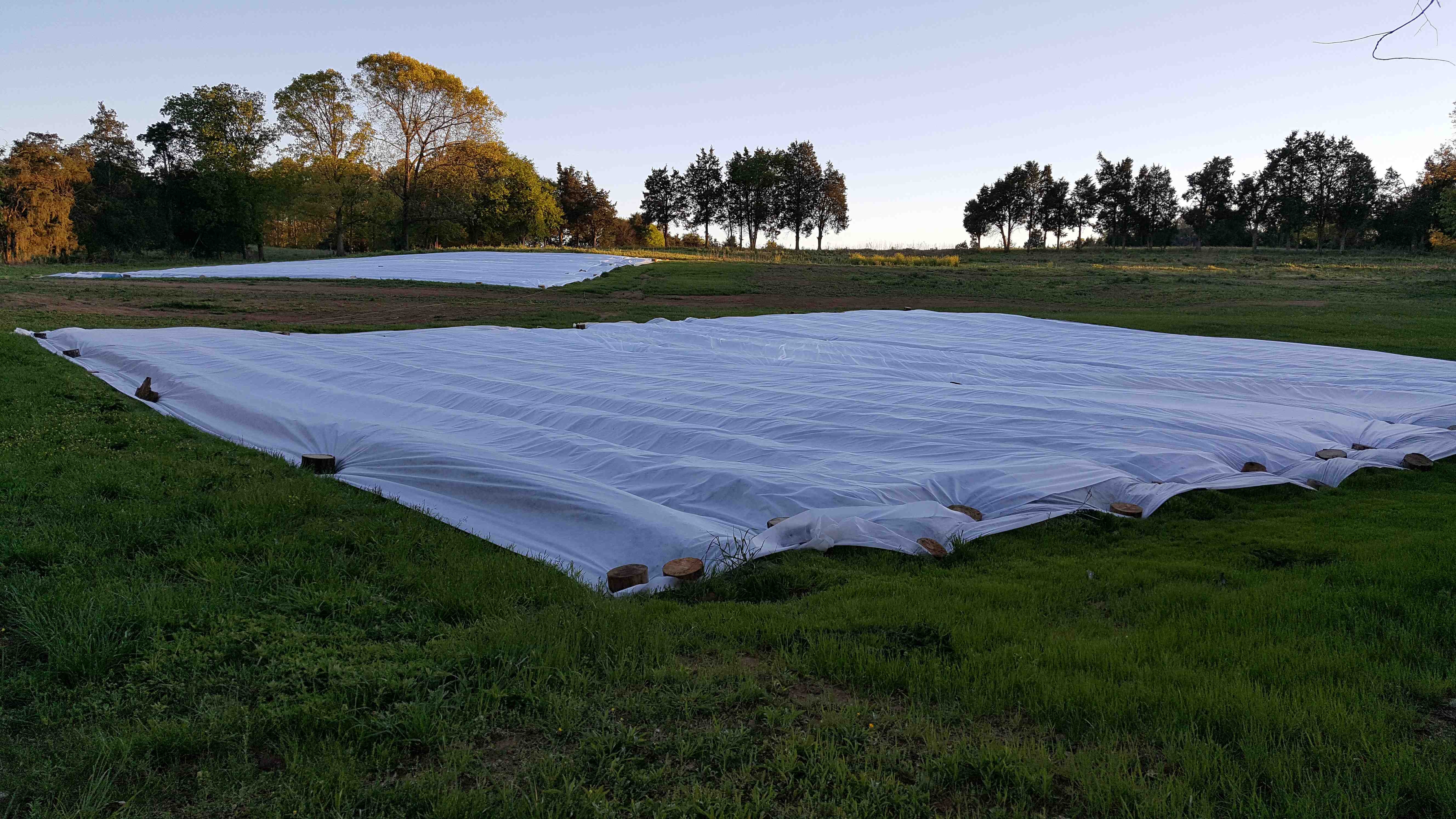 Fig. 1. Row covers (alone) worked extremely well in windborne freeze last night and this morning. Here is a 3:20 p.m. follow-up report from Eric Hunter in Easley, SC (who reported very good results with double covers this early morning – read down into advisory to see that report). PLEASE NOTE THE EXTREME LOSSES WITH ONLY ONE COVER ON HIS FARM THAT GOT TO 18 F. I said yesterday that once you drop below even 22 F with single cover, it can get pretty "iffy."
Just finished a round of inspecting under covers. It appears the only real damage we have is where blooms touched the fabric. Other than that, all appears good. I left a few hundred plants covered only with 1.25oz covers – over 90% of those blooms were killed.  I haven't checked the popcorn stage blooms there yet. I wish I would have left a 1.5oz area to itself. I will do so

tonight

to see what happens.
Addendum to first email:  just found a row end where about 10 feet of 6 rows were covered with only a 1.5 oz. cover. 90% loss there as well. Also, we have decided to put three covers on for

tonight

. We got through last night so we're not gonna take a chance with missing by a few degrees

tonight

.
Eric is expecting 17 minimum tonight!
REAL TIME REPORTS STARTING AT 12:30 p.m. PM WED. MARCH 15
REPORT 1 – WHEN YOU CAN SAFELY SHUT DOWN THIS AFTERNOON?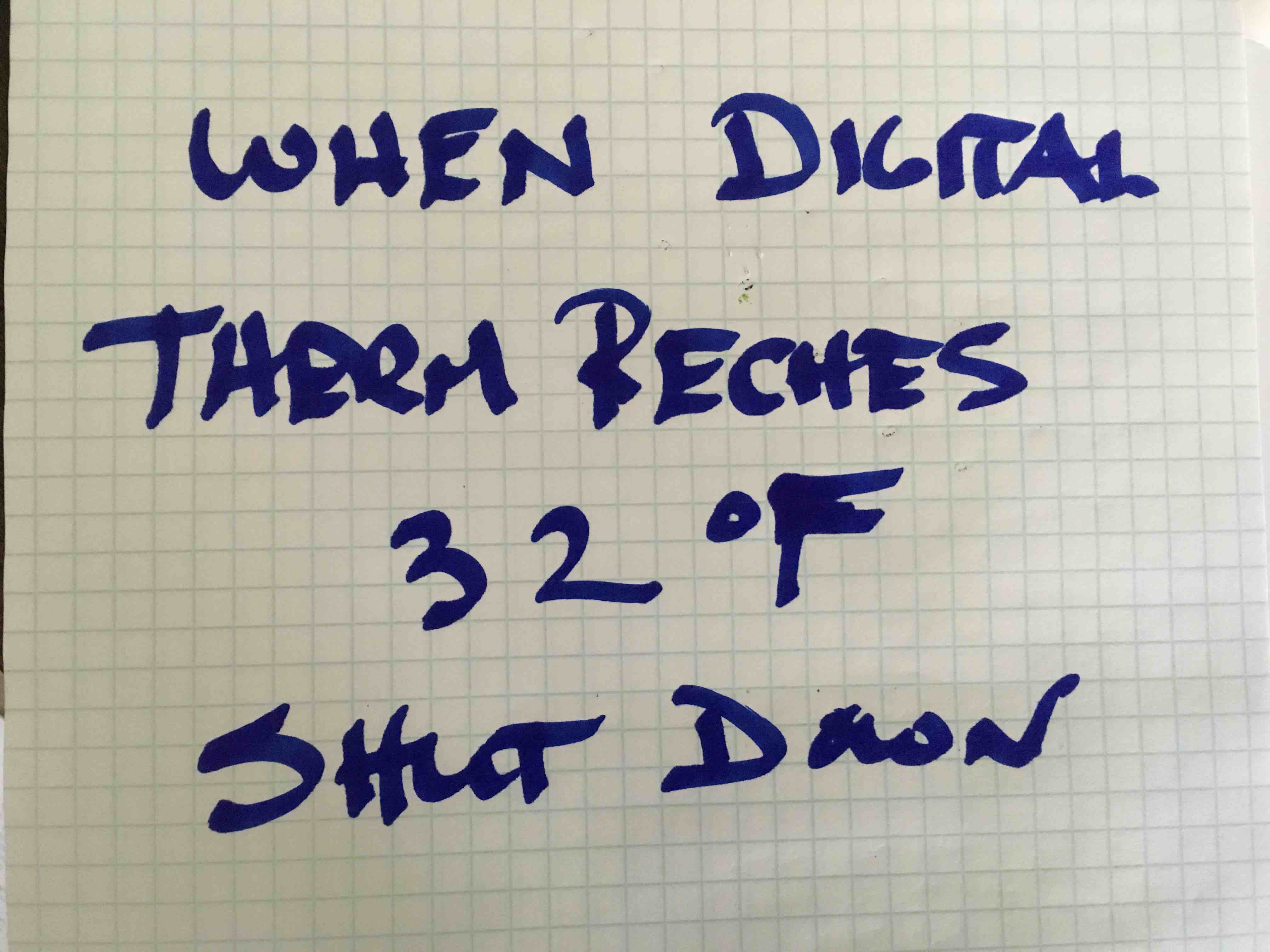 Fig. 2. Growers can stop running irrigation when the digital thermometer shows that all of the blossom temperatures in your sample are above 32 F. At noon I had a call from Sanford, NC, and the grower ran water on row covers, and he asked if it would be ok to shutdown, as his bloom was now at 51 F. He immediately shut down, and the texted me 1/2 hr later to say that when he finally did shutdown at noon, the blossom average was 62 F, and by 12:30 p.m. it was 73 – not only is that safe, but we are back to growing the crop again! Today's sunshine is the key! Sun provides radiant energy that reaches through the clear ice (hopefully your ice is clear), and then warms the solid object (the bloom). Growers have commented, "you know, I could see how easy the ice broke off…there was liquid all around the bloom."  That is a sign it is safe to shutdown. But, you still may wish to check back here again in a few more minutes when we take a second set of readings to confirm he bloom temps are staying up after shutting down irrigation (we shutdown at about 1:45 p.m. in Sanford)
1:37 p.m., Sanford NC (irrigation still running when we took these blossom readings):  Air Temp outside is 38 F. We just took readings on a farm where the grower ran just water last night, and no cover. We just quickly took readings on 4 blooms under the inch of ice (the grower is still running water now), and these are the readings from digital therm of bloom temps at farm of GW Douglas (John Gross is helping us figure this out with his digital):
So, in about 15 more minutes we will take a follow up set of readings (after water off) will report those out to our readership
2:14 p.m. – WE TOOK READINGS 20 MIN AFTER SHUT DOWN AND HERE ARE THE BLOSSOM TEMP NUMBERS AND THEY RANGED FROM 37 TO 42.3 (AVERAGE OF 39.6), SO WE ARE STAYING SHUTDOWN UNTIL WE NEED TO CRANK UP AGAIN AROUND 7 p.m. IN SANFORD – AT THIS TIME THE WET BULB WILL ALREADY BE 30 F, AND THAT IS GETTING CLOSE TO THE EDGE. BUT OUR PROBLEM IS WITH WINDS AGAIN. AT THE TIME WET BULB IS 33, THE WINDS ARE HOWLING AGAIN. SO, WE ARE GOING TO WAIT UNTIL JUST BEFORE 7 p.m., AND HAVE EVERYTHING PRIME AND READY TO GO AT 7 p.m. BECAUSE IN JUST ONE MORE HOUR THE WET BULB DROPS TO 28 F, AND THAT IS WHERE WE SEE THE "COLD JOLT" PROBLEM. IF YOU TURN ON WHEN THE WET BULB IS BELOW 28, WILL CAN KILL A LOT OF BLOOMS IMMEDIATELY. THE AIR TEMP AT 7 p.m. IN SANFORD WILL BE 39 F AT 7 p.m., AND WET BULB DOWN TO 30 – 9 DEGREES OF DIFFERENCE. THIS IS A TOUGH SITUATION BUT NOT AS BAD AS LAST NIGHT BY ANY MEANS. TONIGHT THE WINDS WILL FALL OFF NICELY AFTER ABOUT 8 p.m., AND THIS WILL BE A  MUCH BETTER NIGHT FOR IRRIGATION THAN LAST NIGHT SANFORD
SO, AIR TEMP IS ONLY ABOUT 40 F AT 2:14 p.m. IN SANFORD, AND WE ARE SHUT DOWN. BLOOMS ARE WELL ABOVE CRITICAL TEMP AT THIS HOUR AT AVE OF 39 F, AS READ WITH OMEGA DIG THERM WITH THERMOCOUPLE READING RIGHT OUT OF A SAMPLE OF 4 BLOOMS – THANKS AGAIN TO JOHN GROSS FOR DOING THIS TO HELP US UNDERSTAND THAT EVEN THOUGH AWIS WET BULBS ARE NOT EVEN REACHING 33 THIS AFTERNOON, AND WE CONTINUE TO MAKE ICE, THAT WE CAN SHUTDOWN FOR A LITTLE WHILE AT LEAST FOR THE REMAINDER OF AFTERNOON. WHAT IS VERY VERY IMPORTANT TO KNOW THOUGH IS THAT FOR GROWERS WHO ARE USING ONLY IRRIGATION THAT THEY MUST START RIGHT BACK UP BEFORE THOSE WET BULBS DROP BELOW 29-30. NORMALLY, I WOULD NOT EVER RECOMMEND STARTING AT WET BULBS THIS LOW, BUT OUR PROBLEM CONTINUES TO BE HIGH WINDS AND INCREDIBLY LOW DEW POINTS. SO, OVER IN ROCKY MOUNT-WILSON, FOR EXAMPLE IF YOU LOOK AT WINDS AT 5 p.m. (1700 ON AWIS HOURLY), YOU SEE WINDS OF 21 MPH – THIS IS BRUTAL. BUT, THE WET BULB IS ALREADY DOWN TO 29 F! IF WE WAIT ANY LONGER, IT WILL POTENTIALLY CAUSE A JOLT! IN THE NEXT 2 HOURS THE WINDS WILL FINALLY DROP TO 6 MPH BY 2000 (8 p.m.), AND THEN WE ARE IN GOOD SHAPE. SO, THE TRICK IS TO KEEP WATER RUNNING AND NO LINES/NOZZLES FREEZING UP IN THOSE FIRST FEW HOURS FROM 5-7 p.m. WILL NEED GOOD HELP (FRESH) ON HAND! ONCE WE GET PAST 8 p.m., IT IS GOING TO BE A VERY DOABLE NIGHT FOR SPRINKLER IRRIGATION.
ALSO, I WISH TO SAY THAT GROWER WHO ELECTED TO RUN SPRINKLING, AND KEPT THE NOZZLES TURNING, ARE ACTUALLY LOOKING AT DECENT BLOOMS RIGHT NOW. AND, THIS WAS A GOOD DECISION "TO GO."  BY NOT RUNNING, YOU GOT "FREEZE DRIED" STRAWBERRY PLANTS! THE ONLY BENEFICIAL SUPER COOLING THAT TOOK PLACE LAST NIGHT WAS UNDERNEATH THE ROW COVER, NOT OUTSIDE! A GOOD GROWER FRIEND OF MINE OVER IN WILLOW SPRINGS HAD AN AREA HE DID NOT DO ANYTHING ON, AND IT IS "TOAST."  SIMILAR BAD OUTCOME WAS SEEN IN FIELD THAT HAD NOTHING LAST NIGHT IN FAISON (PHOTO BELOW).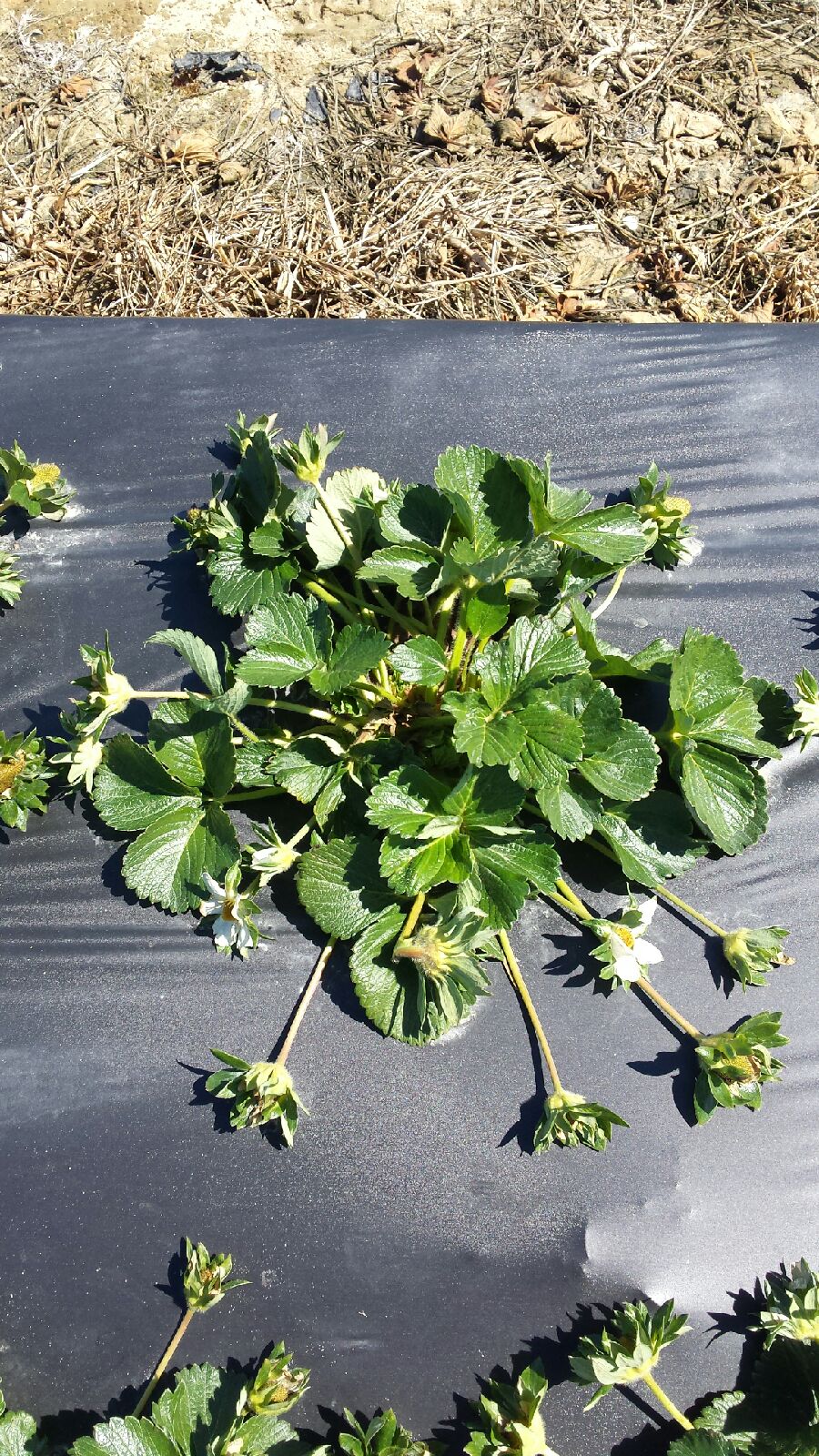 FREEZE DRIED CAMINO REAL – WHERE NO PROTECTION ATTEMPTED, PLANTS WERE SEVERELY DAMAGED IN LAST NIGHT'S WINDBORNE FREEZE! LESSON LEARNED – WITH A GOOD IRRIGATION SYSTEM IT WAS POSSIBLE TO SAVE BLOOMS DESPITE THE HORRENDOUS CONDITIONS OF LAST NIGHT AND ALL THROUGH THE DAY TODAY. THE KEY WAS TO KEEP THE WATER RUNNING ALL NIGHT! WHERE SYSTEMS WERE LOST, IT WAS JUST A MATTER OF MINUTES BEFORE BLOOMS, POPCORNS, ETC WERE KILLED. ONE GROWER INADVERTENTLY SHUT DOWN THIS MORNING AFTER PUMPING SUCCESSFULLY ALL NIGHT, AND BASICALLY KILLED THE BLOOMS AFTER SUNRISE.
REPORT 2 – HOW TO DEAL WITH MOIST/WET COVER GOING INTO TONIGHT
1:53 p.m. Question from Winston-Salem
On Mar 15, 2017, at 12:33 p.m., Mike Rogers <mike_r_rogers@yahoo.com> wrote:
Dr Poling
We followed your advice and just watered over the covers. Boy was that an experience. Now the question is if the covers do not dry before we head into tonight do we need to start watering before it gets to freezing or is that not an issue? We can start when the bloom is 33 so I assume the cover is not frozen to the plant.
Thanks
Mike
Reply
keep an eye on the patient! If the blossom is reading 32-33 very good. If it is slipping below 30, then we are getting concerned,  and when it reads 29 trouble. I would commence watering at the time you see 30-31 as the ave of 5  blossoms. That is when you need to start adding energy back into system with fresh water. Don't worry so much about drying of the cover, or not,  at this point. Let the patient tell you what is needed!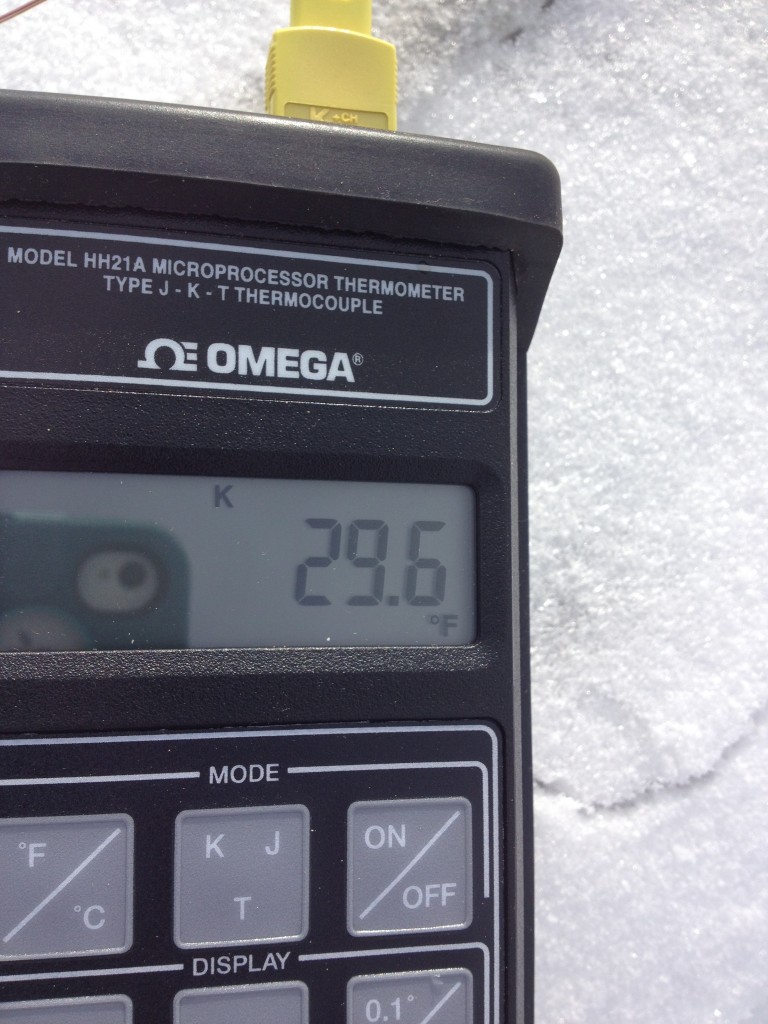 FIG. 3. WHEN THE PATIENT SHOWS A TEMPERATURE OF 29.6 F, IT NEEDS A TRANSFER OF HEAT FROM SPRINKLING OR DRIP UNDERNEATH COVER
FIG. 4A AND 4 B. THIS IS UNIT WE JUST TOOK PATIENT TEMP WITH OVER AT GW DOUGLAS IN SANFORD – ALSO THE INVOICE IF YOU WANT TO GET ONE
3:36 p.m. Report from near Richmond area
We ran from 11:30 last night til 2:00 p.m. (on top of row cover). Min temp outside cover was 22. Temp under cover 41!!! We switched all sprinklers to Nelson rotators on 30×60 spacing. They don't freeze up like impact sprinklers do. One more brutal night, then a 25 degree night piece of cake! Strawberries first week April here we come! Thanks Barclay
Early morning reports….
1. Greensboro, NC (9:30 a.m.) – it got to 21 F this morning, and a single one ounce cover provided nearly 10 F protection. The blossom reading was 30.7 F when the outside air was 21 F (source – Kenneth Rudd). They also ran water on top of covers but had an unbelievable night of trying to keep ice off the sprinklers. Even with sprinklers designed for this (frost proof), they had freezing up of these sprinklers within one hour of cutting on. In hindsight, they would have been better off not running! A blossom min of 30.7 is well above critical min of 28 for open bloom. The grower reported a bloom temp this morning (at same time under cover) with sprinkling of 32 F…well above the critical, but what work!
2. Easley, SC (7:30 a.m.)At 7:30 our air temperature is 18, and the temperature under the covers is bouncing between 31 and 32. I only have one probe underneath the covers measuring air temps, so I can't say that this is true for my entire acreage, but at the moment I am very optimistic that we came through last night ok. I'll look under the covers later this morning to check things out.
We had very heavy winds going into darkness (gusts in the 30+mph range) and I was afraid all of the accumulated heat had been billowed out of the covers, and I'm quite sure most of it was as we had a difficult time keeping up with covers that were blown loose. At 615 p.m. yesterday, our temperature under the cover was 56 and the air was 44. By 11:30 p.m. last night, the temperature was 41 under the cover and 29 air. I didn't check again until 6 a.m., and at that time the air temp was 19 and the temp under the cover was 32.
Our skybit called for 18 last night, and that is exactly where we are – tonight's forecast is calling for 17. We should have a good day to gather heat under the covers as it will be sunny and lighter winds, although the daytime temps will be about 10 degrees colder than yesterday.
We are currently deciding on possibly putting out a 3rd layer later this afternoon as a "security blanket" (pun intended) due to the slight decrease in forecast and our history of usually seeing a much colder night on the second night of these types of an event.
I'll get back with you later this am after I have a chance to crawl under some covers to have a look.
Eric
3. Whitakers, NC:
This was an exchange I had with grower in Whitakers who ended up using drip with covers. We really struggled with whether she should try sprinkling or not. Glad we didn't.
My initial comment (9:59 p.m.)
Beth
I guess I missed the part about your considering the drip option. If we just study the air temps tonight, it may be that drip could be enough
I just don't know about the going back and forth thing? You need the heating from drip starting around 4:30 a.m. or 5 a.m.,  and running until after sunrise
keep looking at AWIS hourly (Rocky Mount)and note that it is pretty warm air temp right up until 5 a.m. (29 F)
The goal is to keep blossom above 28
Do you think there would be any freezing up issue of lines with alternating?? Ideally you would run drip from maybe 4:30 to 7:30 – when we need those extra few degrees…I am now leaning towards the drip idea vs. sprinkling with these winds
Good luck
Barclay
8:55 a.m.  "we went with the drip. Turned on about 4 a.m. with temp of 30. it stayed 30 until sometime around 5:30 to 6. lowest we got at the farm was 27. it is now 29 and i am stilling running drip at 8:53 a.m. i plan on keeping it going until 10 a.m.
What time today should i look under covers to see if it worked. i am thinking around 3 p.m.??
Reply – I would look sooner. I think by noon would be a good time to check condition. It should be very interesting to see how effective drip might have been? The winds were just incredible last night, and I am still unsure about the benefit of dripping with this much air movement? Thanks for the report!
TONIGHT WILL BE COLDER, BUT MUCH LESS SERIOUS WIND ISSUES, AND SPRINKLING CAN BE EFFECTIVE IN THESE CONDITIONS
For  growers who are set up only to sprinkle, tonight is going to be a much better opportunity. However, if you ran last night, and had the system freeze up for even 10-15 minutes, I would make a very careful assessment this late morning to see what the damage may have been? If you lost the blooms and popcorns, but kept the tight buds, that's great. If you injured the tight buds, I am skeptical that running tonight will make much sense.
I am most encouraged, as are growers Eric Hunter and Kenneth Rudd, with the success of row covers alone in an advective freeze. Each verteran grower I have spoken with this morning has said the same thing:  "I have never seen anything like what happened last night with such high winds."  Personally, I have not figured out how we got nearly 10 F protection from a single row cover,  but very happy it worked out so well for the "row coverers."
This past week I have mentioned over and over the importance of getting reliable minimum canopy information, and Eric Hunter has made several comments about how helpful it was to get SkyBit forecasts for canopy temps at his site.
I have just been reading this morning from a Blueberry leaflet, Blueberry Freeze Damage and Protection Measures, HIL 73, NCSU, that:  "Listening to weather reports is not reliable method of monitoring current temperatures or determining what the low temperature will be in a blueberry field."
I can't underscore enough the difficulty of trying to rely on local TV stations and radio for your temperature information. As they say in this blueberry publication, "many of the official temperatures reported on radio or television are taken at airport locations. The large paved areas that hold heat and the and the aircraft mixing of air makes them much warmer than surrounding areas on radiation frost nights. However, you may be able to develop a reasonably reliable adjustment factor for how much colder the blueberry field is than the local reporting station."
It goes on to say, "blueberry fields will often be as much as 10 to 12 F colder on a radiation frost night than warmer locations such as airports."Blueberry Freeze Damage and Protection Measures | NC State University
Personally, I know of numerous strawberry growers who use the AWIS forecast in just this way. They have learned which AWIS reporting station runs closest to conditions on their farm.
Please check out the minimums for your area tonight as you finalize your cold protection strategy for tonight.
MD
10-DAY DETAILED HOURLY WEATHER FORECASTS
VA
10-DAY DETAILED HOURLY WEATHER FORECASTS
NC
10-DAY DETAILED HOURLY WEATHER FORECASTS
SC
10-DAY DETAILED HOURLY WEATHER FORECASTS
GA
10-DAY DETAILED HOURLY WEATHER FORECASTS
KY
10-DAY DETAILED HOURLY WEATHER FORECASTS
——————