2007 Easter Freeze-Like Scenario Shaping Up for Sun/Mon, Except It Will Only Be March 12-13 and Not April 7-8 (1:20pm, Thur, 3/9/17)
Find this article at:
go.ncsu.edu/readext?452916
en Español

El inglés es el idioma de control de esta página. En la medida en que haya algún conflicto entre la traducción al inglés y la traducción, el inglés prevalece.

Al hacer clic en el enlace de traducción se activa un servicio de traducción gratuito para convertir la página al español. Al igual que con cualquier traducción por Internet, la conversión no es sensible al contexto y puede que no traduzca el texto en su significado original. NC State Extension no garantiza la exactitud del texto traducido. Por favor, tenga en cuenta que algunas aplicaciones y/o servicios pueden no funcionar como se espera cuando se traducen.

English is the controlling language of this page. To the extent there is any conflict between the English text and the translation, English controls.

Clicking on the translation link activates a free translation service to convert the page to Spanish. As with any Internet translation, the conversion is not context-sensitive and may not translate the text to its original meaning. NC State Extension does not guarantee the accuracy of the translated text. Please note that some applications and/or services may not function as expected when translated.

Collapse ▲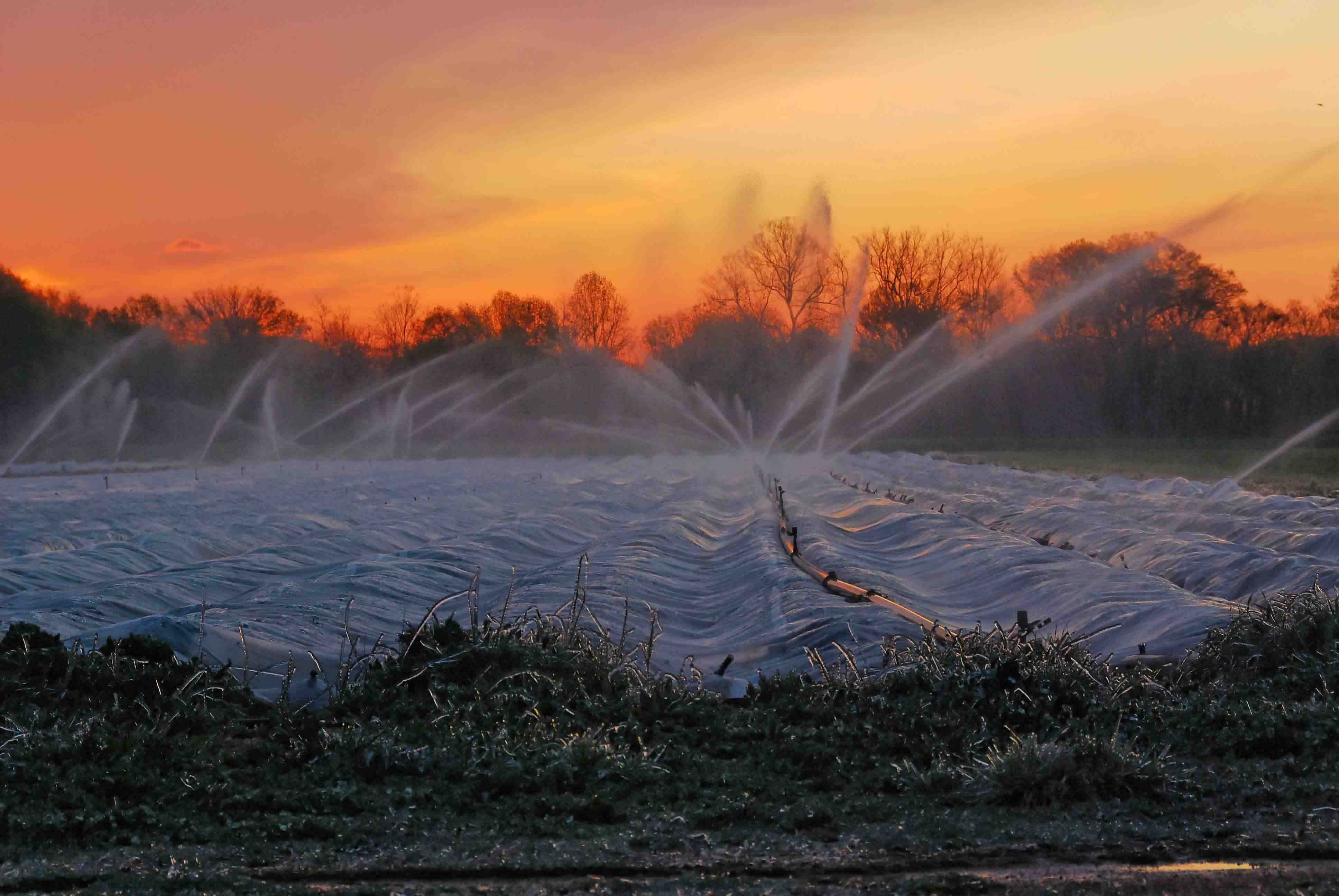 Figure 1. Photo by Donnie Fulks, April 8, 2007 (Easter freeze).
Hello again,
On this Sunday (March 12) and Monday (March 13), we may be right back in a situation not very different from Easter Freeze of 2007. Except, this time it is happening on March 12-13, and not April 7-8.
I have been speaking this morning with growers in Kinston/Faison area,  and they are actually beginning to pick fruit now, so  we are truly in a very similar situation to what happened with the Easter Freeze of  2007 – it came during the early harvest that year! And, our big lesson that year was that the only way to fully protect the crop in what was a windborne freeze with temperatures in the upper teens, was to run water on top of row covers.
Nearly every grower who I have spoken with in the last few hours (since the morning advisory) is very definitely making plans to apply row covers in anticipation of the FREEZE coming Sunday/Monday.  Like the Easter Freeze of 2007, the winds are going to be very high on Sunday during the day, and will likely stay up through much of the night and morning (3/12-3/13). With winds 8-9 mph and higher from many areas, it will be very difficult to use sprinkler irrigation alone. Thus, for growers with a forecast of high winds and minimum temps in the low 20s, it may be very beneficial to sprinkle on top of the row covers. It was that combination of having the row covers and sprinkling on top that got us through the Easter Freeze of 2007.
At this time on Thursday, March 9, many growers across the Mid-South are re-applying row covers.
I just spoke with a grower near Kinston, who is getting his covers on NOW because there is no wind today, but by 9 a.m. tomorrow, winds will really start picking up. His area could see a low of 22 F.
As far as the 3 C's approach I mentioned in last advisory (applying this approach to Kinston grower)

Crop status and condition:  The crop in Kinston area will be highly vulnerable to a cold event with 22 F as potential minimum. This grower checked SkyBit and AWIS, and both showing low 20s. This same grower is even beginning to pick a few berries. That's why this grower and I see this freeze as being very much like April 7-8, 2007. With this crop being so advanced, a freeze of this seriousness could cause extensive crop loss! Please find below a photo showing the open bloom, popcorn and emerged bud stages, and note the temperature tolerances of each of these stages differ. The emerged flower buds can handle temperatures into the  mid-to-low 20s without protection, but the open blossoms will not make it below a canopy temperature of 28 F.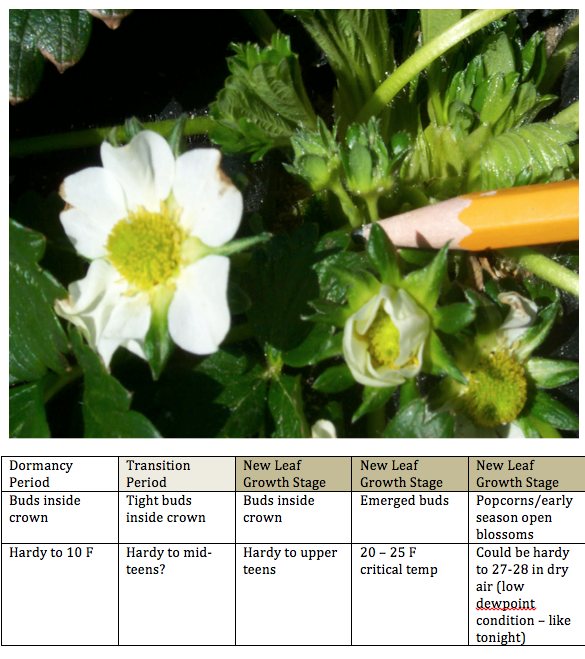 Cold event: Not only will it be cold, but winds are going to be around 9 mph all night and morning! This is too much wind for sprinkling alone to be as reliable because of evaporative cooling problems. You can get both minimum temp and hourly wind information from AWIS Hourly Forecast (sent out earlier this morning). Something that is really concerning us about this event, is the possibility that there will be precipitation BEFORE the coldest night, and this can serve to compromise a row cover! So, in addition to monitoring low temps, winds, and dew points, we are also concerned about the possibility of a snow on Sunday? And, if we get a few inches of snow on top of a row cover (and not black plastic beds), will will it melt off during the day as would be the case with just black plastic, or will it melt and then freeze up the row cover? If we go into Sunday night with a frozen row cover, that is NOT a good situation.
Crop protection:  If you see winds are going to be sustained Sunday night/Monday morning in the range of 8-10 mph, or higher, you should be very cautious about trying sprinkling alone – it could cause more damage than doing nothing at all because of evaporative cooling problems.
A single cover will offer valuable protection of the emerged tight buds, but for open blossom protection, a single row cover will not likely be able to keep open blossoms above 28 F critical temperature with air temperatures  of  22-23.
You will need to double up covers for situations with temperatures in low 20s, and where irrigation is not available for sprinkling on top of the covers (see Figure 1),
Sprinkling on top of the row covers is likely the best strategy with winds of 8-10 mph and higher (the covers remove the wind effect), and for providing blossom protection down into the low 20s and even teens. That's right, using row covers and sprinkling we have seen growers successfully protect open blossoms into the teens!
Yes, you want to get your row covers applied today! Before the winds really pick up Friday
Yes, you want to test run your sprinkling system today to make sure it is working properly
Yes, you need a digital thermometer to do sprinkling on top of covers so that you can monitor blossom temps beneath the covers. Without a digital thermometer you really have no idea how the patient is doing? The only way to determine whether or not your blossoms are getting enough heat (from the sprinkling) is to have a hand-held digital thermometer with a thermocouple wire that inserted right into some blossoms beneath the row cover.
Insert the thermocouples into blossoms during the day (before the arrival of the cold event), and be advised that in a freeze event that will last 2-3 days, you will need to re-stick the thermocouples in fresh blossoms each day.
General comments:
I have spoken with growers who do not have enough row covers to double-up, and my advice to them is to plan on running the irrigation on the covers if their area has a forecast for low 20s.
I have also spoken with growers who cannot get row covers in time for this freeze event, and I am asking them to carefully review the hourly information in the AWIS forecast for their location, and to check out what the wind situation might be? If winds are not going to be above 7-8 mph, then irrigation alone can be successful. If winds will be higher than 8 mph on a sustained basis, they are really going to need to do a super job with running the sprinkler system to make sure they keep the water running continuously all night and morning (that means beating ice off sprinkler heads all through the night – maybe every 45 minutes). You have to keep those sprinklers turning. You will also need to very carefully evaluate your sprinkler system's capability for handling the combination of winds and low temperature expected in your area – you should immediately contact your irrigation dealer and find out if your system can handle a situation like low 20s and winds of 8-10 mph? You might need to nozzle-up!
Other issues –> SNOW in forecast! AND, COMPROMISED ROW COVERS
Precipitation events are in the forecast for Sunday morning, and some areas like Rocky Mount, NC, could receive an inch of snow by late morning. It would be great if this snow would remain as a light fluffy snow going into Sunday night. But, what if it starts to melt and freezes into the row cover? For a little while at least, that could be a good thing – the ice will actually serve to trap some of the remaining ground heat, and blossom temps could go up. But, the problem is that this will only be a temporary situation. With the prospect of low 20s in Rocky Mount Rocky Mount early Monday morning, this could become an incredibly dangerous situation!
The ice layer could actually serve to make things even worse than no ice at all! You have to realize that ice can be an excellent conductor of heat "out of the plants and blossoms."  Dry row covers provide very good protection, but when wet and frozen, they are of limited value and can make things worse.
If going into Sunday night your covers become frozen up (due to precipitation events from during the day on Sunday), you will want to consider running sprinklers on top of the row covers.
YOU MUST HAVE A DIGITAL THERMOMETER WITH THERMOCOUPLE WIRES STUCK IN  BLOOMS BENEATH THE ROW COVERS TO KNOW WHEN THINGS ARE GETTING CRITICAL, AND WHEN YOU SHOULD START RUNNING SPRINKLERS ON TO OF THE ALREADY FROZEN COVERS. YOU DO NOT WANT THE BLOSSOMS TO DROP BELOW 31-32 ON THE DIGITAL THERMOMETER. WITHOUT THIS INSTRUMENT WE HAVE NO WAY OF KNOWING WHEN SPRINKLING MUST BE STARTED.
When you  see the blossoms going to 32 F on your digital thermometer, start irrigation up and run all night. Have extra workers to "break ice" off the sprinklers tonight, as the nozzles will likely be freezing up a lot this evening!
In summary, the strawberry crop throughout our region is very advanced for this calendar date (and now starting to pick in in Eastern NC), and because of this serious situation, growers are NOW getting row covers applied TODAY (and through Saturday) to their fields in anticipation of a cold event that could rival the Easter Freeze of 2007 in a number of respects. A notable difference with this freeze event and the one on April 7-8 of 2007 is that this one is coming about 25 days sooner!
We are expecting our coldest night/early morning to be Sunday/Monday. It is going to be so cold that a single row cover may not suffice (even a 1.5 oz cover may not be enough), and so it is recommended that you double up covers if you can?
In situations where row covers are limited, and you cannot double up, then sprinkling on top of covers is an effective technique for protecting open blossoms, and this approach has been successful in providing protection into the teens (as it did April 7-8, 2007). If your row covers become frozen by a precipitation event on Sunday morning, and they will not be DRY going into Sunday night, then you can sprinkle on top of the covers to make sure blossoms stay above their critical temperature.
Growers who do not have row covers, may be able to do sprinkler irrigation, but high winds and very cold temperatures make this approach problematic! We can always hope that winds will lay down and not be quite so high as now being forecast? Most  irrigation systems are not designed to handle high winds and low 20s and teens. You will need to carefully consult with your irrigation engineer to see if your sprinkler system has the capacity to handle a high wind condition with temperatures in low 20s (or maybe colder). There are some good references on this website for sprinkler irrigation usage in strawberries.This advisory handout provides a comprehensive overview of frost protection terms, definitions and best practices for strawberries.StrawberryPlasticulureAdvisoryApril1505
Finally,  by sprinkling over top of covers, you are effectively adding heat back into the system. This works even for a "compromised" row cover (one that is no longer dry and may have frozen up due to precipitation events). With sprinkling on top of covers, you are actually adding heat back into the frozen blanket system. And,  you will actually see the bud and blossom temperatures immediately "pop up" (usually to about 38 F after a short while) right away when you start sprinkling on the frozen blanket. The problem with this strategy of sprinkling on top of the covers can be with keeping your sprinklers turning. You must be prepared to "walk the lines" to keep sprinkler nozzles turning all night and morning.
Best of luck!