Virginia and NC Freeze Update on Wed. Morning (12/14/16)
Find this article at:
go.ncsu.edu/readext?438464
VA Growers – please open this pdf file to see how cold your area may be this Friday morning (12/16). Even here in Williamsburg (where I now live), the minimum will be 14 F! Further north, in areas like Fredericksburg, it will possibly reach 9 F. This may be "covering up" time! I have included two minimum temp maps for benefit of VA growers (Thursday and Friday). Good luck!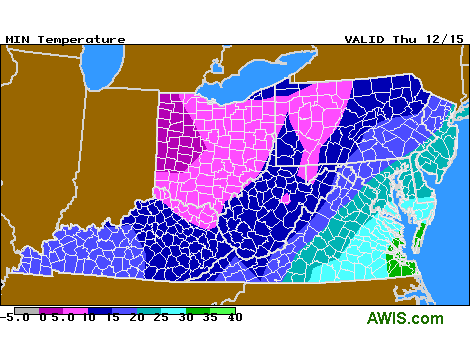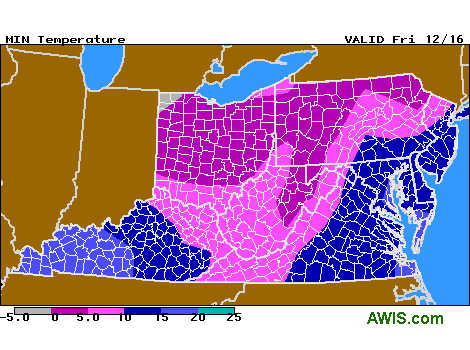 Finally, I still receive a very beneficial Skybit product for a farm near Richmond that you may find of interest, as it tells you how much colder it is going to be at the canopy level this Friday morning in Moseley, VA. Note that while the air temp is going to be 15 F, the "down in the canopy temp" is likely to be 3 degrees colder (12 F).
North Carolina Update on Freeze:
Here is a table for minimum temperatures across the state for next 7 days: NC Min Temp AWIS
Please note that the minimums in some northern piedmont areas could be 12 F on Friday morning (bright green).
I still receive a Skybit for Clayton every morning (below), and the air temperature at weather shelter height will be 19 F. If that was going to also be my low temp in the canopy, I would not pull a cover. However, the actual canopy temperature down near ground level is going to be 4 F colder, or 15 F. That may still be a borderline situation, but I would be inclined to pull a row cover to be on safe side.
Last year we were in a virtual heat wave at this time, and so it would have been ESSENTIAL to protect a very succulent crop against this freeze event. However, we have had a good number of of sub-freezing temperatures in recent weeks (that is a really good thing for plant acclimation to winter cold), but  it is difficult to really say how much "antifreeze" is in your strawberry plants right at this moment. It may very well be the case that the plants can handle temperatures into the low teens without damage. But, I also understand the motivation of a number of growers to "play it safe."  And, if the minimum in your area is likely to be in the low teens, you may want to play it safe and get some covers on the crop. There is not a lot of scientific data to base decision-making of when it is absolutely critical to pull a row cover at this time of year and crop stage. I am currently reviewing some very interesting information from United Kingdom where they are measuring the brix of crown cell sap before placing tray plants in winter cold storage (the higher the brix, the better the plant is suited for cold storage). So that may be something to look at in the future. One thing I do know for sure today is that if you haven't yet ordered some row covers, maybe this is your wake up call to do so!
Good luck!