Multi-State Frost Advisory on Friday, April 8th
Find this article at:
go.ncsu.edu/readext?406516
en Español

El inglés es el idioma de control de esta página. En la medida en que haya algún conflicto entre la traducción al inglés y la traducción, el inglés prevalece.

Al hacer clic en el enlace de traducción se activa un servicio de traducción gratuito para convertir la página al español. Al igual que con cualquier traducción por Internet, la conversión no es sensible al contexto y puede que no traduzca el texto en su significado original. NC State Extension no garantiza la exactitud del texto traducido. Por favor, tenga en cuenta que algunas aplicaciones y/o servicios pueden no funcionar como se espera cuando se traducen.

English is the controlling language of this page. To the extent there is any conflict between the English text and the translation, English controls.

Clicking on the translation link activates a free translation service to convert the page to Spanish. As with any Internet translation, the conversion is not context-sensitive and may not translate the text to its original meaning. NC State Extension does not guarantee the accuracy of the translated text. Please note that some applications and/or services may not function as expected when translated.

Collapse ▲
Fig. 1. The minimum temp map for whole southeast on Sunday morning. The teal areas (20-25) have actually decreased since yesterday's forecast for 4/10 (see Fig. 2). So that is good news! But, you can still see how most of NC is now in light blue (25-30), and this could be another dangerous event! Most reports I have heard from Wednesday's outcome have been quite favorable for MID-SOUTH strawberry growers (Mid-Atlantic has been tough), BUT, just horrible on other small fruits and peaches. In blackberries, for example, there were extensive losses in Faison (NC) area where temp go below 27 F. I visited with a grower in VA yesterday who lost his entire peach crop to 23 F on Wed morning.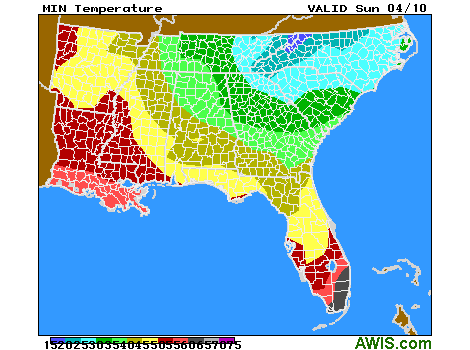 Fig. 2. Yesterday's forecast for Sunday morning – note the teal zone in Central Piedmont of NC (not there today). There was even a Piedmont area with 15-20 in yesterday's forecast. When you get those kinds of temps, you are beginning to look like the Easter Freeze of 2007. In reality, we are NOT looking at a repeat of those terrible conditions this Sat/Sun in the Mid-South. All in all, I see this event as very manageable. One precaution I will add, is that growers MUST get covers off quickly at this time of year, as fruit will ripen very very quickly under covers (this is not like Mid-March when we are not dealing with fruit). I do not see any further cold threats this next week in Mid-South, and growers will need to get covers off Monday. Conditions could be a bit more challenging up in the Mid-Atlantic for the week ahead, and leaving covers on may be important, depending on location.
Good morning,
I'm just back in NC from a late afternoon visit in VA yesterday, and in the course of my travels since posting the noon advisory yesterday, I have had a lot of reports from growers on the phone and by email. I know time is very short today for getting ready for this Saturday night/Sunday morning's cold event, so I will postpone sharing these Grower Reports until a little later. It is very difficult to give general recommendations on what to do for the whole region, as our conditions are so very very different across the whole area. This is why I am immediately sharing the latest AWIS forecast for  MD, VA, NC, SC and GA. One thing I can say is that winds are going to be very high on Saturday, so row covers should go on today, Friday. Perhaps you are picking today? If so, complete your picking today and then apply in late afternoon, or early evening. Even by 8 a.m. tomorrow, most locations will be dealing with pretty high winds that will only strengthen more during day.

Basically, growers are trying to figure out:
1. do I need to use covers and water overhead (igloo effect)
2. can I try to overhead frost protect only?
3. can I use covers only? (and how heavy a cover?)
Regarding No. 1 –  the answer is that row covers + irrigation may be justified if your canopy is going down to 23-24, and you only have a single cover that provides about 4 degrees protection…this technique requires a digital thermometer and thermocouple inserted in blossom to measure blossom temp. When blossoms under the cover begin to drop below 32 F, start watering on top! Typically, the row cover gives you a few extra hours of delay in start up time (compared to sprinkling alone where you must start sprinkling at wet bulb of 32 F)
One option not listed above, is row cover + drip.
  I am recommending this to many growers who have called me this morning, who are in situations where they simply are not set up to irrigate, and have just a single row cover. In cases where the canopy is mid-20s, I think the dripping idea could provide that extra degree or two of warmth that will be needed in the hours just before sunrise. Dripping should start about 3-4 hours before sunrise (now at 6:55 a.m.), or around 4 a.m., and run continuously until after sunrise. Ideally, you would have a digital therm for this technique as well, so you would know when it is safe to stop running the drip (when the blossom registers 32 on digital therm).
Option 2. Overhead alone. I think this is going to be a poor choice for Sat night/Sunday morning due to much higher winds than earlier this week (Tue/Wed), when we had really still conditions. Please note in your AWIS hourly below how high winds will be on Sat/Sun and also note the lower dewpoints. Winds and low dewpoints will contribute to serious evaporative cooling problems, and I have not encountered may farms in our region who have state of the art sprinkling systems to handle more severe conditions like winds of 8-10 mph, and temps in low 20s. That is why a row cover is so critically needed in this episode on Sat/Sun – to take out the wind effect!
Option 3. In colder areas, like Central VA (where I was yesterday), growers are preparing for lower temps Sunday morning, like 23 F. And, in these more extreme conditions it can be a very good strategy to
double up on covers,
and some of you have been able to locate extra covers in the last day (I posted this list
Row cover suppliers
), and I also just now had a text from a grower in Moseley VA (Aaron Goode) who  has a fair amount of USED
extra 1 ounce row covers, 26′ wide,
that he is willing to take a reasonable offer on. He said they have some tears but could be very usable as a second cover…you can text him at 804-986-1573. By the way, I like the idea of putting the older, less perfect cover, underneath the newer row cover (with no holes or tears). I am happy to share info today from anyone who has extra covers. I realize that most growers have already applied their "good" covers, and the older ones will need to go on top. BUT, if you have note applied the cover yet today, and you have access to an older cover, then definitely put the older cover underneath. Winds can be a real issue with covers that are torn in places – a good reason to put the cover without tears on top. If you must put the older cover on top of the newer cover, make sure you throw down some rock or sand bags in areas where the older covers are torn. We are going to be dealing with very tough winds on Saturday.
Maryland:MD Min Temp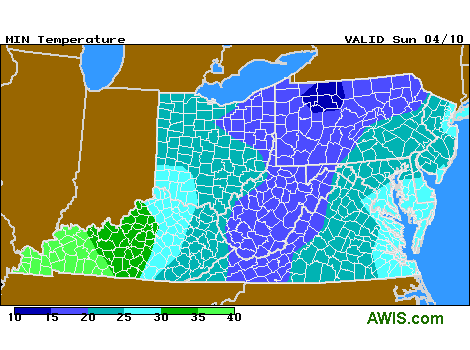 10-DAY DETAILED HOURLY WEATHER FORECASTS
Virginia:VA Min Temp
Please note how very cold it will be in some central VA locations like Farmville (20 F) on Sunday morning. Please check out the detailed hourly AWIS forecast for your location in VA. Luckily, many VA growers own a hand-held digital (Omega) from a program sponsored by VDACS in 2012 – you will find this device very handy for monitoring blossom temps under the row covers for this upcoming cold event.
In Ashland, I note that there was a minimum of 34 this morning, but there was overcast (and, rain last night, as I drove through it). Covers could  go on late today when they drop to 10 mph at 6 p.m., and then diminish a lot in the early evening. By 5 p.m. (17:00) on Sat the winds are 28 mph. Note by 10 p.m. the wet bulb will be 32 F. Be sure to insert thermocouples in the blossoms this afternoon for monitoring tonight
I know VA and MD growers are concerned about the rest of the week, and this shows the mins for Wed, April 13. I took an extra moment to look at some of the areas in light green (35-40) to see the risk of frost on Wed. I looked at Charlottesville (below) and noted that 34 is the minimum Wed, but no frost forecast. The frost forecast in that locality, is for Friday!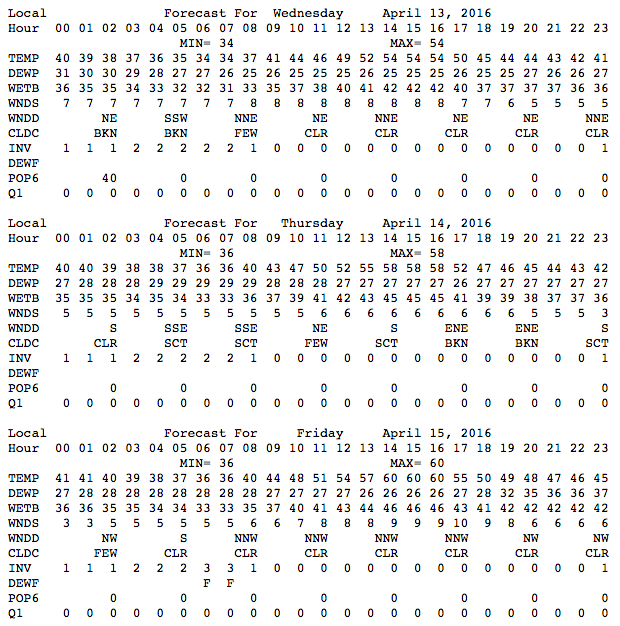 10-DAY DETAILED HOURLY WEATHER FORECASTS
North Carolina
Min temp table for NC (many locations): NC Min Temp Table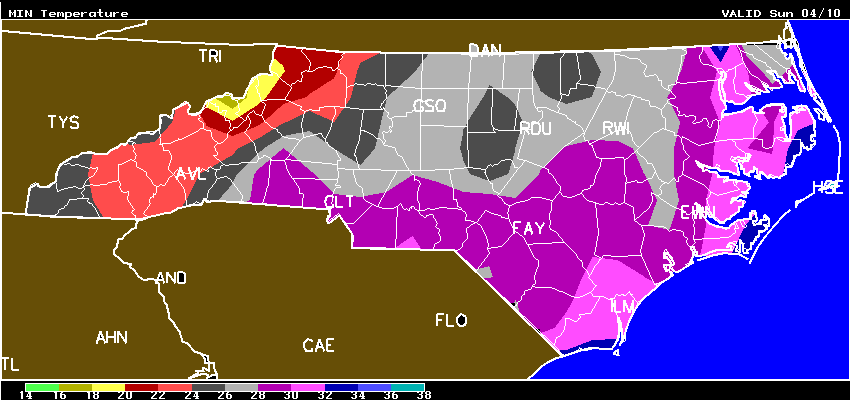 Fig. 2. This map has changed some from yesterday (Fig. 3 below), and is actually a little better!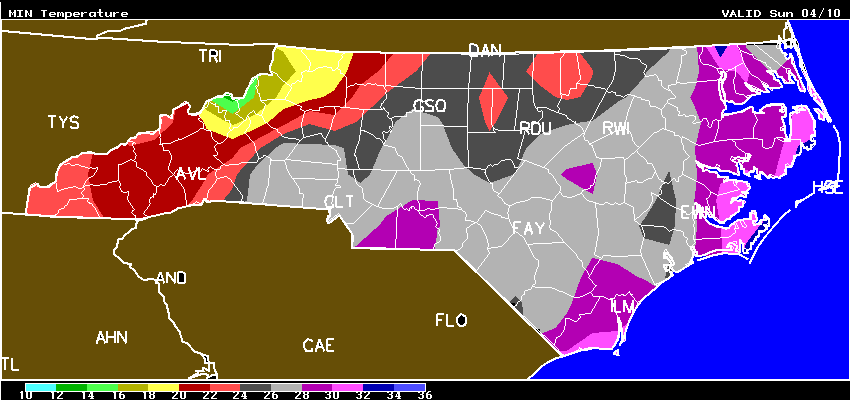 Fig. This was yesterday's forecast for Sunday morning – it was more worrisome!
10-DAY DETAILED HOURLY WEATHER FORECASTS
SC
Minimum temps for multiple locations in SC
10-DAY DETAILED HOURLY WEATHER FORECASTS
Note from Easley, SC: (April 7th, 9:30 p.m.)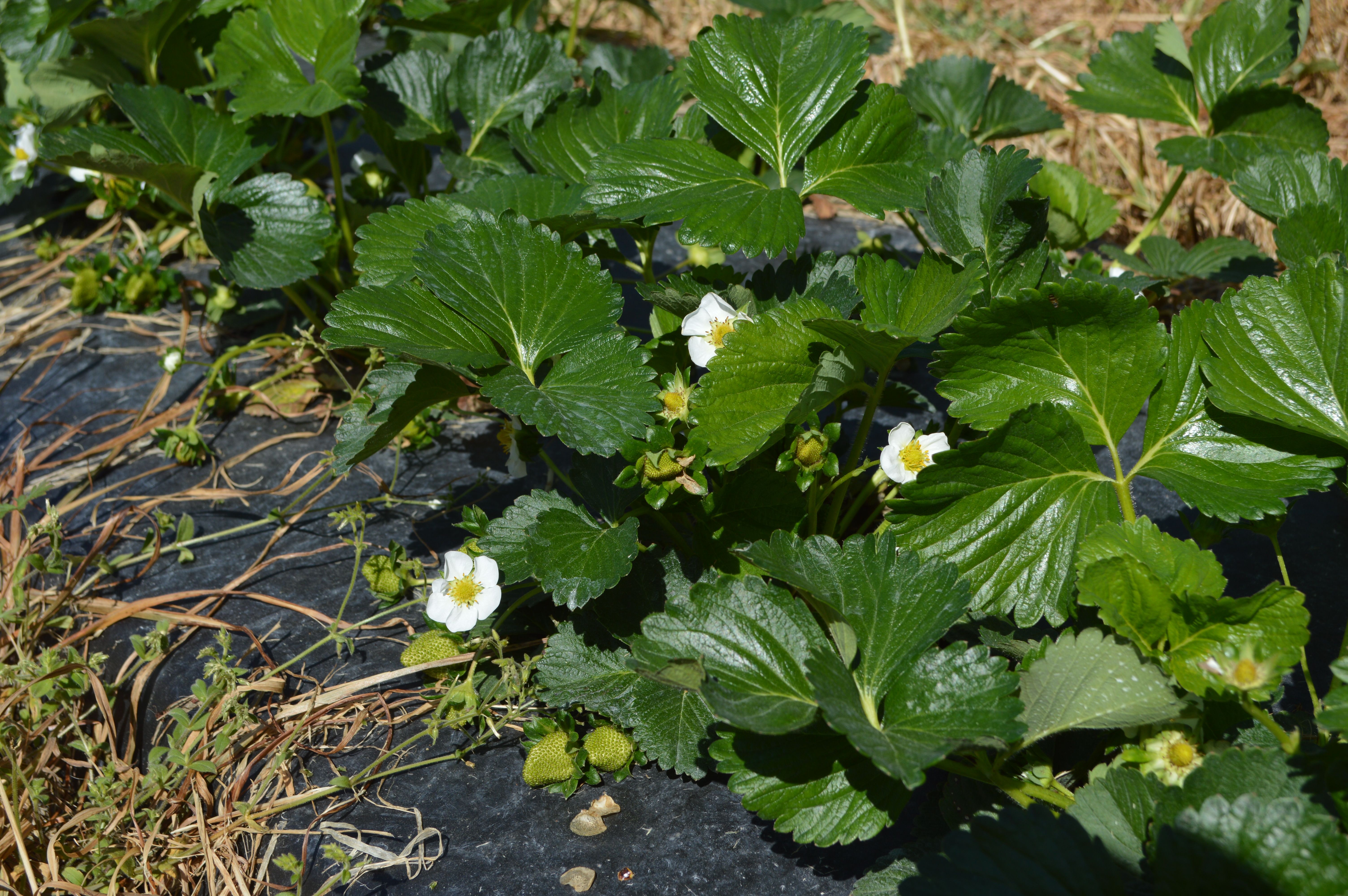 Hey Dr. Poling,
What a lot at stake right now! With our crop so far ahead (we picked our first berries on the 5th, our average first picking is usually 4/20-25th), this would be very similar to having a severe cold event around the end of April. We have a tremendous load of fruit and flowers on the plants.
Our original plan was to protect using overhead irrigation this weekend, but with the pump debacle and being unsure whether it will sustain pressure, we have decided to go with row covers. Our forecasts are all over the place for Sunday morning – from 22 degrees to 30 degrees. Skybit has us at 28 and AWIS 24. I suspect these two will start to agree by tomorrow evening and probably fall somewhere around 26. We have both 1.5 oz and 1.25 oz covers. As of now we don't plan to double cover the 1.25 oz. unless the forecast lowers for Sunday morning. We will pull covers tomorrow evening (Friday), and hopefully the wind will lessen a bit. We'll search for tears and holes that may be in the fabric on Saturday and try to do some quick fixes with duct tape (it fixes everything, right?). One other thing that we are considering, and I wanted to get your advice on this first, is if the forecast lows get much lower, would running drip at different intervals during the night help?
Thanks,
Eric
Reply – Eric I think you are probably right about minimum being in the mid-20s, as best we can tell now (noon Fri). Good to get all those covers on today when winds subside. Those cover quick-fixes on Sat are a super idea. If the forecast lows were to go below 26, then you could consider running the drip, but the growers who have done this in Florida wait until 2-3 hours before sunrise, and this makes a lot of practical sense to me from the standpoint of not washing all the fertilizer out of your beds with longer runs, as well as timing it perfectly with when the temperatures are going to be lowest. In Rock Hill, SC, which will have 25 minimum, you will note that the temperature doesn't even reach 30 F until 4 a.m. If you turn the drip on then, you should see a 1-2 degree bump in temps beneath the covers, and that may be all that is needed! A 1.25 oz should provide at least 4 F protection, plus 1 degree from drip, equals 5 degrees. With a canopy minimum of 25 (assuming that for your farm in Easley from Skybit), that means the row cover + drip should keep the minimum air temp beneath the cover in the area of 30 F. And, it may even be warmer. The key point is that strawberry blossoms and popcorn stage are at a critical temp at 28 F, so you are 2 degrees above that critical temp. In the final analysis, I think the row cover + drip is well suited to conditions where the minimum canopy temps will be mid-20s.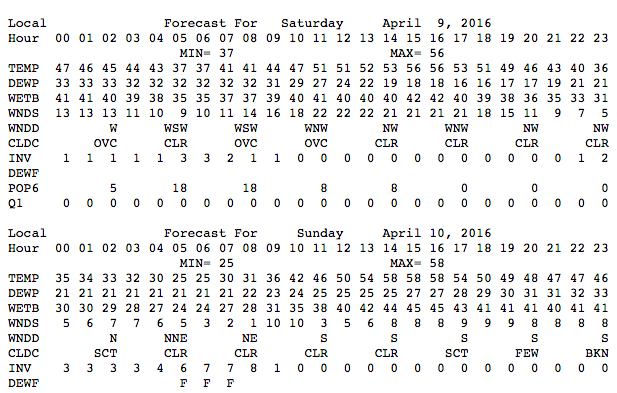 10-DAY DETAILED HOURLY WEATHER FORECASTS