Hail Damage This Evening and Questions From the Field Today…(10:19pm, Thur, 4/28/16)
Good evening,
It has been a difficult day for a number of growers across our region with heavy rains as well as hailstorms hitting a number of crops at peak picking.
I am still hearing thunder outside my home in in N. Raleigh at 9:30 pm, so I fully expect we may get another 1/2 inch or more tonight (on top of 1/2 inch we had this early evening). We had a brief hailstorm in N. Raleigh at about 5:30 pm, but nothing like the quarter size hail that came down in some areas this evening.
Greensboro, NC (from grower who had quarter size hail)
"looks like most of our damage will be from the rain of almost 2 inches in 24 hours. I am sure we will be throwing away a lot of berries…praying for all those farmers down east." (this farm had a very destructive hailstorm at 6:13 pm tonight)
Faison, NC (before the hail hit today, and after)…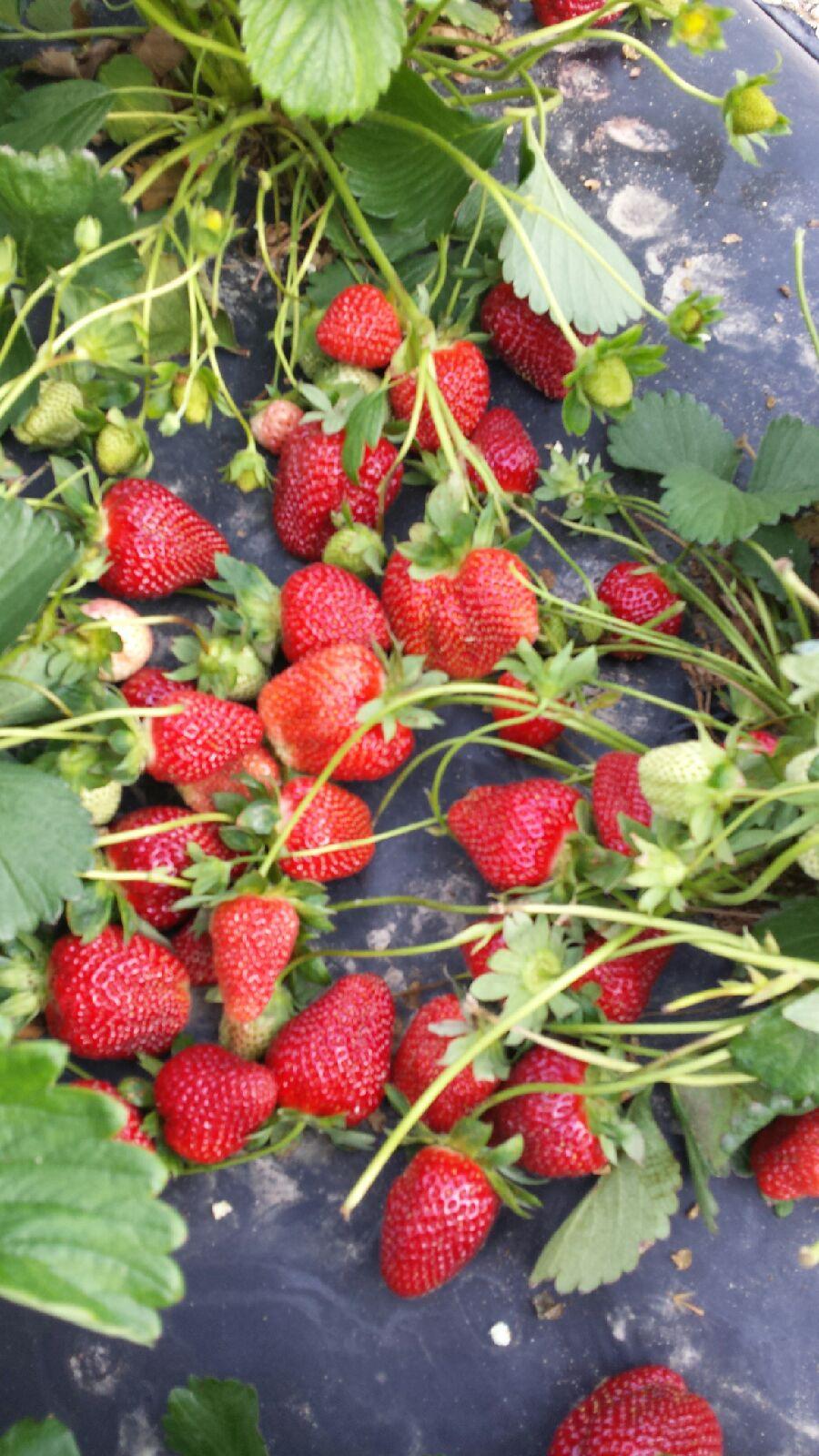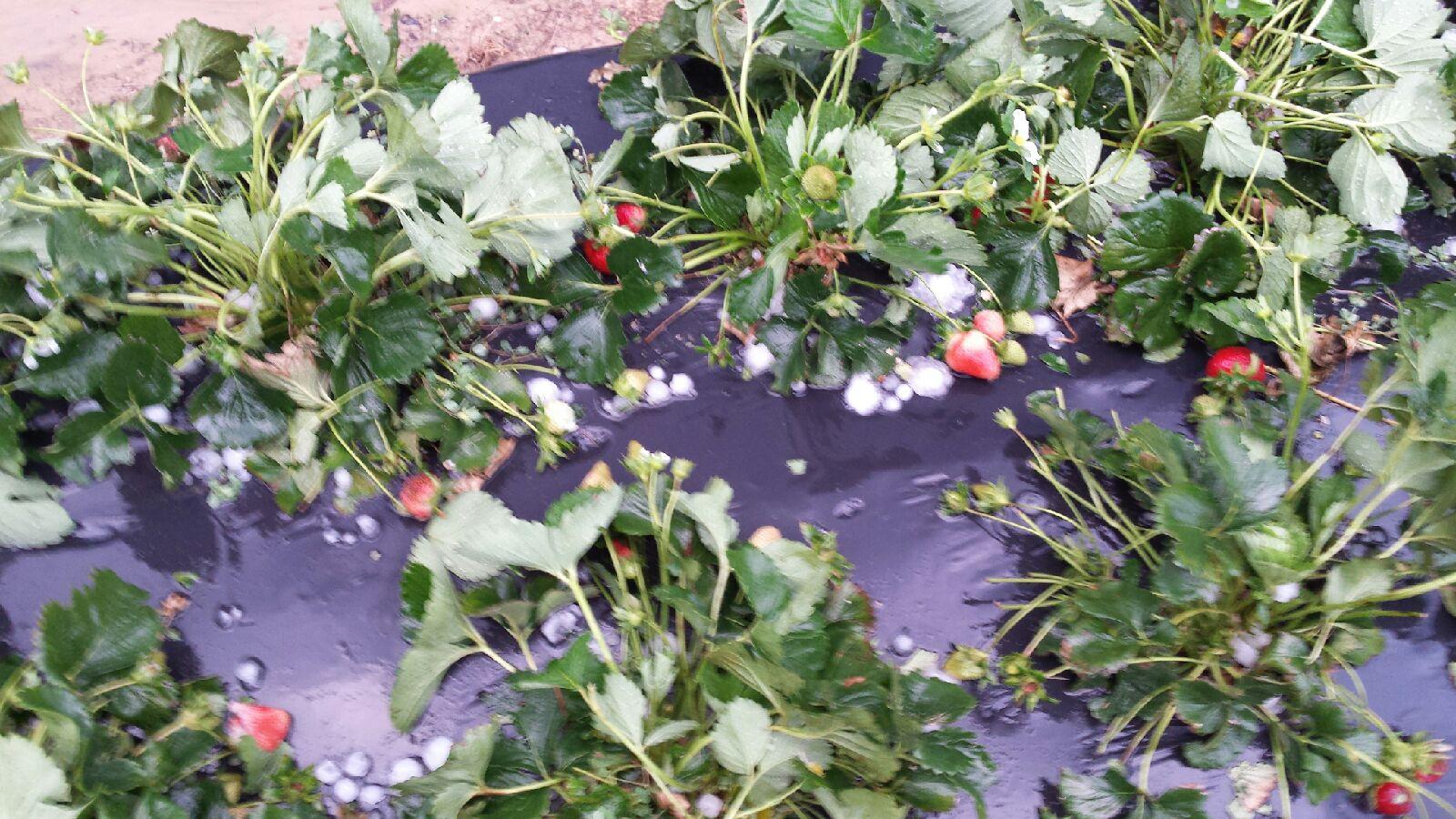 The grower wrote: "The upper picture was one I took this morning of my crop, and the bottom shot (taken at 6:15 pm) shows how the strawberries look after the hail storm. Wow!"
If you get hail damage, be sure to use a fungicide afterwards to reduce growth of fungi that take advantage of the wounded tissue to colonize the berry (so-called opportunistic and secondary pathogens). Warm, dry weather is best to allow the wounds on green berries to heal. Switch is a more broad spectrum fungicide with 12 hr REI and 0 day PHI. If Switch cannot be used, a broad spectrum product like captan would also work well.
Additional recommendations:
> Sanitation (may need extra labor to do this) – vip to strip most seriously damaged fruit; it is better to deposit the fruit in large buckets and remove from the field
> Nutrition: calcium is the most important nutrient to plant cell walls, and I would continue to fertilize as usual, but use calcium nitrate as N source…There does not seem to be much documentation about how much fertilizer to apply after a hail storm, but after the experience we had in 2015, it seems more important to maintain fertility than to be concerned about "bumping up" your fertilizer program.
> The situation can be turned around! As hopeless as the situation may seem, you would be surprised at how quickly the crop can turn around if the hail is not too severe. Green fruit that has been 'nicked' by the hail is still marketable at a fruit stand when ripe. Hail damaged fruit is much more difficult to market off the farm. Customers can be offered a slight discount on hail damaged berries.
Other concerns raised today:
I also wanted to share some other concerns from the field today related to thrips, SWD (and hail), as well as an issue with misshapen Chandler strawberries from a farm location in Sandhills of NC:
1) Question raised by SC grower regarding flower thrips on April 28…
"We are now into 2nd crop and many more are flowering and setting. Over the years, I've noticed that growers who do NOT do anything to reduce flower thrips seem to have a large number of cat faced , nubbin and odd shaped berries. Every year when we observe the China berry trees bloom, we also notice an abnormal infestation of flower thrips in both strawberries and hybrid blackberries. Most literature seems to just totally discount any significance related to flower thrips, but I'm not convinced and both scout and plan control measures accordingly.
So here is the basic question," Are flower thrips of no significance and just crawl around on the bloom, helping to pollinate it like bees and wind, OR do they do damage on either the male or female portions of the flower, that contribute to poorer quality and plant stress?" I think they cause stress,so I disrupt their cycle, but wanted the professional opinion. Thanks.
Sincerely,
Clyde Gurosik
North Augusta, SC
Reply from Powell Smith, Clemson:
I have seen many cases of thrips in strawberry with not misshapen berries. In fact, that is not really a thrips injury symptom in strawberry. In flowers, I have seen no damage from thrips. However, in ripening fruit, I have seen damage from thrips some times. It appears as a dulling of the fruit finish almost like a bronzing. Thrips are often very abundant in springs for several emergence cycles. I usually try to avoid calling attention to them since the damage is not consistent and often 'nebulous' and attempting to control thrips often results in problems with much greater potential for yield loss. We are working on a model for predicting thrips flights for flower thrips with NCSU. It originated in tobacco for tobacco thrips (which are closely related to flower thrips) and does a really good job for predicting tobacco thrips flights. They are trying to modify it for the flower thrips. So far it looks pretty good. Those flights often peak in late April through mid-May. Tomato spotted wilt virus is spread by tobacco thrips and the western flower thrips (not a problem for strawberry growers), so predicting big flights helps plan planting dates.
The thrips emergence is controlled by heat unit accumulation just as the emergence of crops and flowers. Good observation about the chinaberry flowering. I make a note of that in my journals each year and will look at some historical data to see about the thrips flights and bloom date for chinaberry.
Powell Smith, PhD
Extension Associate – Small Fruits and Vegetables, Horticulture Program Team Leader, CUCES-Lexington County, 605 W. Main St. Ste. 109, Lexington, SC 29072
Off: 803-359-8515, FAX: 803-359-4245, Mob: 803-603-2618
2) Question: "Can SWD become a more serious problem after a hail storm, and what steps, if any, are recommended?"
3) Misshapen strawberries – are you seeing a problem like this?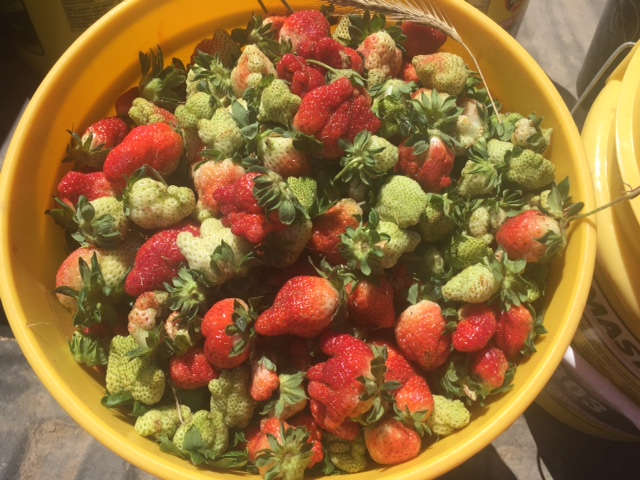 A grower in Sandhills is having serious problem with misshapen Chandlers – these berries are being discarded. We are not clear about what may be causing this?
Was the information on this page helpful?
This page can also be accessed from:
go.ncsu.edu/readext?409256