Even Colder Temperatures Now in Forecast for Wed 4/6 (7pm, Fri, 4/1/16)
Posted On

April 1, 2016
Good evening,
There has been a change in the forecast for this next Wednesday. Yesterday, I posted this minimum temperature map for Wednesday (Fig 1a), and you will note the PINK areas in Fig. 1a (30-32) have given way to a PURPLISH color in Fig. 1b, and this represents a drop in minimum temperatures of about 2 F from the forecast made on 3/31.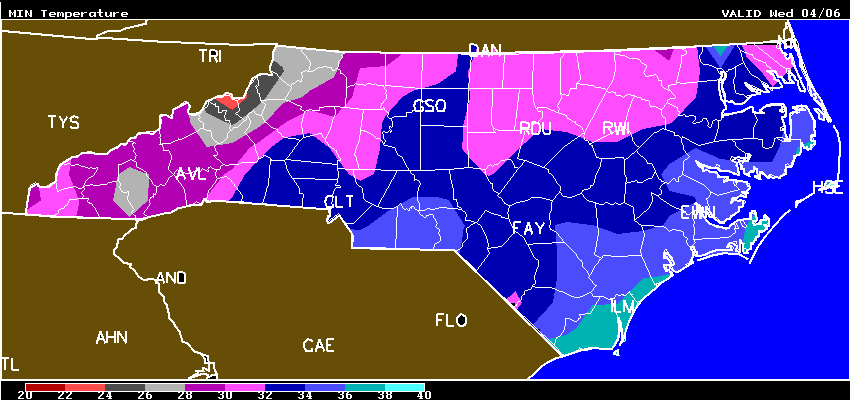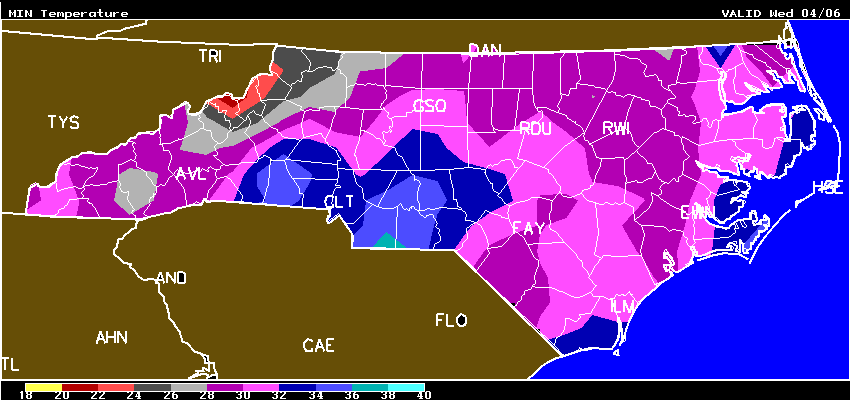 Fig. 1 a. This was the AWIS minimum temperature forecast for Wed, Apr 6, that was made yesterday (3/31). Today's forecast indicates that it will be about 2 F colder on Wed. morning.
Fig. 2. This is the latest Mid-Atlantic forecast for Wed morning, and you will note areas in New Jersey and Delaware that will possibly drop into the teens! Much of Virginia will have minimums in the 20-25 range, and growers in Tidewater area could be looking at 25-30.
Speaking of New Jersey, I was in touch today with a producer in South Jersey (near Millville), who is looking at minimums of 24 F on Monday morning, and then 16 F on Wednesday morning!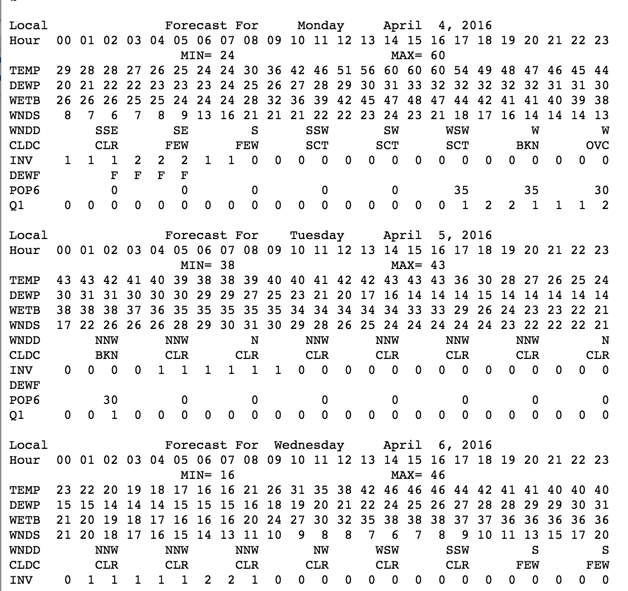 Table 1. Extreme cold is in the forecast for South Jersey this next week. On Monday the minimum in Millville will be 24 F, but it will drop down to 16 F on Wed. morning! The grower's Chandlers are now coming into pretty heavy bloom!
Thankfully, we are not looking at a forecast quite so scary in the Mid-South next week, but growers need to be monitoring conditions very carefully across our region for a potentially serious cold event on Wednesday, April 6th.
MD
10-DAY DETAILED HOURLY WEATHER FORECASTS
VA
I checked out the SkyBit for a grower near Richmond, and now the minimum expected this next Wed morning is 26 F (it was for 31 F). So, for this location SkyBit has dropped it's forecast for 5 whole degrees in the last 24 hours!! This is now shaping up to be a much more serious cold event, as growers in this area of Central VA are in heavy bloom!
10-DAY DETAILED HOURLY WEATHER FORECASTS
NC
I received my SkyBit for Clayton this evening, and on Wed. we are now expecting a minimum in the canopy of 30 F. Last night the minimum for Wed morning was going to be 33 F, so they've dropped the forecast by 3 F in one day! Hope we don't see this trend continue!!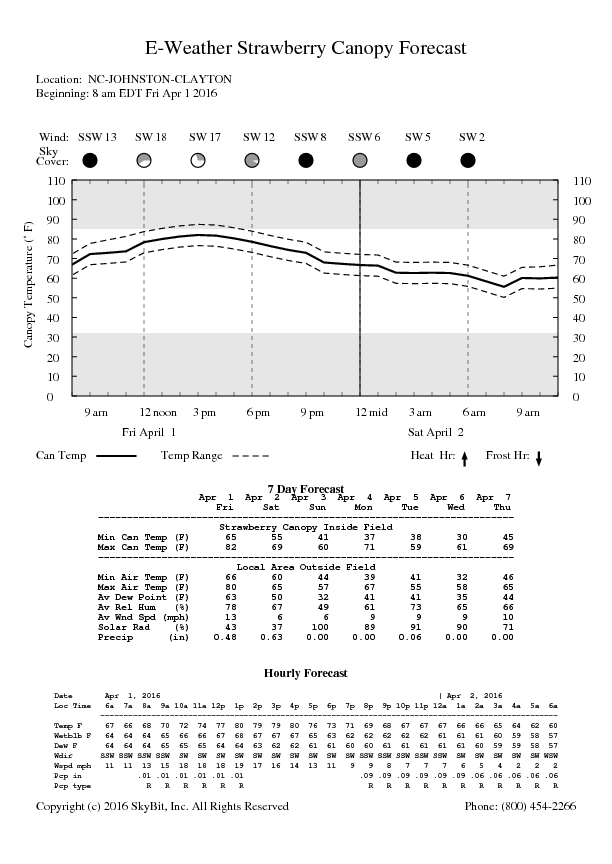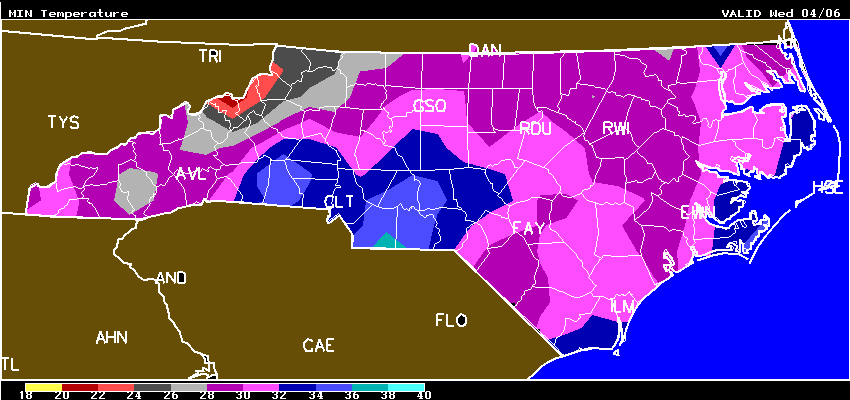 10-DAY DETAILED HOURLY WEATHER FORECASTS
SC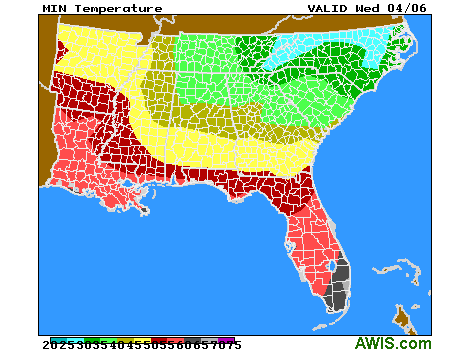 10-DAY DETAILED HOURLY WEATHER FORECASTS
GA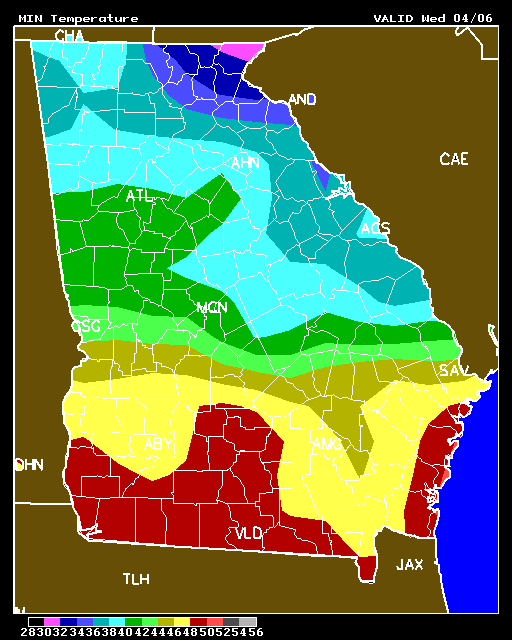 10-DAY DETAILED HOURLY WEATHER FORECASTS
Was the information on this page helpful?
This page can also be accessed from:
go.ncsu.edu/readext?405485