Dangerous Morning Situation – Keep Running Irrigation Until Ice Is Really Melting
Find this article at:
go.ncsu.edu/readext?406850
In this Advisory:
Part 1. Dangerous morning
"Morning update:  Got down to 28 degrees (Ramseur, NC), started pumping water at 10:30 p.m. last night and made ice about 1:30 p.m., and still running water." 7:43 a.m., Michael Beal
Part 2. What's next…no rest for the weary!
Part 3. Grower reports & concerns about tonight?
Part 1. Be careful of dangerous situation this morning for growers using irrigation
We have a potential problem this morning across NC for any growers running sprinkler irrigation, and it has to do with the potential of causing blossom damage by shutting down too soon.
In Goldsboro, NC, for example, winds are increasing again after sunrise (sunrise at 6:54 a.m.) from 3 mph at 7 a.m. to 6 mph at 8 a.m. DEWPOINTS are LOW. The combination of some winds and low dewpoints will have a COOLING EFFECT on the blossoms, and there is a chance that by cutting off right now, the blossom temp could go down even though the sun is rising. The problem is that the sun is not yet "putting enough radiant energy" into that bloom until it gets higher in the sky.
DO NOT SHUT DOWN IRRIGATION UNTIL WET BULB REACHES 32 F
you can read the hourly wet bulb temp by simply clicking on city/town closest to your farm.
In Goldsboro, for example, note the wet bulb doesn't reach 32 until sometime after 9 a.m.!

10-DAY DETAILED HOURLY WEATHER FORECASTS
Other States:
Maryland
10-DAY DETAILED HOURLY WEATHER FORECASTS
Virginia:

An example of a problem area is Chesapeake – keep running water until 9 a.m., or all ice is melted.

10-DAY DETAILED HOURLY WEATHER FORECASTS
SC

10-DAY DETAILED HOURLY WEATHER FORECASTS
GA

10-DAY DETAILED HOURLY WEATHER FORECASTS
Part 2. What's next?
You may have noted that some locations are showing frost for tonight as well! If your farm is in the Goldsboro area, for example, when you clicked on live link to Goldsboro, you saw this: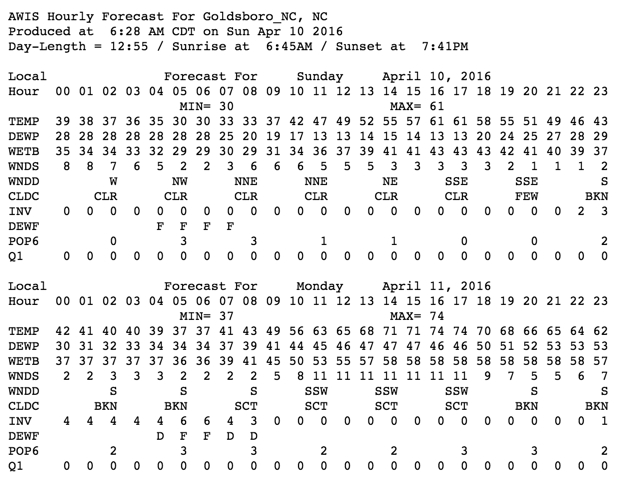 Table 2. Goldsboro will have possibility of frost tomorrow morning (again). Actually, this is a common pattern with an advective freeze such as our region is experiencing right now! Winds are very high the first night, but the 2nd night is very calm, and conditions are then perfect for a radiation frost! In growers I spoke to in Faison this morning, there was no frost around the field edge a little earlier (7 a.m.)…this may not be true tomorrow morning! Tomorrow morning could be a heavy frost in some areas, and all it takes to kill a strawberry blossom is ice crystal formation on the bloom!
So, please examine your forecast for tonight! And, even if your area does note have a forecast for frost right now, I would be mindful that things can change! For a grower near Rocky Mount, for example, where there is not a FROST in forecast tomorrow morning Rocky Mount, I would still play it safe and re-cover this early evening to be on the safe side after picking today.
Part 3. Grower Reports from this morning & concerns about tonight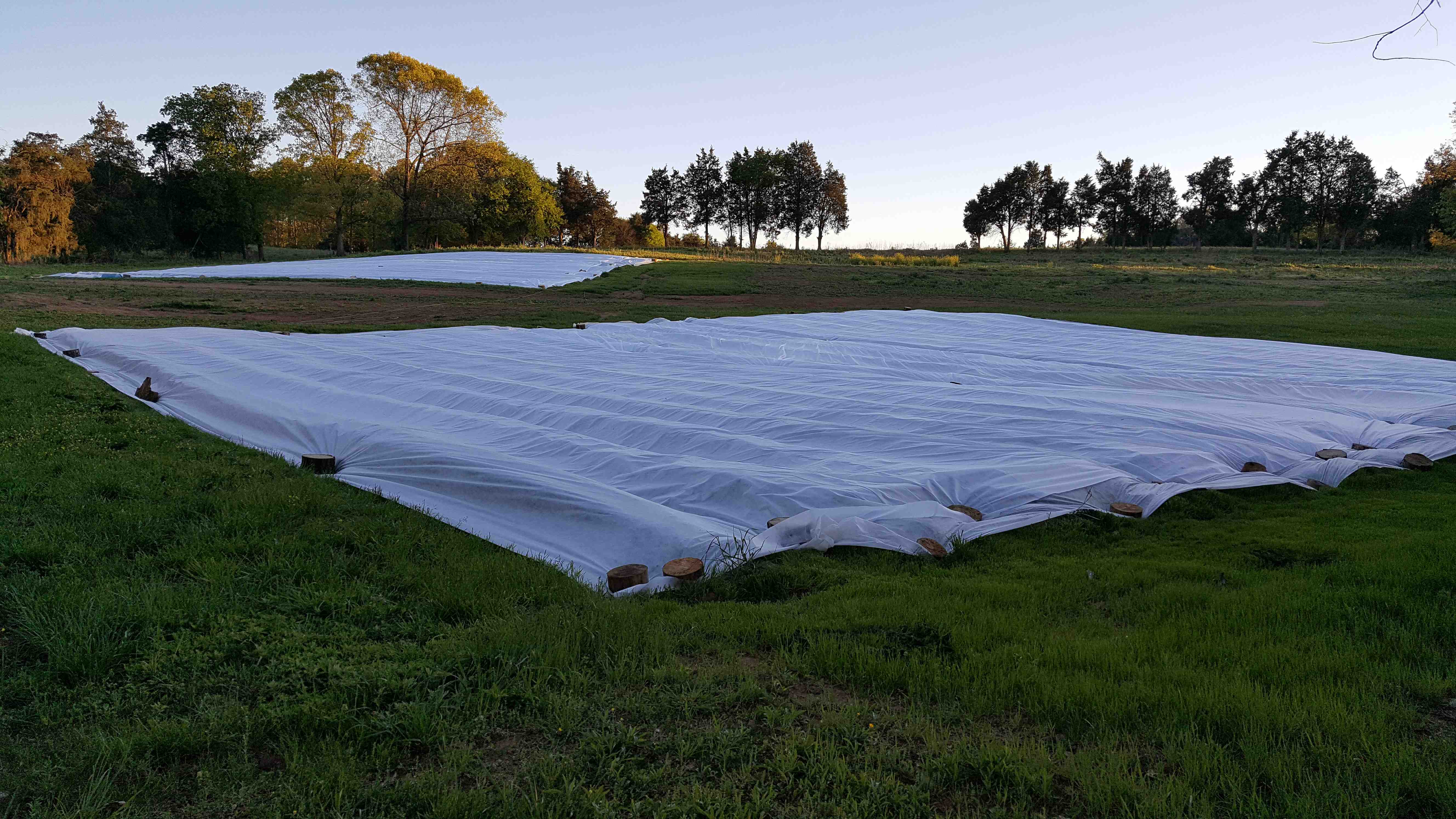 This photo was supplied by Justin Miller in Davie County last evening! He wrote: Double covered in Davie county I'll let you know the results
Justin Miller
Cherry Hill Farm LLC
Mocksville NC 27028
336-940-4117
cherryhillfarmllc.com
1. Easley, SC (7:36 a.m., Sun)
SkyBit nailed it again in calling for a low of 28. That was indeed our low, and the current (7 a.m.) temperature underneath the row covers is 39. That's a 1.5 oz cover. Except for the blossoms touching the fabric, I expect everything to be in good shape. Hopefully no damaged blooms or plants from the wind blown row covers yesterday.
For tonight/tomorrow morning:
Skybit has tonight as 46 air and 41 canopy. AWIS has 39 I believe. I'm trying to decide if it's safe to uncover. We're suppose to have some cloud cover, but I'm concerned it could clear and temps drop a little more.
Reply – that is a pretty warm canopy minimum from SkyBit…most unlikely to see frost with a 41 minimum. I have seen cases where we've gotten a frost with 39 F minimum in canopy (SkyBit), but not 41. I will examine some locations near Easley (close to Clemson) and see if there is any chance. A lot can change, as we both know! I don't see any particular problem with leaving covers on today for growers who are not yet harvesting.
Eric Hunter
Editor's comments about tonight – I see clouds and overcast coming into western parts of the state of NC, including central piedmont areas like Greensboro: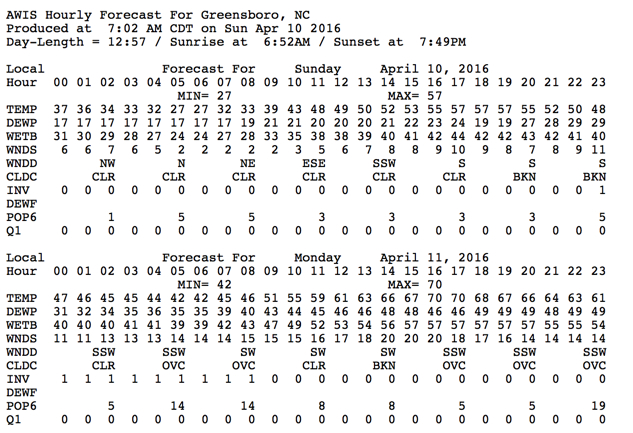 Note that minimum air temp in Greensboro is going to be 42 F. In the very early morning skies will be clear, but sometime around 4 a.m. clouds moving in…that will arrest any further temp drop. I see very little risk of frost in this area of the state tomorrow morning because of clouds moving in.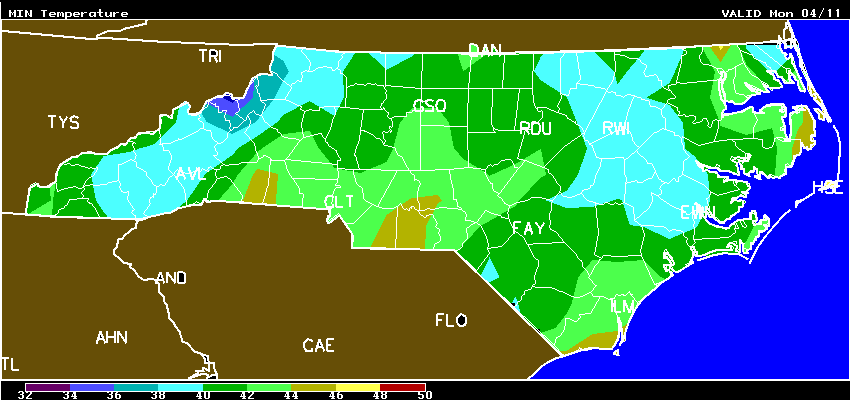 This is the minimum temp map for NC on Monday morning. I would concentrate on possible frost events in areas in light blue (38-40).
In VA and MD: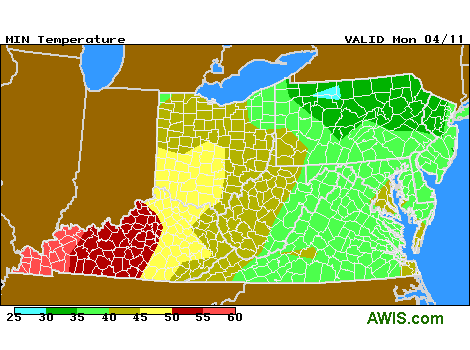 Minimum Temp Map for VA and Mid-Atlantic Monday – showing a large band of light green with min temp range of 35-40.
In this next table, I would concentrate on areas that might be below 40 F for frost risk, but pay attention to whether skies will be overcast, or not?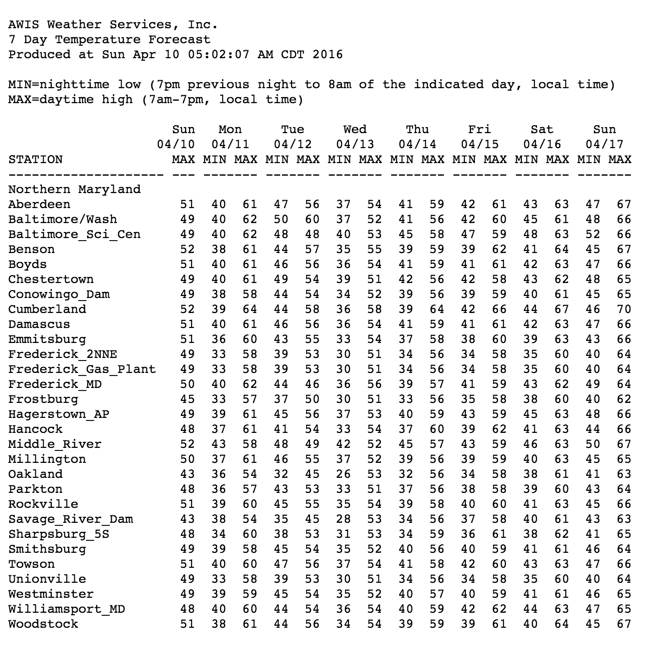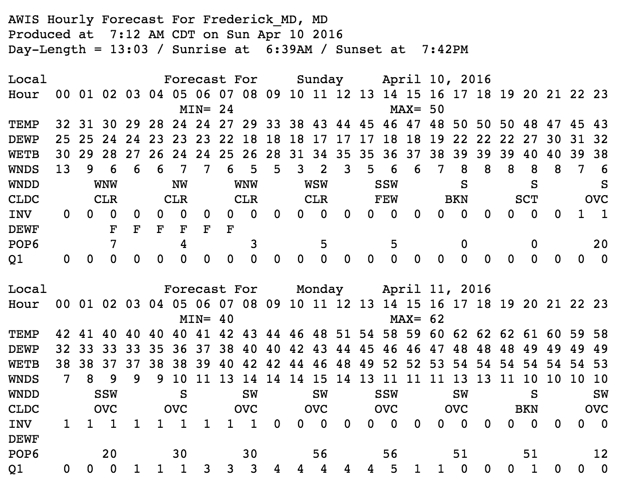 Clear skies today (Sunday) will give way to overcast later in the day. Tonight, overcast conditions will mitigate any potential frost issue! So, growers in this area can get some rest tonight!
Grower Reports (cont'd)
2. Virginia Beach – Tom Baker (9:34 a.m.)
Good morning, Barclay,
This is how things turned out for us. AWIS is temp (F), Wind at low temp time (mph). Actual T* is temp recorded at nearest WeatherUnderground sites; Actual W** is wind at time of lowest temp and Actual DP*** is dew point at time of lowest temp, also as recorded at nearest Wunderground sites.
AWIS forecast         Chesapeake            Fentress                 Oceana
Friday eve. 23 F                     29 F                         29 F
Saturday morning             30 F, 7 mph        32 F, 6 mph           32 F, 5 mph
Actual T*                            33.3, 34.7            39                          32.5
Actual W**                        0-2, 3 mph           5 mph                   -0- mph
Actual DP***                     19, 23                   21                          26
For comparison, yesterday morning's SkyBit called for min canopy 29, min air 32, and FROST HRS 9 p.m. to 8 a.m., wind 9 p.m. 21 mph dropping to 8 a.m. 10 mph.
Since our covers were out and the actual and forecast temperatures at 4:45 a.m. as shown on Weather Channel app on iPhone were completely "safe," I did not get up until 7:30 a.m. Anne was up at 7:00 and said there was no sign of frost on rooftops. We did not stick blossoms because, by late afternoon Saturday we were confident our covers, alone, would provide all the protection we would need.
Roy Flanagan said via text that at 6:15 he found frost "…on flat tube surrounded by dead grass; did not find on green plants; lowest temp was 34."  Roy said Bruce Henley "…turned on at 4:30. He lost wind and had temps of 31; Made ice on outside field plants only." (I think these are air temps?)
As things turned out, irrigation without row covers would have been fine for us (if it had been needed; I think DP was too low for frost?). Pulling covers Friday evening and the "fun" of fighting the wind yesterday were, as it turned out, "wasted" efforts. Are we upset? Not at all. Things could have turned out much differently and, compared to many, we were blessed!!!
Tom & Anne Baker and Amanda McCann
Brookdale Farm
3. Yadkin Co. grower
A good sign – clear ice! The grower pumped 12 hours and 288,000 gallons of water. Just turned off @ 9.
Maryland – Russ Schlagel, Waldorf MD  (8:44 a.m.)
We started pumping at 1.30 when we had a temp of 32.5. The temp under the cover was same as air temp winds were 15  mph. We made ice in no time at all. The lo was 28 at 6.30 skybit was calling for 25. The winds slowed down as the night wore on. At 7 a.m. we were dead calm.