Frost Reports on Tuesday at 8:30am and 2 PM (3/22/16)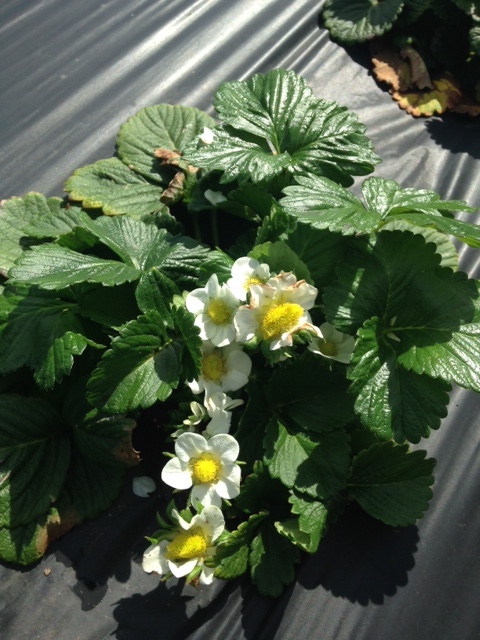 Fig. 1. Hopefully, this is what you are seeing this morning! So far, I am not aware of any problem areas? If you wish to provide a frost report, I am happy to post today. Strawberry blossom critical temps: At 27-28, the open blossom can be killed (without seeing frost). If there is frost, then 30-32 is dangerous to blossom stage. Something else that is dangerous to good fruit shape is poor pollination, and IMMEDIATELY today you want to get those row covers OFF.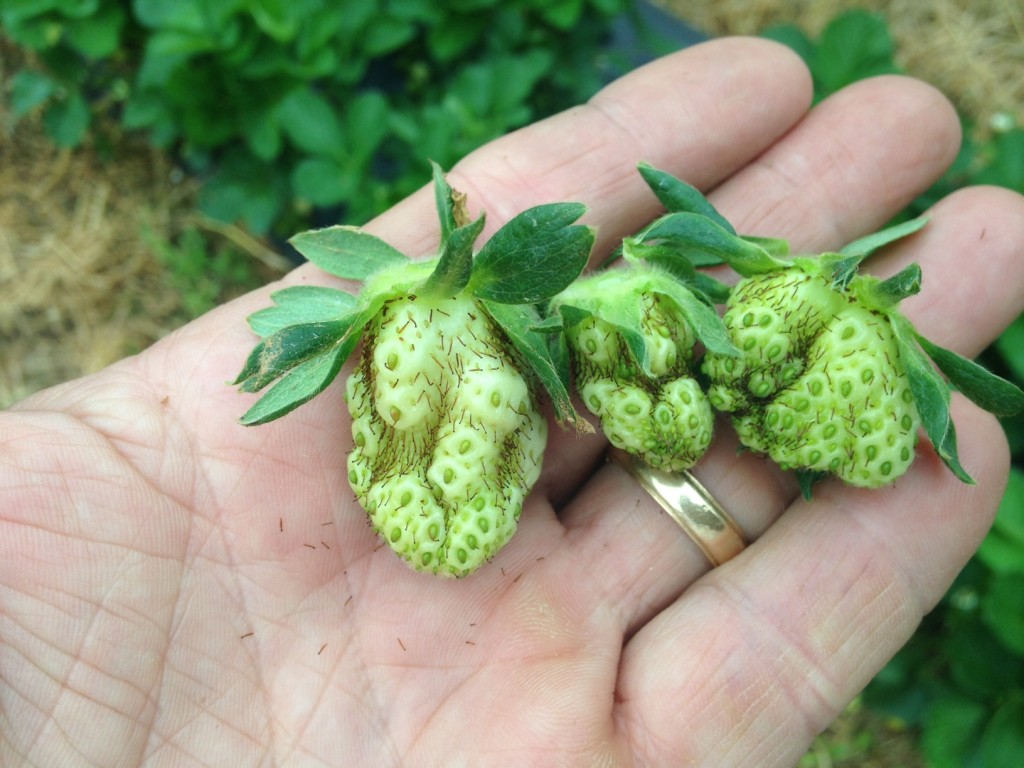 Fig. 2. I went back to locate this file photo sent by Eric Hunter, 4/16/15. Note the much larger fertilized seeds (achenes) by comparison to the very small, unfertilized seeds. This is a pollination problem! In the berry on left, it is quite clear that the smaller seeds in the "grooves" were not fertilized, and I don't see the more general blackening of areas of the fruit that are associated with partial frost damage to blossoms. At the end of March 2015, row covers were on this particular Camarosa crop (for bloom protection against a serious freeze event 3/28-3/29). There is always this terrible dilemma at this time of year associated with row cover use for frost protection! Think about it, most growers across our whole region applied row covers on Friday of last week for a rather simple radiation frost event this morning that could have been easily handled by sprinkling! Mr. Hunter continued his comments from last year by saying, "this problem was quite prevalent in his first flush of blooms, and he added that he was also seeing some distorted fruit in second and third output of blooms. Could that have been some blooms touching the row cover during the last freeze (March 29)?"
1. Frost reports – what is amazing about many of these reports is HOW VERY EARLY FROST CAME LAST NIGHT AT A NUMBER OF LOCATIONS — YOU CAN NEVER ASSUME ANYTHING WHEN IT COMES TO FROST PROTECTION!!

(1a) Clayton, NC – "Light frost in some areas. Row covers were on strawberries."(8:15 am)
————-
(1b) Yadkin County, NC – "Started OH @ 1:15. Turned off @7:15. Good ice layer. Skybit was off 3 degrees to start with but spot on by the morning. 3rd night sleeping in my truck."
—————
(1c) Chocowinity, NC
We have one field that we didn't have under covers and had to run water last night. A portion of the field is in the shade and even at 9am the ice has not melted in those areas. We started frost protection at 3:30 as it got colder quicker here than expected. We were making ice by 4am. I don't want to make a mistake by turning off too quickly. I do not have an internal bud temp set up.
Thanks
Editor – I asked the grower when they finally turned off? This email was received at my university email, which is the one you get if you respond to the advisory. Unfortunately, I do not see these emails on my phone. If you want to reach me quicer, email to strawberrydoc@gmail.com
Follow-up later in the day (Chocowinity)…
I waited until 9:30 to be on the safe side. Ice on plants in the sun had melted much earlier. We had great results with irrigation and also with the 2 fields under row covers. We have 30 plus open blooms and small fruit per plant on all varieties so we could not take any chances.
Thanks
———-
(1d) Franklin Co, Louisburg, NC – "Barclay, I fired up our system at 11pm last night. Air temp was 37 but the temperature right at the bloom was 32. Frost was just beginning to form on row cover at the edge of the field. My crop is uncovered but I keep some row cover out there for moments like this for an early warning sign. You know how tricky it is out here in our little frost pocket and this is a perfect example. Here I was thinking we would fire up around 2am but it happened much quicker."
(1e) VA Beach – "Barclay, BIG frost on cars/trucks and good frost on the lawn here in Pungo at 2:10 a.m. SkyBit for Chesapeake had predicted frost hours at 12, 7, and 8 a.m. Tom Baker
Editor's note: We did not see frost in N. Raleigh area, as some clouds came in during night and temps weren't quite as cold as expected.  I commented yesterday on difficulty of trying to pin down a time for frost occurrence, and growers using sprinkling must make the determination as to when to cut on based on careful field monitoring (meaning you do often get to spend the night in your truck).
(1f) Westover Farm, McKenney VA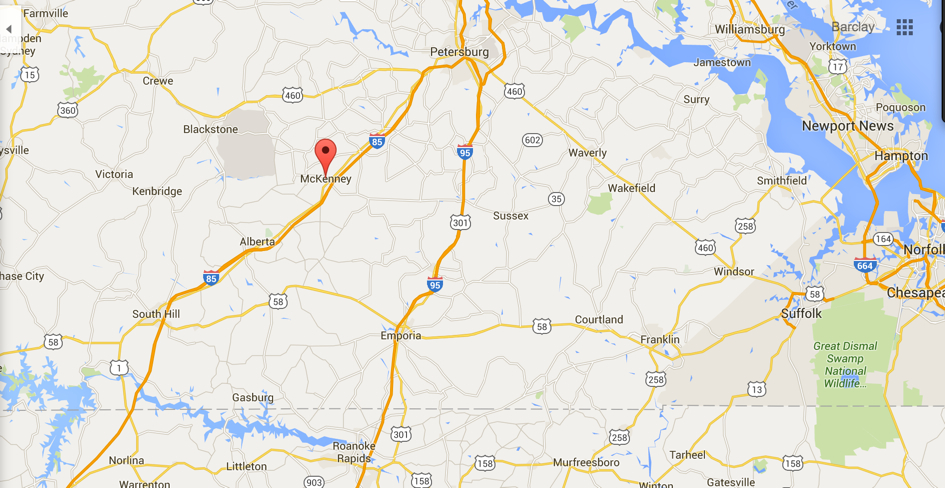 Good evening, Dr Poling.
This season certainly has been a bit wild so far. We had 24 degrees Tuesday morning with most of our strawberries in full bloom. We had double covered so made out OK. We don't have opportunity for sprinkling so we had everything covered from Saturday.   We are about three weeks early and looking like we may be picking here by April 10 – 15. I appreciate your advisories, they have been very helpful in anticipating events like we had over the last month.
Thanks
Tim Miller
(1g) N. Augusta, SC – "With 2 large Cummins diesel pumps now online, I took a few minutes to try to answer some good questions that Tom Baker raised. Please see the referenced attachment." ANSWERS TO TOM BAKERS QUESTIONS 3
Sincerely,
Clyde
Editor's note:
I am (still) planning to produce a more complete advisory including Clyde's notes and photos a little later today.
(1h) Easley SC
We dropped to a low of 25 last night and 27 the night before last. These temps were a couple of degrees lower than any forecast we had. The forecast for tonight is 35-36. I want to take the covers off today but I'm a little scared to do so with it being that close and the forecasts being off a few degrees.
I think I'm going to take the covers off here at our house where the temps are usually a few degrees warmer than our other farm. I'll have my overhead ready to go just in case I have to protect.
Thanks,
Eric
More Frost NOTES:
Maryland –
Barclay;
Great report. looks like covers come off Tuesday and may need to go back on in some locations before sat am.
Have a great day.
Bob Rouse
Agri. LLC
Next frost event?
Of course, I expect there will be more updates on frost coming later today, but one thing everyone would like to know is when will be the next frost, or freeze event? So, I invite you to spend a minute now scanning the AWIS forecast for your area over the next 10 days in the region of MD, VA, NC, SC and GA?
Detailed forecasts for MD, VA, NC, SC and GA
MD
if you look at MD 7-day forecast, there is no apparent frost issue for next week:MD min temps for 7 days
BUT
if you click on Frederick, MD you will see a FROST possible on 3/30

10-DAY DETAILED HOURLY WEATHER FORECASTS
VA
Here is example of Sat frost in Roanoke, VA

Just check out city/town near you in VA…
10-DAY DETAILED HOURLY WEATHER FORECASTS
NC
10-DAY DETAILED HOURLY WEATHER FORECASTS
SC
10-DAY DETAILED HOURLY WEATHER FORECASTS
GA
10-DAY DETAILED HOURLY WEATHER FORECASTS
Was the information on this page helpful?
This page can also be accessed from:
go.ncsu.edu/readext?403636