Row Cover Strategies for Tonight (2/10-2/11) and Valentine Freeze (2/13-2/14)…posted on Wed. Morning, 2/10/16
Find this article at:
go.ncsu.edu/readext?395739
en Español

El inglés es el idioma de control de esta página. En la medida en que haya algún conflicto entre la traducción al inglés y la traducción, el inglés prevalece.

Al hacer clic en el enlace de traducción se activa un servicio de traducción gratuito para convertir la página al español. Al igual que con cualquier traducción por Internet, la conversión no es sensible al contexto y puede que no traduzca el texto en su significado original. NC State Extension no garantiza la exactitud del texto traducido. Por favor, tenga en cuenta que algunas aplicaciones y/o servicios pueden no funcionar como se espera cuando se traducen.

English is the controlling language of this page. To the extent there is any conflict between the English text and the translation, English controls.

Clicking on the translation link activates a free translation service to convert the page to Spanish. As with any Internet translation, the conversion is not context-sensitive and may not translate the text to its original meaning. NC State Extension does not guarantee the accuracy of the translated text. Please note that some applications and/or services may not function as expected when translated.

Collapse ▲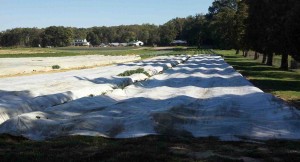 THIS ADVISORY IS IN 3 PARTS:
1. STRATEGY FOR MANAGING VALENTINE FREEZE
2. Situation Reports and Grower Questions
PART 3. MULTI-STATE WEATHER UPDATE COVERING NORTH CAROLINA, MARYLAND, VIRGINIA, SOUTH CAROLINA, AND GEORGIA – IF YOU NEED A 10 DAY DETAILED FORECAST, GO TO YOUR STATE AND CITY/TOWN AT BOTTOM OF ADVISORY – THESE FORECASTS ARE DYNAMIC, AND ARE IN REAL TIME
Good morning,
It now appears that we are headed for some very cold temperatures on Valentine's Day, but not likely record cold (Table 1). I pulled up this table of record highs and lows for Raleigh Durham, and the record low for 2/14/16 was -2 F in 1899. Let's certainly hope we don't get anywhere near that temperature! However, it could be as cold as 11 F in the canopy at Clayton (research station nearby Raleigh), and that forecast (it was the same today as yesterday for 2/14), led the research station folks to cover up. They generally do not use row covers at the research station through most of the winter – a practice I fully endorse! And, they are only brought out in the case of a severe cold outbreak, which this most definitely is. The medium weight row cover should provide them with 5-7 F of cold protection, and even if it does drop to 11 F in canopy on Sunday morning, that will be more than adequate cold protection for a crop that is starting to come out of dormancy.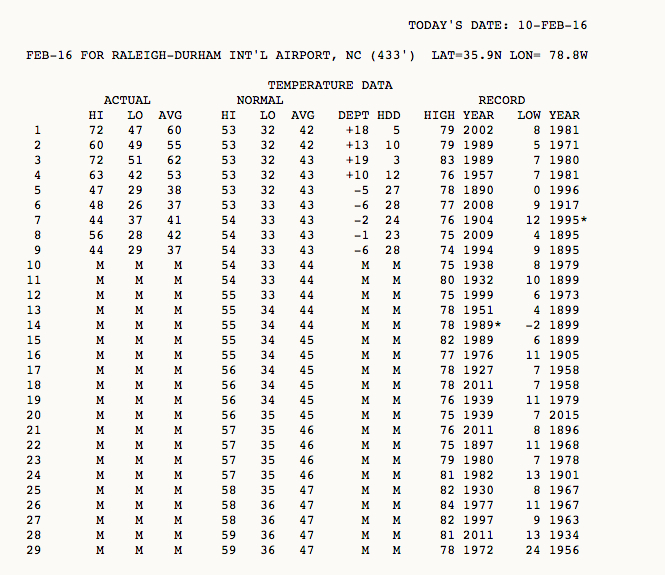 Table 1. The record low in Ral-Dur is -2 F, set in 1899. According to my Clayton Skybit, the air temperature on Sunday morning will drop down to about 11 F. One concerning factor about this freeze event relates to what happened Feb 1-4. Note how much above average temperatures were during that period. A crop under a row cover in a warm period such as this can be "forced" into more growth than you really want at this time of year. There is minimal opportunity to "add" more flower buds in late winter with a row cover, but there is excellent potential to set yourself up for a bigger loss to an arctic clipper (such as the one coming), by allowing covers to remain "on" during warmer periods in Jan and Feb.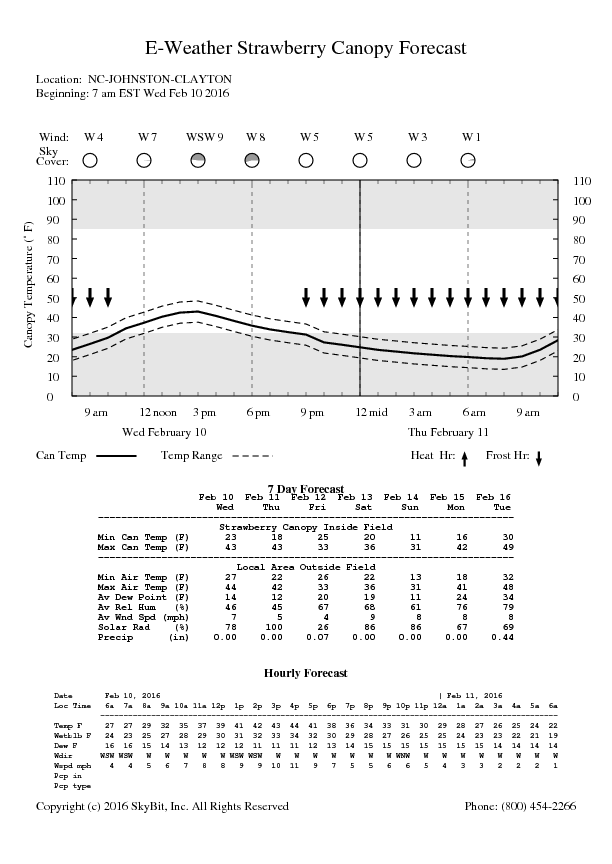 Table 2a. At this point, it now looks like Clayton will drop to 11 F on Sunday morning, but it might be a good time to cover up (NOW), if you note the 18 F tomorrow morning!
Evening Skybit Update (6 p.m.) – basically no change since this morning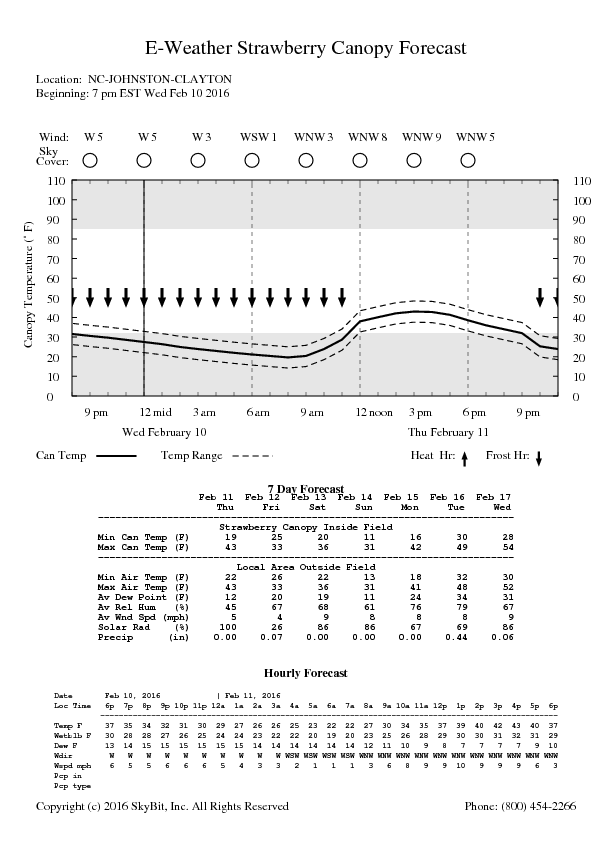 Growers who have made minimal use of covers this winter should be able to handle this freeze with a medium weight cover of 1- 1.2 oz. A double row cover should not be needed in most circumstances, unless the crop is very advanced (e.g. popcorn blossoms), and the local forecast is in the mid-to-low teens. The real focus of growers should be on protection of emerged flower buds, and these can be killed in the mid-to-upper teens. So, make an assessment of your crop stage!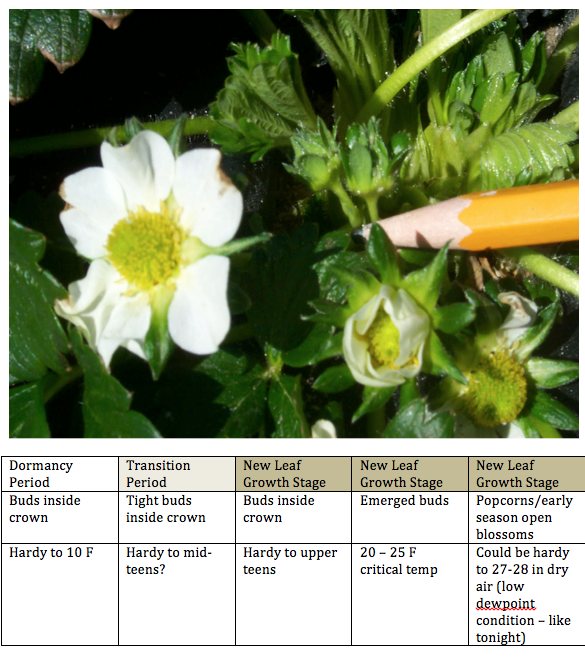 Situation Reports and Grower Questions
Eric Hunter, Easley, SC
Our temperatures for tonight have moderated a bit according to Skybit. They were correct last night with the forecast (18). Tonight has came up to 20. Our Camarosa plants are covered, but we have not yet covered our Chandlers. Since tonight will only be 20, I think we will wait until Saturday to cover our Chandlers as the expected low for Saturday night will be 10-14.
Where I am undecided is whether or not I should take the covers off of my cams tomorrow for two days. The canopy temperature will be in the mid to upper 40s Thursday and Friday afternoon with sun – which translates to probably upper 50s to 60 under the covers. The lows on these nights will be in the low to mid 20 range. I would reapply on Saturday if I decide to uncover. Thoughts?
Thanks,
Eric
Reply (10:45 a.m., 2/10)
Glad Skybit was right on the money! Given the forecast they are providing for your site in Easley, I am in full agreement with a decision to delay the row cover application on Chandler until Saturday (hopefully, field conditions will be acceptable for doing that Sat – right now it looks like they will be).
Eric, as you may remember in Feb. 2012, we had a very similar situation occur with an arctic clipper.
FLASH FROM THE PAST (text written on 2/12/12)
Earlier today I shared the following table regarding "critical temperatures" of strawberry buds and blossoms.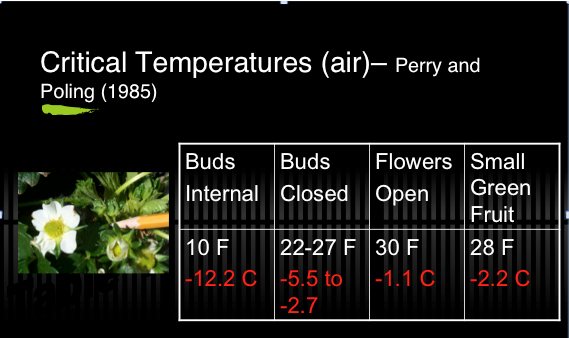 But,  this is really a bit more of a complex subject that this first table would have you think. During a freeze on 2/12/12 with very low dew points, I learned from a grower in Easley, SC, that he had about ½ of the emerged Chandler buds survive a freeze of 9 F  at about this time in the season. Underneath his cover it was closer to 12-13 F – where he had crop covers out. The fact that about ½ of the emerged buds survived, like the ones shown just above the pencil in the photo, is pretty exciting information! Up until this episode in Feb 2012, I had always said that around 18 F would be the coldest an emerged flower bud could possibly handle. Also, on  2/12/12 we had dew points near "0" or even negative! This weekend  we will have DPs in he teens in NC, and so it is possible that we will see the emerged flower buds survive to temperatures lower than 22 F due to a process called super-cooling. You need low humidity in the air to see this phenomenon occur, and we will be having both lower humidity with this cold event, and the rate of cooling will be gradual enough that I can forsee the potential for some nice super-cooling to occur.
SO, to conclude my answer on Chandler, I really do think you need a row cover again for this upcoming Valentine freeze – the cover will protect the other half of the emerged buds that did not make it back in 2012. That was some good information!! Right now Eric's covers for Chandler are rolled up to the side (as shown in this photo), and he will be unfurling the covers sometime on Saturday, hopefully, before 2 p.m. (you want to actually build up a heat reservoir the day ahead, and to do this, you need to have covers ON before 2 p.m.).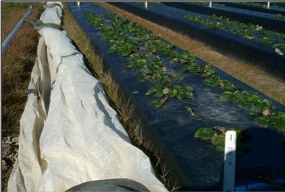 In answer to your question about Camarosa, I would leave the covers on – the daytime highs are not that high. I don't think there will be that much advancement in plant development in just two days with highs on Thur and Fri in upper 40s – even though that does translate into upper 50s, and perhaps low 60s under the cover during the day. I would be more concerned if we were to get a real spike in daytime highs before this freeze, but with temperatures only 40s, I would be content to simply leave the covers in place, and save some labor!
Earlier question from Eric (2/9/16)
Having 1.25 oz. covers down, at what point would you recommend doubling up on the covers?
We will be in the 10-12 degree range Saturday night – and assuming I am getting 5-6 degrees extra with 1.25 oz. covers, that should keep me in the 15-18 range.
The next few nights, :  Tuesday NOAA 17 (Skybit 18), Wednesday NOAA 14 (Skybit 20), Thursday NOAA 18 (Skybit 25), Friday NOAA 21 (Skybit 26), Saturday NOAA 11 (Skybit 14), Sunday NOAA 18 (Skybit 15). As the particular day approaches, these two sources usually line up closely (Skybit and Asheville NOAA).
Reply – no need for double cover with your crop stage … earlier you sent photo of several emerged flower buds per Camarosa plant and these will make it through just fine with a single cover of this weight.
But, where I have a little more concern is for a farmer who is seeing a fair number of open blossoms. Readers may recall this comment on Monday (this week) by a Sandhills (NC) grower:
"Our covers came off last Monday because so many blossoms were pushing open. Earlier in the weekend I was not worried about it, as the canopy temperatures were forecast to be around 20. We are likely to try to pull them back on. Thanks.
Billy"
This is a different scenario, and it is one that would lead me to consider a double cover if this grower's SkyBit for Ellerbe is showing temperatures as cold, or colder than Clayton, and if his goal is to preserve these? In my view, we are now entering a very interesting window for the 2016 season where it may be justified to save the more advanced flower buds that are on verge of becoming a popcorn. The popcorn stage is a little more debatable, but if they are saved, this could mean ripe berries by the 1st of April. I recall some years ago, how a grower up in Franklin County (John Vollmer) used to try for April 1st berries with Sweet Charlie!
Grower Question from Winterville, NC (28590 zip)
Just wondering what you'd recommend for my location (Winterville,  NC 28590) for the upcoming few days. They are forecasting 16° Sunday morning and 19° Monday for lows. We have not had covers on at all this year. We did finish our field sanitation last week and the plants look good and healthy. I'm not trying to push the crop but don't want to risk it either. Thanks for any info. Sue Brock
Reply
Hi Sue, I know we have you in the system for SkyBit to start 2/15/16, so let me help you our a bit with the situation you are facing until SkyBit starts. Basically, I just checked AccuWeather and their low on Sunday morning (they actually show the low on Sat night) is 16 F. Interestingly enough, I checked AccuWeather for Clayton (where I do get daily SkyBit) and they are saying a low of 16 F. So, we are basically going to see similar temperatures, except now we know that you may be down around 10-11 F by Sunday morning. That is cold enough for me to recommend a row cover application TODAY.

Winterville, NC – almost same forecast as Clayton! The minimum for Sat of 16 is actually the Sunday morning min.
RUSTBURG VA (1 p.m., 2.10.16)

Good afternoon.
It's starting to look a bit like a repeat from our wicked Valentines Day wind/cold event from last year.
Our plants are fairly dormant, but there are some living buds in the upper crown I'd like to keep. Many plants already have four or five dead buds. I assume they would have been the "winter flowers" many areas had problems with, but we were cold enough they never made it to flower stage. I'm not exactly sure why they're dead as we've not been under ten and have been covered through the bitter stretches during the last month or so.
What I'm not liking is the forecast low of 8/9 degrees. I could pull a few double covers, but I certainly don't have enough to do everything. Do you feel like Sweet Charlie's or Albions would benefit more from a double cover then fairly well conditioned Chandlers?
Also, could you check to see if my skybit is set to start Sunday as you have time.
Many thanks.
Lowell Yoder
REPLY – LOWELL, I COMMUNICATED TO SKYBIT YOU WISH A START-UP OF 2/14. I WOULD DEFINITELY NOT PULL A DOUBLE COVER ON ANY CHANDLER. YOU ASSUME CORRECTLY THAT THE DEAD FLOWER BUDS (SEE PHOTOS BELOW) ARE WHAT WE CALL THE WINTER FLOWERS, AND NEVER REALLY MISSED. IF YOU READ ABOVE ABOUT WHAT HAPPENED TO ERIC HUNTER IN FEB 2012, I THINK YOU WILL FEEL A LOT BETTER ABOUT PROSPECTS OF SAVING MOST ALL OF THE EMERGED FLOWER BUDS (THAT ARE STILL ALIVE)…HE WENT TO 9 F AND HAD NO COVER ON CHANDLER, AND STILL HAD 50% SURVIVAL IN 2012. SO, WITH A SINGLE COVER, I AM VERY OPTIMISTIC. I THINK THE PLANTS LOOK REALLY GOOD!
IF YOU HAVE EXTRA COVER,  I WOULD APPLY IT TO ALBION AND SWEET CHARLIE
THESE PHOTOS ARE FROM LOWELL
ROPER, NC (1:45 p.m.) I hope you were able to find my location for SkyBit and start it soon.I have gotten spoiled to the twice daily advisories and REALLY miss them now. 5 inches of rain and freezing temps have made putting on covers a little more trouble,but with any luck they will be on this afternoon. Compared to a lot of growers I'm still a newbie[10 years on plastic]and I find these extremes a little unsettling.I actually ate a berry in the field this morning that wasn't half bad and my covers have been off for over a month.I didn't put them on until after Christmas and only used them for the last cold snap[12 degrees at canopy level].I must admit I'm a bit concerned .Daddy has always said "It's not a question of If you will have a crop failure,it's just a matter of when.You do the best you can,hope for the best and prepare for the worst.".Hoping this year is not the worst. Scot Luton       Roper ,NC
REPLY – SCOT, I DROPPED THE BALL ON GETTING YOUR INFO ENTERED INTO SKYBIT…WE HAVE HAD PROBLEMS WITH AN OLDER WEBSITE FOR FINDING COORDINATES ON LAT, LONG AND ELEV. BUT, YESTERDAY, MELANIE DEAN SOLVED THE PROBLEM FOR US ALL BY SHARING THIS WEBSITE THAT ANYONE CAN GO TO (GROWERS WHO WANT SKYBIT MUST CONTACT ME ASAP AT strawberrydoc@gmail.com  …. I provide this at cost to growers)
Barclay,
We are all set with this site. They should begin getting products tomorrow morning and they are set to end 5/10/16. That end time can be adjusted as need be.
I didn't know the earthtools website didn't work until I tried to use it a few months ago. I don't know what happened. I came across a new website, http://www.mapcoordinates.net/en, where you can move the cursor around and get the latitude, longitude, and elevation.
Melanie
—
Melanie Dean
Science and Information Technologist
Skybit Inc.
MULTI-STATE WEATHER UPDATE
NORTH CAROLINA
Look at these Central NC lows for Valentines – Louisburg will be 8 F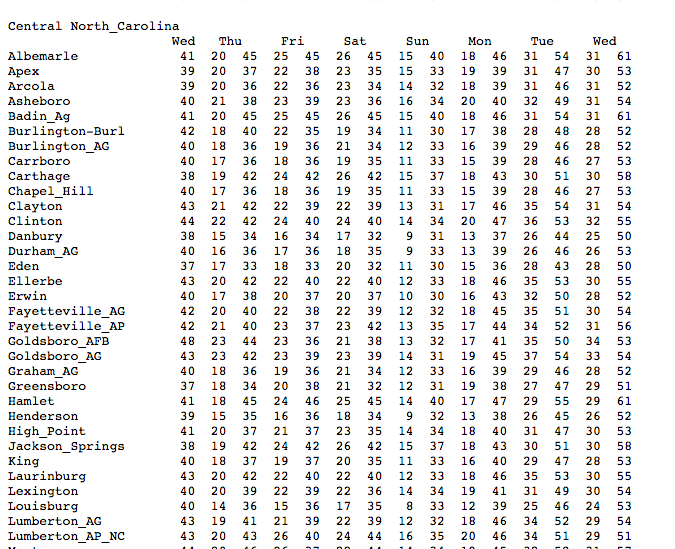 Here is the minimum temp table for towns and cities across NC for the period 2/10-2/17: NC Min Temps 2:10-2:17
Sat-Sun-Mon Minimum Temps in NC – AWIS MAPS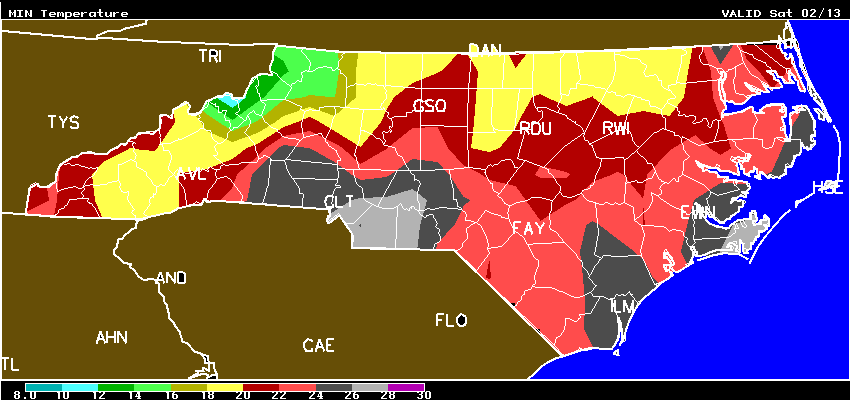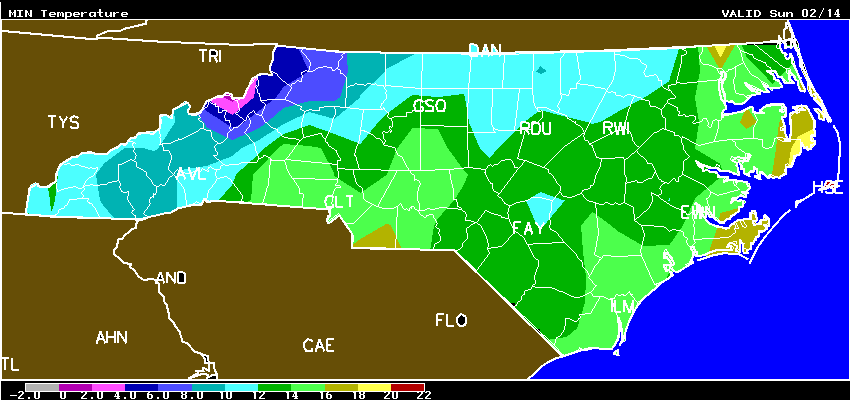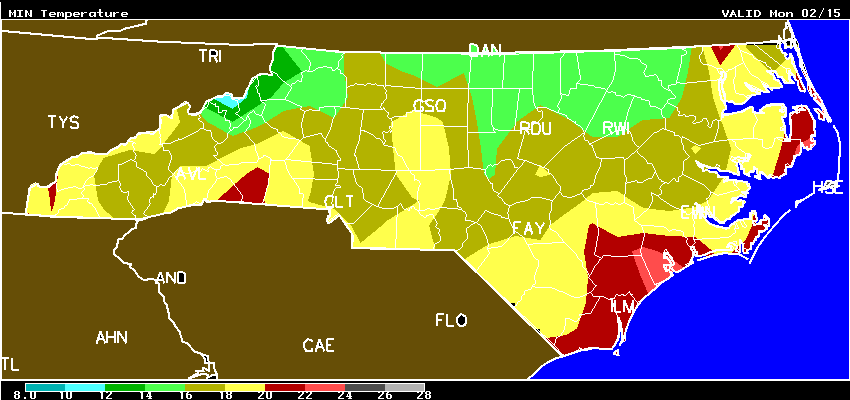 10-DAY DETAILED HOURLY WEATHER FORECASTS
Maryland
Shocking minimums on MD Eastern Shore:

Minimum temps across MD: Md Min Temp 2:10-2:17
SAT-SUN-MON Minimums in Mid-Atlantic (map shows MD and VA)
10-DAY DETAILED HOURLY WEATHER FORECASTS for MD
Virginia
Williamsburg at 9 F Valentines Day! That could be closer to 5 F in the canopy – it will depend on how dry the air will be?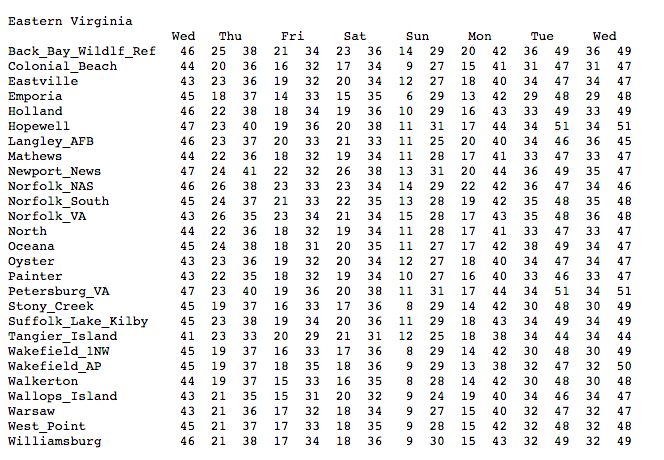 Minimum temp table for VA: VA Min Temp Table 2:10-2:17
10-DAY DETAILED HOURLY WEATHER FORECASTS
South Carolina
10-DAY DETAILED HOURLY WEATHER FORECASTS
Georgia
Min Temp Table: Ga Min Temp Table 2:10-2:17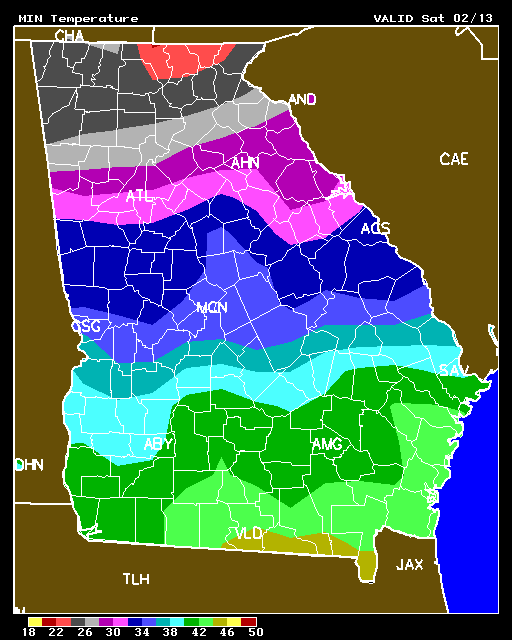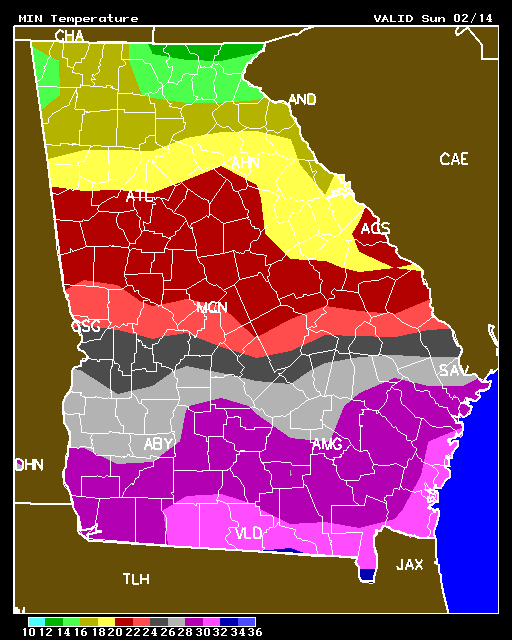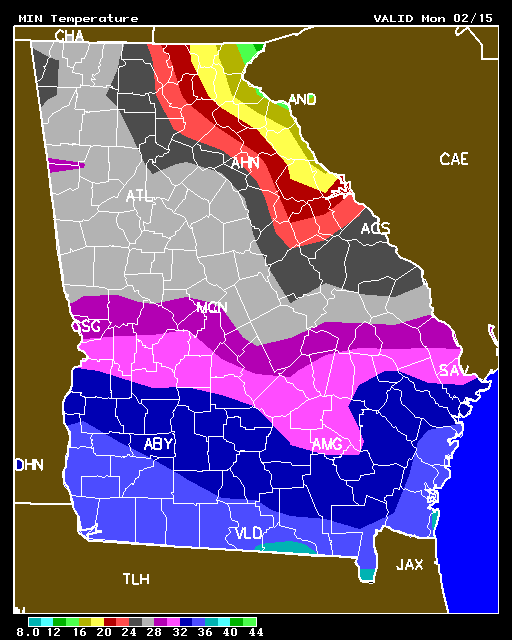 10-DAY DETAILED HOURLY WEATHER FORECASTS