Morning Update on Freeze and VA, NC, GA, SC AWIS Temps (7am, 1/19/16)
Find this article at:
go.ncsu.edu/readext?390936
Fig. 1. CRONOS Temp Map today at 8:10 a.m. Clayton got to 18.7 F at 8:10 a.m.
Dear Growers, Agents, Agronomists & Others,
At 6 a.m. Clayton registered 19 F, and then it reached 18.7 F at 8:10 a.m. Dewpoint went negative this morning (see graph below).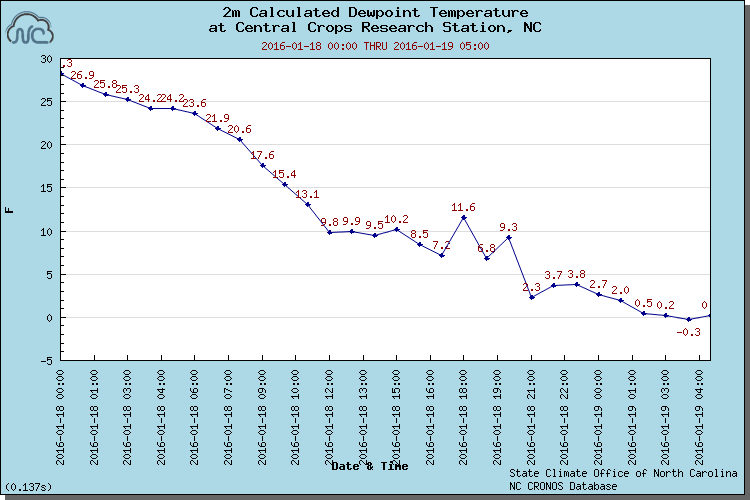 Fig. 2. Dewpoint went negative this morning!
SkyBit Forecast is very close!
The Clayton SkyBit forecast was for 11 in canopy this morning with air temp outside canopy at weather shelter of 17 F. At 8:05 a.m. it was 18.7 F at weather shelter, so this is pretty accurate forecast (actual temp is about 1.7 F higher). But, what everyone should appreciate about this product is that it gives you information about the temperature at the strawberry canopy level height, and it was 6 F lower this morning. That is a considerable difference from temperature at weather shelter height (around 6 ft) and ground level. It is very explainable by the fact that there is really no moisture in air today! Solid objects (including a strawberry plant) at ground level give up their heat very very rapidly under these conditions.
Good news on SkyBit offering in 2016:
I got the go ahead to offer SkyBit E-Weather Strawberry Canopy Forecast again this season, and if you were one of the subscribers last year, I will be contacting you tomorrow or the next day about getting it started up again for 3 month period (most growers want it from mid Feb to mid May). For other growers who have never used this product, I will be providing details this Friday on how you can subscribe.
Pledges needed to fund this advisory:
This Friday I will also provide information on how you can support this advisory service in 2016. Your support is definitely needed!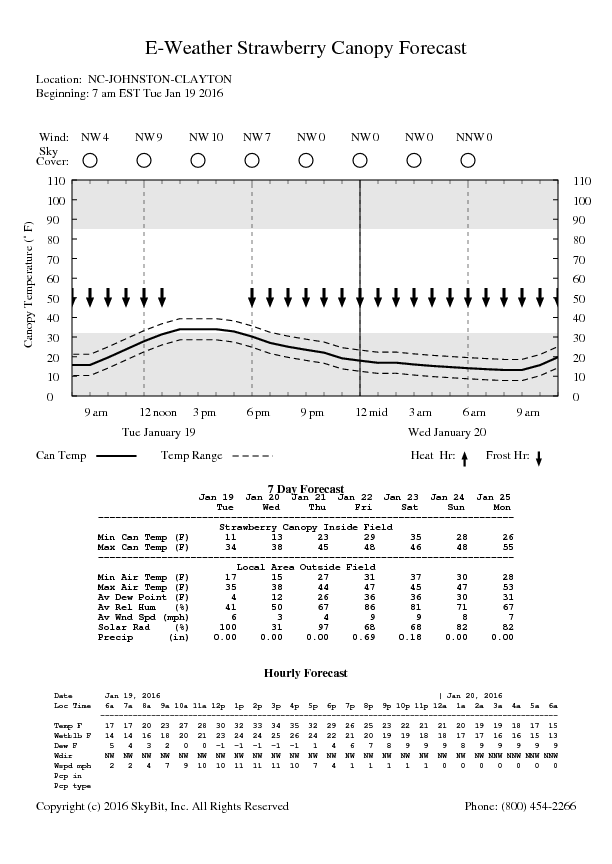 Below, you can find the AWIS minimum maps for VA for today through Friday. This is followed by NC AWIS minimum temp maps.
Virginia – those lighter pink regions are for 5-10 F. The first map was for this morning (Tue).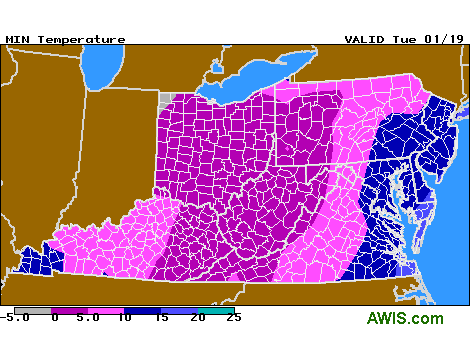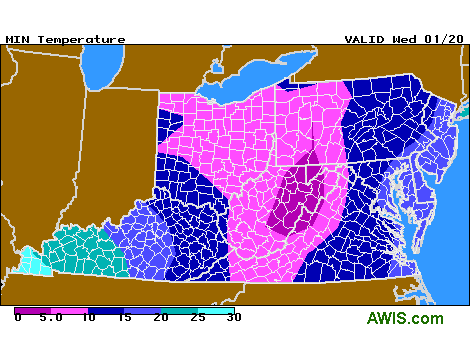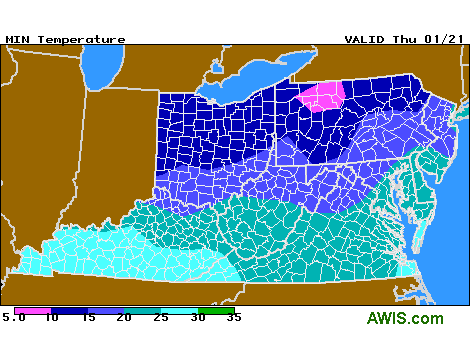 10-DAY DETAILED HOURLY WEATHER FORECASTS
North Carolina – please note in second map (for Wed), that the dark green areas in Piedmont will be 12-14 tomorrow morning!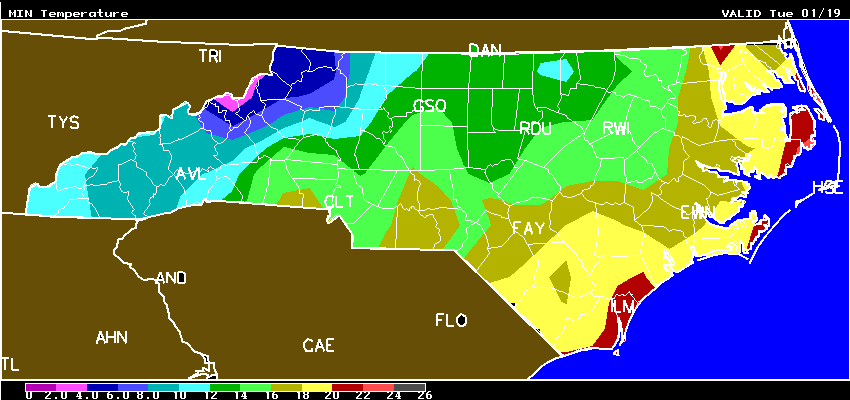 Minimum temp map for Tue morning.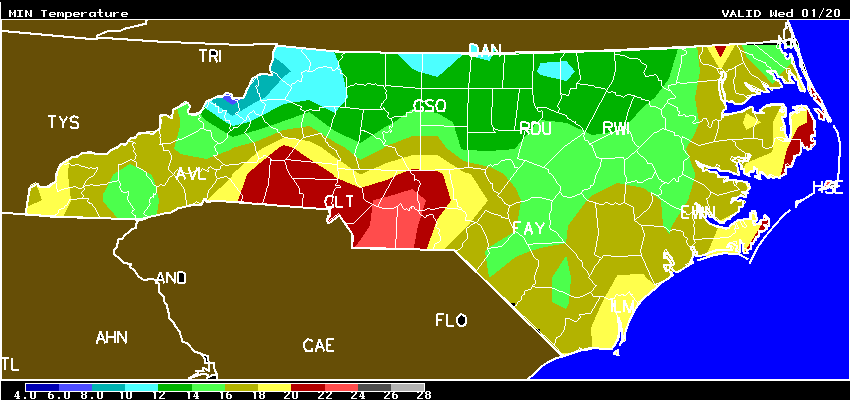 Min. temp map for Wed morning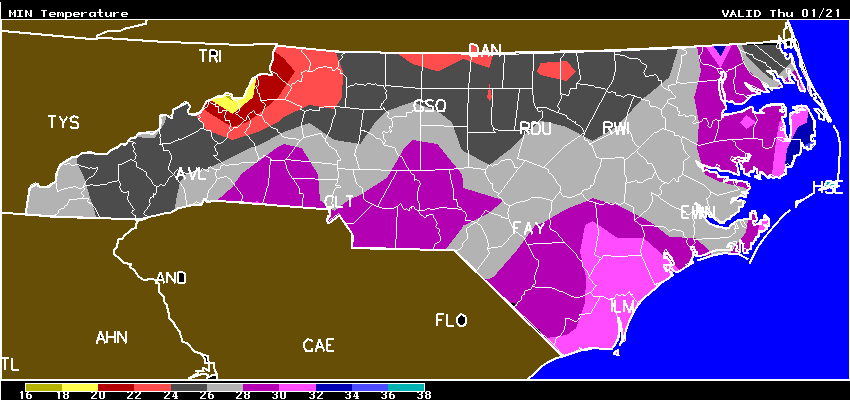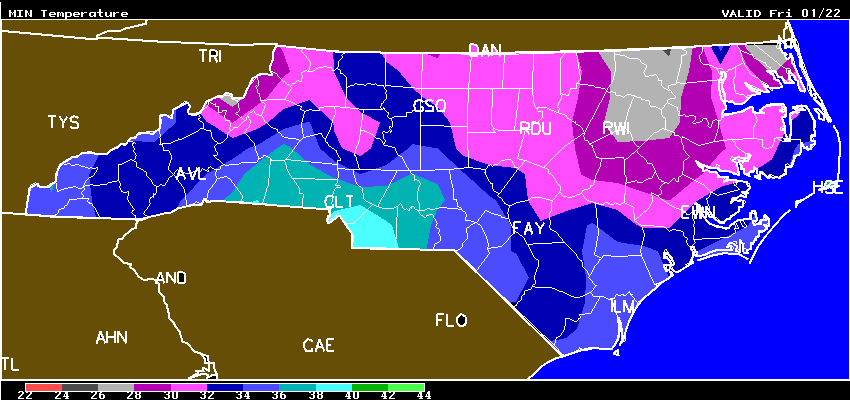 10-DAY DETAILED HOURLY WEATHER FORECASTS
Here are GA Maps (for this morning and Wed)
10-DAY DETAILED HOURLY WEATHER FORECASTS
SC Min Temp Table:SC Min Temp Table
10-DAY DETAILED HOURLY WEATHER FORECASTS
---