New Tools to Assist Strawberry Growers: MyIPM & AgroClimate NC (2pm, 4/30/15)
Find this article at:
go.ncsu.edu/readext?354200
Good afternoon,
With so much rainy weather in April this year, we are seeing "immediate" applications for both the new App, MyIPM (announced March 14th), and the AgroClimate NC disease forecasting system (announced April 17th)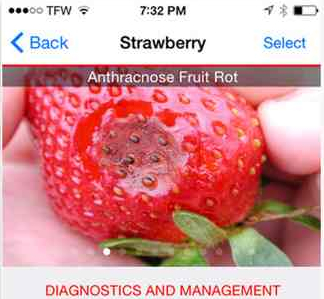 Fig. 1. On March 14, 2015, Dr. Schnabel at Clemson announced the availability of a new App, MyIPM, to assist strawberry and peach growers in picking effective and safe fungicides for conventional and organic strawberry production. Here is how to access this great tool:
Upload in Google Play
https://play.google.com/store/apps/details?id=edu.clemson.myIPM
Upload in Apple Store:
https://itunes.apple.com/us/app/myipm/id974721175?ls=1&mt=8
Smartphones and tablets are becoming much more commonplace today on the farm, and strawberry and peach growers are extremely fortunate to now have this terrific new App. I am a little old fashioned, so I still like to keep handy in my vehicle a hard copy of both the printed copy of the Strawberry IPM Guide 2015StrawberryIPMGuide1 
and, I also requested from Dr. Schnabel a copy of the Strawberry FRAC table for 2015:  Straw_FRAC
Another excellent development this season has been the introduction of AgroClimate
You may recall that Dr. Louws announced this forecasting service back on April 17 — just in time to help during these rainy, overcast periods. Here is today's forecast map showing some areas of moderate (yellow) and high infection (pink) potential for botrytis and anthracnose pressure (Fig. 2).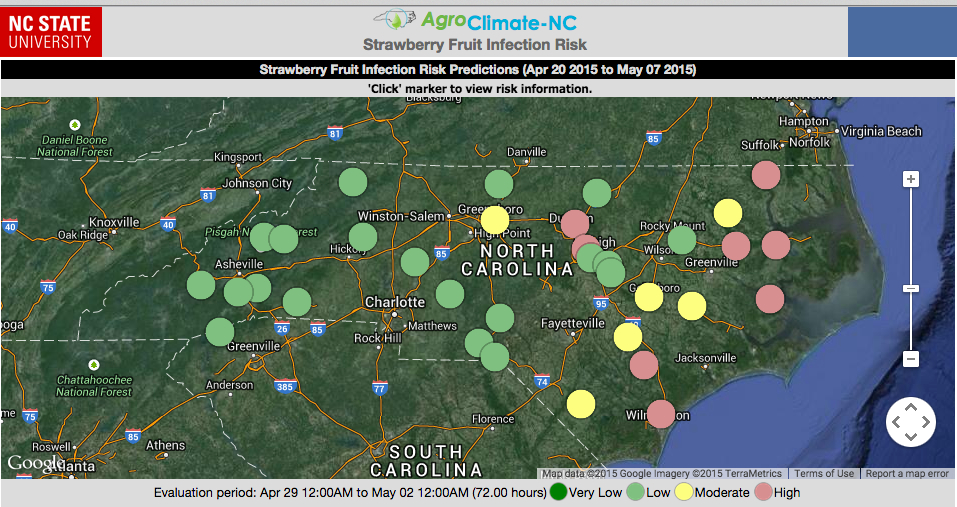 Fig. 2. Infection risk map for April 20-May 7. It is on the strawberry, IPM and Plant Pathology Portals. I had a call from a very excited Bob Rouse this week when he saw this new forecast product. I am guessing he would like to see something like this for his MD growers.

You can access this forecast at these locations:
http://plantpathology.ces.ncsu.edu/
 http://strawberries.ces.ncsu.edu/
Frank L.
Today, I received this photo from Mike Wilder – showing "black spots"  on Albion. There is definitely some anthracnose pressure out there.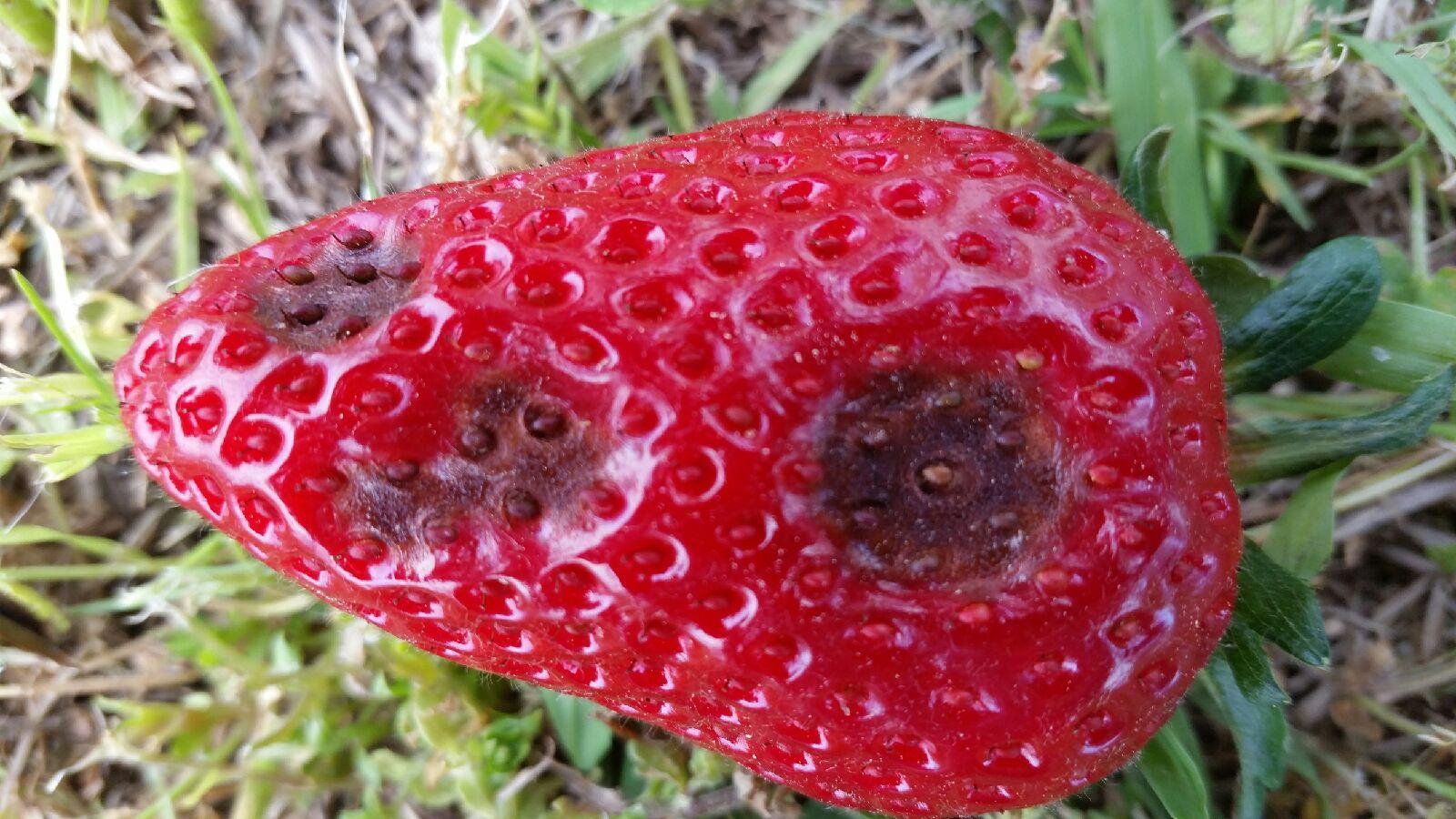 Fig. 3. Strawberry flowers and ripening fruits are can be very susceptible to anthrancose fruit rot.
Here is anthracnose fruit rot on the green fruit: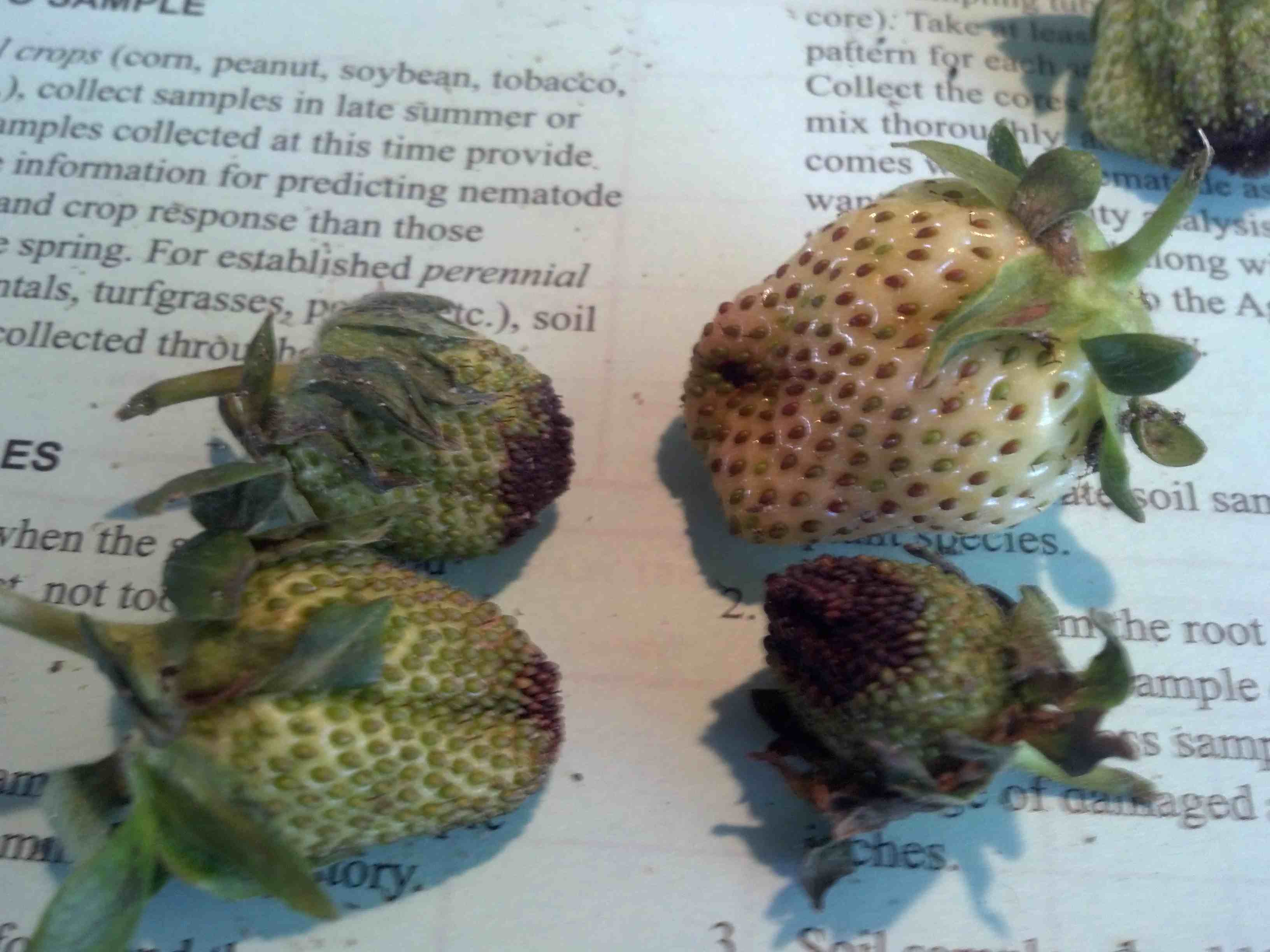 Fig. 4. Green fruit are susceptible as well.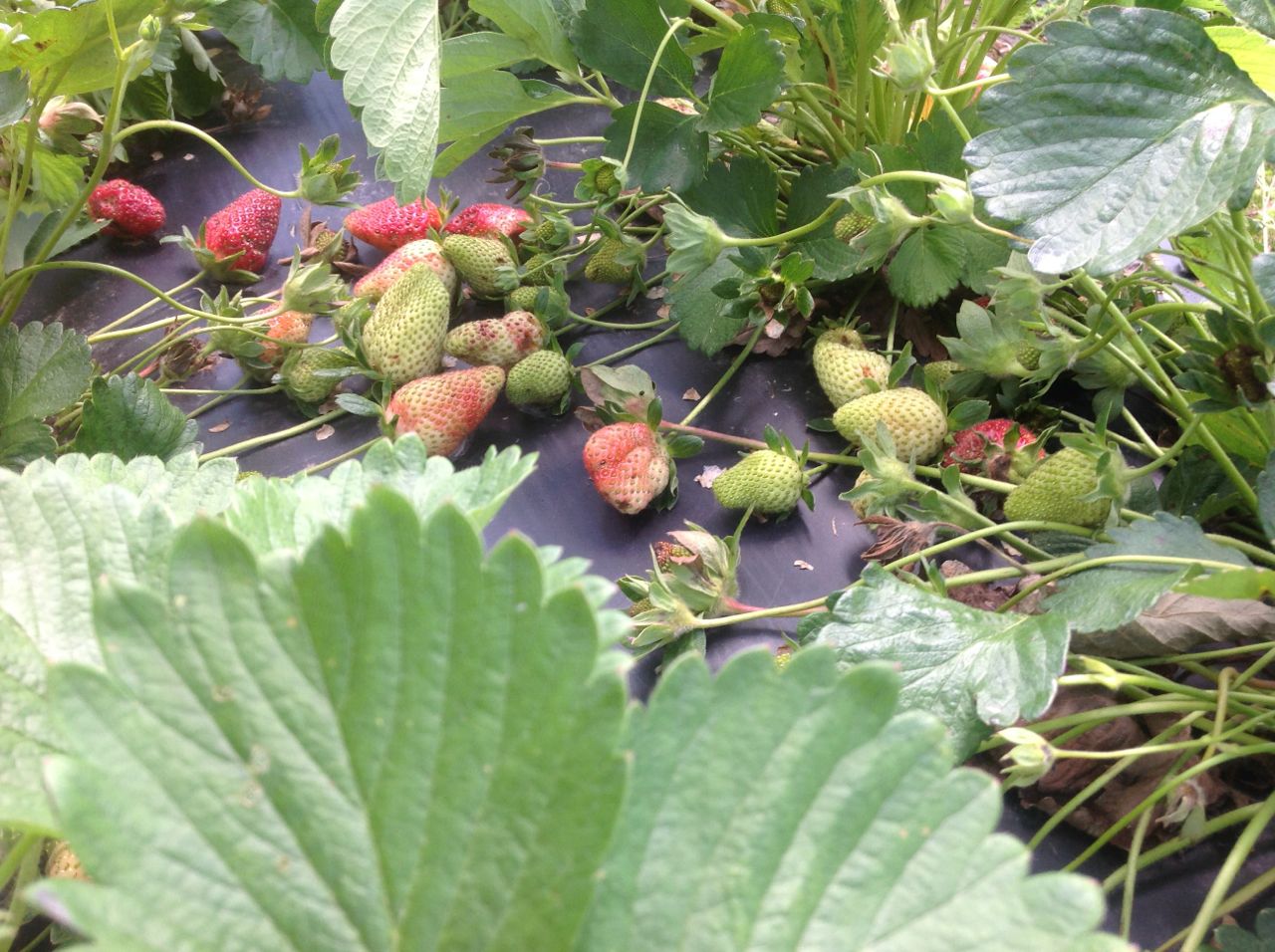 Fig. 5. In this planting of Camarosa you can see anthracnose lesions on all stages – green, pink and red.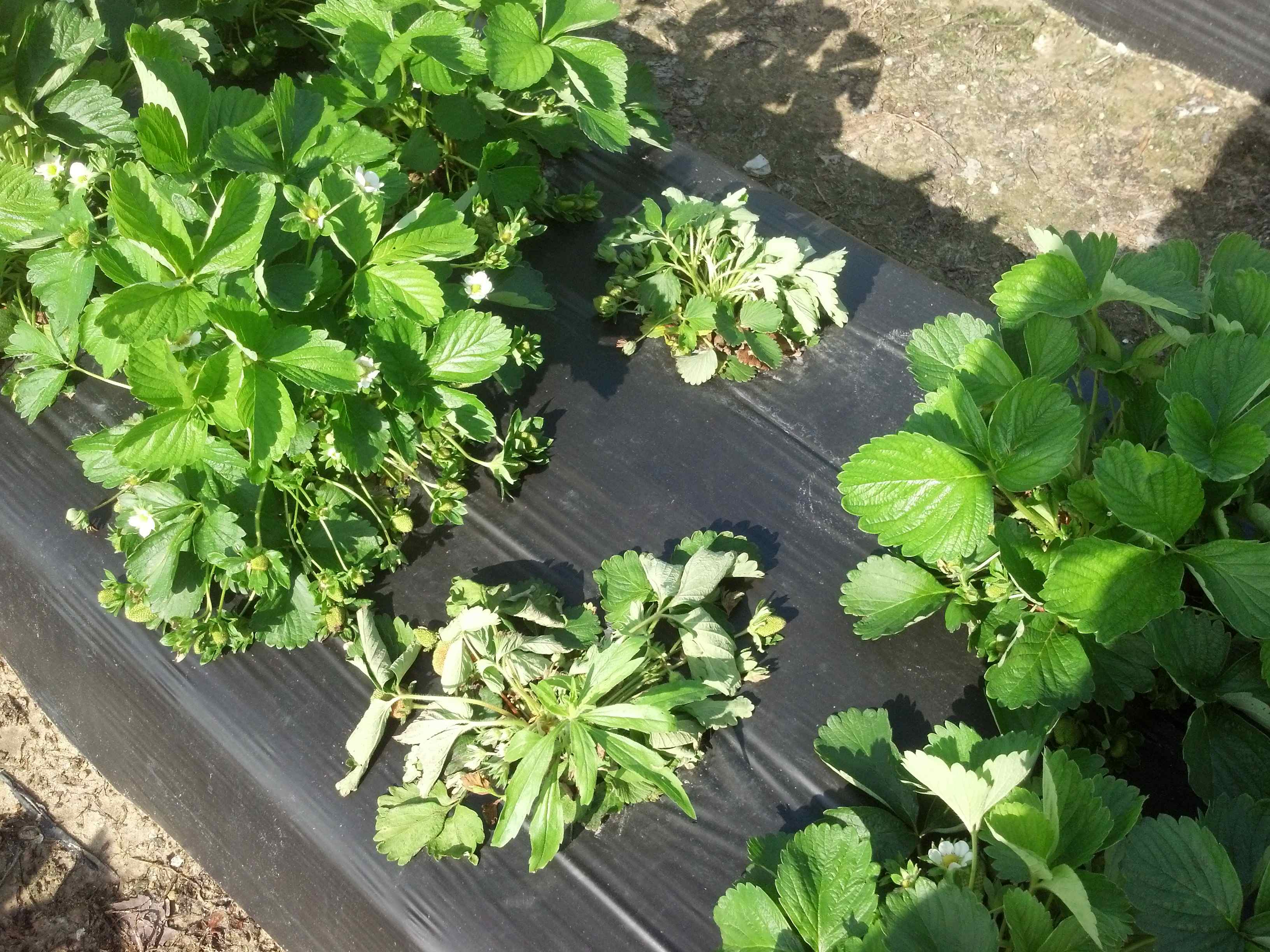 Fig. 6. Anthracnose crown rot caused by C. gloeosporioides causes a plant collapse, such as you see here. If you see plants collapsing, get some assistance ASAP in making a diagnosis of what could be causing this. At this time in the season it is also possible to see plants collapsing from Phytophthora cactorum.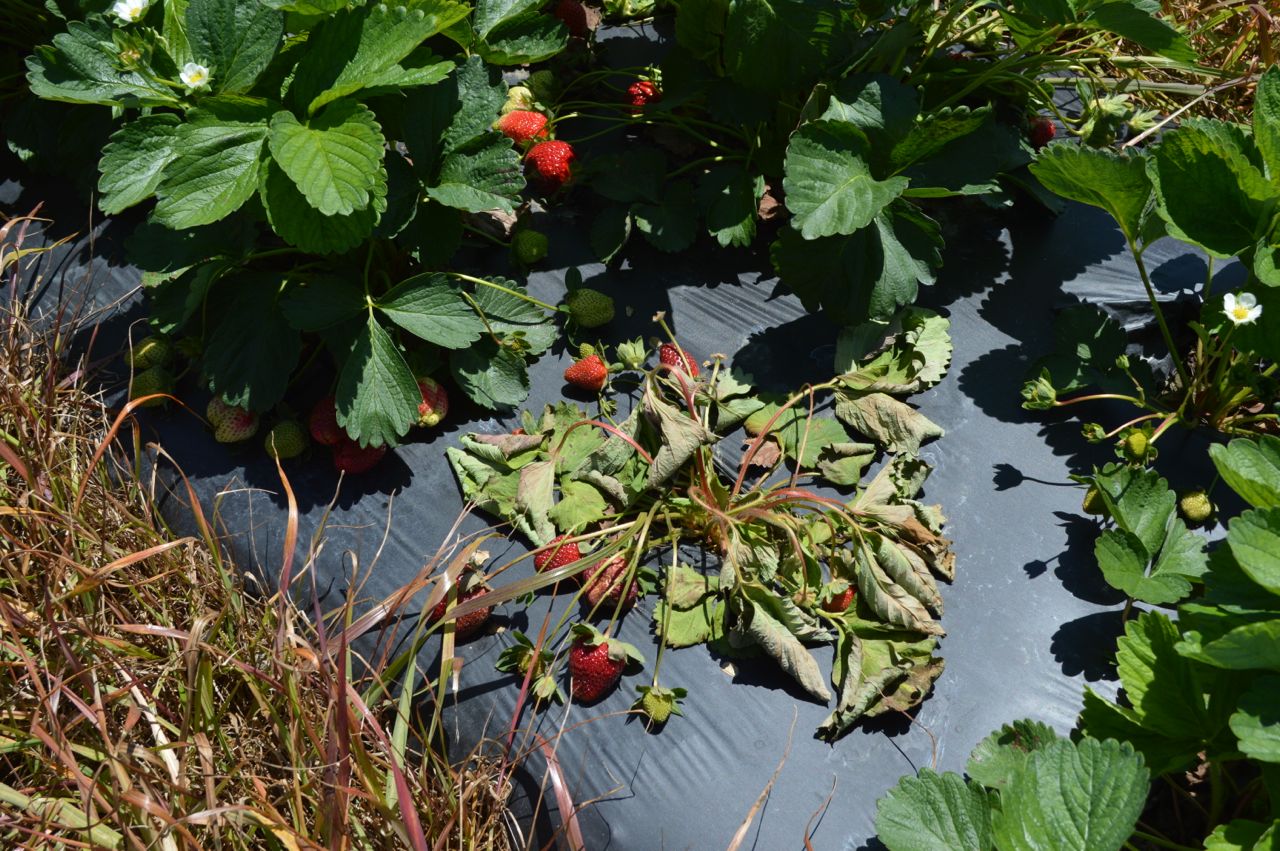 Fig. 7. If you see plants collapsing, be sure to get assistance in diagnosing what may be causing this, as control measures are different! See table below from  2015StrawberryIPMGuide1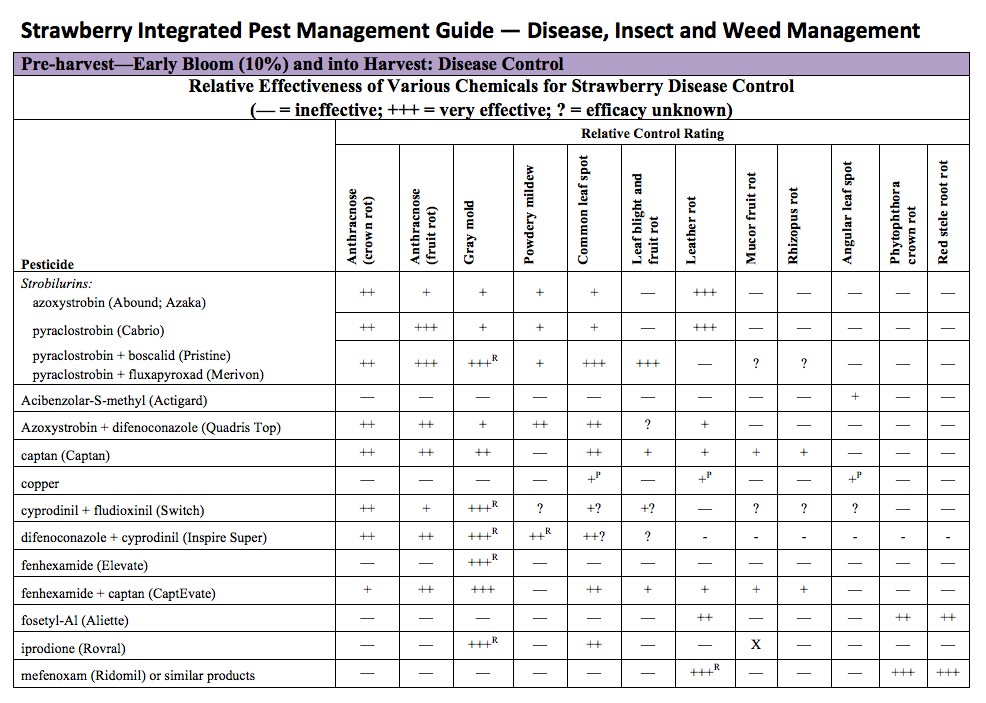 Table 1. For control of Phytophthora cactorum note that mefenoxam (Ridomil) is shown as very effective, but Ridomil is ineffective for anthracnose. This table is continued below (pp 23-24 of  2015StrawberryIPMGuide1 )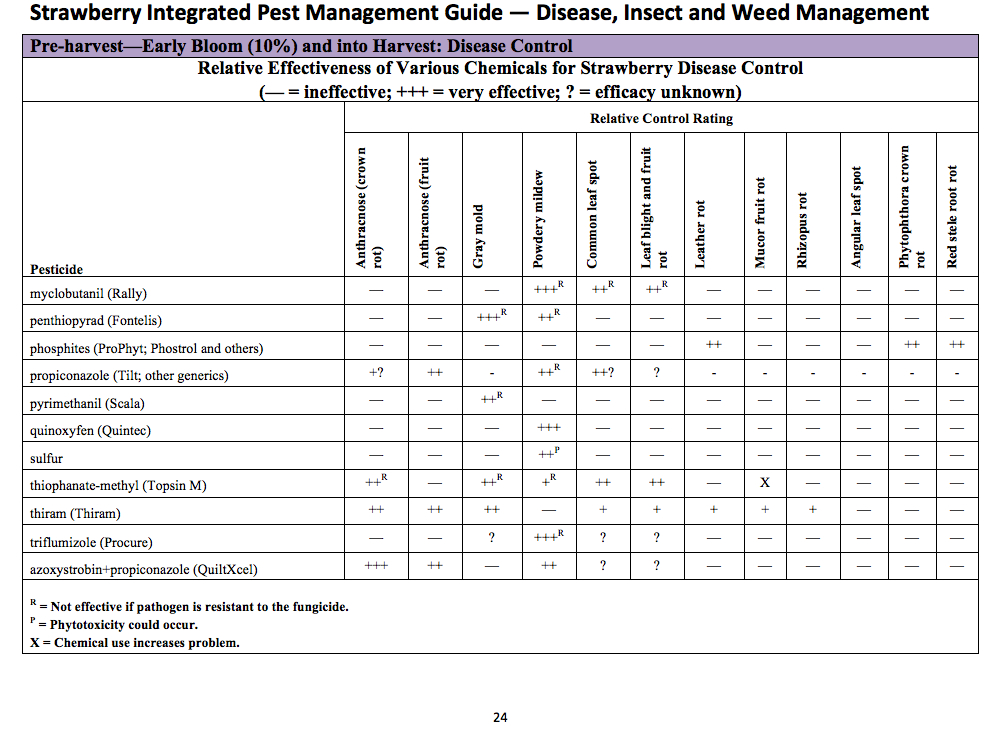 Table 2. This is a continuation of the same table in the IPM guide.
What about the "stunting" issues we reported earlier this season on this blog?
Here is the information I received April 21 from Mike Wilder (Region 6):
"Much of the stunting is likely due to early pythium damage to the first plug roots last fall. Pythium is hard to find now, since original roots are gone, replaced by good healthy secondary root system. Plants did not grow out because secondary roots developed too late for plant development. Anthracnose may have played a part in this also, but pythium is main suspect."
Also, I learned today from Tim Hall, Agronomist, Region 4: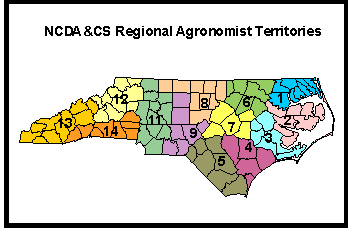 "Barclay,
The stunting in  turned out to be a severe nematode issue on the sandiest portions of the field on the edge where there was no fumigant applied and the extra plants were set. "
On a more positive note, I am glad we are not seeing the showers that were in the forecast for our area  today  – so far at least.
Every grower I know has been very proactive this season in managing botrytis, and I am impressed with how little botrytis loss that I have seen this year despite highly favorable conditions for gray mold. I believe losses have been kept to a minimum because of a very "spot on"  effort by our university plant pathologists to keep agents, growers and agronomists up to the minute on control strategies, offering free testing services for resistance management (i.e. Profile service at Clemson), and it is very exciting to also now see both the availability of the  AgroClimate forecast system and MyIPM.
By the way, please take the opportunity NOW to submit a bortytis sample to Clemson if you have not done so already this season. Instructions for sampling and mailing:
www.clemson.edu-extensio…lectionInstructions
Our congratulations to Dr. Schnabel for receiving the 2015 Godley-Snell Award for research and scholarship at Clemson! This is one of the very top awards at Clemson University!
Congratulations Guido!
Barclay Poling
p.s. if you think you might be having a tough season, this is a note I received from a grower just last Thursday morning (remember, we were doing frost protection in some areas on 4/22-4/23):
"Meant to add that my frost alarm was at 37 at 4 a.m. I have a field full of ripe cams that are to be picked this am so I elected to cover them instead of using overhead if needed. I didn't want to put more water on the berries or in the aisles, nor delay picking/pick wet fruit. We'll use overhead on the remaining fields if we have to. I needed to fertilize today anyway, so I'm currently running the drip and fertilizer now in an effort to see if that will help keep the temps up slightly around the plants. No idea if that'll work.
What a bizarre week:
Sunday and Monday:  5+ inches of rain.
Monday:  damaging golf ball sized hail storm.
Tuesday and Wednesday:  temps in the 80s.
Thursday:  frost/freeze.
Thanks for all the help, reassurance, and information in dealing with the hail damage."
Dr. E. Barclay Poling
Professor Emeritus (Strawberry Plasticulture Researcher)
Department of Horticultural Science
Campus Box 7609, 162A Kilgore Hall
NC State University
Raleigh, NC 27695-7609
"An idealist believes the short run does not count. A cynic believes the long run does not matter. A realist believes that what is done or left undone in the short run determines the long run."
Sidney J. Harris, In: Reclaiming a Lost Heritage – Land-Grant & Other Higher Education Initiatives for the Twenty-first Century