Mid-Week Update (11:30am, 4/15/15)
Dear Growers, Agents, Agronomists and Others:
First, I just wish to acknowledge all the fine input we have received from growers, specialists, agents and agronomists for this season's Strawberry Weather Advisories. Just yesterday morning I had heard from several growers who commented on how concentrated the 2015 crop appears to be. My belief is that this very well could be another "fast and furious season." It should be very interesting to see in the next week, or so, whether you are seeing any newly emerged flowers on Camarosa and Chandler? My experience has been that when we have a somewhat cooler early April, we get a nice later flush of flowers (to help extend the season).
Runners?
I did hear from a grower in Burgaw who is growing Albion this season, and he commented yesterday on all the runners he is seeing.  I think we have to be a little careful about drawing any conclusions about what may be causing Albion to runner at this stage (and, I am planning a site visit to Burgaw in first week in May to take a closer look), but when we hear of early runners in short day varieties, like Camarosa, it could be an indicator of just how tough this past winter was! A farmer in Faison is seeing runners, and he commented that he thought it was related to the freeze in Feb.
I also heard from an agronomist today:
Barclay,
Seeing runners in strawberry fields. What do you think this means?
Reply – it (the runners) are a response to a "stress" on the plant that either cuts short normal floral development in the fall, or early spring. Or, there may be an extreme cold or heat event, or events, that help explain why the plant is going vegetative (when it is suppose to be reproductive).
If you are seeing some abnormally early runners, I would appreciate a photo of the plants, and some added information would help!
Name of variety (ies)?
Plant type(s)? plug, cutoff, fresh dug
Planting date(s)? Sometimes, delayed plantings and resultant smaller plants, are especially often very prone to runners after a colder than normal fall/winter
Row cover management program?

Fall season? Did the grower leave covers on in late Nov and Dec when the covers should have been OFF? By leaving covers on in late fall, early winter, to reduce plant cold hardiness, and these plants are definitely more susceptible to winter freeze injury (and later runnering)
Row cover practice in Jan and Feb?
Outcome of hard freeze (black frost) on Palm Sunday?
My lead hypothesis is that arctic clippers in Jan and Feb lightened the crop up enough to cause some early runners. It will be interesting to hear from any growers who had some non-covered plants during these arctic clippers, and what they may look like now as far as runnering?
As an aside, we have not had any really serious heat events in early, as we did in 2002 and 2010. In both of those years we had some remarkable heat episodes in the first half of April that really cut short the Camarosa season, and caused early runnering. So, the stress doesn't have to be cold related!
Smaller plants? 
I have not had any information to date that clarifies what may be causing "smaller plants" at some farms (photos shared in earlier advisory), but I did learn in a phone call yesterday of a "planting depth" issue with fresh dugs at one field location. Planting fresh dugs correctly can be a real challenge, and if set too deeply, the crop has little chance of recovery. I have had many good comments over the last few weeks about the value of row covers as far as "forcing" the crop, and giving growers as much as 8-10 days of earlier ripening in both Camarosa and Chandler. It was very interesting to receive two reports about Albion being earlier than Camarosa!
Florida early warning system in SC
Also, in the "news," I heard from Dr. Schnabel yesterday (Clemson) that for a handful of growers who signed up in SC for the "Forida SAS model for your weather station" at http://sas.agroclimate.org/ , they should have received an email warning yesterday (medium risk of anthracnose infection). Guido indicated that this program has been very effective in Florida, and has helped growers in the Sunshine state to better manage both gray mold and anthracnose. It is not an easy system to get up and running, but by 2016, it is Guido's hope to have it working across 2-3 growing areas in SC.
No frost issues, but will need to keep up disease management program – rainy conditions continue
I don't see any frost issues in the immediate forecast! And, as busy as everyone now is, that's a really good thing. In case you are interested, I posted my SkyBit for Clayton (Fig. 1), as well as one for a site near Richomond, VA (Fig. 2).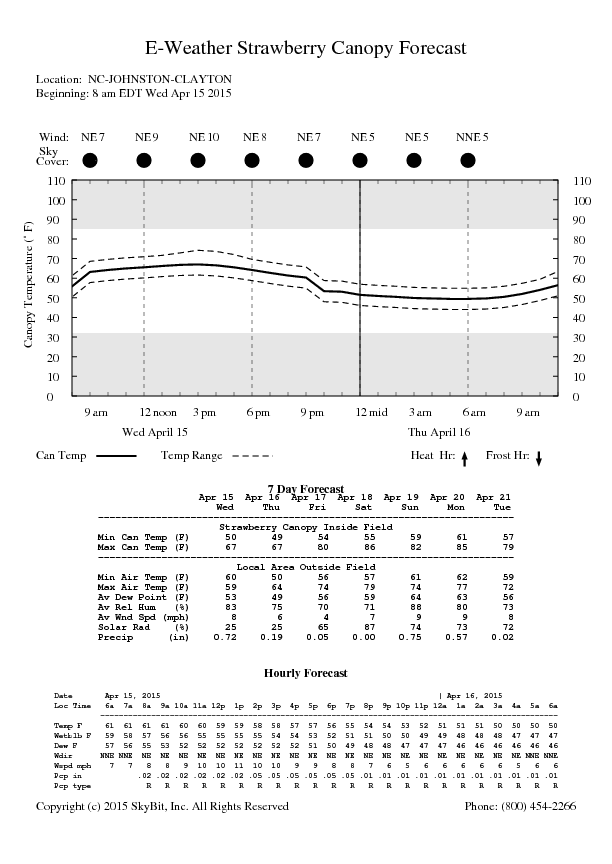 Fig. 1. We will have a couple "cool days" today (4/15) and tomorrow (4/16) with highs only in the mid-60s in Clayton area. The Outlook on Monday morning was for more rains over the period from April 15-17, and it would now appear that we are probably going to exceed the forecast of 0.25-0.35″ for this 3 day period by a significant amount. Looks like more rains coming back in April 19-20 as well. VIP to keep up disease management sprays!!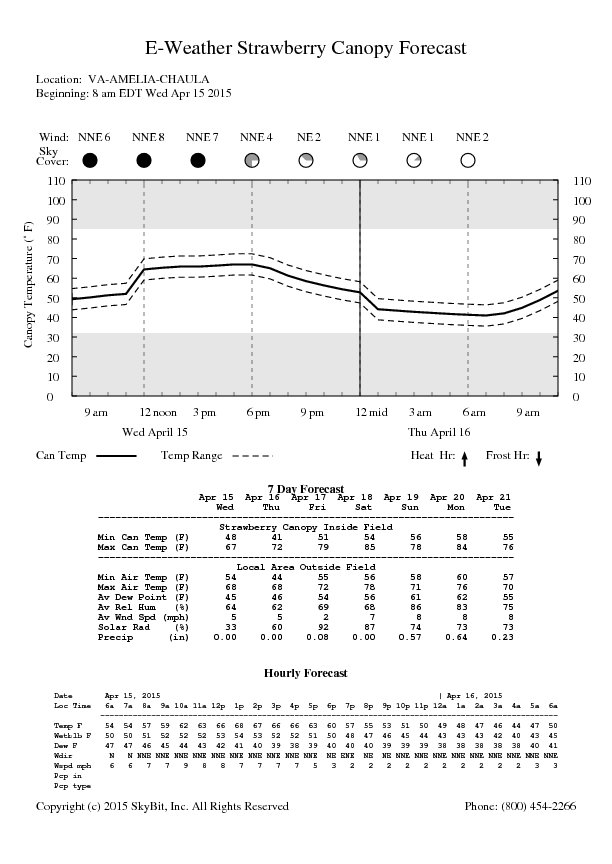 Fig. 2. No frost in the forecast, but there will be some rainfall coming into this area of VA on Sunday/Monday, April 19-20.
Kkeep sharing photos and text messages about your crop.
Barclay
Was the information on this page helpful?
This page can also be accessed from:
go.ncsu.edu/readext?352074