Who Ordered This Forecast? (1pm, Tue., March 3, 2015)
Find this article at:
go.ncsu.edu/readext?343279
en Español

El inglés es el idioma de control de esta página. En la medida en que haya algún conflicto entre la traducción al inglés y la traducción, el inglés prevalece.

Al hacer clic en el enlace de traducción se activa un servicio de traducción gratuito para convertir la página al español. Al igual que con cualquier traducción por Internet, la conversión no es sensible al contexto y puede que no traduzca el texto en su significado original. NC State Extension no garantiza la exactitud del texto traducido. Por favor, tenga en cuenta que algunas aplicaciones y/o servicios pueden no funcionar como se espera cuando se traducen.

English is the controlling language of this page. To the extent there is any conflict between the English text and the translation, English controls.

Clicking on the translation link activates a free translation service to convert the page to Spanish. As with any Internet translation, the conversion is not context-sensitive and may not translate the text to its original meaning. NC State Extension does not guarantee the accuracy of the translated text. Please note that some applications and/or services may not function as expected when translated.

Collapse ▲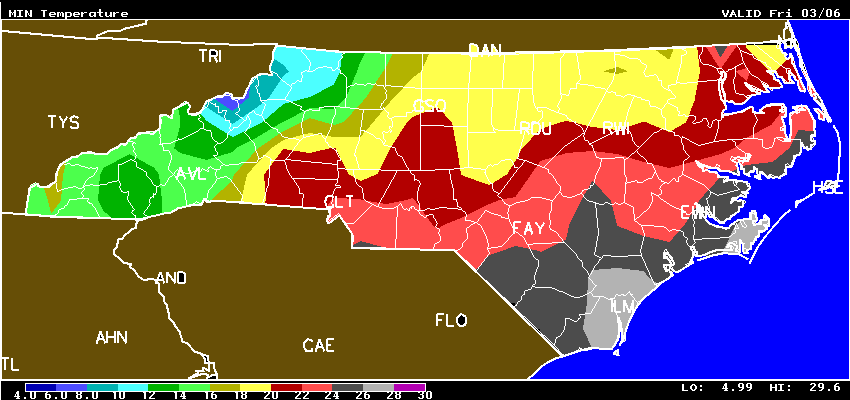 Fig. 1. The latest AWIS map showing minimum temperatures for Friday morning, 3/6/15. Actually, this is a slight improvement in the forecast (for Friday) from yesterday's AWIS map (below). Here is the actual temperature data for locations across NC: AWIS NC Mar 3-10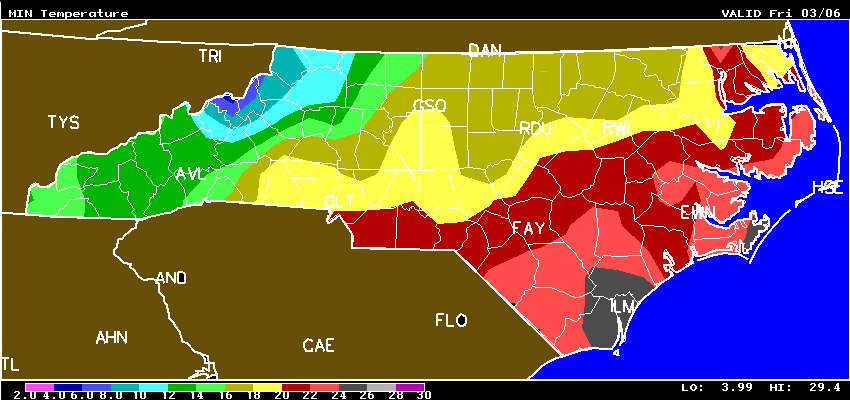 Fig. 2. This was the AWIS forecast for Friday minimums  made yesterday (3/2). Please note the areas showing 16-18 F in north central piedmont are now in yellow band Fig. 1). This is good news! The yellow band is for 18-20 F.
Dear Growers, Agents, Agronomists & Others,
A grower from Virginia ended his email to me yesterday, "Please tell me spring is on the way."  I thought about saying, "yes, of course it is!"  But, wouldn't that be lying? It seems that every forecast I see shows us going back into winter! At least we got some good news this morning that the minimums in the NC forecast yesterday for this Friday aren't going to be quite as bad as we thought (see Figures 1 & 2).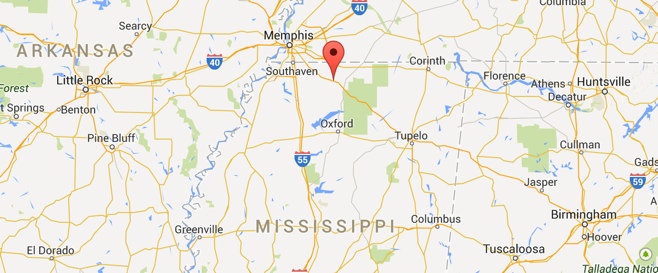 Fig. 3. Brooks Brownlee, is a strawberry plasticulture grower (and supporter of these advisories), in the area of Red Banks (northern Mississippi), and they are worried about 5 F minimum this Thur night/Friday morning.
But, I am not very encouraged by some of the reports I am hearing for other areas. Including this short note from our grower friend Brooks Brownlee, near Red Banks, Mississippi:
We here in Red Banks, MS are forecast to be 5 F

 

on Thurs

 

night Fri morning. 
It doesn't seem possible that a farm in Mississippi could be in the single digits on March 6th! Brook's report prompted me to look at minimum temperatures in Tennessee (Brooks is close to Memphis), and across this region of the country: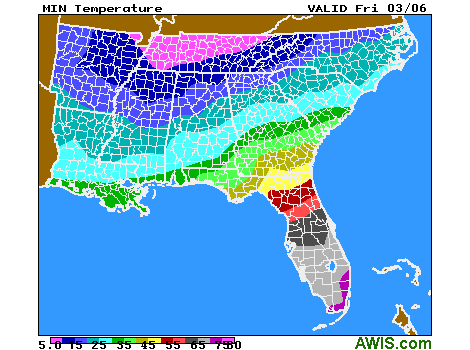 Fig. 4. Note the "pink band" of temperatures (5-10 F) for this Friday in western Tennessee.
AWIS Minimum Temperatures for TN, KY and MS:
TN: AWIS TN Mar 3-10
KY: AWIS KY Mar 3-10
MS: AWIS MS Mar 3-10
What about Maryland and Virginia? Will they be seeing single digits again?
MD:  Yes, it sure looks that way for northern MD
Here is the AWIS forecast for all of MD: AWIS MD Mar 3-10
And, here is the latest AWIS minimum temperature data for VA: AWIS VA Mar 3-10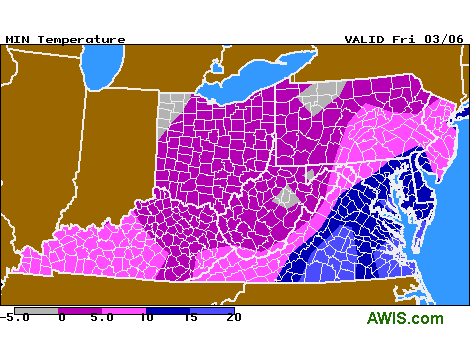 Fig. 5. In western VA there will be lows in single digits this Friday, and much of central VA will be in the 15-20 range (light blue), but there will also be areas in 10-15 range (dark blue).
Consultation with growers and agronomists in Central NC
It is good news that Central NC will be warmer than we thought for this Friday, but we are still NOT out of the woods!
Reason?  Precipitation events  starting today and not ending until sometime Thursday. In some areas like Wake County, the rains will possibly be turning to sleet on Thursday. I would much prefer SNOW! 
Unfortunately, with these rains coming in today and tomorrow, there is no real chance that row covers in the field now will be able to dry out before Thursday night? And, Thursday night is when we need them to be DRY.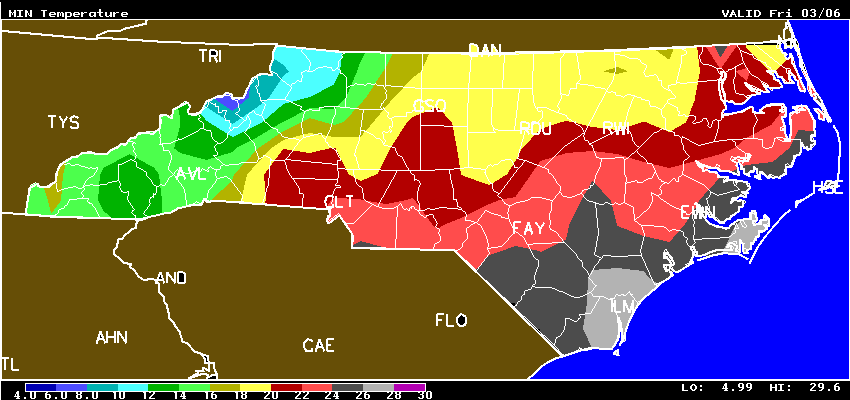 Fig. 1 (repeated). Of course, if temperatures don't go much below "upper teens" Friday morning, that would be a great thing! Non-emerged flower buds can handle those temps without row covers at this time of year. But, once those buds start pushing out, it gets much harder to say how much cold the emerged flower buds can handle without row cover protection? Complicating the picture even more this week, are these WARM temperatures on Wed (tomorrow) and Thursday. We need these plants to stay dormant!
However, with  temperatures reaching upper 70s tomorrow at  Clayton, and then upper 60s Thursday, I must admit that I am a little nervous about our being able to "hold dormancy" much longer. And, there is nothing like water and warm temperatures to help de-harden strawberry crop. I would really like to talk to the guy that ordered this forecast!

Fig. 6. Rains + Temps in upper 70s at Clayton tomorrow, and then a high in upper 60s this Thursday, will definitely "push this crop" just ahead of Friday mornings low temperatures!
The Real Worry
So, I am concerned that these rain soaked covers could become frozen to the strawberry plants Thursday night/Friday morning. This is never a good thing, but there is really not much to be done (unless you are prepared to irrigate on top of the covers?). I had this exchange with Mike Wilder, Agronomist, Region 6, this early morning:
Good morning Barclay,
I agree it might be better to have the covers off with temps going only to 20 – most, maybe all have them on. The problem is field conditions are so muddy it's tough to get them off. It is really, really mushy everywhere.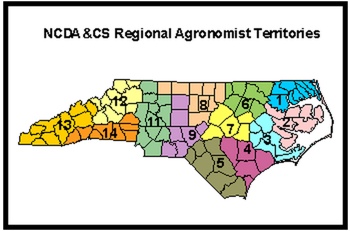 Mike is in Region 6. In an early morning exchange with Mike  I learned that it is a virtual impossibility to even think about trying to get covers OFF the crop this week.
 I made this quick reply to Mike's note earlier today:
"Always valuable to run things by you Mike  I suspected we are in a condition of mostly having covers on, and not much that can really be done about this. Keep our fingers crossed we don't repeat the scenario we had some years ago with covers frozen to the plants in early March, but this time the crop does seem to be much more dormant."
More detailed temperature information for a number of NC cities/towns:
10-DAY DETAILED HOURLY WEATHER FORECASTS 
Summary:
So, we have some good news today in that the cold temperatures we were expecting for this Friday in Central NC may not be quite so cold (I am hoping this trend continues). Unfortunately, in areas like Central NC, there seems to be little prospect of being able to get row covers OFF before temperatures drop Thursday night/Friday morning. There is concern that with precipitation turning to sleet on Thursday (in some areas), that we might see covers freeze up, and possibly freeze to the plants beneath. Ice is a wonderful conductor of heat out of the plant. Thus, in locations where the minimum temperatures Friday morning are not likely to damage  semi-dormant strawberry plants, you would actually be better off with them rolled to the side like the photo below.
But, I am afraid that is not reality! The reality is as Mike Wilder and Russ Vollmer dicussed this morning:
"The problem is field conditions are so muddy it's tough to get them off. It is really, really mushy everywhere. Talked to Russ by phone while he was looking at scattered emerging buds yesterday – according to him the few he cut open are not dead. We discussed this, and he plans to leave them on for now. He and I agreed, considering the mess of moving through the field. I hope this decision works out ok for us – I am a little nervous about covers freezing on."

Editor's note:  Even if the row covers freeze on top of the crop, that is not a reason to panic. As long as there are  air spaces between the frozen cover "cap" and the plants beneath,  you should do fine. If you own a digital thermometer, you can monitor plant temps in real time during the cold event! You probably won't be able to sleep that well anyway! And, it would be helpful to know the temperatures of  the crown and emerged flower buds during the event! Our hope is that the emerged bud temperatures don't  below 20 F.
Specs on Omega Digital Thermometer with 2012 price info: digital_thermometer_ edited
Next advisory:  With all this cold weather predicted for the month of March, do  growers have any options to get their crop back on track?

Barclay
p.s. Just got this grower question:
 Hi Dr. Poling,
One quick question…We usually begin fertigation the first week of March here in Eastern North Carolina. With all the cold, wet weather we have had, would you recommend holding off or following schedule as usual. I apologize if you have sent out recommendations in your emails and I simply overlooked them.Thanks, Tracey Harding, Southside Farms, Choccowinity, NC 27817
Hi Tracey,
I have had a fair amount of experience with this issue over the years, and in more recent time I came to the conclusion it is futile to try to drip fertigate until we really break out of this winter cold. The plants simply can't utilize it until we get into some decent growing temperatures – meaning above 50 F. Yes, there will be a slight warm up this week, but then we are back to winter on Thursday/Friday. I am thinking you might begin the following week! I am concerned about "all these rains" coming your way (see 15 day below). It is going to be VIP to remove row covers (if not off already), so that we don't create an ideal micro-climate for botrytis crown rot. I am sure our plant pathologists may wish to chime in on this discussion.

Choccowinity, NC 27817 – 15 day forecast
1 p.m. advisory prompts  two responses (5:48 p.m.)
>> Soggy in VA Beach
Barclay,Just read this in the 1 p.m. advisory:  "Mike is in Region 6. In an early morning exchange with Mike  I learned that it is a virtual impossibility to even think about trying to get covers OFF the crop this week."At the John Deere store earlier today the parts man put it in a way I haven't heard before. He said, "The ground is just rotten," as in how you might fall through a floor with a rotten board.Sad thing is he is very, very right. I came very close to getting stuck (in 4WD) this morning on a normally hard field path that has more than a little gravel on it. I literally "fell through."Tom
Tom & Anne Baker and Amanda McCann
Brookdale Farm
2060 Vaughan Rd, Virginia Beach, VA  23457
>> Southern Alabama this Tuesday – the weather is gorgeous today…just got this update from Danny Van Meter, Clarkson, KY,  who is traveling through Alabama today (he was up in VA Beach last week as an exhibitor).
"Barclay, I am  send you some photos of the field I drove by today near Dothan Alabama. It is located just outside of the Dothan area in southern Alabama. Three workers were cleaning them up and the photos will show the blooms It's nice to be in 74° weather this afternoon. Have a great day"
Editor's note – Danny may be heading back into a foot of snow later this week. Temperatures are all over the map this week. High 70s and gorgeous in NC tomorrow (Wed), and 35 degree temp drop by Thursday at noon as arctic air returns. From a local weather station in Raleigh: "
A cold front moving southeast across the area (Thur) makes for a complex forecast, with areas of rain likely and a possible changeover to a brief wintry mix, mainly from around the Triangle north and northeast, as the precipitation tapers off. We may start the daylight hours with a sharp gradient of temperatures from northwest to southeast, and some of us could start the day in the 40s while others are in the low 60s. Temperatures should tumble from there…

Read more at http://www.wral.com/weather/#ydbfQkxs7s92bkUj.99
>> Speaking of Alabama…we had an excellent exchange with Mike Reeves last fall about how a multi-state strawberry breeding program could work:
"What if the new cultivars being evaluated were made available, through Extension, for on-farm evaluations each year in each state? This would certainly add more of an Extension component to the research. This could be done very easily by having our main nursery propagate plugs for the regional agents to distribute to selected growers. I think this would be an effective way to evaluate new cultivars across our state. Would not be replicated tests, but they would be observed in plantings with our standard varieties plus get grower feedback. Just a thought."
Mike Reeves, Regional Extension Agent, Commercial Horticulture, Alabama Cooperative Extension System, Office phone: 256-773-2549, Mobile phone: 256-612-7588
Editor's note:  It  would be great to see more  Extension on-farm evaluations of promising new selections and named varieties from other regions! It would be well to investigate where some funding might come from to support such efforts?
Have a great evening, and thanks for the input today from VA Beach & Alabama!
Barclay
Dr. E. Barclay Poling
Professor Emeritus (Strawberry Plasticulture Researcher)
Department of Horticultural Science
Campus Box 7609, 162A Kilgore Hall
NC State University
Raleigh, NC 27695-7609
"An idealist believes the short run does not count. A cynic believes the long run does not matter. A realist believes that what is done or left undone in the short run determines the long run."
Sidney J. Harris, In: Reclaiming a Lost Heritage – Land-Grant & Other Higher Education Initiatives for the Twenty-first Century