VA Update on 'White Frost' Saturday and 'Black Frost' Sunday (Noon, Fri., 3/27/15)
Find this article at:
go.ncsu.edu/readext?348003
Fig. 1. Sunday morning minimum temperature map for the state of Virginia. Much of central VA will be in low to mid 20s, and many fields are now also showing early blooms! Here are the minimum temps for across the state: AWIS VA Mar 27-Apr3    The air will be very very dry on Saturday and Sunday, and if winds subside early Sunday morning, this particular cold event will be what I refer to as a 'black frost.'
Important differences between a white (hoar) frost and a black frost. The most common type of radiational cooling event is a hoar frost. Hoar frosts occur when atmospheric water vapor freezes in small crystals on solid surfaces (sublimation), also called a white frost for the white layer of ice crystals formed on the ground, grass blades, twigs, and strawberry blossoms. The dew point (DP) temperature is  one of the most valuable pieces of information to determine whether conditions are favorable for hoar frost or black frost, and on Saturday night/early Sunday morning, very low dewpoints will favor a black frost where you get a freeze stress (injury) without ice crystals (white frost) forming.

Good afternoon,
In the table below is sample from the AWIS 7-Day Minimum Temp table (pdf file in legend), and you can see the news is not particularly good! Low 20s across much of Central VA on Sunday morning (see table below). Furthermore, my guess is that many fields that were showing NO BLOOMS just 2-3 days ago are now showing a significant number of new blossoms, so this low temperature on Sunday morning is now taking on even greater significance when you consider how this crop is advancing so quickly.
This now has the potential of being a pretty serious cold event in Virginia.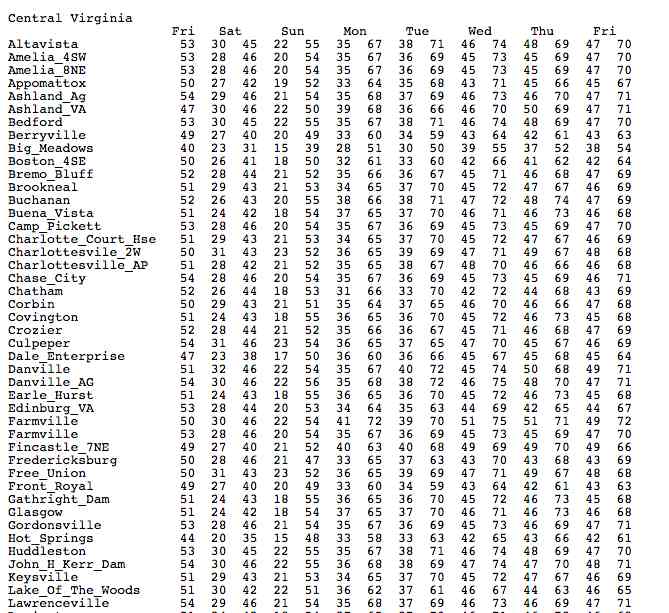 Table 1. Central VA minimums for next 7 days
But, let's back up a little, and examine what may now be happening on Saturday morning as well. If you already have row covers down, I think growers will be in very good shape tonight and tomorrow morning (Sat).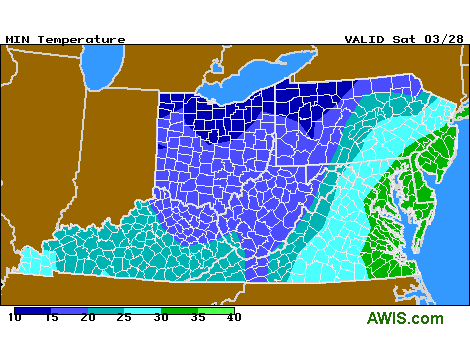 Fig. 2. Saturday morning minimums will not be nearly  cold as Sunday (Fig. 1), but there are some interesting Frost possibilities in some areas. Either way, if the covers are now in place, I don't see too much problem with Saturday morning minimum temps and possibility of frost in some areas of the sate —  row cover protection should be sufficient.
Here is how you can check on white frost potential tomorrow morning – just click on town/city nearest your farm and see if "F" (frost) is indicated.
10-DAY DETAILED HOURLY WEATHER FORECASTS 
Black frost on Sunday morning in Virginia
If you now go back and click on your location (above), for example, Ashland, you will note that while there may be some white frost before sunrise on Saturday morning, there is no indication of "F" for Sunday morning, and the reason is the very very dry air that will be moving into the whole region soon after sunrise on Saturday.
<Editor's note:  I am aware that down in Chesapeake/VA Beach area, there is also chance of white frost occurrence on Sunday morning – just click on Chesapeake above to see this. Even so, the air will be very dry Sunday morning, and if frost occurs, it will be just before sunrise. But, if you wait to see frost as your cue to do something, the risk is that the blossom may have already been exposed to a lethal temperature…this is one of those strange in between situations and we probably need another term to describe it>.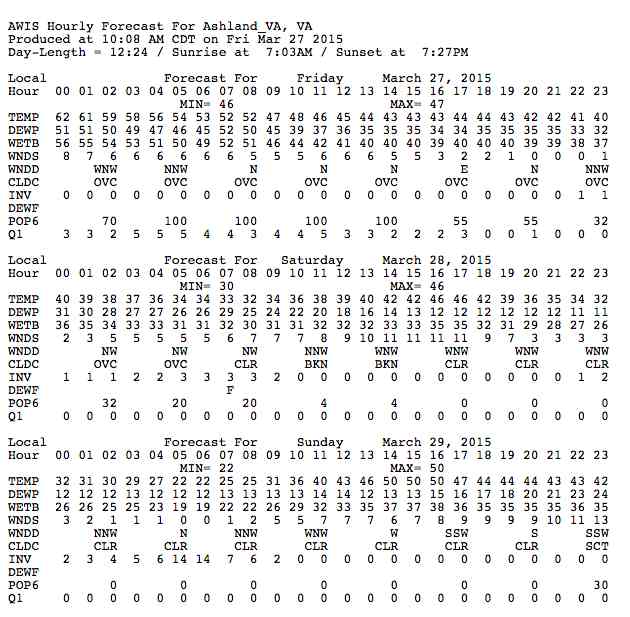 Table 2. Note there is not any indication for frost (F) on Sunday morning even though temperatures in this location will drop to 22 F. The air is "too dry" to form ice crystals (so called frost), and by examining dewpoints you can determine whether conditions are conducive to ice crystal formation, or not. Dewpoints in the low teens after 2 p.m. on Saturday are definitely not favorable for producing "visible frost."  Nonetheless, when air temperatures drop below a critical temperature, such as 28 F for an open blossom, it will sustain a freeze stress, and not recover. What makes a black frost so dangerous is that  you get plant tissue injury in the absence of seeing "ice crystals" on plant surfaces.
Will your row cover protection be adequate?
The answer to this question will hinge on the plant part(s) you need to protect this Sunday morning, and whether or not your row covers are adequate?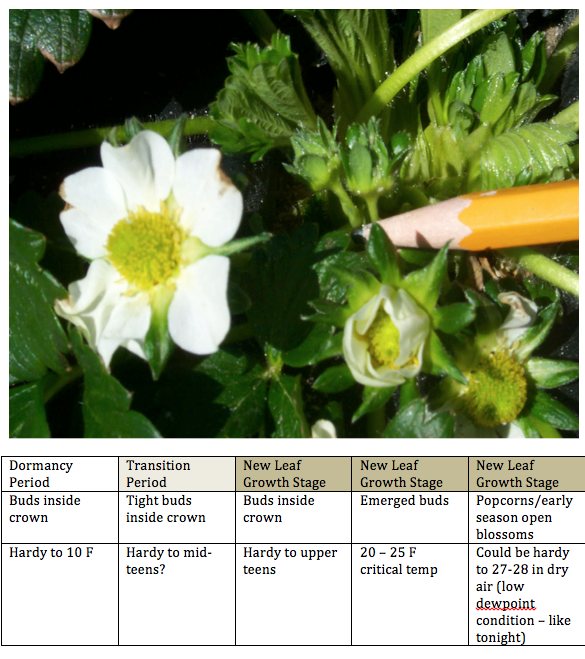 Fig. 3. These are the temperatures of critical concern this weekend:  emerged flower buds may be damaged from 20-25 F, and open blossoms from 27-28.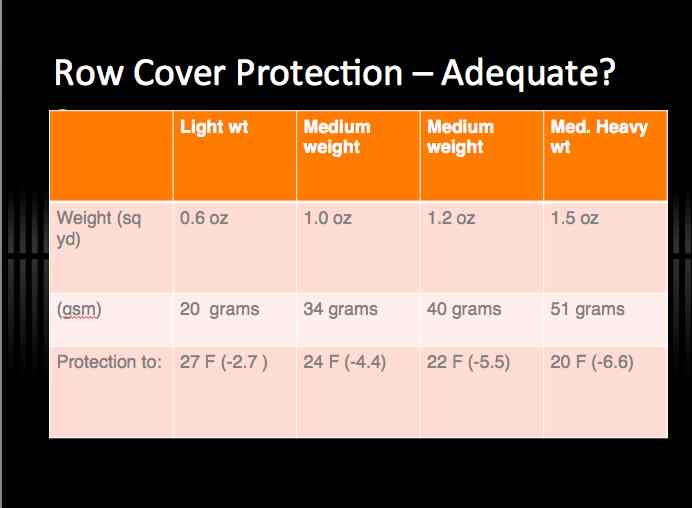 Fig. 4. Will your row cover be adequate to the task? If you own a standard 1.2 oz cover, you can see that you might be in some trouble if the low goes below 22 F this Sunday morning, and you need to protect open blooms! But, if you are primarily concerned with flower buds, then our row cover arithmetic shows you are probably OK with a 1.2 oz (assuming the emerged flower buds can handle 22 F). We definitely need so much more research in this area, but my field experience is that the emerged flower buds can handle temperatures even in the range of 20-22 when the plants are still somewhat hardy. But, if this leaves you with a feeling of some nervousness, then you can apply a heavier cover (1.5 oz is good to 20 F), double up on covers, OR consider adding heat back into the system with an early morning drip irrigation procedure, OR consider sprinkling on top of the covers as shown in Figure 5.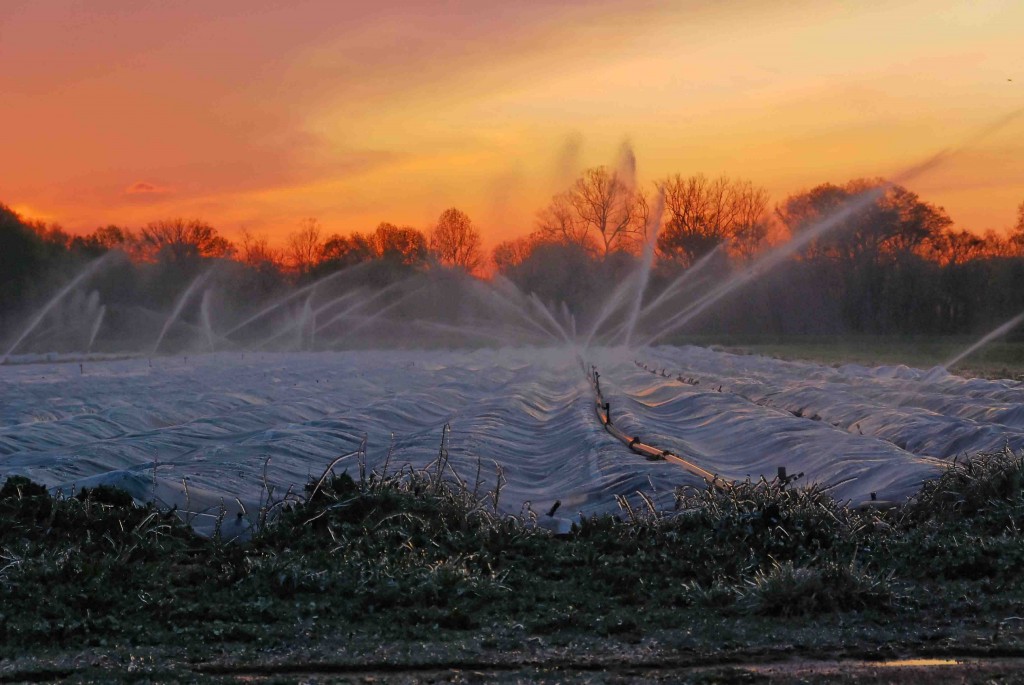 Fig. 5. Sprinkling on top of row covers can be very effective when your row cover by itself is not going to provide adequate protection. When you are only concerned about protecting the emerged flower buds, this procedure is likely going to be overkill. However, if you have valuable open blossoms, then the procedure of sprinkling on  top of covers can be a very valuable protection method. (photo by D. Fulks, Easter morning, 2007)
Example of where sprinkling on covers makes sense:
Fig. 6. In this AccuWeather product for Moseley, VA, it shows a minimum of 20 F for Sunday morning. The minimum temp forecast by SkyBit for this same location is 20 (in canopy) and 25 at weather shelter (2 m). So, my take on this is that it would be well to prepare for 20 min. If the grower has lots of open blossoms, then this could be a very tricky situation, as a single row cover of 1.2 oz will not afford enough protection for blossoms. A 1.5 oz cover would. Or, if you double up on covers, that would be excellent, but few growers own enough covers to do this. So, this is a scenario where sprinkling on top of the covers could be a very good option (assuming inadequate protection with 1.2 oz for open blossom stage).
Sprinkling on top of row cover
What to do? You can sprinkle on top of the cover to add heat back into the ice blanket system, as we did for the Easter freeze of 2007. This technique can be very successful in windborne freeze conditions, or conditions where the row cover blanket is going to provide inadequate protection
For the ice blanket approach to work, you need a top notch sprinkling system, and you also need a digital thermometer to closely monitor bloom and bud temperatures all through the night. You really cannot tell if the sprinkling is helping or not without a digital thermometer and thermocouple wire that is inserted right into the blossom or bud. (

NOTE:  most all VA growers received a free Omega Digital Thermometer from a Block Grant program a few years ago

)
Fig. 6. This is one of the Omega units purchased under Block Grant for VA growers a few years ago. When the temperature of bloom under the cover reaches 32-33 F, start the irrigation on top of the row covers (this temp reading is too low, and I would start sprinkling on top of cover by now lower than 32 F). This same unit is used for heat protection as well.

After you start sprinkling on top of the row covers, you will actually see from your digital thermometer that the bud and blossom temperatures immediately "pop up" (usually to about 38 F ). The reason the temperature actually rises this much is because there is a lot of ground heat – especially after yesterday's temperatures in the 70s in some areas of VA. When water freezes there is a beneficial release of heat (called heat of fusion), and as long as you can keep sprinklers turning Sat night and Sunday morning,  you will be able to maintain temperatures of the floral tissues above their critical temperature.

In case of serious winds, you will definitely need extra labor to work with you tonight to knock ice off nozzles – right now I don't see this as a windborne freeze situation Sat night and Sunday morning, so there is an excellent chance the nozzles will keep rotating all night without issues.
In case your pump fails, I  have seen growers come through a situation like this as long as they could get their sprinklers "going again" – you may have up to 1 1/2 – 2 hours to get the irrigation running again — monitor bud and blossom temps with your digital thermometer to know how critical the patient may be?
Keep running the water into Sunday morning after sunrise, and do not stop until the blossoms in coldest part of field are above 32 F. You should have at least 5 blossoms set up with thermocouple wires.
Good luck!
p.s. On balance, the idea of dripping under covers has received good reviews from growers, but not everyone was successful with it on March 22, 2013:
http://strawberries.ces.ncsu.edu/2013/03/what-growers-are-finding-out-this-morning-32213/
This might be something for Roy to bring up as a topic for next year's Strawberry School in VA Beach, and bring in someone from FL or NC who is experienced in this.
Dr. E. Barclay Poling
Professor Emeritus (Strawberry Plasticulture Researcher)
Department of Horticultural Science
Campus Box 7609, 162A Kilgore Hall
NC State University
Raleigh, NC 27695-7609
"An idealist believes the short run does not count. A cynic believes the long run does not matter. A realist believes that what is done or left undone in the short run determines the long run."
Sidney J. Harris, In: Reclaiming a Lost Heritage – Land-Grant & Other Higher Education Initiatives for the Twenty-first Century