Update on Weekend Cold Events and and Some "Strategy Talk" (1:30pm, Wed., 3/2515)
Find this article at:
go.ncsu.edu/readext?347429
en Español

El inglés es el idioma de control de esta página. En la medida en que haya algún conflicto entre la traducción al inglés y la traducción, el inglés prevalece.

Al hacer clic en el enlace de traducción se activa un servicio de traducción gratuito para convertir la página al español. Al igual que con cualquier traducción por Internet, la conversión no es sensible al contexto y puede que no traduzca el texto en su significado original. NC State Extension no garantiza la exactitud del texto traducido. Por favor, tenga en cuenta que algunas aplicaciones y/o servicios pueden no funcionar como se espera cuando se traducen.

English is the controlling language of this page. To the extent there is any conflict between the English text and the translation, English controls.

Clicking on the translation link activates a free translation service to convert the page to Spanish. As with any Internet translation, the conversion is not context-sensitive and may not translate the text to its original meaning. NC State Extension does not guarantee the accuracy of the translated text. Please note that some applications and/or services may not function as expected when translated.

Collapse ▲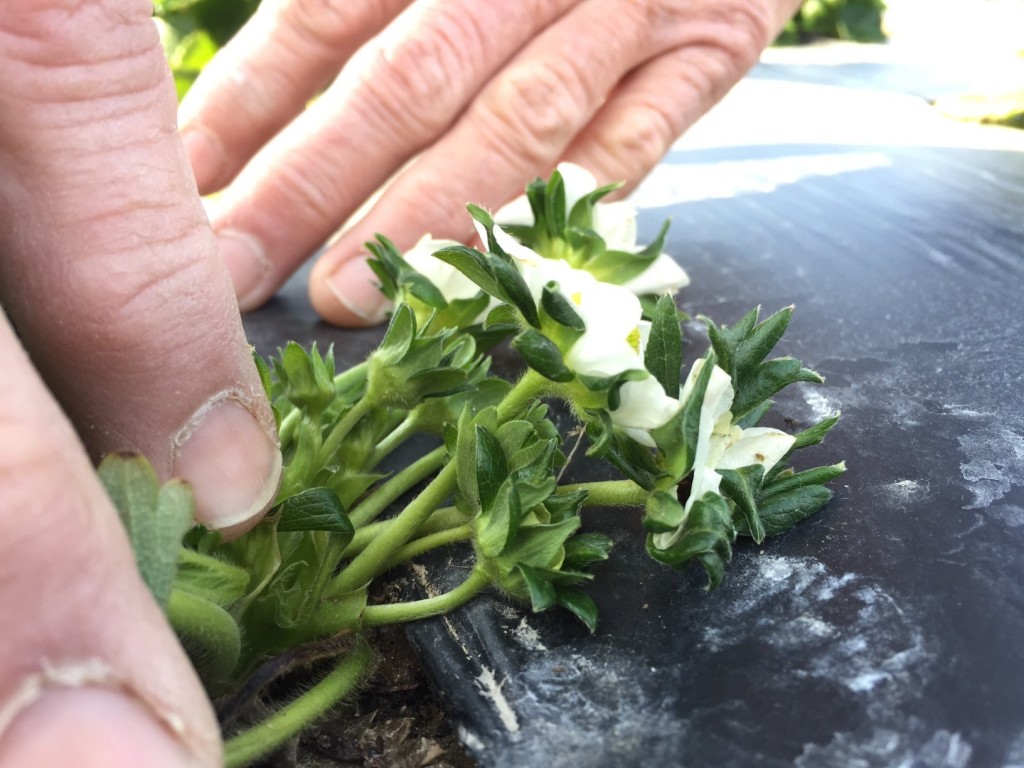 Fig. 1. Close-up of Chandler inflorescence showing several open blossoms as well as another flush of fully emerged flower buds in Pungo, VA. These Chandlers had row covers from Jan. 6 until March 9. The grower had to look a bit to find plants with this many flowers as shown in this photo, and they noted that many still have no open blooms. Also, for Chandlers with no winter row covers there were  very, very few blooms. Photo taken this early morning (Tom and Amanda Baker).
just in @ 5:30 p.m. – Clayton Skybit update:

Editor's note: This remains unchanged from this morning's SkyBit for this location, and we are still looking at 27 F in canopy on Sunday morning and air temp @ 2m of 30 F.
Dear Growers, Agents, Agronomists & Others,
From yesterday to today, there has been some change in the AWIS minimum temp map for Sunday, 3/29. In Fig. 2 (below) note that appearance of a large band of purple and pink zones in eastern North Carolina (Fig. 2). Previously, we were looking at dark gray and gray zones for eastern NC (Fig. 3). So, this region has gone from a forecast in the range of 24-28 (depending on location), to 28-32, and that is cause for some celebration because this is the area where the strawberry crop is most advanced, and most vulnerable to cold injury! What has not changed so much are areas west of Raleigh.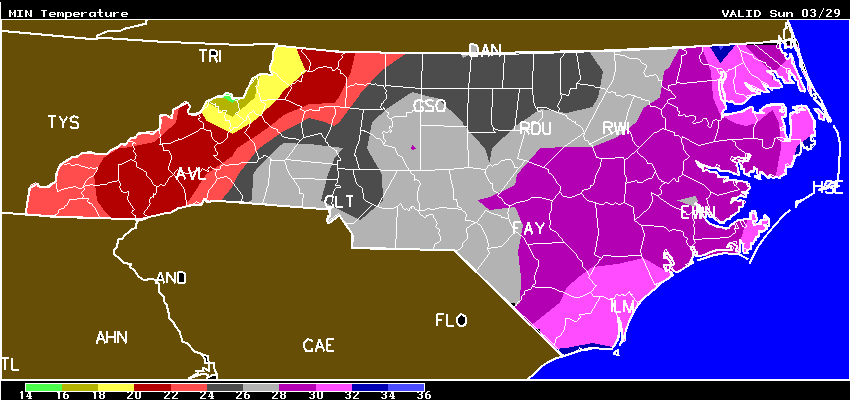 Fig. 2. The latest AWIS forecast map for 3/29.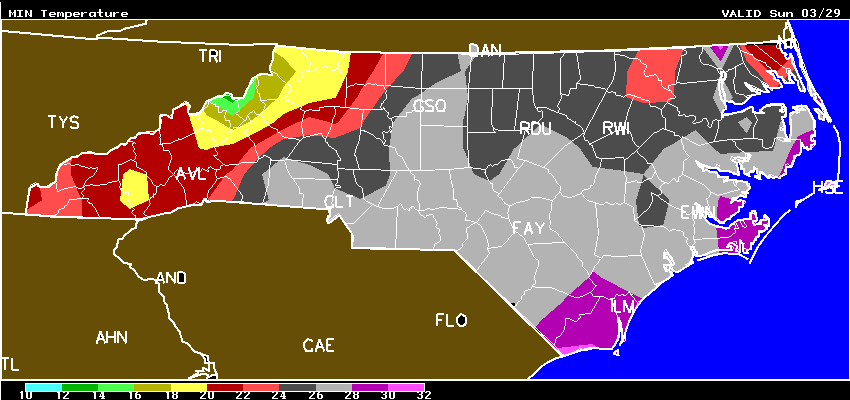 Fig. 3. Yesterday's forecast for 3/29 showed a much colder Eastern NC.
Of course, with the piedmont region not being nearly so advanced in crop development, minimum temperatures in the mid-to-upper 20s are not quite so worrisome as they would be for Eastern NC. You may recall that a grower near Plymouth, NC, reported 1/2 dozen open blossoms on Camarosa yesterday (advisory, 3/24).
NC AWIS Minimum Temps for Next 7 Days: AWIS NC Mar 25-Apr 1
10-DAY DETAILED HOURLY WEATHER FORECASTS 
Other states:
Here are the latest AWIS 7-day minimum temp tables and relevant min. temp maps for these states and regions. I begin with a VA/ Mid-Atlantic Map series ( Sat. 3/28; Sun., 3/29; and Mon, 3/30):
MD: AWIS MD Mar 25-31  (open this to see all state location min temps for next 7 days)
Special notes on MD location (Frederick):  Please note that winds will be very strong ALL DAY Saturday and Sunday. This is going to be a true WINDBORNE FREEZE (see sidebar below). Also note very low dewpoints! The DPs are down in mid-teens. Thus, we have here a very dangerous situation where sprinkler irrigation must be ruled out because of tremendous evaporative cooling issues, and the fact that row covers will provide all the protection a grower would need at this stage of crop development. I spoke to Bob Rouse about a week ago, and they have barely just removed winter covers up there in MD. Yes, there may be some emerged flower buds, but these are still quite hardy, and with a low of 24 F on Sunday in Frederick, MD, it is possible they could survive this with no protection. However, I do advise re-application of the row covers to be safe. The winds will be strong, but not impossible.  Pin the covers down well! And, NEVER overlap the edges of 2 row cover pieces under the same rock bags, or hold downs — they will slide out!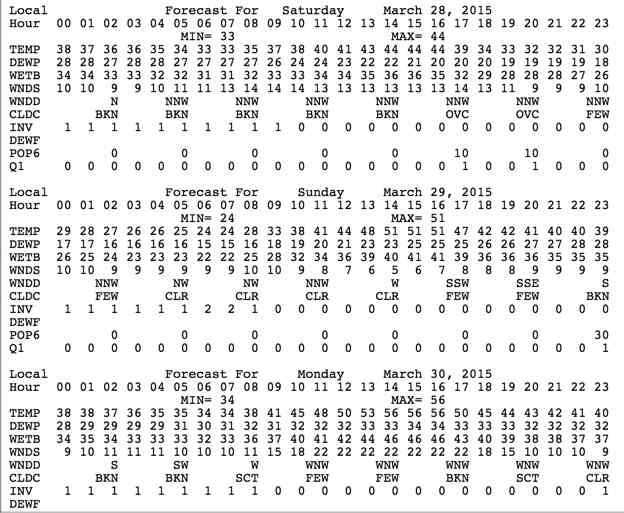 Sidebar:   You may be wondering what is the difference between a windborne freeze and frost/freeze? Just to be sure we are on the same page, it is important to pause and define what I mean by a windborne freeze and frost/freeze event.
1. Windborne Freeze:  when a grower receives a weather advisory or warning from the National Weather Service (NWS), it is very helpful to know that a freeze signifies an event that may include a significant amount of wind. The issuance of a freeze warning also indicates to the grower a very dangerous weather event is coming (with subfreezing temperatures and winds exceeding 10 mph), and sprinkling (alone) is never recommended due to evaporative cooling problems
2. A frost/freeze is a second  type of meteorological phenomenon in which there is going to be a mix of both radiational cooling and advection. The issuance of a frost/freeze warning by the NWS indicates that there may be some potential to modify environmental conditions in a fruit planting (like strawberry platiculture) with active protection methods that are unaffected by winds greater than 5 mph, but less than 10 mph (actually, 7-8 mph winds can be very tricky for some sprinkler systems)
The crop is generally more advanced in VA than MD, and the minimums on Sunday for some Central VA are shown below. A lot of low 20s.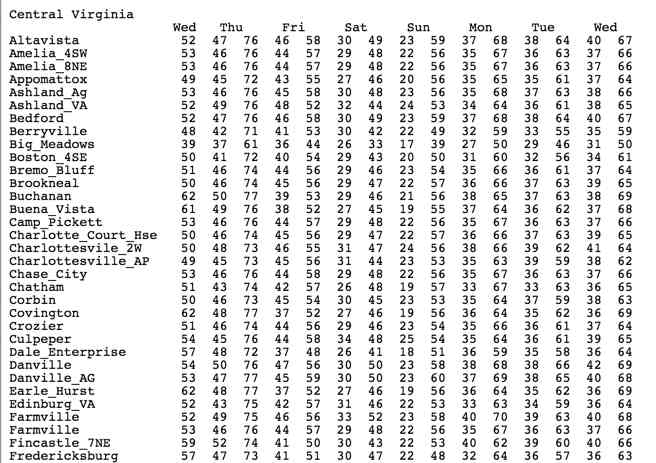 Here is a SkyBit for Moseley (not far from Richmond). This shows about 25 minimum in canopy and 28 air. This is actually GREAT NEWS, as just last night SkyBit was saying 21 minimum on Sunday morning. Let's hope this upward trend continues!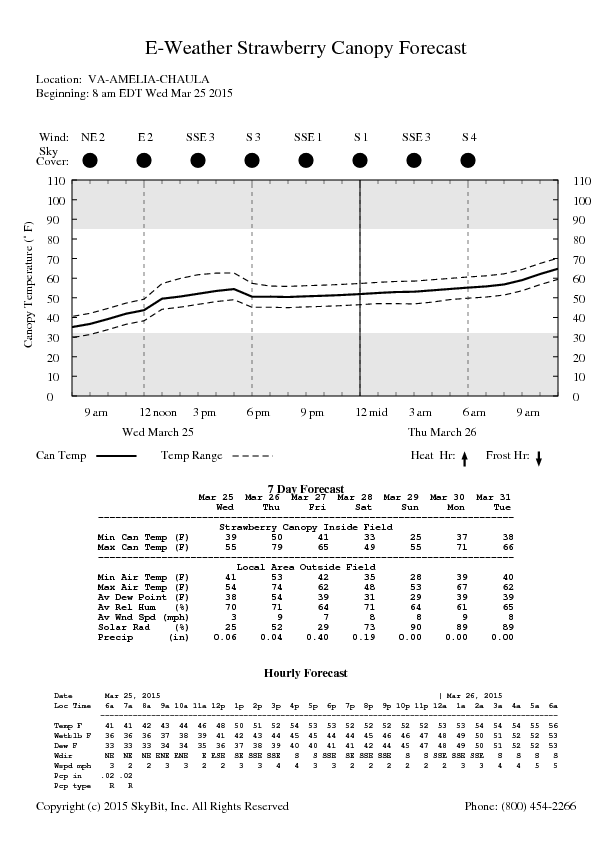 This was the forecast yesterday for this same VA location, and today the minimum for Sunday is 25 F, which is a whole lot better than 21 F! For Ashland, VA, AWIS is showing a minimum Air temp of 24 F on Sunday morning, and I am estimating at canopy that would be maybe 21 F.
Ashland, VA – NOTE the high winds Sat and Sun and they even get more fierce on Monday! There is minimal chance of frost on Sat morning due to winds, and air temp of 32 is not a concern (with good air mixing). Later in day on Sat the DPs start dropping and by late Sat night DPs in mid-teens. A min temp of 24 F on Sunday morning may not be that serious, but if the canopy is 21 F, then I would feel better with a cover being ON to protect emerged flower buds. This area is not in bloom yet.
Question still remains about when to apply covers?
I am not sure what may happen with rains in this area but some growers in VA are applying their covers this afternoon (Wed), such as Tom and Amanda Baker in VA Beach area (their photo at top of advisory). Actually, I may have influenced Tom to not apply the covers to Camarosa just yet…."We may leave the Cams uncovered for wind pollination. They're just  25-27 percent of our berries so we could deal with them Saturday, assuming the dryer Friday forecast holds."
Nonetheless, they are pulling covers today on the other 75% (Chandler), and this is what Tom wrote:
"We are still a long way from Sunday, but we're pulling row covers today anyway. Beats going to the gym!"
Tom
Editor's note:  I don't question the need to pull covers today, but it is interesting that the latest AWIS minimum for Sunday in Chesapeake area is only for 28 F. All of the emerged flower buds can handle that temp. But, if you have "valuable" new blossoms, there may be justification for this. However, keep in mind that winds in this Tidewater area may be very very strong from Sat-Mon, and with some good air mixing there is very minimal threat of cold injury to those open blossoms at 28 F. I'm also remembering that Tom did say he had to look pretty hard to find plants with as many blossoms as shown in Fig. 1. Many many years ago, as a new faculty person at NCSU,  I learned a valuable lesson at Clayton Central Crops from the former Supt. Wallace Baker, who demonstrated to me that I was much too concerned about the first flush of blooms coming out of winter. We spent hours and hours running sprinklers in late Feb and early March one year to save every last bloom, and the upshot of all that time and effort was that the first berries of Chandler were pretty darn unimpressive. Was it worth it? No. Did I finally stop bothering Wallace to frost protect in late Feb. As  Sarah Palin would say, "you betcha."
 Part 2. Strategy Talk
It is really important to CAREFULLY take into account your general crop stage before deciding on a course of action for this weekend. For instance, if you are just now seeing a few blooms across an entire field, I recommend that you consider that field to still be in pre-bloom stage, and not open blossom. Whether a field is at pre-bloom or bloom has an ENORMOUS impact on your cold protection strategy. Basically, the less advanced the crop, the more you should rely on row covers and not attempt sprinkling unless it is absolutely essential to do so. In the current forecast for this weekend, I have noted some very "concerning" problems with both HIGH WINDS as well as LOW DEW POINTS. High winds and low dew points DRIVE evaporative cooling, which will in turn cause a further reduction in blossom temperature! We don't have to tangle with nasty evaporative cooling issues when stick with row covers (assuming they are dry). One other argument in favor of sticking with row covers at this time of year has to do with the opportunity to achieve some VERY BENEFICIAL SUPER-COOLING under dry row covers. I once described super-cooling as:
A poorly understood ''natural protection'' phenomenon that may occur under the dry atmospheric conditions associated with an advective freeze, frost/freeze, and black frost is a plant process known as supercooling.
This benefit (super-cooling) is completely negated when you go to sprinkling!  Furthermore, different authorities over the years have even suggested to me that you de-harden plants with sprinkling, and I tend to agree with that observation (it was first pointed out to me in 1980s by a Florida researcher who worked extensively with sprinkler irrigation for frost and freeze protection, Dr. Earl Albregts, UF, Dover Experiment Station).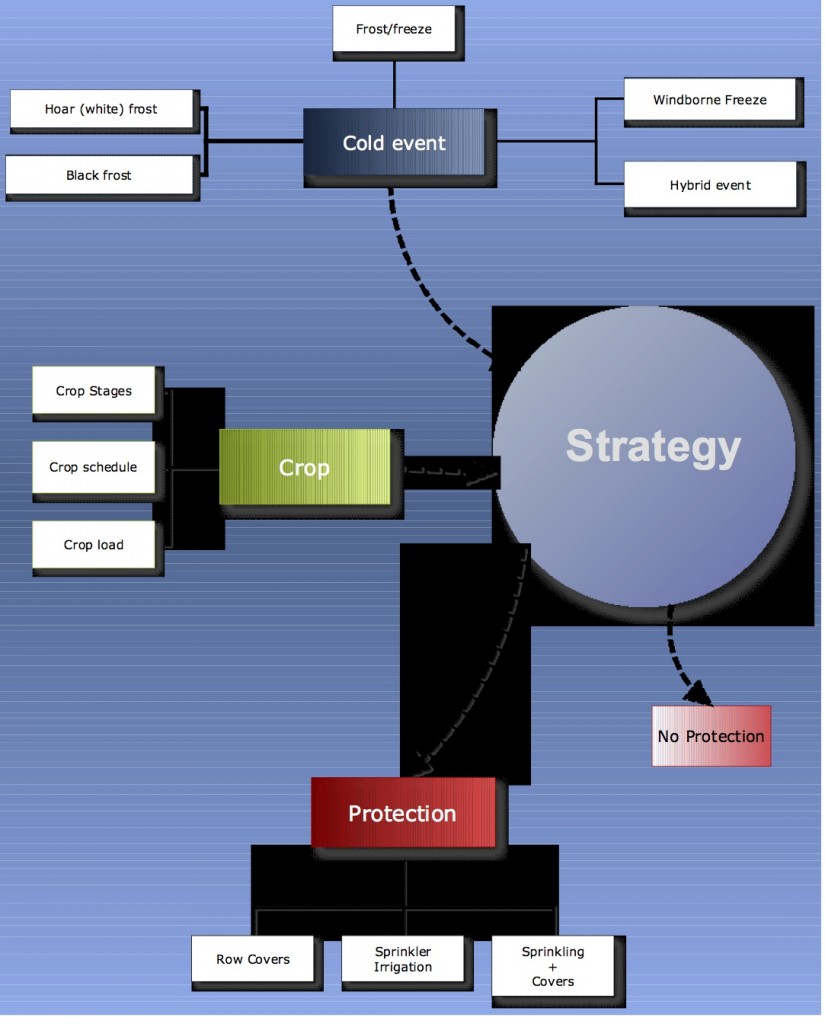 Fig. 4. There are 3 main considerations in developing your cold protection strategy:  1. cold event itself; 2. Crop stage; and, 3) Choice of Protection. (Chart developed by E.B. Poling for "Managing Weather Extremes," North American Strawberry Symposium, Ventura, CA, 2007; please do not copy or re-produce without permission of the author).
I wish to further develop in this advisory some thinking about  Crop Stage, and wish to stress that you need to know your crop stage going into this weekend. Are you still in  pre-blossom stage? If so, that gives you much greater confidence in relying on a simple row cover protection strategy vs. an open blossom stage. The open blossom can be injured  at 27-28 F, but there are known cases where we have seen emerged flower buds survive all the way down to 20 F. Please now study the chart in Figure 5 to appreciate the relative differences in cold tolerance of open blossom stage vs. emerged flower buds. And, note we are not dealing in absolute critical temperatures. We are dealing in tolerance "ranges" that can be profoundly affected by your cold protection method!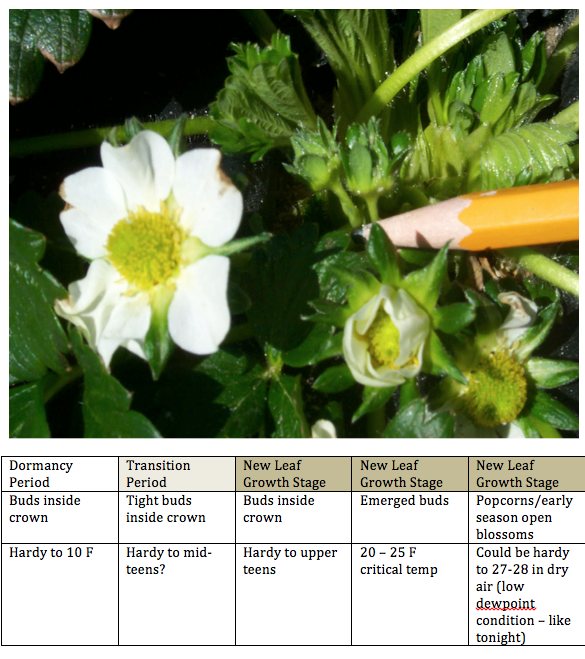 Fig. 5.  It is possible for  emerged flower buds survive to temperatures lower than 25 F due to a process called super-cooling. You need low humidity in the air to see this phenomenon occur, and we will be having both lower humidity with this upcoming cold event. The rate of cooling may be gradual enough that I can forsee the potential for some nice super-cooling to occur, and this would be the emerged flower buds may be able to drop all the way to 20 F without being killed. If you add row cover protection, then some pretty wonderful things start happening! First, you will get a much more gradual drop in temperatures beneath the row cover (remember, I said gradual cooling favors super-cooling), and second, the temps under the covers may be about 10-11 degrees higher under  1.5 oz. covers and about 7-8 degrees higher under the 1.25 oz. covers! Thus, if you have a 1.25 oz cover, it will "boost" the temperature under the cover by about 7-8 degrees above the outside temperature. Thus, if the outside temp is as low as 17 F, you will effectively have an environment under the cover where the emerged flower bud will only 'feel' 24-25 F (very safe). If the outside temp is 12 F, then the air temp under the cover may still be 20 F, and with the help of some super-cooling under the cover, you may still see no damage from a temperature in low teens.
Summary:  Are you getting the idea  from this advisory that I am not a big fan of using sprinkler irrigation at this time of year (or, should I say at this stage of crop development)? That's right, I am a big proponent of sticking with row covers at the pre-bloom stage. I prefer row covers in this season because they are so much lower in risk. I have seen too many instances of sprinkling doing more damage than good in the pre-bloom stage under windy conditions and dry air masses, of the kind we will be seeing this weekend!
Barclay
Dr. E. Barclay Poling
Professor Emeritus (Strawberry Plasticulture Researcher)
Department of Horticultural Science
Campus Box 7609, 162A Kilgore Hall
NC State University
Raleigh, NC 27695-7609
"An idealist believes the short run does not count. A cynic believes the long run does not matter. A realist believes that what is done or left undone in the short run determines the long run."
Sidney J. Harris, In: Reclaiming a Lost Heritage – Land-Grant & Other Higher Education Initiatives for the Twenty-first Century