Suggested Cut-on Times for NC Growers Using Sprinkler Irrigation (2:17pm, Sat., 3/28/15)
Find this article at:
go.ncsu.edu/readext?348338
Good afternoon,
I know that many of you are scrambling about getting things ready for tonight's cold event. For those of you who will be using sprinkler irrigation without a row cover, it is important to initiate sprinkling before the wet bulb temperature drops below 31 F. 
In Table 1 you can find the hour when the wet bulb will reach 31 F this evening, or tomorrow morning, depending on your location in NC.
When you click on the town/city closest to your farm be sure to confirm that this is the correct hour when wet bulb will reach 31 F according to AWIS.
Since I did this at about 2 p.m., it is important that you click on the town/city (nearest your farm) to be sure that I have indicated the correct hour, as conditions can still change today! This is a live link.
On your live link, BE SURE TO STUDY THE HOUR WHEN THE WET BULB WILL REACH 31/32 TOMORROW MORNING. DO NOT STOP RUNNING UNTIL YOU HAVE REACHED A WET BULB OF 31/32 TOMORROW MORNING, and also be sure ice is nicely melting.
I will not be posting morning cut-off times as you now know how to determine this yourself!
I was not able to display the last column fully in Table 1,  so just look at the second AWIS table below to confirm the correct city/town! Hopefully, computer services can show me how to compress this table a little better for next time (though, I don't think any of us are interested in experiencing another hard freeze event this season in the pre-blossom/blossom period)
Table 2. Full listing of NC Cities and Towns
10-DAY DETAILED HOURLY WEATHER FORECASTS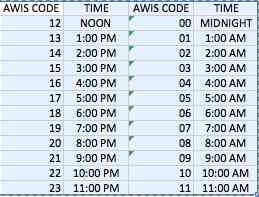 Dr. E. Barclay Poling
Professor Emeritus (Strawberry Plasticulture Researcher)
Department of Horticultural Science
Campus Box 7609, 162A Kilgore Hall
NC State University
Raleigh, NC 27695-7609
"An idealist believes the short run does not count. A cynic believes the long run does not matter. A realist believes that what is done or left undone in the short run determines the long run."
Sidney J. Harris, In: Reclaiming a Lost Heritage – Land-Grant & Other Higher Education Initiatives for the Twenty-first Century