NC Update on Potential for Tuesday Morning Frost (10am, Mon., 3/30/15)
Alert:  there is potential for a frost tomorrow morning in some areas of NC:
Here is where it will be coldest:
Fig. 1. Areas in teal color will potentially see 36-38 F tomorrow morning; the light blue areas will be in the range of 38-40; the dark green will be 40-42. By all means, check the AWIS minimum temperature table for a town/city nearest your farm to see how cold the air temperature (2 m) will be in the morning?
Step 1: checking the AWIS minimum:  AWIS NC MAR 30-Apr 6
What did you learn? _____________ (min temp in your area)
Step 2: go ahead and quickly check the detailed hourly forecast for a city/town near your farm. If you see an "F" (frost) on lower line of this report, be sure to note the hour when frost is expected in your area:  __________________ (hour of frost)
10-DAY DETAILED HOURLY WEATHER FORECASTS 

If available to you, compare the AWIS minimum air temp to Skybit (if you have questions about this service, send me a note:  strawberrydoc@gmail.com)
Step 3: compare the AWIS  minimum air temperature to your SkyBit air temperature as well as the SkyBit minimum in the canopy for Tuesday morning:
AWIS minimum air (2 m):
SkyBit minimum canopy:
Skybit air temp (2 m):
Congratulations! You now have a better idea about the risk of a frost at your farm location tomorrow morning. If you already have a row cover down, there is likely little else you will need to do. We did learn last Friday night/Sat morning in some locations in the SC Foothills that covers that became saturated on Friday afternoon did freeze up on Saturday morning and  some blossoms in direct contact with the covers were killed (and, it only got to 28 F). But, in this case, the problem was with the fact that the frozen cover triggered
"ice nucleation" on those blossoms in direct contact, and that is what killed them. If the blossoms had not been in contact with the cover, they would have easily survived (see p.s. below).
Example:  let's say your farm is in Concord, NC (western piedmont):
Step 1:  The AWIS Table Minimum says the minimum for tomorrow morning will be: 40 F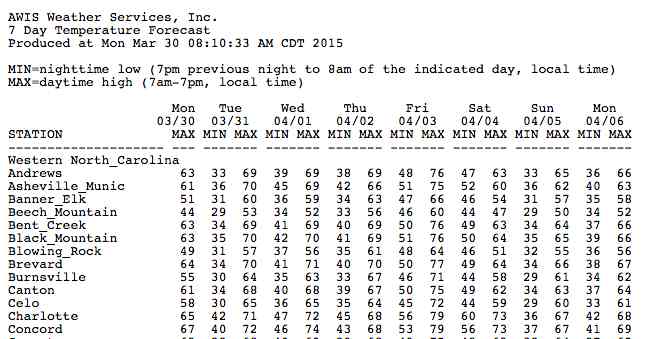 Step 2. The detailed AWIS hourly says there will be frost at 5 a.m., and it indicates a minimum of 36 F (vs. the 40 F in table above). I am NOT SURE why this is? I do have a call into my meteorologist friend at AWIS today, but my rule in frost protection is to always go with the lowest reasonable number, and that would be 36 F. You should also note how the winds will be completely dead at 2 a.m. tomorrow morning, and the air is incredibly saturdated (DP of 31). Honestly, conditions are perfect for frost as soon as those clouds clear out at 4-5 a.m. Sometimes, the frosts you get the day following rains (like today), are the most damaging kind. We may hear a number of reports tomorrow from growers saying, "We had a real heavy frost."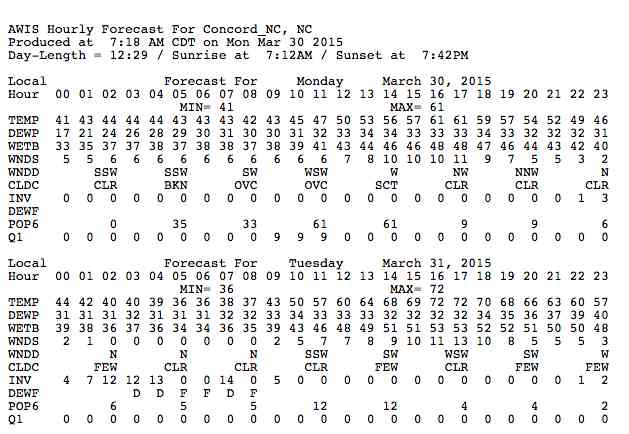 Step 3. compare SkyBit to  AWIS? Skybit is showing air temp 35 and canopy 34 vs. 36 air temp for AWIS — very very close. Go with the colder! With a canopy of 34 there is a good chance of frost development with no wind, and perfect dew points (31-32) for ice crystals to form on strawberry blooms.
Clayton
My SkyBit for Clayton shows canopy minimum of 35 and air temp 38 F tomorrow morning (below). And, right beneath my Skybit is AWIS hourly temp table for Clayton, and it shows minimum of 39 F. So, that's pretty close for two different services! I will take the SkyBit air temp (38), and then realize the real temp down at strawberry canopy level can be 3 F lower than air temp at 6.6 ft (2 m). If the winds are still enough tomorrow morning at Clayton, and skies are clear, then I see potential for an early morning frost. I would def. set frost alarm tonight (setting of 36-37). If it goes off, you need to head out to field and MONITOR for ice crystal formation. If you don't have row covers down, begin sprinkling as soon as you see ice crystals forming on ground level weeds, or if you have row covers rolled up, you can feel them stiffening up from ice.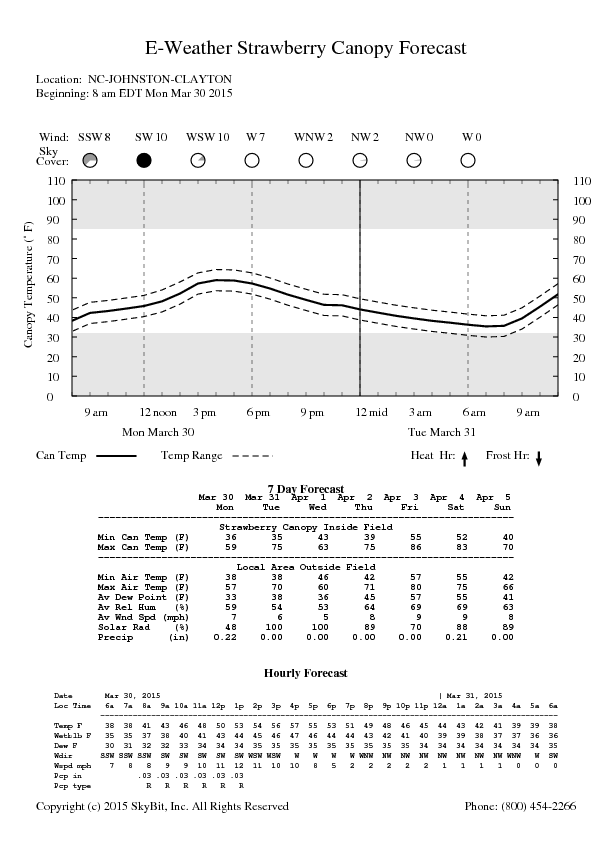 In comparing the AWIS minimum for Clayton (they have an hourly product just for temp), I see they are showing 39 minimum.
Good luck!
p.s. Over the years we have debated the cost/benefit of small hoops to elevate the covers slightly above the canopy to prevent this very type of damage. Here is something I spotted in the Dubois catalog this morning (http://www.duboisag.com/en/2-loop-hoops.html)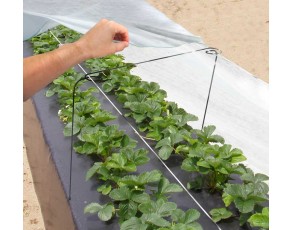 Fig. 2. Two loop hoop – could this be used to suspend row covers to avoid blossom freeze burn problem.