Guess What 19 F Can Do (With a Row Cover)? Send Your Feedback to Share With Other Growers! (8:16am, 3/30/15)
Find this article at:
go.ncsu.edu/readext?348435
Fig. 1. The grower who shared this photo had about 50% blossom loss this weekend. Fortunately, there will be many more coming, but it is sad to lose this much "early picking."  A single row cover of 1 oz is definitely not up to the task of protecting open blooms from temperatures as cold as 19-20 F in canopy. And, that is why I encouraged growers to consider sprinkling on row covers. The sprinkling would have added enough additional heat to have protected these open blossoms!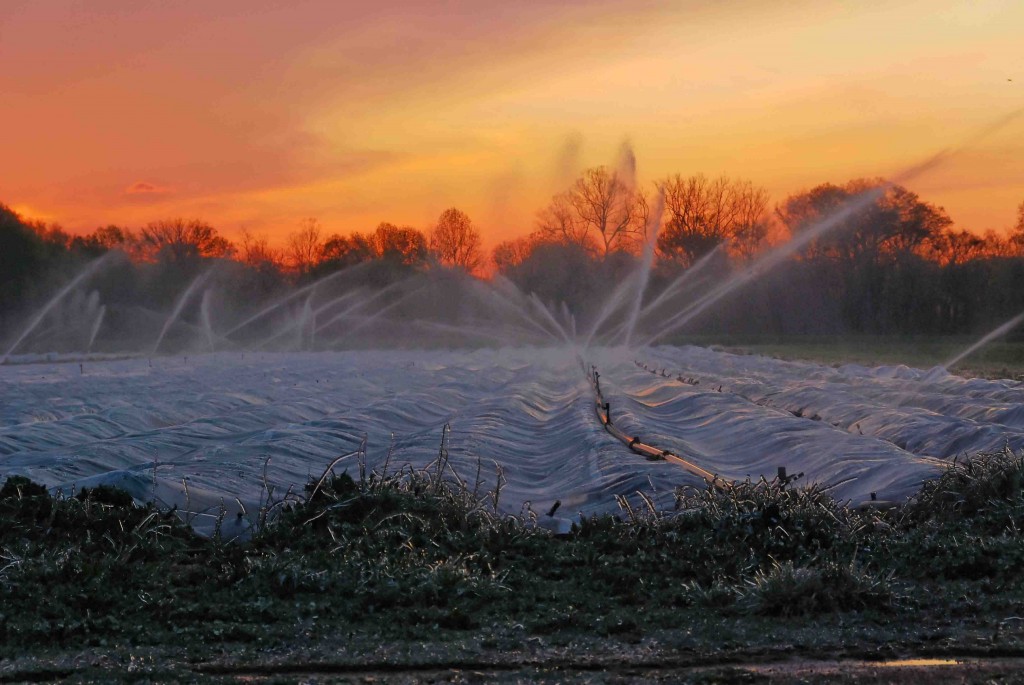 Fig. 2. The cold event of March 28-29, 2015, may have been this year's near equivalent to Easter freeze of 2007.
2. Note from Eric Hunter, Easely, SC: (11 a.m., Monday)
Hey Dr. Poling,
I have had numerous growers calling me today asking what happened this weekend to their crop. Farmers that used row covers have damage and farmers that used sprinklers all have significant losses. And for what its worth, none of them subscribe to your advisories. All of the irrigation losses came due to the growers waiting too late to turn the water on (treating this as a normal freeze/frost). As far as row cover losses, they all came with 1.25 oz. weights where temps were anywhere from 17-23.
None of the growers knew about the role that dew point, humidity, etc. plays in a situation like this past weekend, and had no idea of a "black frost".
Also, I notified the expo planning committee that I wouldn't be attending tomorrow. We have a good chance of a frost tonight, plus the field that I have row covers on will need to be removed asap tomorrow with temps rising to mid 70s by afternoon. Just not a good time to leave for the day.
Thanks,
Eric
Editor's note:  I believe that a number of these growers are in Georgia, and perhaps in the future the GA Strawberry Growers Assn. would like to subscribe to this service? I recall  just seeing a few SkyBit subscribers out of SC and GA this year?
3. Lowell Yoder, Rustburg, VA (12:15 p.m., Monday)
Good morning.
We dropped under 20 on Sunday morning. Lynchburg had 17! I'd guess true strawberry canopy temperatures at 17 or 18 which is what Skybit was calling for. I did not run drip though I considered it. I personally don't like starting up in the low 20's. So much risk for stuff to go wrong. Frozen spots, brittle valves, etc.
I knew we would likely lose a good many of the scattered blooms. I felt like most weren't truly high quality and there weren't enough to move heaven and earth to save them, though I would have preferred keeping them. It looks like about a quarter survived. More importantly the chandler buds look great. Nice and plump and yellow. These were all under 1.2 covers…… Atmore, Typar, and Bluefire.
Our rows of sweet Charlie's though certainly took a beating. Looks like we lost most blooms and even a surprising number of buds. They could have benefited from drip and especially from another cover. If we continue to grow them I'm going to start double covering or go to a 1.5. The open canopies just seem more susceptible to these harsh cold events.
I'm certainly liking this week's forecast.
Lowell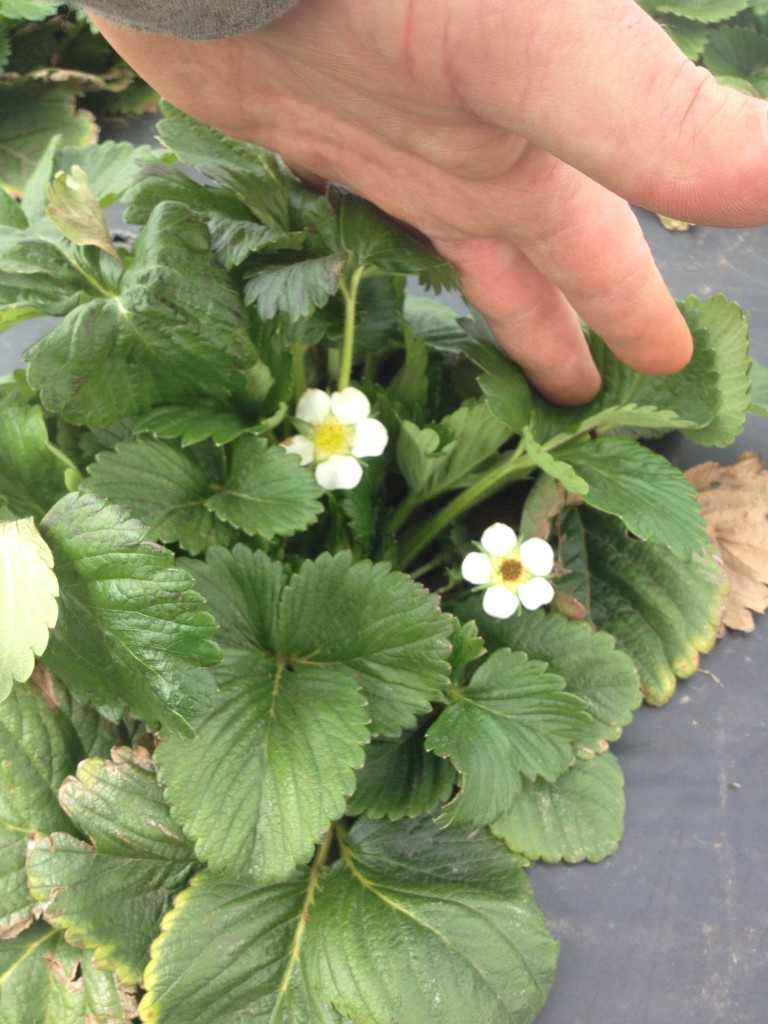 Photo sent by Lowell Yoder on 3/30/15: One of the scattered blooms killed. The grower used just row covers, but in his location it did not make sense to go all out b/c there were so few blooms (I totally concur with Lowell's decision to stick with covers and take somewhat of a hit on those earliest blooms).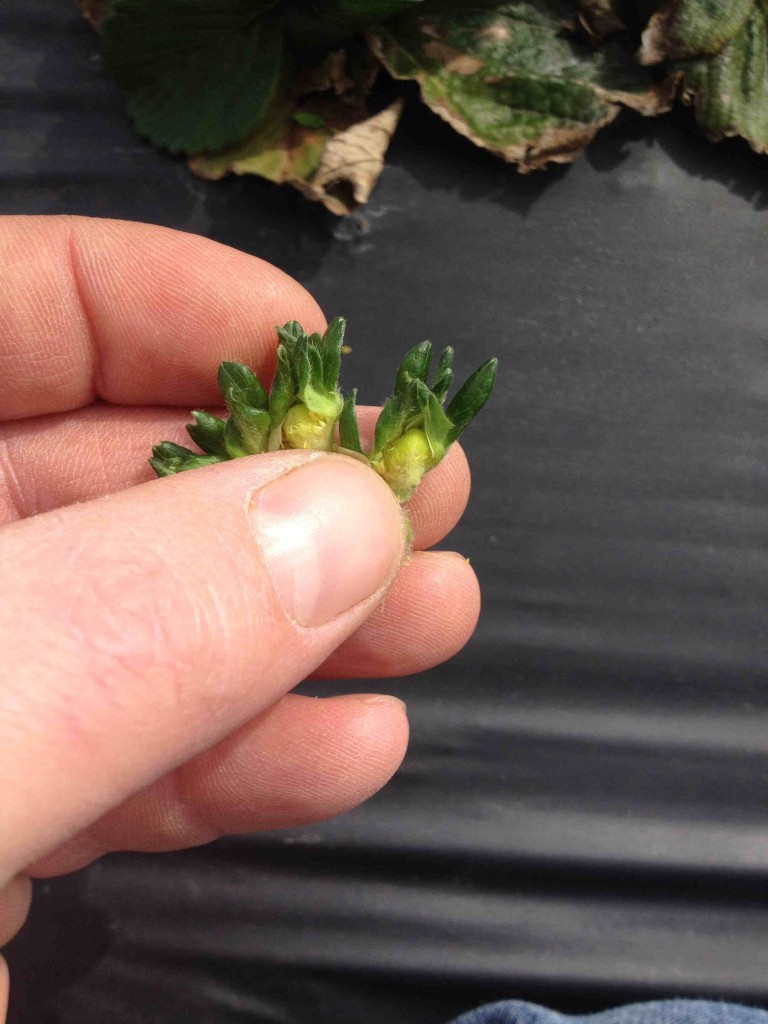 Lowell's goal was to keep his flower buds alive, and he did
4. Western Piedmont NC Report (using sprinklers only)

At 12:03 p.m., I received this note from farmer in Western Piedmont who irrigated for 18 hours straight and started before 5 p.m. on Saturday (his neighbors thought he was nuts).
This was his short message:   "Survived"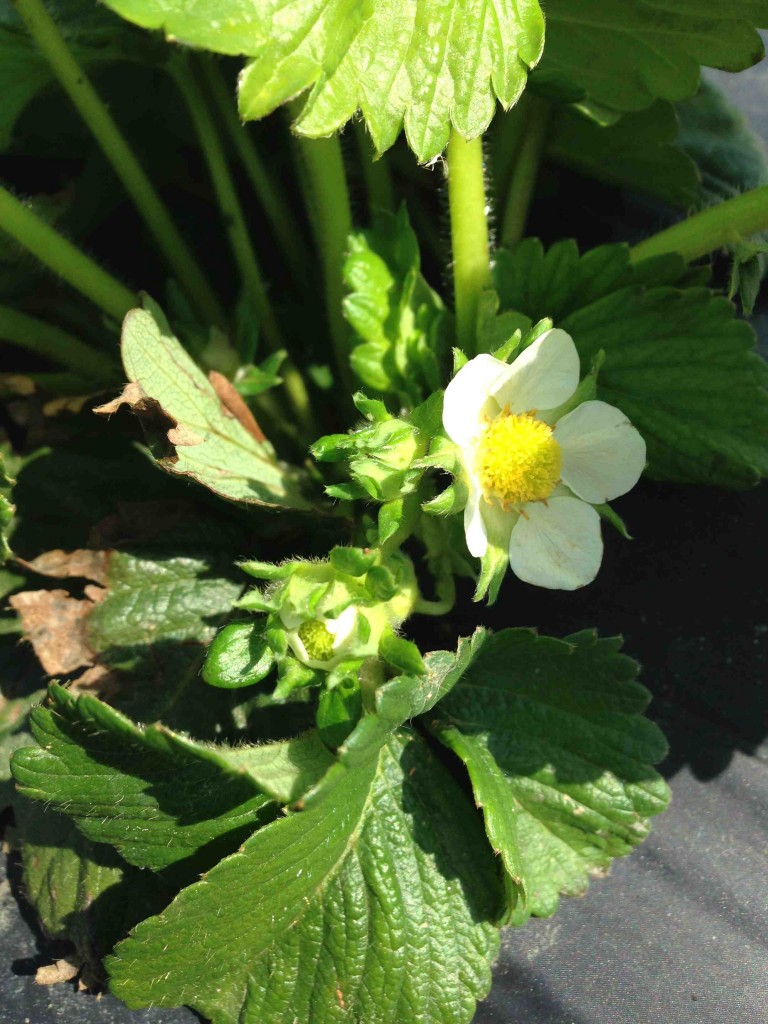 Because we were dealing with a classic black frost on Sat/Sun in most areas, it was possible to use sprinkling alone (if winds had been a factor, this would have been very difficult to do).
5. Note from Mike Wilder, 3/30/15 (7:28 p.m.) – Franklin Co.
Barclay,
Thanks to your extensive reporting of weather conditions, Sky bit, Russell's attention to detail, and Russ remembering his Dad saying "it's all about the wet bulb" the Vollmer Farm has an abundance of viable Sweet Charlie blooms today. Great work guys! An occasional black eye can be found, but almost all made it with timely crank up of irrigation w/o row covers. John is smiling. 🙂
Mike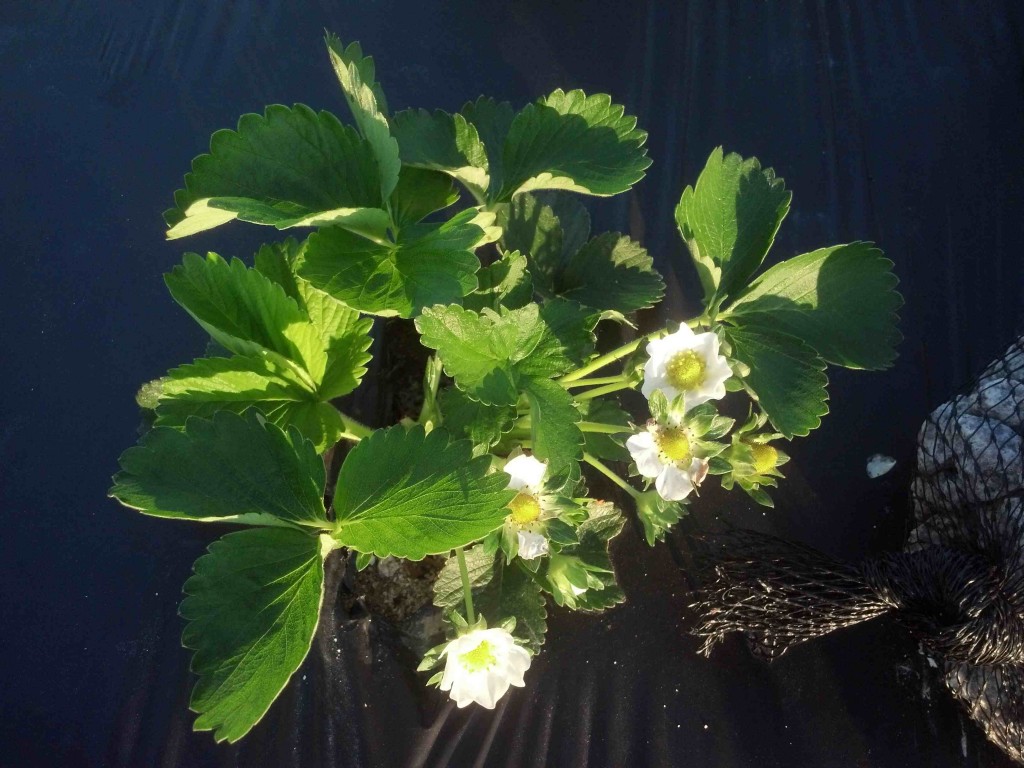 Successful outcome at Vollmer Farm, Bunn, NC
6. Phone call from Danny Van Meter, 8 a.m., 3/31/15 (Clarkson, KY)
Danny's "research" with 1 row cover vs. 2 covers vs. sprinkling over 1 cover had an interesting outcome. He called me this morning to share a few highlights of what he observed yesterday after returning from Minnesota (his farm is in Kentucky). He is on the road again this morning, but this is what he had to say:
the least amount of bloom damage was with sprinkling on one row cover (1.2 oz)
the bloom damage on double cover > than sprinkling on one cover
the worst damage was on single row cover with no sprinkling
He thinks the minimum was around 17 F
see this blog to understand what Danny did to protect his crop: https://strawberries.ces.ncsu.edu/2015/03/kentucky-grower-employs-3-different-strategies-against-hard-freeze-that-hit-last-night-noon-32815/
Here is how the plants under double cover looked (photo on 3/31)…as you can see the double cover was not perfect!
B. FROST ON TUESDAY MORNING, MARCH 31
1. CONCORD, NC
We had frost this morning at

 
4:30 a.m.
 

in Concord, NC. The frost held in line with the recent AWIS forecast you sent for last night (See below) and if anything the temperature was even a degree lower than the forecast. We used overhead irrigation last night to keep frost from forming on the plants. 
AWIS Hourly Forecast For Concord_NC, NC     
Produced at 

10:29 a.m. CDT

 on Tue Mar 31 2015
Day-Length = 

12:32

 / Sunrise at  

7:11 a.m.

 / Sunset at  

7:43 p.m.



Local               Forecast For    Tuesday     March 31, 2015 
Hour  00 01 02 03 04 05 06 07 08 09 10 11 12 13 14 15 16 17 18 19 20 21 22 23
                      MIN= 36                    MAX= 73
TEMP  44 42 40 40 39 36 36 38 41 47 53 60 63 66 70 71 73 73 72 70 68 66 63 60
DEWP  33 33 33 34 33 33 33 33 37 38 38 38 37 36 35 36 36 36 38 38 37 40 42 43
WETB  39 38 37 38 37 35 35 36 39 43 46 49 50 51 53 53 54 54 55 54 53 53 52 51
WNDS   2  1  0  0  0  0  0  0  0  1  3  6  8 10 13 13 14 15 13  9  6  6  5  3
WNDD         N        N        N      SSW       SW      WSW      WSW        W
CLDC       SCT      CLR      CLR      CLR      CLR      CLR      CLR      SCT
INV    0  0  0  0  0  0  0  0  0  0  0  0  0  0  0  0  0  0  0  0  0  0  1  2
DEWF         D  D  D  F  F  D  D                                             
POP6         0        1        1        1        1        6        6        8
Q1     0  0  0  0  0  0  0  0  0  0  0  0  0  0  0  0  0  0  0  0  0  0  0  0
2. Scot Luton, ROPER, NC (8:13 a.m., 3.31)
Good Morning. (3 quick points)

We had frost in Roper,NC last night. Sky bit showed canopy temp of 36 but we were down to 31.I left a few rows uncovered last night and checked bloom temp from 4 a.m. until 7:45 a.m. and

ran drip on the uncovered rows

. We had a heavy dew at 4 with frost forming on covers.
With drip the bloom temp was 33.8 degrees and no frost.

The plants uncovered without drip  had frost on them at 5 a.m.I have never tried the drip for frost protection and was curious(and maybe a little fool hardy) to see if it would work in borderline frost conditions. I still like covers because I can put them on and sleep soundly. Scot Luton
C. MORE FOLLOW-UP ON BLACK FROST MARCH 29 (SUNDAY)1. Alamance County Report on Row Cover result (April 1, 11 a.m.)
Dr. Poling, I took my covers off
Tuesday
AM and found minimal damage to my plants but more damage to my blooms than I expected. I am estimating 25% damage to open flowers. My temp
on Sunday
AM was 23. Covers were on & I do not have a sprinkler system. I am hoping for no frost
Sunday
but not counting on it.
                                                                                                                                  Larry McCauley Alamance County
D. GENERAL APPRECIATION FOR STRAWBERRY WEATHER ALERT SERVICE
1. Dan Copeland, TEXAS (April 1, 2015)
"Dr. Poling, I feel for you guys in dealing with this weather you are having. I am sure your growers have been keeping up with things, occasionally I need a reminder. We too had our covers on for an extended period of time (from mid February to mid March). Because of freezes and rain every few days I did not pull those covers off and spray — you guessed it, I am dealing with a large mite and Botrytis problem now. Typically, we never have mites this early so I dropped the ball on getting them under control soon enough to prevent damage to the plant. Of the varieties we have, Albion  has been hit the hardest. I saw a small problem on them before the covers went on but did not anticipate the length of time they would be under wraps, so the mite population just exploded.. It has also been interesting to see that Radiance has been more susceptible to Botrytis than the others (Festival, S. Charlie, San Andreas, Albion, Camarosa and Chandler). In hindsight, other than spraying before the covers went on, I wish I would have sprayed the day they came off instead of realizing that I did not have enough miticide and losing another week to start working on the problem. You are fantastic resource and even the few of us in Texas listen to you intently. I know I am not telling you anything you do not already know. It is just that in the past, even though we are so far away, we will have the same problem you warn of only two weeks prior.
Dan Copeland, Sweet Berry Farm llc, 1801 Fm 1980, Marble Falls, Texas 78654 830-798-1462
Dr. E. Barclay Poling
Professor Emeritus (Strawberry Plasticulture Researcher)
Department of Horticultural Science
Campus Box 7609, 162A Kilgore Hall
NC State University
Raleigh, NC 27695-7609
"An idealist believes the short run does not count. A cynic believes the long run does not matter. A realist believes that what is done or left undone in the short run determines the long run."
Sidney J. Harris, In: Reclaiming a Lost Heritage – Land-Grant & Other Higher Education Initiatives for the Twenty-first Century