Confirming Areas That Had Frost This Morning – You Can Help! (7:21am, Tue., 3/24/15)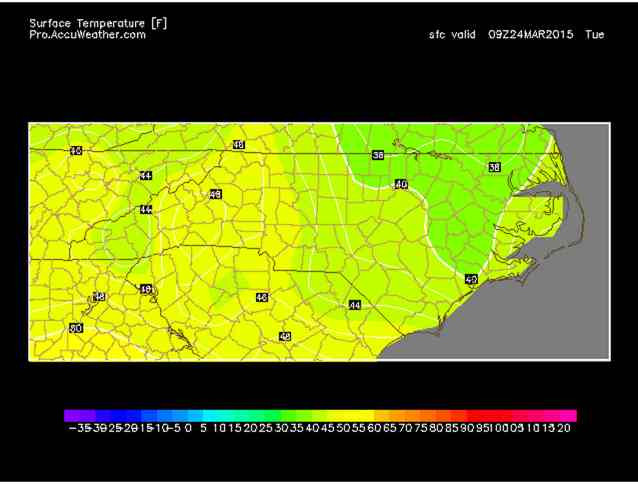 Fig. 1. At 6am today the "green" areas on this map had the lowest temperatures in the state. It will be interesting to get some feedback from growers who actually may have seen frost this morning.
Good morning!
At 6am we had cloud cover and slight winds in Raleigh area, and NO FROST.  But, there was NOT a forecast for frost in this area by AWIS yesterday.
However, in areas east of Raleigh, like Rocky Mount/Wilson, there was a forecast of FROST at 5 am this morning (published on this blog yesterday). What actually happened? 
Well, this is where you come into the picture!  If you are a grower in this region Rocky Mount/Wilson, for example, did you see what AWIS says below? They were calling for frost at about 4 am?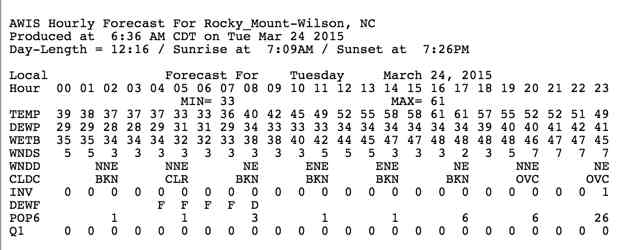 Table 1. According to AWIS, this area of the state saw a frost at about 4 am and had minimum this early morning of 33 F.
Here is another interesting comparison – two different Goldsboro locations: this first location had frost (according to AWIS) this morning at 5 am (Table 2).
Table 2. According to AWIS this Goldsboro location had a frost event this morning
This Air Force Base location (Goldsboro) did not!

Table 3. Note that winds were same at 4 am as Table 2, but winds stayed at about 3 mph for this location through the rest of the early morning. More importantly, the minimum temp was 38 F (vs. 35 for the other Goldsboro location).
Grower Report:
1. Did you see FROST this morning? (Y/N)
2. Your location:______________________
3. When did frost start forming this morning? _________
4. Did you have open blossoms? (Y/N)_____________
How many per plant (average):
5. Did you protect? (Y/N)
6. Bonus question: what was your minimum canopy temp this morning according SkyBit? ________
Here is a summary Weather across NC this morning at airports from AccuWeather:
Aiirpot/time
Temp
Rel.
Wind
Vis.
Weather
(°F)
Hum.
Spd/Dir
(mi)
Asheville Reg Airport, NC
7am
45
89
1/CLM
6
Sunny
Charlotte / Douglas Intl Airport, NC
7am
46
65
5/ESE
10
Cloudy
Elizabeth City Muni Airport, NC
7am
40
62
9/ENE
10
Sunny
New Bern / Simmons Nott Airport, NC
7am
39
79
6/NE
10
P/Sunny
Fayetteville Muni Airport, NC
7am
38
79
5/NE
10
Sunny
Fayetteville / Ft Bragg, NC
7am
40
69
7/E
10
M/Cloudy
Goldsboro / Johnson Afb, NC
7am
36
97
3/ENE
10
M/Cloudy
Greensboro-Winstn Salem Airport, NC
7am
40
67
1/CLM
10
P/Sunny
Hoffman / Mackall Aaf, NC
7am
38
88
4/N
10
Sunny
Hickory Muni Airport, NC
7am
46
73
1/CLM
10
Cloudy
Wilmington / New Hanover Airport, NC
7am
42
76
7/NNE
10
Cloudy
Winston-Salem / Smth-Rey Airport, NC
7am
40
70
1/CLM
10
Cloudy
Kinston / Stallings Airport, NC
7am
36
80
1/CLM
10
P/Sunny
Manteo / Dare Co Airport, NC
7am
41
75
12/NE
10
P/Sunny
Bogue Field, NC
10pm
46
70
10/NE
10
M/Cloudy
Cherry Point Airport, NC
7am
43
79
11/NE
10
Sunny
Jacksonville / Ellis Airport, NC
7am
36
80
6/NNE
10
M/Cloudy
Greenville / Pitt Airport, NC
7am
41
70
4/E
10
Cloudy
Fayetteville / Pope Afb, NC
7am
39
76
4/NE
10
Sunny
Raleigh / Durham Airport, NC
7am
38
57
1/CLM
10
P/Sunny
Rocky Mount-Wilson Airport, NC
7am
39
72
4/NNE
10
Cloudy
Statesville, NC
6am
42
81
1/CLM
10
Clear
You may click on the town/city nearest your location to see what AWIS is indicating for your FROST situation this morning:
10-DAY DETAILED HOURLY WEATHER FORECASTS 
Thanks for taking time to provide me with this valuable feedback today!
Barclay Poling
Was the information on this page helpful?
This page can also be accessed from:
go.ncsu.edu/readext?347006