Changes in Sat. Morning Forecast for Sandhills … Potential for FROST (9:30am, Thur., 3/26/15)
Find this article at:
go.ncsu.edu/readext?347718
I thought NC growers might be interested in what the Chandler crop looks like in SE Coastal Plain today (Whiteville). The grower wrote: "This is a shot of chandlers in the coastal plain area of Whiteville. Already covered yesterday preparing for the upcoming cold."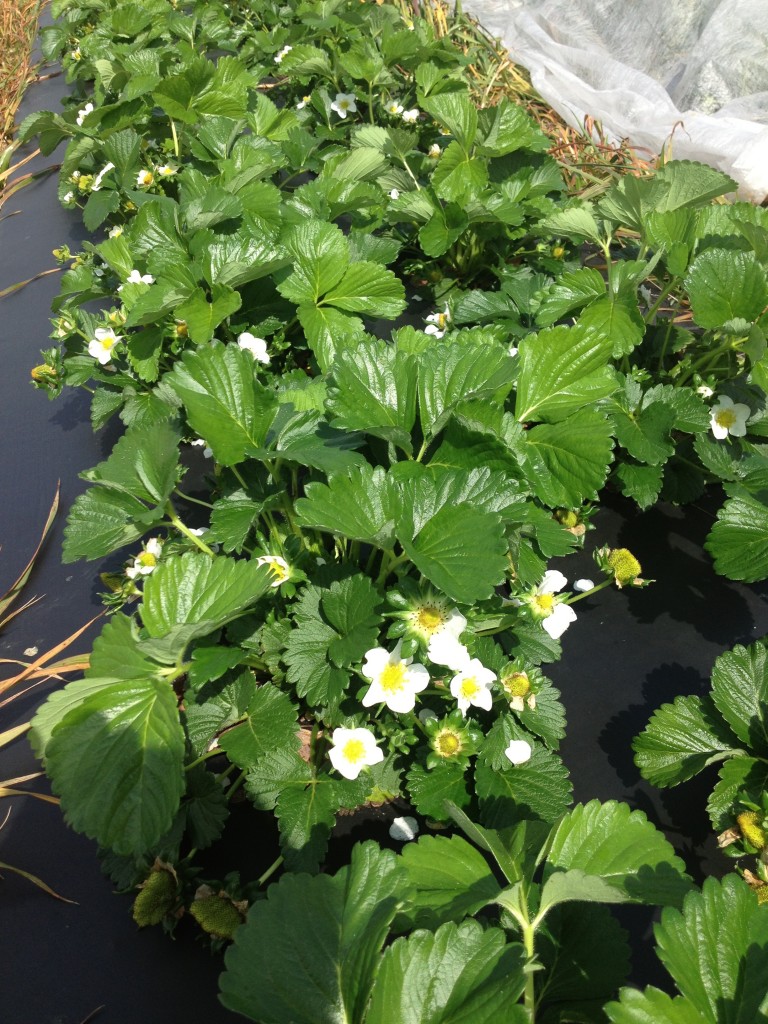 Here is latest minimum temp table for NC growers: AWIS NC Mar 26-April 2
Greetings!
What a shock this morning to see some of the changes that have occurred overnight in the Saturday morning (3/28) forecast for some sections of NC. I was actually planning to work on taxes today! But, in casually looking over some of the AWIS 10-day hourly forecasts for for towns in  Sandhills  like Rockingam (close to Ellerbe), Southern Pines and Sanford (Table 1), I saw the "F" (frost) on the AWIS line with abbrev. DEWF. Turns out that Sanford could see a frost at 5 a.m. Saturday morning (up until now ALL the focus has been on Sunday).
Table 1. AWIS is now calling for frost on Sat. morning in Sanhills, NC locations like Sanford. The crop is in FULL BLOOM in some Sandhills locations, so this needs to be taken quite seriously! Please note two things about this Saturday morning forecast: the air temp is 34 (that is def. low enough for a good frost), the dewpoints are perfect for frost making (around 30 F); and skies are clearing out in the early morning at 5 a.m. So, if you have 1) low 30s air temp; 2) DPs near 30; 3) clear skies, and 4) winds in the range of 5 mph, there is POTENTIAL for damaging FROST event.
You may recall that Saturday was not suppose to be a "worry" because of strong winds! That has apparently now changed! Even if your area is NOT showing frost for Sat. morning, be careful! A lot can still change between now and Saturday morning, but it is DECISION TIME for row cover protection! Rains will be a factor tomorrow. In the interest of time, I am going to "cut this advisory loose" NOW (9:30 a.m.), so that growers in Sandhills region can take measures to get ready for potential frost on Sat. morning. Lee Berry, a grower in Ellerbe area, has just sent me this text message:
"Yes, (they) are calling for 33 F Saturday and around 27-28 Sunday, (so) going to cover today so we r nots pulling wet covers tomorrow. We will pick in 10-14 days. The covers r dry now."
Luckily, Lee only had 1/10th inch last night, so his covers can be easily worked with today (Thur). Rains will fall into Friday morning in Ellerbe area, but should start drying down by Friday afternoon and evening. He may also do some spraying today in advance of showers coming.
Table 2. Note rains stopping at noon Fri.
Sidebar on Spraying:
General resistance management strategies
1. Spray more effective fungicides during bloom PRIOR to rain events; try not to spray calendar­ based to reduce the number of sprays
2. Achieve good spray coverage (reduces populations exposed to selection)
Use tank mixes of single site inhibitors (e.g. Topsin­M, ELEVATE, ROVRAL, SCALA) with protectants (CAPTAN, THIRAM) during heavy disease pressure (reduces populations exposed to selection). If disease pressure is light (little to no precipitation), use captan or thiram alone
3. Alternate fungicides from different chemical classes or FRAC groups (reduces selection time)
Here are the latest AWIS minimum temperature map for Sat morning: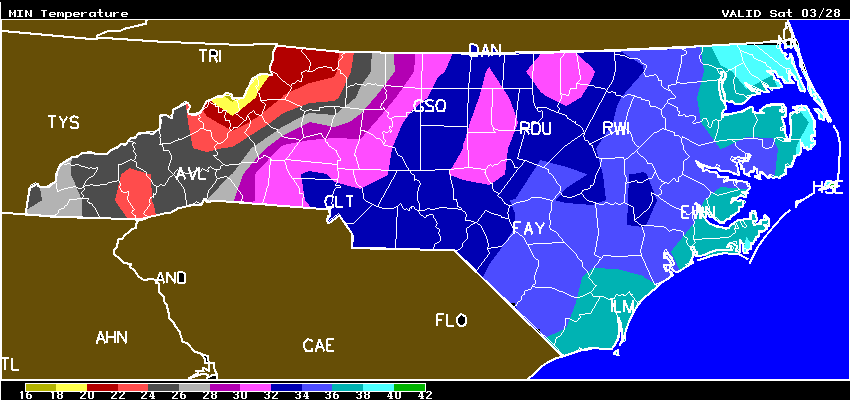 Fig. 1. Minimum temp map for Sat morning – be very careful in all navy blue (32-34) areas and colder about potential for a surprise Saturday morning frost!
Table 3. Things that need to come together for a radiation frost event:
1) Air temp minimum – even at 34-35, it is possible to get frost at canopy level (this air temp is for weather shelter height, and it can be much colder at ground level) _________ (what is you min air temp)

2) Skies – must be clear ______________(will skies be clear before sunrise)

3) Air moisture – need high DPs (like 28-32 F)_________(what is your DP before sunrise)

4) Winds – must be 5-6 mph, or lower____________(write down your wind speeds…lately, I have had the most problem trying to get reliable wind speeds, so this is the one variable in frost formula that is extremely hard to predict with precision; but, when AWIS says winds of say 8-10 mph, there is a good chance winds will be strong, and too strong for frost formation)

Please click on the town/city closest to you, and see if that "F" appears on the lower line for Saturday morning! All 4 frost factors are  captured very nicely by AWIS  10-day product (now, let's hope they are a little more accurate this Saturday than earlier this week). After you click your location, go back up and record what you learned in Table 3.
10-DAY DETAILED HOURLY WEATHER FORECASTS 
Oh! I don't want to leave out the AWIS minimum temp map for Sunday morning. With temperatures being even colder on Sunday morning, the row covers applied today will serve very nicely to protect the emerged flower buds, popcorns, open blossoms and newly set 'green' berries on that morning as well!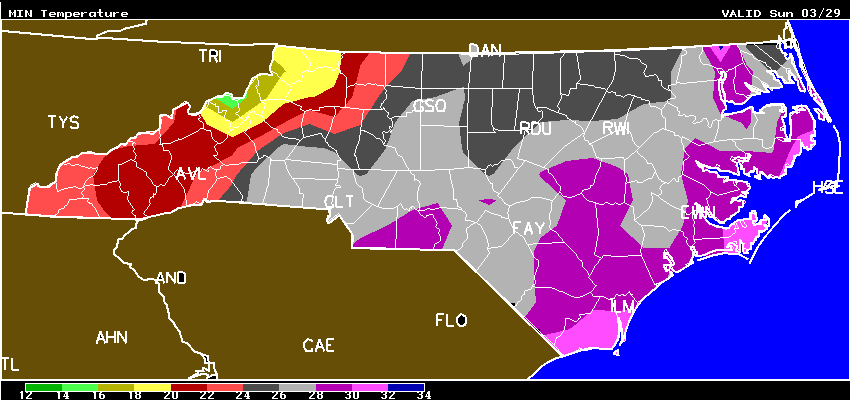 Fig. 2. Minimum temp map for Sunday morning
In case you missed it earlier, here is a very detailed minimum temp table for multiple cities/towns across North Carolina. AWIS NC Mar 26-April 2
By Monday morning, it looks like we are in the clear in many areas, BUT please take note of those navy blue areas (again)…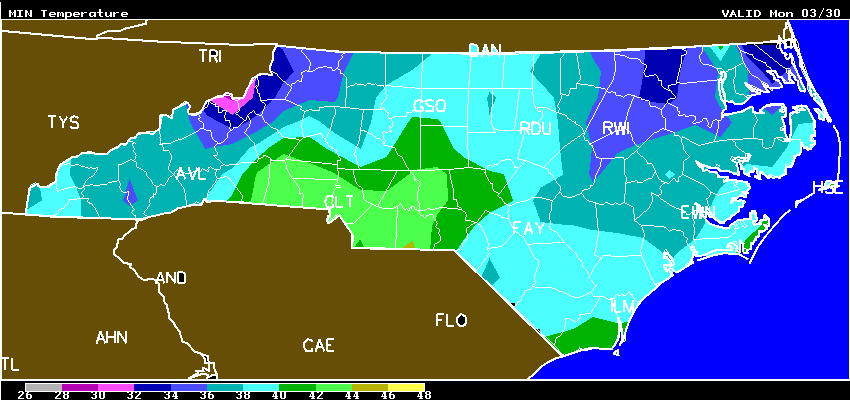 Fig. 3. Navy blue (32-34) and blue areas (34-36)
Good luck!
Barclay