Beginning to See a Few Profile Reports; Feb. Coldest on Record; Rains in Forecast (3/10/15)
In this advisory:
1. Cold weather in late Feb 2015 (coldest ever)
2. Beginning to see Profile reports from Clemson – some general recommendations
3. Rain in the forecast! (my morning Skybit for Clayton)
4. UC Davis and Strawberry Commission end legal dispute
1. Cold weather in late Feb:  No doubt, "extremes" in weather (and climate change) will be  important topics of discussion at the Fall Southeastern Strawberry Expo (Nov. 16-18) in  Concord, NC! Just this morning I learned from Dr. Ryan Boyles, Director, State Climate Office of NC, that "the last 2 weeks of Feb were the coldest such period on record for nearly every station across the Carolinas and VA."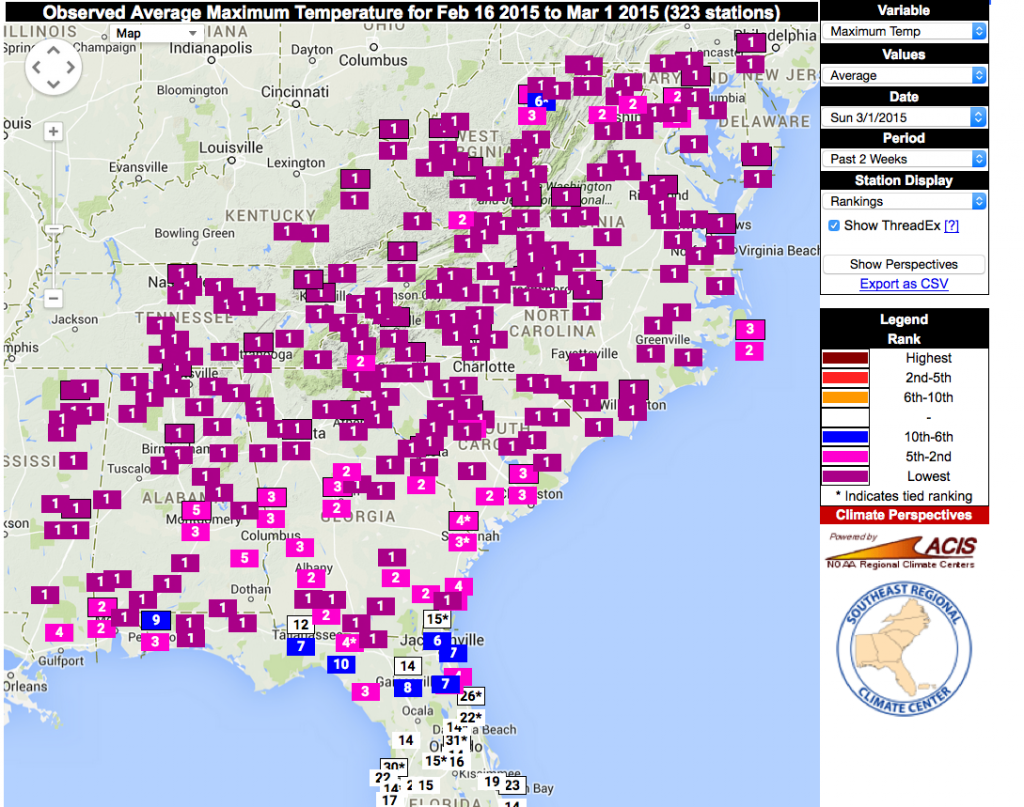 Fig. 1. Maximum temperature rankings for Feb 16-Mar 1
Dr. Boyles continued by saying that, "since Jan 1, were are generally running top 15 coldest across this region (Fig. 2)."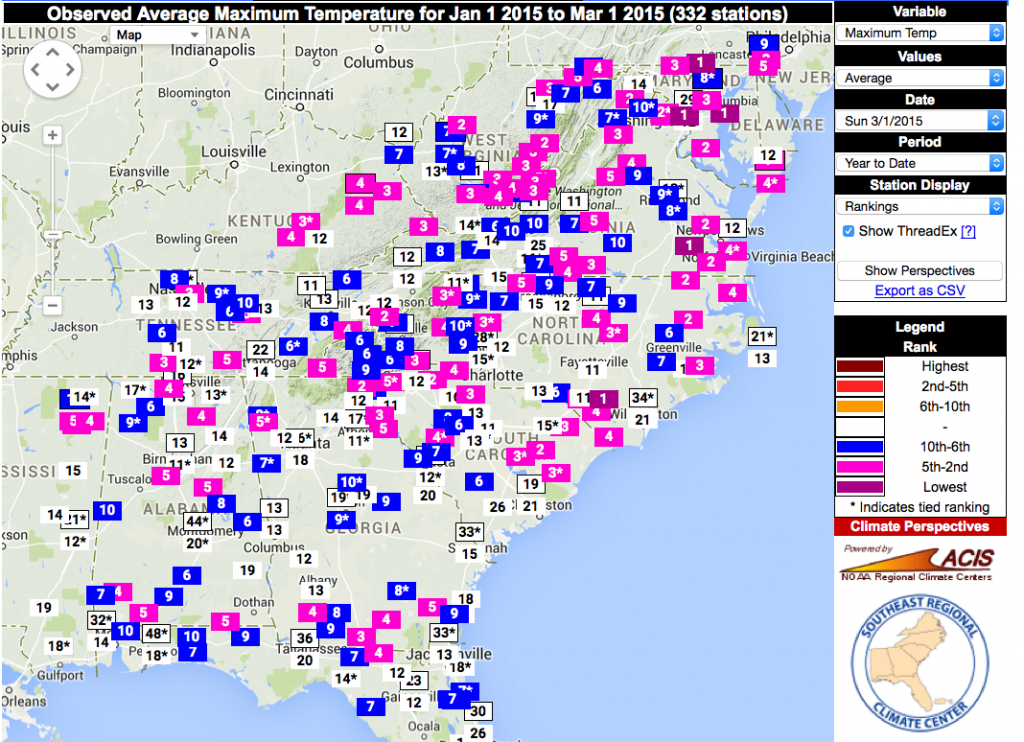 Fig. 2. Observed average maximum temperatures for Jan 1-Mar 1, 2015.
Both of these maps are from a tool that Dr. Boyle's group built for the NOAA SE Regional Climate Center. http://www.sercc.com/perspectives/. They also discuss this some on their blog:  http://www.nc-climate.ncsu.edu/climateblog
I also read (or, re-read) with considerable interest an article written by Dr. Jeremy Pattision (now at Driscoll),  "Reflections on the 2010 Season and an Update on New Cultivars and Breeding Progress," The Strawberry Grower, June/July 2010, in which he said for the Piedmont Research Station site in Salisbury:
"In 2009-2010, December and February temperatures were 11 and 17% colder, respectively, compared to the 2008-2009 season. Although this may appear to be minor, December and February are months of expected growth and development of strawberry crowns and flower buds and this additional chilling may have induced dormancy and halted additional flower bud formation."
In reviewing a number of photos I received last week from Mike Wilder, RA Region 6, I must admit some concern over "plant size" this year. However, Mike will be re-visiting a number of these same farms in the north central piedmont over the next two weeks, and I eagerly anticipate his follow-up remarks. Here are a few points from Mike's visit to 5 farms on 3/4/15  in Franklin, Nash, and Edgecombe:
Plant size was found in 2 categories:  0 – 1 branch crown per plant on some plantings, 3 to 4 branch crowns on others (just right)
Moderate leaf burn to plants that lost covers with recent high winds.
Minor cold damage to ~60% of crowns cut. No major injury found to crowns or to branch crowns.
Larger plants with tight emerged buds had 50 to 60% dead buds due to 2 – 5 degree temps on Feb. 19. All developed blooms on big plants were toast, but that is good – they were not needed this early. Would be nice to have the emerged buds that were killed.
No internal flower bud damage found, abundance of internal buds in large plants. The few buds inside small plants also look good.
The only field in which no cold damage found was the one that has had no cover on at all – fall (season) or during 5 degree temps. Plants are small, but very well hardened. I don't think small plant size was due to absence of row covers or planting date.
Large and small plants had very good root systems – promising for small plants – may not catch up completely, but they will be productive.
Diseases:  Angular leaf spot in 2 fields, Botrytis crown rot in 1 field. Neither appears severe. ALS common to 1 supplier of the large plants.
I'm often wrong predicting harvest, don't write this in stone:  optimistic, the crop in the area is going to be about a week late, hoping it won't be 2 weeks. Too far out for guessing, thinking May 1 in Franklin, Nash, Edgecombe. Good weather ahead will change my mind to April.
In another conversation with a producer in Central VA on Saturday (3/7), I learned that he saw now evidence of cold injury on emerged flower buds (under row cover) from the 2 freezes at the end of last week. The temperature at his location was not nearly so cold as had been anticipated (mid-teens). He also felt his plugs had good plant size, but some later set cut-offs were relatively small.
2. Profile Reports – I am glad to see some of these coming in! One good thing to share from these reports are these points:
General resistance management strategies
1. Use broad spectrum fungicides like captan and thiram before bloom (avoids unnecessary selection for resistance)
Spray more effective fungicides during bloom PRIOR to rain events; try not to spray calendar­based to reduce the number of sprays
2. Achieve good spray coverage (reduces populations exposed to selection)
Use tank mixes of single site inhibitors (e.g. Topsin­M, ELEVATE, ROVRAL, SCALA) with protectants (CAPTAN, THIRAM) during heavy disease pressure (reduces populations exposed to selection). If disease pressure is light (little to no precipitation), use captan or thiram alone

3. During heavy disease pressure (very wet conditions expected), use premixes with protectant if resistance is present to one of the two active ingredients in the premix (reduces selection pressure for other active ingredient). Alternate fungicides from different chemical classes or FRAC groups (reduces selection time)
3. Rain in the forecast! (my morning Skybit for Clayton)…I know everyone is scrambling to get caught up today with so much rain in forecast over this next week: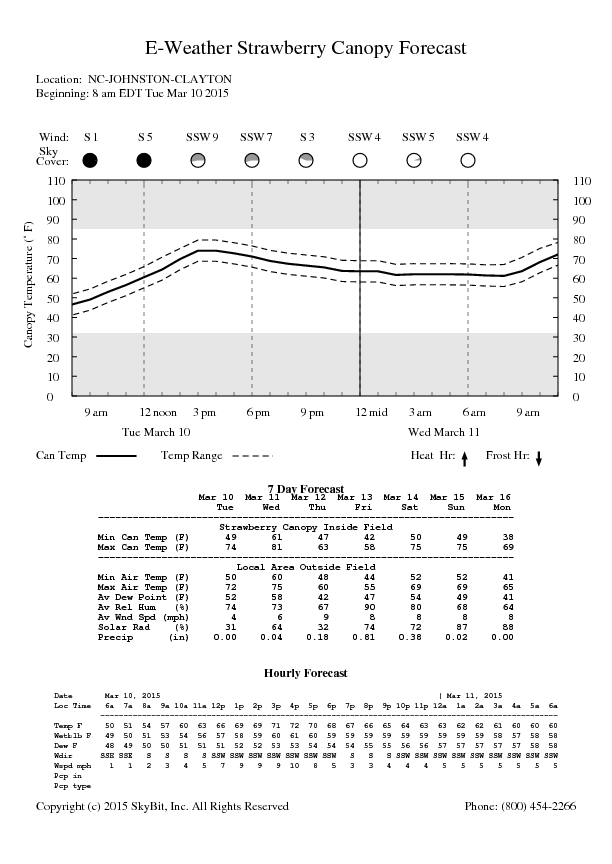 4. UC Davis and Strawberry Commission end legal dispute:  it should come as good news that the source of the major strawberry varieties grown in our region (UC Davis) has reached a settlement with the California Strawberry Commission. The  press release indicating that the legal dispute had been settled was  issued Feb. 9th. The previous week, I happened to be one of the participants at the North American Strawberry Conference (NASS) in Ventura, CA, where Professor Theodore DeJong, UC Davis, spoke on behalf of the university to inform us that both Douglas Shaw and Kirk Larson had officially retired, and a new strawberry breeder  had been hired. His name is Dr. Steven J. Knapp, and he was also at the NASS meeting in Ventura. On Saturday, Feb. 7, I was able to hear Dr. Shaw discuss his future plans in the private sector as a strawberry breeder. His new company, California Berry Cultivars, LLC,  has also hired Kyle VandenLandgenberg, a recent NC State graduate and student of Dr. Todd Wehner, Professor, Dept. of Horticultural Science. The Saturday program was hosted by Lassen Canyon Plants in California.
Have a great day!
Dr. E. Barclay Poling
Professor Emeritus (Strawberry Plasticulture Researcher)
Department of Horticultural Science
Campus Box 7609, 162A Kilgore Hall
NC State University
Raleigh, NC 27695-7609
"An idealist believes the short run does not count. A cynic believes the long run does not matter. A realist believes that what is done or left undone in the short run determines the long run."
Sidney J. Harris, In: Reclaiming a Lost Heritage – Land-Grant & Other Higher Education Initiatives for the Twenty-first Century