One Year Ago Today – Site Visit to Pungo, VA; And, Strawberry Weather Now (1:10pm, 2/27/15)
Find this article at:
go.ncsu.edu/readext?342609
Posted On

February 27, 2015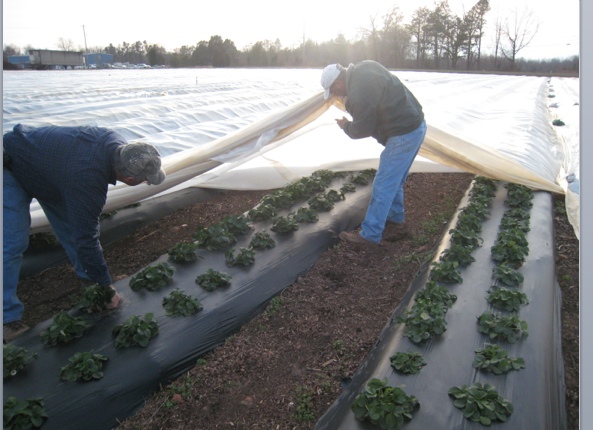 Question of the Day – Do Row Covers Need to be On, or Off (Taylorsville, NC)…see  "More Grower Questions" (Item 2)
In this advisory:
1. Photo gallery – Pungo, VA on Feb. 27, 2014
2. More grower questions
3. Strawberry weather roundup (NC, VA, SC, TN, KY, MD)
 1. Photo gallery from site visit to Pungo, VA (2/27/14).
Fig. 1. On Feb. 27, 2014, my daughter (Ashley) and I had the pleasure of stopping by the Brookdale Farm in Pungo, VA, and on that day we were able to observe Chandler plug plants that were being "sanitized" vs. plants that had not been "cleaned up."  Please note that the plants in the left row had already been cleaned up, but the ones in the right row had not. The plants in this area did not have winter row covers.
Fig. 2. On the occasion of our visit (2/27/14), I took the opportunity to "cut some crowns" to see what he outcome might have been from cold conditions in January (see table below). I had forgotten that there had been a very cold event in this region on January 30th (last year). To my knowledge, these plants performed satisfactorily in the 2014 spring season. Please note that all of the floral bud tissues at the apex of the crown are perfectly healthy. If the floral buds had been injured, you would see "dark spots" instead of bright green and yellow flower tissues!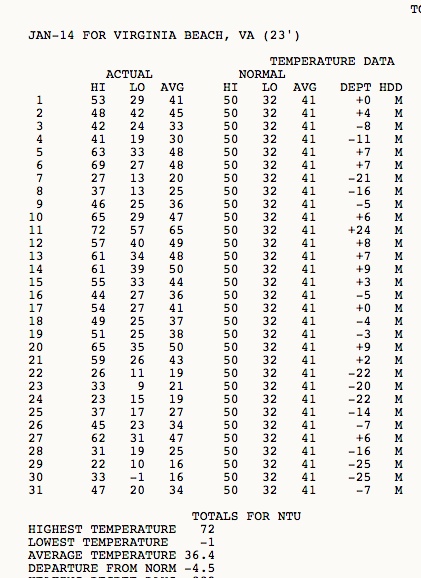 Table 1. AccuWeather  showed lows of 13 F on Jan 7, 8; and then 11 F and 9 F on Jan. 22-23; and additional blast of cold on Jan 30 dropped temperatures to -1 F.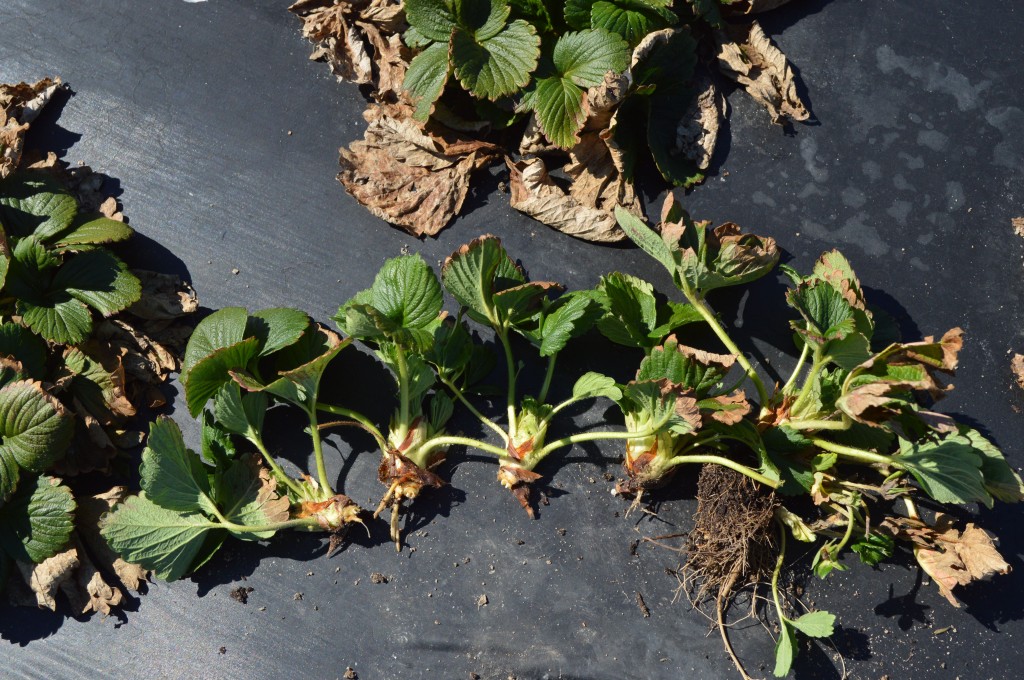 Fig. 3. The same Chandler plant had 4 branch crowns – these are all excellent size branch crowns!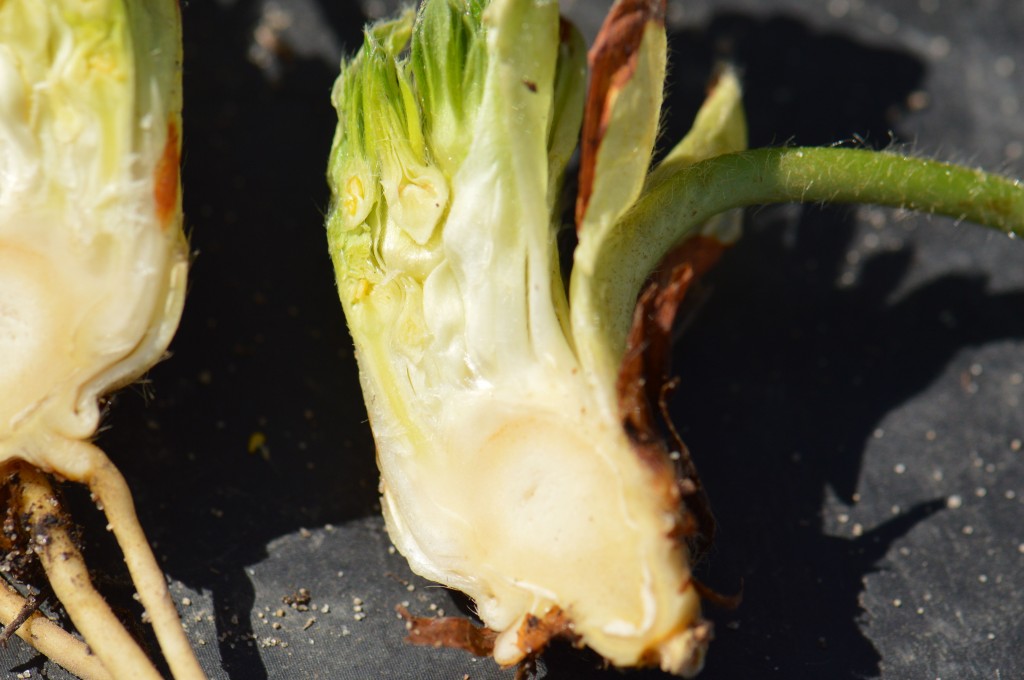 Fig. 4. This branch crown showed very little injury – this is typical. The main crown may show some damage, but the branch crowns have minimal discoloration. In the end, this may be why little yield reduction was noted (healthy branch crowns).
2. Robeson County Site Visit (by Georgia Love, Regional Agronomist, Region 5)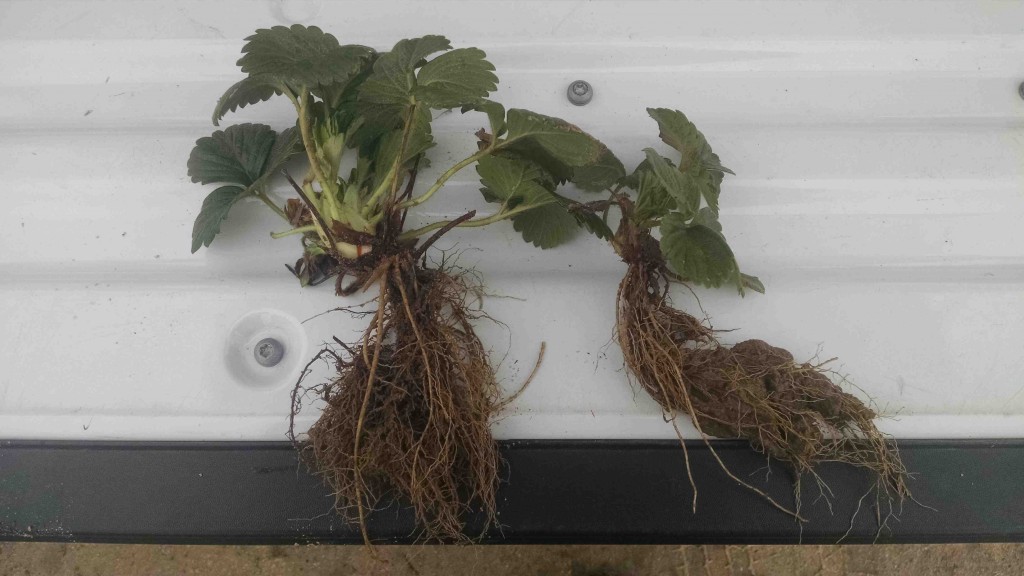 Fig. 5. I received this photo from Regional Agronomist Georgia Love on 2/26/15, and this note:
Barclay,
Mike Wilder suggested I share these pictures with you from a farm in Robeson County. I took plants from the same row, covered vs. uncovered. Obviously, the larger plant was covered. Soil conditions are extremely saturated. What do you think about the crowns?
 Here are the other 2 photos I received: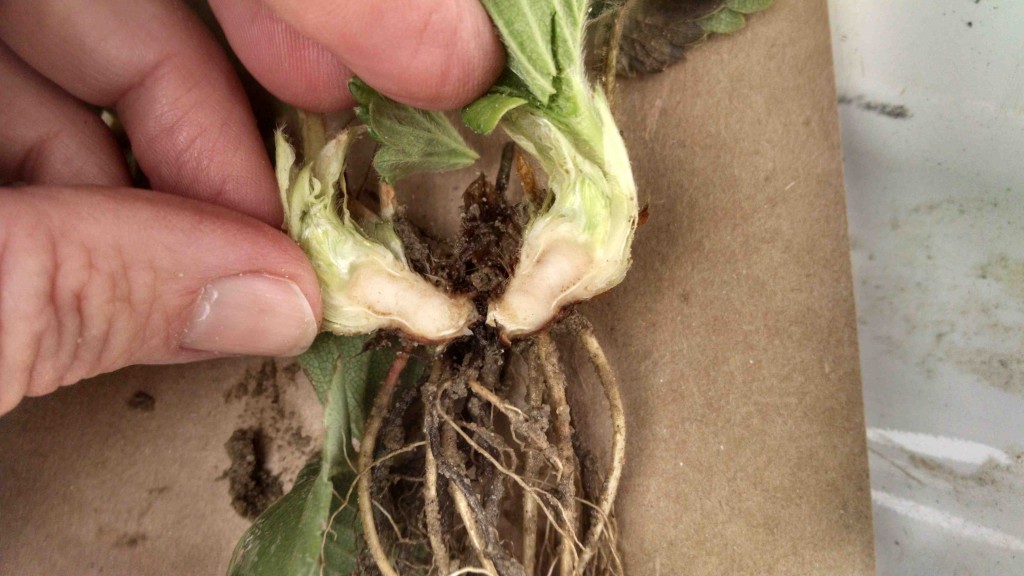 Fig. 6. Smaller, uncovered plant. Very minor cold injury.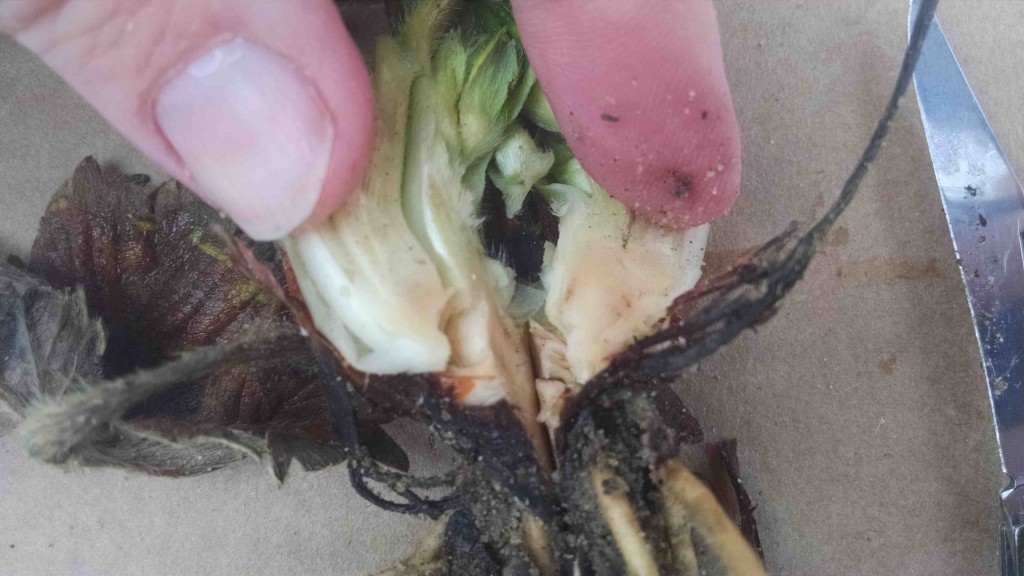 Fig. 7. Larger, covered plant. No real cold injury, but note how far along this plant is as far as nearly emerged "floral buds" right in the (upper) center of the photo. I have asked Georgia to share additional information about variety (I assume Camarosa), plant type (looks like fresh dug), planting date (I am going to guess it was a late planting based on the relatively small size of plants, whether under cover or not).
Editor's note:  I will wait for Georgia's reply to my questions before offering any further comment on Figures 5-7.
Follow-up notes from Georgia Love on March 2, 2015:
Barclay,
The row covers were applied before the cold front about February 12th. The plants are Canadian bareroot Camarosa. Planting date was about Oct. 10th. Row cover thickness was 1.25. Hope this helps. Let me know what you think.
Georgia P. Love
Regional Agronomist, Region 5
Further reply:  Thanks for this added detail. Quite frankly, I am surprised that there was not more branch crown development on these Camarosa? The planting date of Oct 10th should not be an issue for Robeson County. In reality, this is not that long a row cover period (from Feb 12 – recent arctic clipper on 2/19). Perhaps there are some other issues involved…is this a replant site with no fumigation?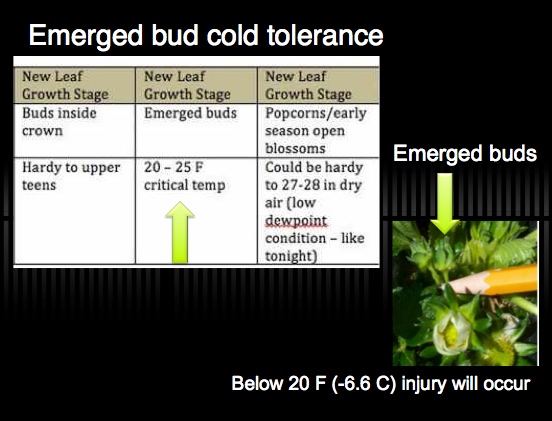 Fig. 8. I shared this powerpoint slide at the Virginia Beach Strawberry School on 2/24/15, and it shows that the assumed critical temperature of the EMERGED FLOWER BUDS (see right photo where green arrow is pointing to tight flower bud), BUT, the reality is that these buds may be much more cold tolerant than even 20 F. I have had experience with seeing good survival of this floral stage into upper teens. Last March, I visited a site in western piedmont of NC where this stage survived a 14 F minimum on 3/4/14. Basically,  both Dr. Allen Straw, VA Tech, and I, stated to the audience that there is a lot of confusion about crown tissue critical temperatures in the dormant season, as well as in the transition season we are in presently. As a footnote to the Virginia Strawberry School, many of us got "stuck" in the worst traffic mess after leaving VA Beach Tuesday evening (4 hours for my wife and I to go 50 miles).
2. MORE GROWER QUESTIONS (row covers on, or off?)
Hey Barclay,
We have had all of our strawberries (Chandlers, cams, and Sweet Charlie's) covered since 2/13. The lows for the next week are going to be 19 or higher, with highs in the 40s for Taylorsville, NC. Should we uncover them? I think so, but need another opinion.
Thanks!

Amy Douglas
The Farmers' Daughter
Taylorsville is near Statesville (see map below)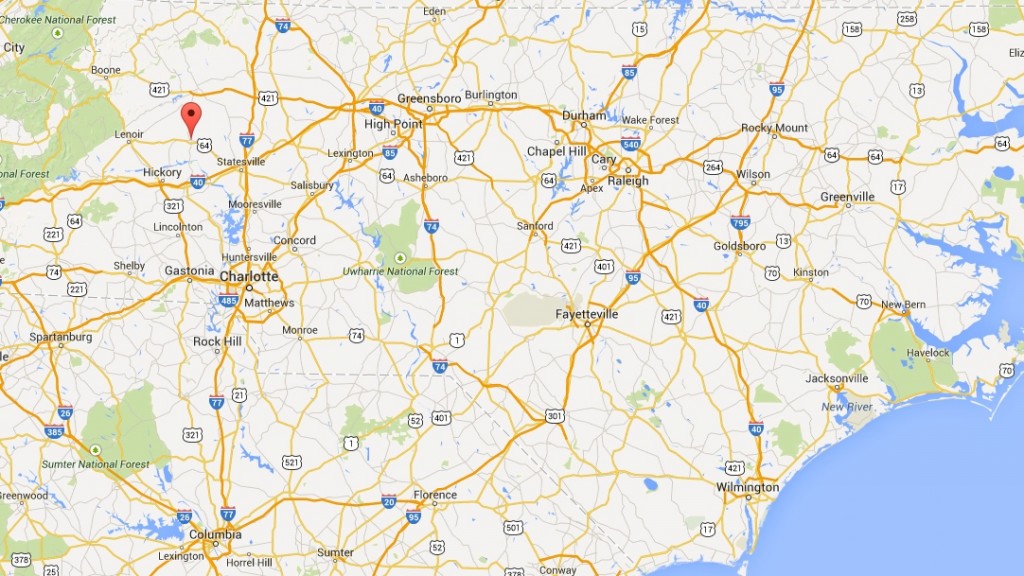 Fig. 9. Grower in Taylorsville, NC, had question on row cover removal – I suggested (below) that this would be an opportune time to take covers off to complete winter clean up chores.
Reply – Amy, I just wish to quickly note how much I enjoy The Farmer's Daughter updates, and I was not aware that this is National CSA Sign-up Day! As far as your question goes, I was just looking at my Clayton SkyBit for next week (I know Taylorsville can be quite a bid colder), and I am seeing lows in the low 20s through Sunday morning, and then we will have some warming! But, I am concerned about rainfall in forecast early next week, and my advice would be to consider getting the covers off and possibly even stored in a dry area – in case they are needed for another serious freeze event (hope not).

Fig. 10. Rains are moving in early next week, so this weekend would provide a good opportunity to remove covers. The lows for this area are not threatening – plants should easily handle  minimums in low 20s.
(cont'd) …. I am really glad that you have had them on since 2/13, but now is the time to finish up winter sanitation and take care of a number of things, including a good scouting of the crop for insects, mites, disease issues, and treat annual ryegrass in aisles (assuming you have this). One thing that can kick in from extended row cover periods in wet weather is botrytis crown rot. That is something you will wish to check closely. You may wish to make contact with your Area Specialized Agent! Please don't forget to take samples of any blossoms (if you have some) for sending on to Dr. Schnabel's lab at Clemson – this is a really good time to do that! Regarding botrytis, his team can  check to see if you may have any fungicide resistance issues. Here is the correct address for mailing blooms for botrytis resistance screening:
Guido Schnabel, Ph.D.
Clemson University
Dept. Agricultural & Environmental Sciences
105 Collings St./220 BRC
Clemson, SC 29634 Office 864 656 6705: cell 864 643 7131
http://strawberries.ces.ncsu.edu/2014/02/ideal-photograph-of-dead-blossom-for-botrytis-sampling-now-latest-instructions-feb-26-2014/
2014 collection instructions (1)

Fig. 11. Craig is the CES Area Specialized Agent for Alexander County area.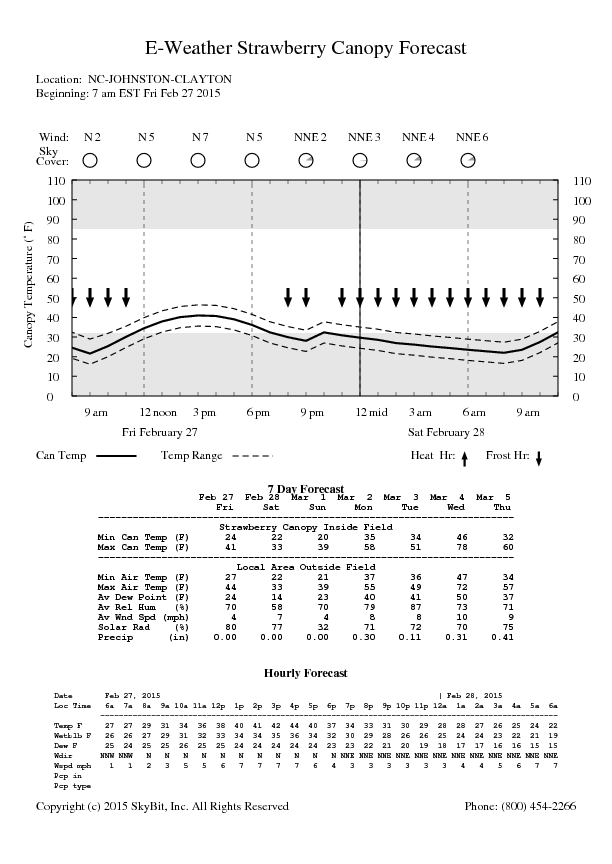 3. Strawberry Weather Roundup (please look for our weekly 30 Day Outlook this Sunday evening for NC, VA, SC and TN)

3a) North Carolina – AWIS NC Feb 27-Mar 6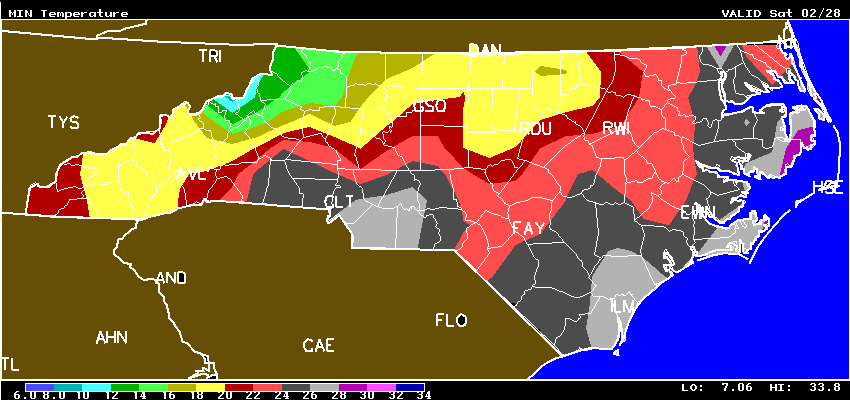 3b) Virginia – AWIS VA Feb 27-Mar 6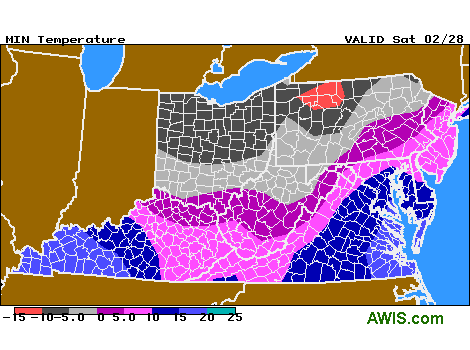 10-DAY DETAILED HOURLY WEATHER FORECASTS FOR VA
3c) South Carolina – AWIS SC Feb 27 – Mar 6
3d) Tennessee – AWIS TN Feb 27 – mar 6
3e) Kentucky – AWIS KY Feb 27 – Mar 6
3f) Maryland – AWIS MD Feb 27 – Mar 6
Have a good weekend!
Barclay Poling
p.s. Congratulations to James 'Jim' Driver, NCSU Research Technician for Dr. Frank Louws,  on his RETIREMENT! Jim has been an amazing research tech who has done a lot in the fumigation research area!