Multi-State AWIS Minimum Temperature Update With Attention to Feb 20-21 (5:30, Friday, 2/13/15)
1. North Carolina
Minimum Temps (note the new numbers for Friday, Feb 20…colder than Thur, Feb 19):  AWIS NC Feb 13-20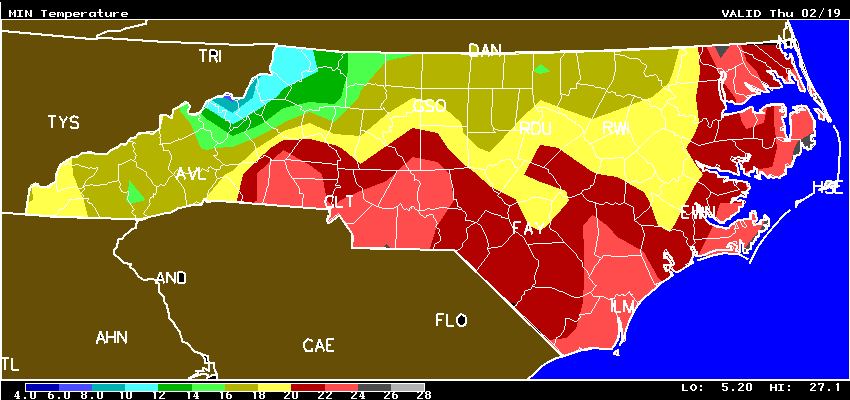 Fig. 1. Minimums for Thursday, Feb. 20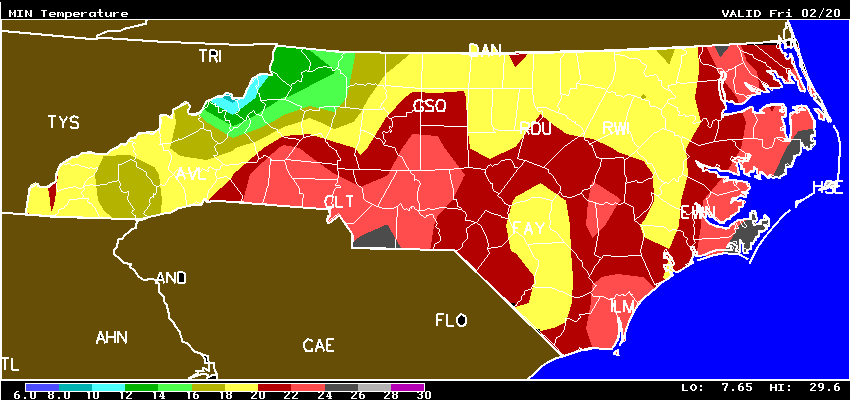 Fig. 2. Minimums for Friday, Feb. 21
Latest SkyBit for Clayton (received at 5:15 pm this evening):  You can see we are definitely NOT dealing with the kind of cold extreme on Monday morning that was in the forecast just a few days ago. That's a great thing! The new wrinkle is this 2nd arctic blast coming Wednesday night, and reaching all the way into the following weekend possibly!
10-DAY DETAILED HOURLY WEATHER FORECASTS 
2. South Carolina
AWIS Minimum Temps: AWIS SC Feb 13-20
10-DAY DETAILED HOURLY WEATHER FORECASTS 
3. Virginia
AWIS Minimum Temps: AWIS VA Feb 13-20
Recent SkyBit for Richmond area (I'm afraid they are still showing a very cold 9 F in canopy for this upcoming Monday morning). NOTE THE 10 F for Thursday!!!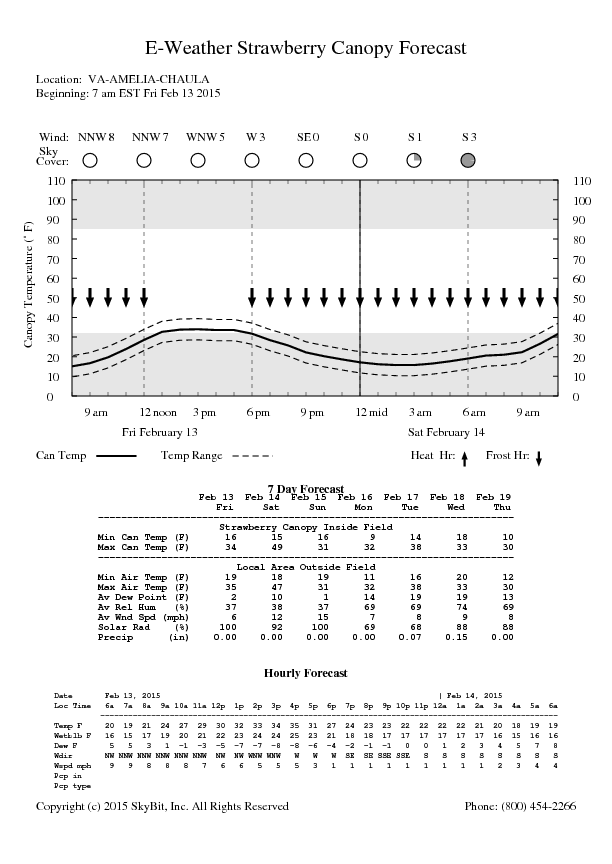 10-DAY DETAILED HOURLY WEATHER FORECASTS 
4. Tennessee: AWIS TN Feb 13-20
10-DAY DETAILED HOURLY WEATHER FORECASTS 

5. Kentucky: AWIS KY Feb 13-20

10-DAY DETAILED HOURLY WEATHER FORECASTS 

6. Maryland: AWIS MD Feb 13-20
COLD OUTLOOK for Mid-Atlantic through March 14th

by  Dr. Jay Schlegal (courtesy of Bob Rouse)

Temperatures through March 14th are expected to continue to average below the long
term average. For the upcoming 30 days, temperatures should be 4-8 degrees F below
normal and some days may be as much as 15-25 degrees below average, especially
this weekend and next week. All in all, the majority of days will have below normal
temperatures with the exception of a few mild days preceding cold frontal passages.
Precipitation amounts should range from about 75 percent of normal well inland to
100 percent of normal along the coastal areas as most storms should pass by offshore
or go to the north of us.
Possible precipitation events for the next two weeks:
February 14th
February 17-18th
February 22-23rd
February 27-28th
The first event should be a snow event from northern Maryland northward. The second
event may be mostly snow with some rain in southeastern most areas. The third event
should happen mainly in southern areas and be in the form of snow. The fourth event
could be a snow event in the north and rain in the south.
"Jay Schlegel" <schlj451@zedxinc.com>
10-DAY DETAILED HOURLY WEATHER FORECASTS for MD

Friends of the Industry:
Millville, NJ: Millville
Wyoming, DE: Dover
Final note: I think I'd rather be going back to Ventura next week than Niagara Falls, Canada!
Barclay
Dr. E. Barclay Poling
Professor Emeritus (Strawberry Plasticulture Researcher)
Department of Horticultural Science
Campus Box 7609, 162A Kilgore Hall
NC State University
Raleigh, NC 27695-7609
Was the information on this page helpful?
This page can also be accessed from:
go.ncsu.edu/readext?340229