Grower Reports on Thursday Feb. 19; Siberian Temperatures for Feb. 20; Va Strawberry School on Tuesday Feb 24 (3pm, 2/19/15)
Find this article at:
go.ncsu.edu/readext?341455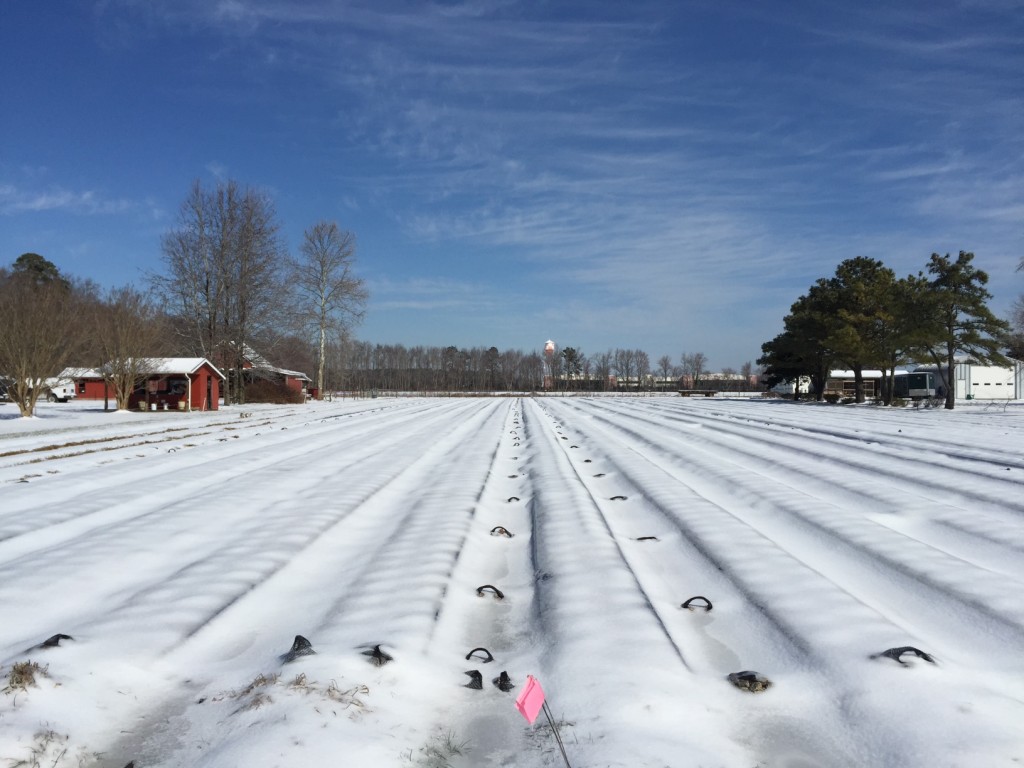 Record lows will be recorded all throughout the Southeast on Thursday night/Friday morning. More detailed state maps and minimum temperature details are provided in this advisory for VA, SC, NC, TN, KY, and MD. This photo was taken yesterday in VA Beach (see Tom Baker under the VA section). Much heavier snow fell on the farm of Danny Van Meter in Clarkson, KY (next photo)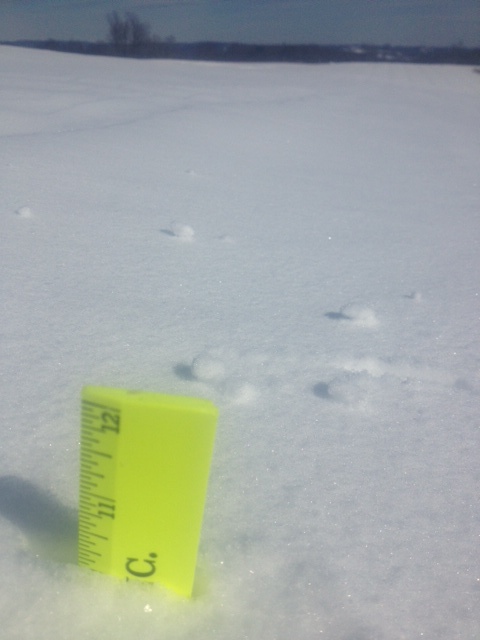 Heavy snow fell on top of the row covers on the Van Meter Farm in In Clarkson KY where it may go to -7 F tonight. They had a -8 F on 2/17. Look at the shocking departures from normal temperatures for this location in the month of February (below). All of this has caused another grower in Central Va to pose the question in a recent email, Spring is coming right?! In KY, I know Danny Van Meter is having a hard time thinking about spring with another WINTER STORM SYSTEM ON THE WAY.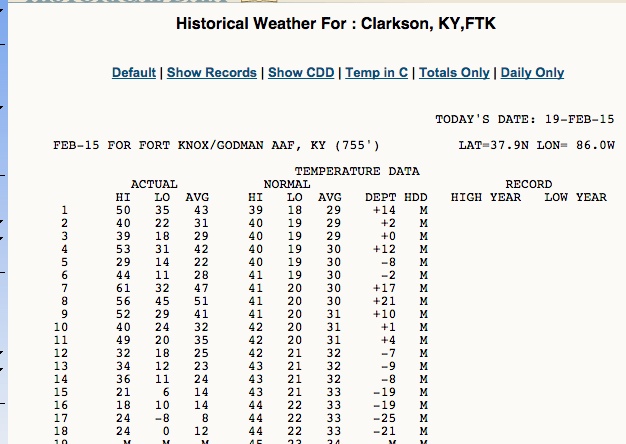 Instant information on Minimum Temperatures for NC, SC, VA, TN, KY and MD
Good afternoon!
I made it in very early this morning from Canada, but very disappointed to see the general weather conditions in NC weren't that much different than Niagara Falls. I have several reports that came in from growers overnight, or this morning:
1. Virginia Minimum Temps:  AWIS VA Feb 19-26

– VA Beach Report … snow cover may have been a real blessing!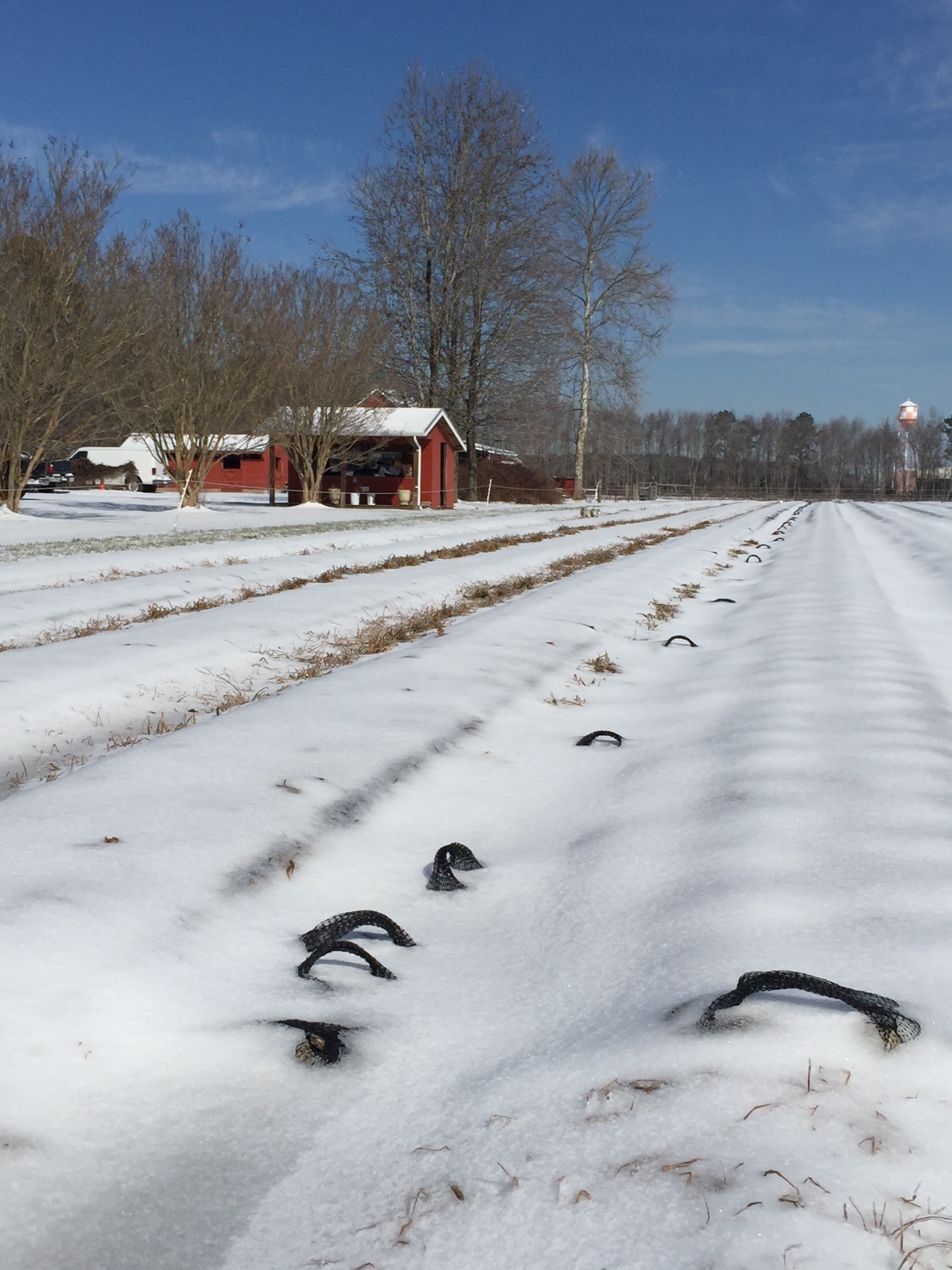 Fig. 1. Brookdale Farm in Pungo, Feb. 18, 2015  (they also have location in Chesapeake)
Morning SkyBit for Chesapeake:
DATE            Feb 19    20    21    22    23    24    25    26    27    28
DAY                Thu   Fri   Sat   Sun   Mon   Tue   Wed   Thu   Fri   Sat
——————————————————————————
MAX AIR TEMP (F)    22    19    45    61    34    33    41    36    45    54
MIN AIR TEMP (F)    12     6     9    45    32    17    23    26    30    34
We "only" went down to 17 this morning.
Also 0.2 to 0.3 inch of rain forecast for Sat night through Sunday.
Tom
Tom & Anne Baker and Amanda McCann
Brookdale Farm
2060 Vaughan Rd, Virginia Beach, VA  23457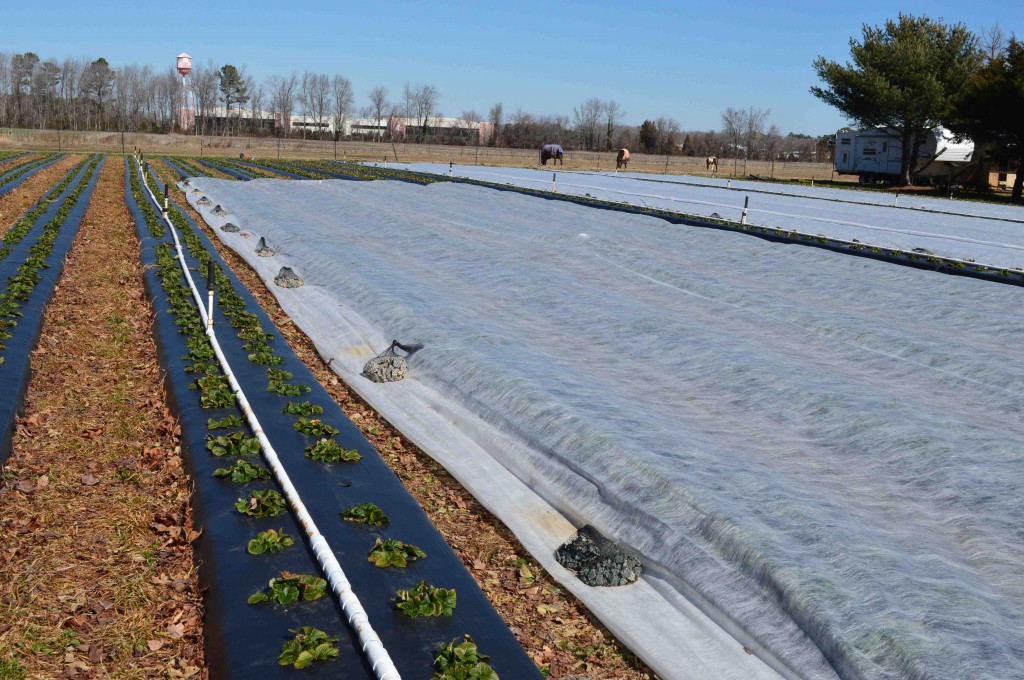 Fig. 2. I just located this photo of the same farm location (Pungo) at this time last year!
Don't forget the Virginia Strawberry School is on Tuesday Feb. 24th next week:  20150213-AGR-EXT-StrawberrySchool2015AgendaFinalDraft
Directions to VA Strawberry School:  directions va school
Field Walk on Monday, Feb. 23: begins 12:30 p.m. and ends 5 p.m. Henley Farm and Vaughan Farm. Contact Jill Wrght, VA Beach, VCE, 757-385-8316 to register for Field Walk and Strawberry School on Tuesday, 2/24/15. A second phone: 757-385-8316. Jill's email:  jwright@vbgov.vom
Editor's note:  I am looking forward to being a part of the afternoon program on Tuesday, and I have been asked to speak on:  Albion Management & My Crystal Ball (it's currently as frozen up as the falls in Niagara, but hoping to get it working by next Tuesday afternoon!)
SkyBit for VA grower in Moseley (near Richmond, 7 a.m., 2/19)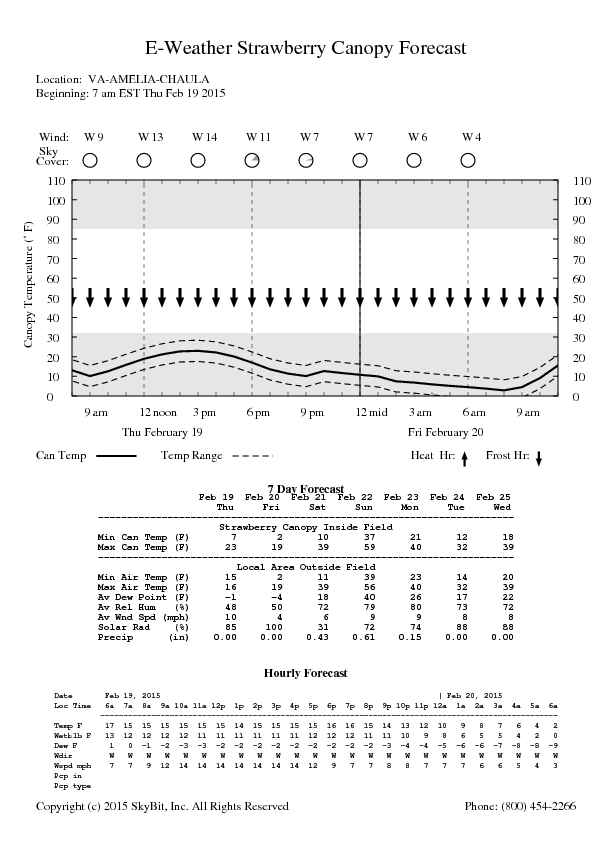 Table 1. Note the low of 2 F in canopy tomorrow morning as well as Dewpoint near -10 (see lower table – hourly forecast, and note a -9 F at 6 a.m.)
AWIS Maps for VA Friday through Sunday (Friday will be the coldest)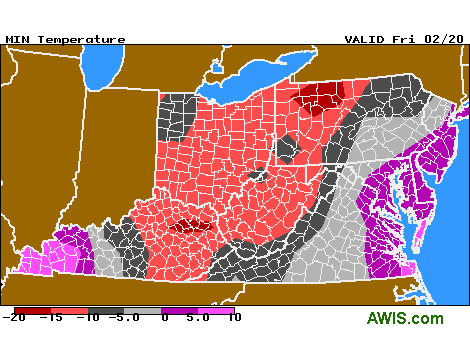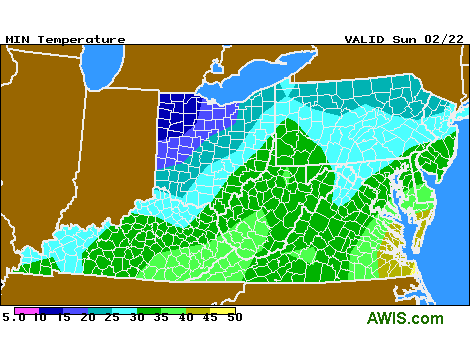 10-DAY DETAILED HOURLY WEATHER FORECASTS 
2. South Carolina Reports – Easley, SC
(7:19 a.m., 2/19)
Hey Dr. Poling,
Just a quick update on the first night of the severe cold.
Skybit was right on the money with our projected low. We were right at the 12 degree mark. The temps under our covers were about 10-11 degrees higher under our 1.5 oz. covers and about 7-8 degrees higher under the 1.25 oz. covers.  Also, I put a couple thermocouples into the top of the crown of a few plants (inserted just inside the emerging foliage/buds) and the temps of these were around 28.
Also, the brief amount of sun and wind on Wednesday was just enough to give us melting of the thin layers of ice and adequate drying of the covers
Our lows for tonight are projected to be about 4 degrees colder at 8 degrees – meaning our plants shouldn't see anything colder than 15 degrees or so under the covers. I feel pretty confident that we should come out of this in pretty good shape.
One other thing of note – we left a couple rows of plants uncovered, and the ice we received a few nights ago (with the low only in the lower 20s) burned the leaves considerably. We had already performed clean up on these plants, so the damage was pretty obvious. I'll send along some pictures later in the day.
Hope the trip is going well. Thanks,
Eric
SC AWIS Minimum Temps: AWIS SC Feb 19-26
10-DAY DETAILED HOURLY WEATHER FORECASTS 
3. North Carolina: AWIS NC Feb 19-26
AWIS Maps for Friday, Saturday and Sunday
Detailed Hourly Reports for these NC Locations:
10-DAY DETAILED HOURLY WEATHER FORECASTS 
My SkyBit for Clayton: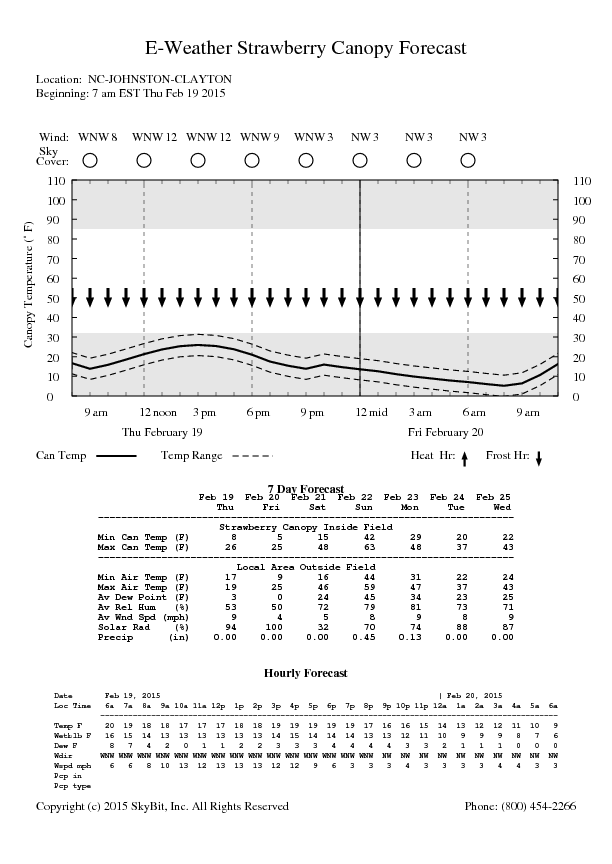 Fig.
4. TN: AWIS TN Feb 19-26
10-DAY DETAILED HOURLY WEATHER FORECASTS 
5. KY: AWIS KY Feb 19-26
10-DAY DETAILED HOURLY WEATHER FORECASTS 
6. MD: AWIS MD Feb 19-26
10-DAY DETAILED HOURLY WEATHER FORECASTS 
Hours below 20 F for these MD locations: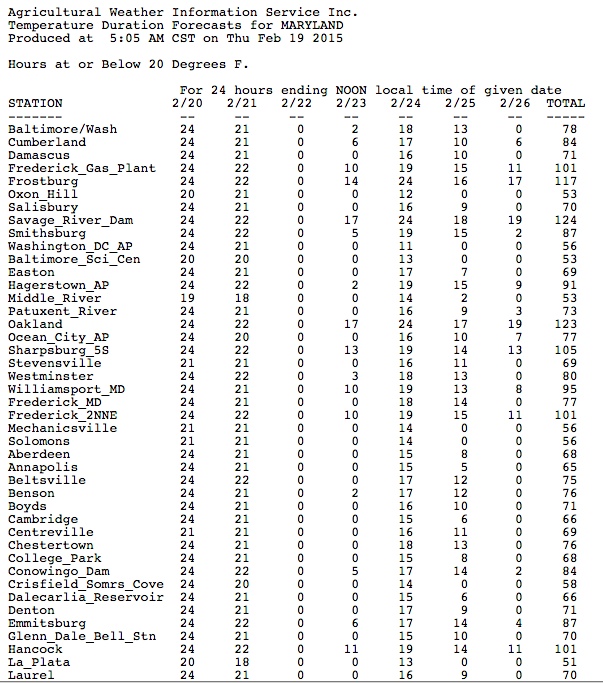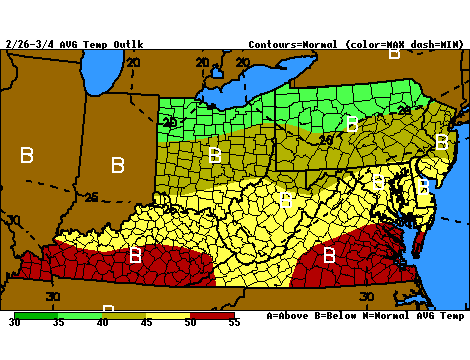 Regional  8-14 day outlook for VA and Mid-Atlantic
Good luck to all of us tonight!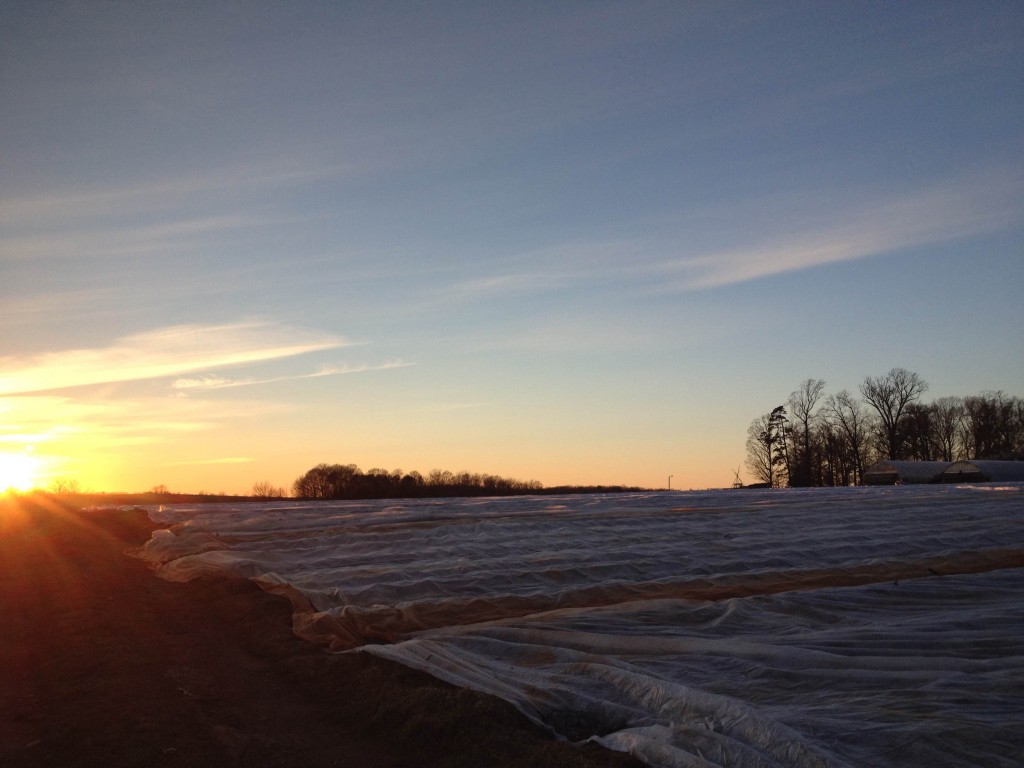 Photo furnished by Lowell Yoder, Rustburg, Va (2/13/15)…He wrote: "I snapped a couple of pictures this evening. The first two are Sweet Charlies.The second two are Chandlers, and the last one Albion. We've been row covered since December. They're a little farther along then maybe they should be due to the row covers and last weekend's warm spell. I'm especially concerned about the high winds (beats the covers to death) and possible snow melting on top of covers next week before more bad cold. We'll try to weather the winds then see where the forecast stands on Monday morning.
Thanks for the updates."
Spring is coming right?!   Lowell Yoder
Editor's note:  Lowell is looking at possibly -4 F tonight!
Just in:  GA grower asked for update, here you go! GA AWIS
Dr. E. Barclay Poling 
Professor Emeritus (Strawberry Plasticulture Researcher)
Department of Horticultural Science
Campus Box 7609, 162A Kilgore Hall
NC State University
Raleigh, NC 27695-7609
"An idealist believes the short run does not count. A cynic believes the long run does not matter. A realist believes that what is done or left undone in the short run determines the long run."
Sidney J. Harris, In: Reclaiming a Lost Heritage – Land-Grant & Other Higher Education Initiatives for the Twenty-first Century