Further Update on Arctic Blast Next Thursday, Feb. 19 (2:20pm, Sunday, 2/15/15)
Good afternoon,
Lots of concerns today about what's ahead for weather this week, but I just had a conversation this early afternoon with a grower in Central VA who lost power last evening to a fierce wind storm (50-60 mph), and this has caused some serious issues for keeping row covers in place! Luckily, most of the covers stayed down except for where the covers tore apart at the seam! <Editor's note: are you seeing a defect in your covers at seam?>
One practice that seems to keep the covers on under severe wind conditions is having rock backs every 4 ft, and not using such wide width covers. The grower who I spoke with just now was able to keep his covers down last night but he will not use widths wider than 30 ft (and, he places rock bags every 4 ft to hold them down on edges).
Hopefully, those of you who had damage to row covers last evening can get them back on today!  The grower I spoke to near Richmond, VA will likely see a low tomorrow morning of 10 F, and then on Thursday morning (2/19) of 5 F, which will easily break the Richmond record of 10 F set in 1979 (that was before plasticulture). Here is his SkyBit for today: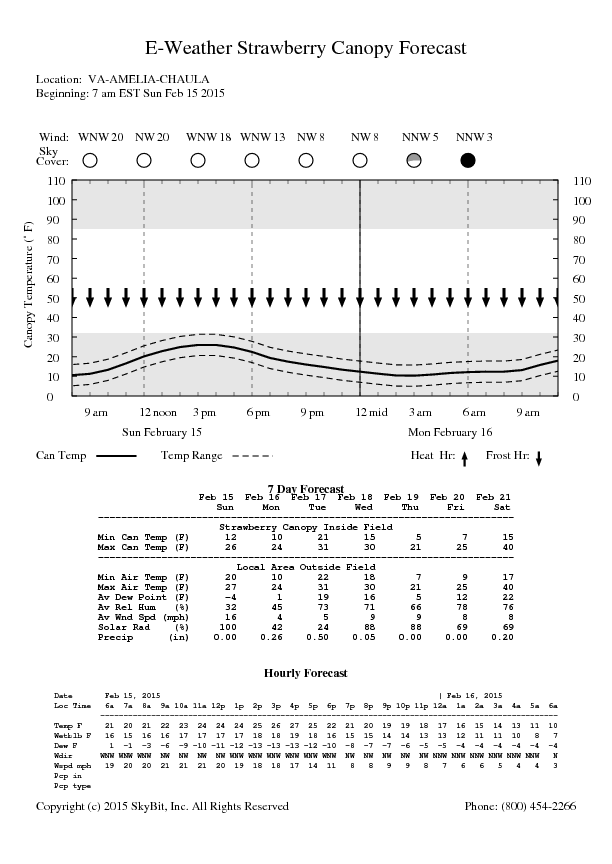 Skybit for location near Richmond – the minimum on Thursday will be 5 F in canopy.
Problem is wind. I just got this note from Tom Baker in VA Beach:
"For us, the big problem with this "event" is the wind. Wind yesterday, WIND!!! last night, WIND today. Walked all the row covers in both fields late Saturday afternoon to replace numerous "flipped off" rock bags and "tighten" quite a few others. Probably handled 70 percent of the rock bags but had the fields in good shape shortly before sunset. The front passed about 10 p.m. last night; winds gusted to 35 mph (WeatherUnderground observations, my guess is it was actually higher?). Now (1:25 p.m.) the temp is about 25 F, our "RealFeel" temp is in single digits, the dewpoint is -5 F, and the wind just keeps on blowing—mostly 10-25 at Chesapeake and 10 to 30 (a lot over 20!) at Pungo (closer to ocean). Have already walked our home (Pungo) field twice today, once about 8:30 a.m., again about 1 p.m. Had to reposition numerous rock bags, some of which had flipped off completely. Amanda is headed to Chesapeake now to fix whatever is "broken" there.I'm starting to envy the Midwest grain farmers who are now enjoying the "southern" part of their corn-beans-Florida rotation!
Tom
Tom & Anne Baker and Amanda McCann
Brookdale Farm
2060 Vaughan Rd, Virginia Beach, VA 234
Editor's note: A "tip" that I picked up from a Canadian who was at the California NASS meeting was that he has found in Ontario that it is easier to keep a 1 or 1.2 oz cover down than a 1.5 oz. He said that winds can really get up under a 1.5 oz cover, but not so much the lighter weight ones.
Going to Canada tomorrow (via Buffalo) And, while we will likely see new record lows recorded this week in the mid-South, I find myself flying up to Buffalo tomorrow for a meeting in Niagara Falls this Tue/Wed where I am not sure the temperature will even get above 0 F? A New Hampshire friend of ours just sent these photos of what it is like up there! I am bringing my heaviest winter coat 'cause they told me "it's colder than cold!" My wife tells me I need my head examined for going to an Ontario Fruit and Veg meeting (in Niagara Falls) in the middle of February!
New records will be set on 2/19:  There is a good chance new record lows will be established across many locations the mid-south on Thursday morning. Row cover protection can help "buffer" your crop against these extremes. If you have access to row covers, please use them!
Not a great time for science experiments! Because no one has done "the experiment to test the lower temperature limits of a Chandler or Camarosa plant in the 3rd week of February," I am not sure about whether you wish to conduct an experiment for science this week? I have been to sites in NC where Chandler and Camarosa plants were subjected to temperatures as low as 3 F in early January (with no cover), and we have observed no injury in these crowns. But, this is not early January, and I don't recall ever seeing temperature forecasts this low in the 2nd half of February? With cold this severe, I can imagine that some of the flower buds in the crown could be killed, or partially injured. Have you ever seen what appears to be a healthy strawberry flower in spring, but it has a small black pimple structure in the middle? These conditions could favor this more subtle winter injury to the very small flower bud structures you can barely see with the naked eye in the crown (at its apex).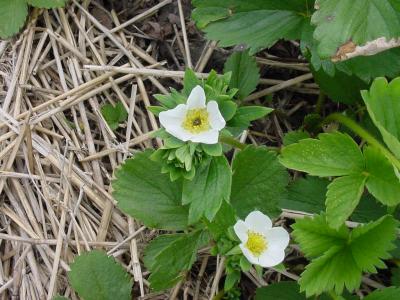 Fig. 2. I just found this photo on the internet from "hortanswers" http://urbanext.illinois.edu/hortanswers/plantdetail.cfm?PlantID=282&PlantTypeID=10, and I would suggest that the injured blossom in this photo was not damaged by a spring frost, but by a cold stress that occurred much earlier in the season!
Communication from NC grower near Tarboro before going to press:
"Good afternoon Dr Poling we had terrible winds last night and all of our covers have been blown off one of which is 10 feet up in a tree. With the winds staying high all day it looks like it will not be possible to get them back on today. These plants are chandler and camarosa and have been covered since 1/16 I am afraid that they are less hardy because of this and I am worried about the possible low of 10 in the morning. I was wondering what your thoughts were on how bad of a situation I am in?"
Reply:  Please check out your SkyBit for today and let me know what they are indicating for your low this Monday and Thursday morning? I am guessing you could be as low as Clayton, which will see 14 F tomorrow and 6 F on Thursday. I would try to get the covers back on by Wed. afternoon and before temperatures really plunge Thursday morning! I am less concerned about tomorrow.

Barclay
In this advisory:
Low temperatures this morning across several states
What to expect tomorrow morning (2/16)
What to expect Thursday morning (2/19)
AWIS Minimum Temp Tables for NC, VA, SC, TN, KY and MD
1. Low temperatures this morning across NC and VA:  I am sharing the overnight lows across NC and VA in these pdf files if you are interested in seeing how cold it got this early morning (this is a new feature of AWIS service)
2. What to expect tomorrow morning (2/16):  Next, these are the critical AWIS minimum temperature maps for our region tomorrow morning:
3. What to expect on Thursday morning?
4. How about further south?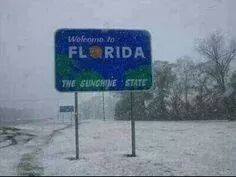 In all seriousness, this could be the minimum temperature map for Georgia and Florida on Thursday morning!
4. AWIS Minimum Temp Tables for NC, VA, SC, TN, KY and MD
NC: Can you believe Durham is now looking at 1 F on 2/19: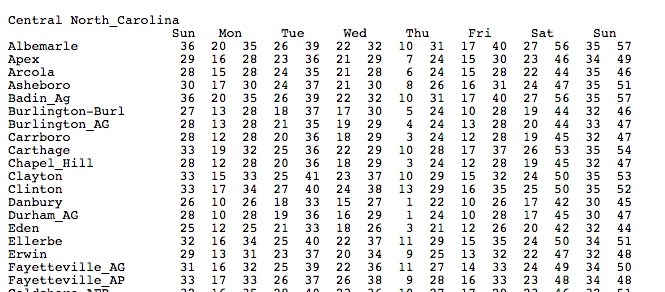 Here is the whole state of NC: AWIS NC Feb 15-22
Here is my Skybit from this morning for Clayton – we now need to think about row cover protection!!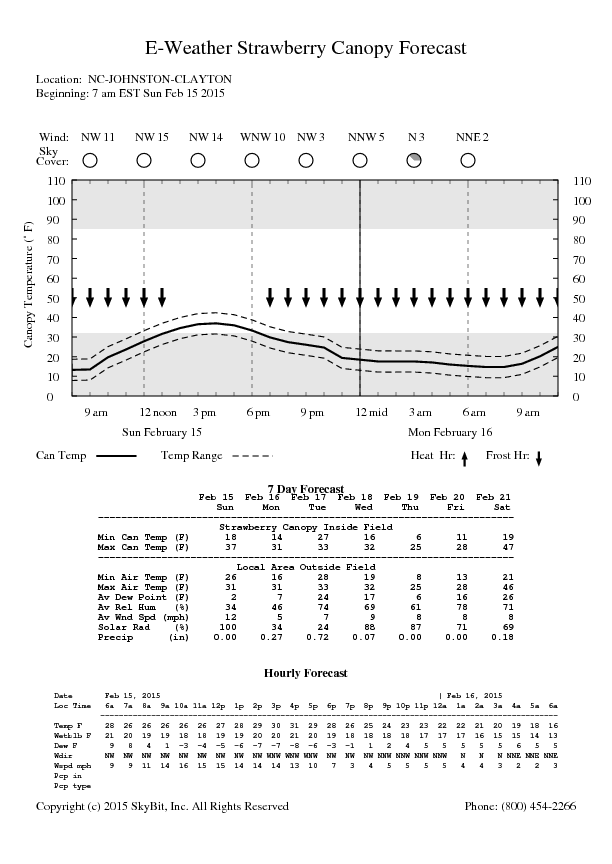 And, more detailed information for these locations in NC:
10-DAY DETAILED HOURLY WEATHER FORECASTS 
VA: Not to be outdone by NC, VA will have multiple locations in western VA below zero on Thursday, 2/19: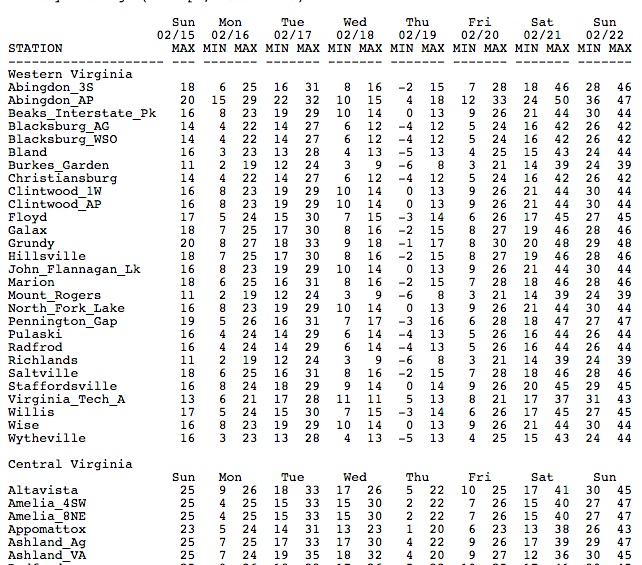 The rest of the state of VA: AWIS VA Feb 15-22
More detailed information for these locations in VA:
10-DAY DETAILED HOURLY WEATHER FORECASTS 
SC: The foothills of SC will see some single digits on Thursday morning: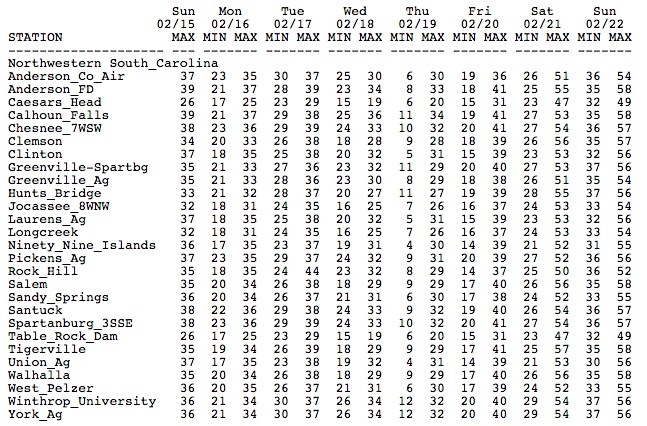 The rest of the state: AWIS SC Feb 15-22
10-DAY DETAILED HOURLY WEATHER FORECASTS 
10-DAY DETAILED HOURLY WEATHER FORECASTS 

10-DAY DETAILED HOURLY WEATHER FORECASTS 
10-DAY DETAILED HOURLY WEATHER FORECASTS 
Wishing us all good luck this week!
Barclay
p.s. The NCSA just did a nice update of their Frost and Freeze Supplier List (for row covers and the like)…give them a call or email:
NC Strawberry Association
info@ncstrawberry.com
919-537-2287
PO Box 2287, Apex, NC 27502
www.ncstrawberry.com
Was the information on this page helpful?
This page can also be accessed from:
go.ncsu.edu/readext?340336