An Interesting Development…temperatures Dropping Into Teens Late Next Week (1/2/15)
Good morning,
As many of you know, I receive a SkyBit advisory for the Clayton Central Crops Research Station each day, and there has been an interesting development since yesterday's advisory — instead of a minimum temperature in the canopy of 28 F next Thursday, Jan. 8 (Table 1), SkyBit is now calling for 19 F at this location. That's almost a 10 degree drop.
Table 1. On 1/1/15 at 7 pm, Skybit was calling for 28 F minimum on Jan. 8
Table 2. Note the January 8th minimum is now 19 F

Asheville, for example, will likely record 17 F at weather shelter height on Jan 8th (see asheville ), and I anticipate that the temperature at the strawberry plant canopy level will be as low as perhaps 12-13 F with such very low dewpoints as anticipated (5 F in the early morning 1.8.15, Asheville).
AWIS state map shows even colder spots in NC mountains next Thursday morning (see Fig. 1).
Fig. 1. At 9:25 am, 1/2/15, AWIS posted this map that shows a light blue zone with 10-12 F minimum in upper mountains, and 14-16 F in Asheville (light green). Note the light green patch in piedmont – that includes Louisburg.
Actually, Louisburg (Franklin Co) could even be colder than Asheveille (Table 3) with a minimum at Weather Shelter (2 m, or 6 1/2 ft) of 13 F. Again, we are looking at some very low dewpoints across the state that night and early morning, so I would estimate that down in the plant canopy the minimum could be closer to 9 F.
Table 3. Minimum Temp for Louisburg could be 13 next Thursday morning.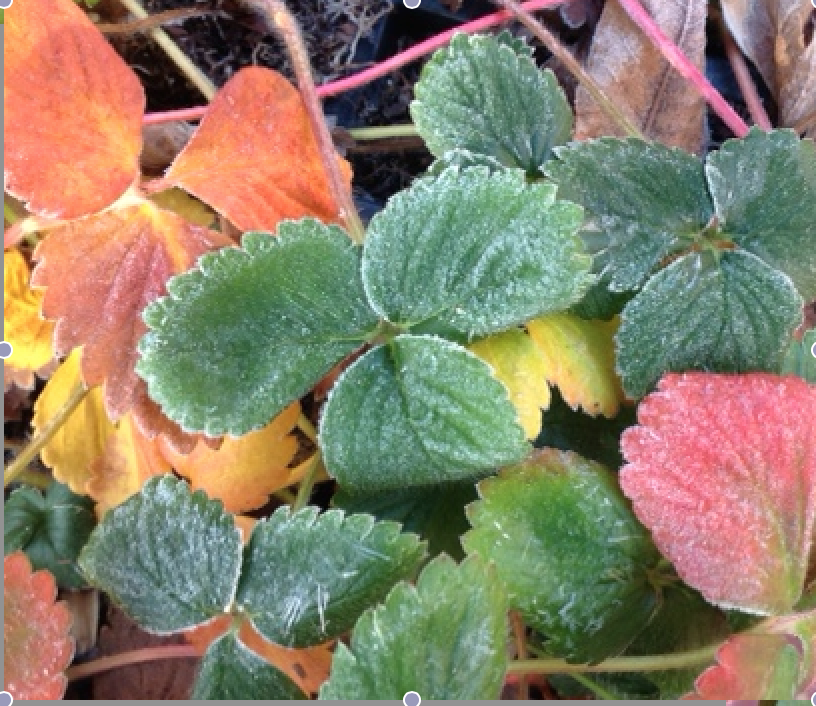 Fig. 2. The strawberry crop has been exposed to many nights of sub-freezing temperatures in late Nov and Dec, and unless temperatures drop into very low teens, or single digits, the crop "should be" sufficiently hardy to handle these temperatures late next week without row covers. However, if you have been "pushing" the crop with row covers in the late fall/early winter, it may be prudent to keep the covers on for another week, or so.
Editor's note: This is the final advisory where the AWIS maps and tables (e.g. Fig. 1 and the Asheville pdf) can be displayed. They ( AWIS ) require renewal of their service by this week. The pledges for this advisory service have only reached $4,900 as of Jan. 1st – a minimum of $10,000 in pledges are needed by next Friday, Jan. 9 for this service to continue. As promised, I will advise folks on different options they may have for weather information in the event this advisory ends on January 10th.
Have a good day!
Dr. E. Barclay Poling
Professor Emeritus (Strawberry Plasticulture Researcher)
Department of Horticultural Science
Campus Box 7609, 162A Kilgore Hall
NC State University
Raleigh, NC 27695-7609
"An idealist believes the short run does not count. A cynic believes the long run does not matter. A realist believes that what is done or left undone in the short run determines the long run."
Sidney J. Harris, In: Reclaiming a Lost Heritage – Land-Grant & Other Higher Education Initiatives for the Twenty-first Century
Was the information on this page helpful?
This page can also be accessed from:
go.ncsu.edu/readext?331472