Two Quick Questions – Need YOUR Response by Friday, Jan. 2nd (Posted Monday, 12/29/14)
Find this article at:
go.ncsu.edu/readext?331223
Good afternoon,
I would appreciate your taking just a moment to respond to these two "time sensitive" questions:
Question 1 – Are you possibly interested in subscribing to the E-Weather Strawberry Canopy Forecast from SkyBit for the 2015 strawberry season? This is farm specific forecast, and is sent to your email address two times each day (see an example of the morning SkyBit for Clayton just below).
What is really unique about this product is its ability to accurately forecast temperatures down in the strawberry canopy (vs. weather shelter height). The more growers who subscribe, the better rate! Last season I was able to offer this service at a cost of just $95 (3 months). Most growers subscribe from mid-Feb through mid-May, but you can pick your 3 month period.
I cannot negotiate a rate for 2015 without first knowing how many growers are possibly interested? So, if you are interested in a 3 month subscription to this SkyBit product, please tell me by this Friday, Jan. 2nd.  (my emails:  strawberrydoc@gmail.com, or, barclay_poling@ncsu.edu).
Just write, "Yes, I am interested in Skybit"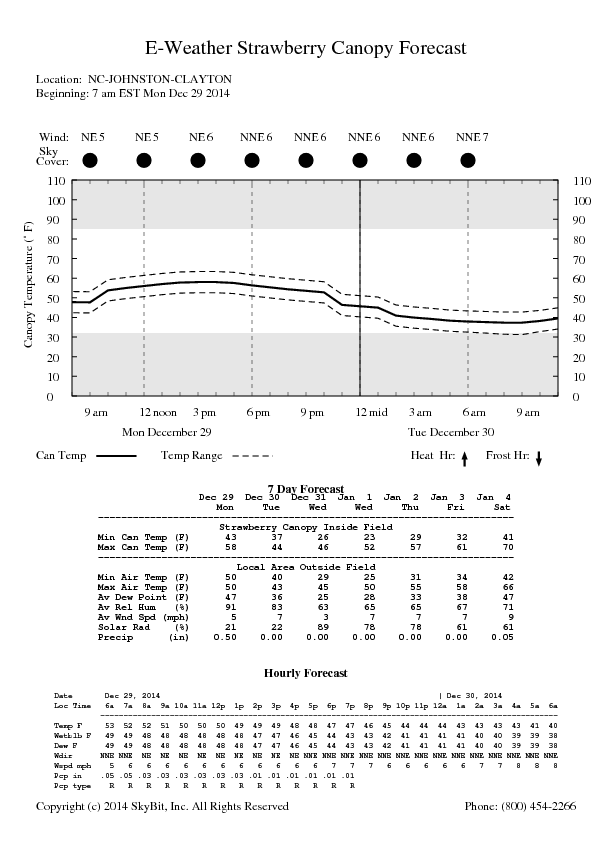 Question 2. The second question  has to do with whether you are possibly interested in making a financial PLEDGE to support continuation of the Strawberry Weather (and Production) Alerts in 2015? This service runs entirely on donations. A recommended grower donation is $250. Industry member pledges ran from $500 to $1500 last year. Enough growers and industry members made pledges last season so that we were able to raise nearly $15,000. Grower Association sponsorships are welcome (and needed). As you may know, I have been "officially" retired from NC State since Dec. 2010. And, I really don't mind doing these advisories a little bit longer, but they will not be done for free.
Now is the time to make your commitment.
If $10,000 can be pledged this week, then I am prepared to go forward with offering these advisories again in 2015. If you wish to support this service, then send me an email  saying,
"Yes, I wish to support the advisories with a pledge  of $__________."
Name: _______________________________
Phone: _______________________________
Email: ________________________________
Please reply by this Friday, Jan. 2nd
Thank you. 
Dr. E. Barclay Poling
Professor Emeritus (Strawberry Plasticulture Researcher)
Department of Horticultural Science
Campus Box 7609, 162A Kilgore Hall
NC State University
Raleigh, NC 27695-7609
"An idealist believes the short run does not count. A cynic believes the long run does not matter. A realist believes that what is done or left undone in the short run determines the long run."
Sidney J. Harris, In: Reclaiming a Lost Heritage – Land-Grant & Other Higher Education Initiatives for the Twenty-first Century