Update on Intrusion of Cold Air From Canada (3:45pm, Sat., Nov. 1, 2014)
Dear Growers, Agents and Agronomists,
Here is an afternoon update on the cold air that is moving into our region. Just a minute ago SkyBit issued a hard freeze warning for Monday morning for the Clayton Central Crops location that is southeast of Raleigh, and NOAA has just issued a FREEZE WATCH. Of course, with local temperatures only dropping into low 30s, or upper 20s, this is really nothing to be concerned about! 
By this time of year we should be having these types of cold events (Fig 1). This type of cold weather promotes plant hardening, and that's a very good thing! However, there may be some areas in Western NC that could experience some freeze injury to the "newest leaves" near the center of the plant from temperatures  below 25 F – go to Figs. 3 and 5, if you are a Western NC grower.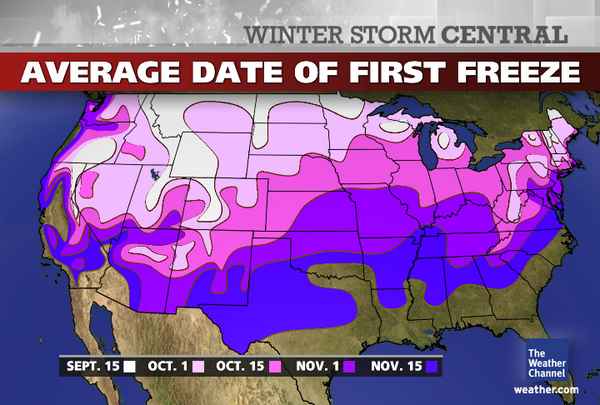 Fig. 1. The Weather Channel's US Map of Average Date of First Freeze. It is normal for WNC to experience freezing temperatures at this time of year.
Southeast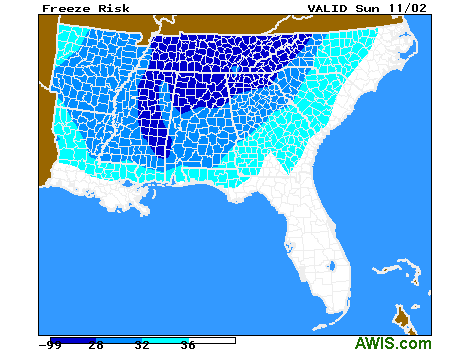 Fig. 1. Freeze risk map for Southeast on Sunday morning. Temperatures below freezing are normal for this time of year in WNC and down into mountain areas of GA.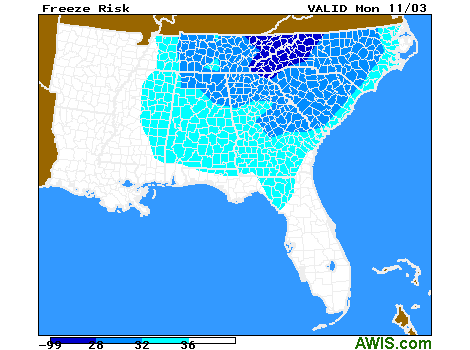 Fig. 2. Freeze risk map for Southeast on Monday morning.
North Carolina
Here is the current minimum temperature map for NC on Sunday morning: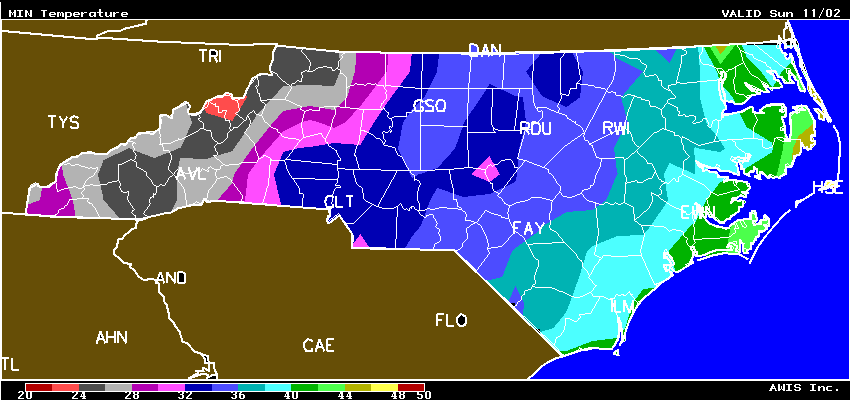 Fig. 3 Current minimum temp map for NC on Sunday morning. There will now likely be temps in mid-20s at higher elevations throughout WNC (dark gray is 24-26 F).
Note some changes in this forecast from yesterday: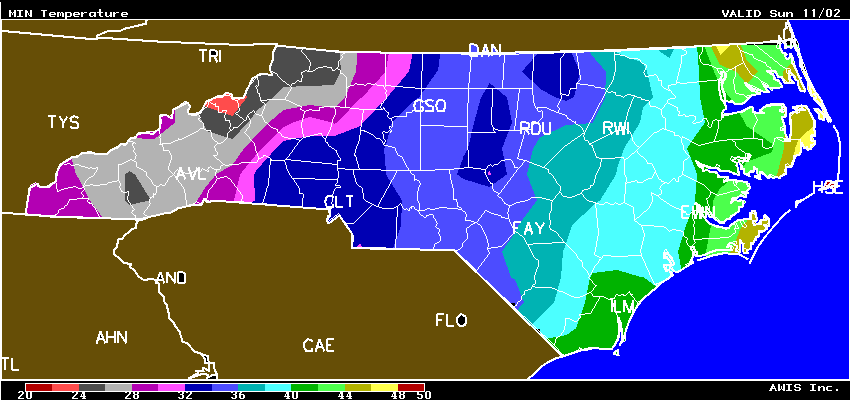 Fig. 4. Minimums in yesterday's forecast for Sunday morning were slightly higher than current forecast (Fig 5).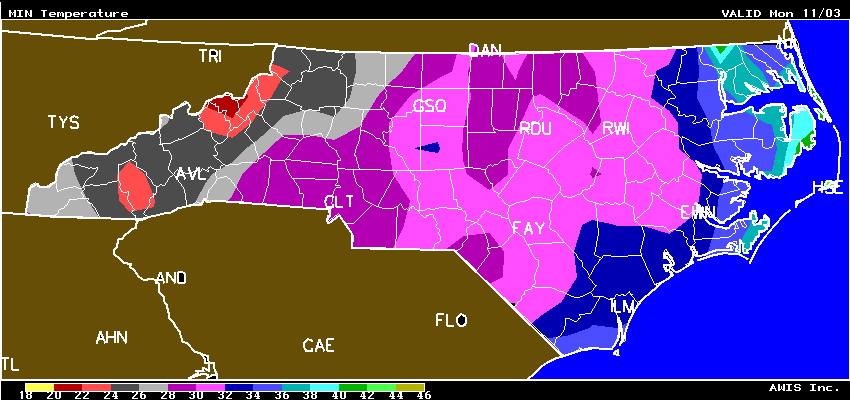 Fig. 5. Minimum temp forecast for NC on Monday morning – note some areas in lower 20s (red). This is cold enough to cause severe burning type injury to newest leaves coming out of crown, and in these colder mountain areas it would be well to protect the crop with a row cover – however, I have seen Chandler plants survive this "burning back" type freeze injury of the newest leaves at this time of year without row cover protection.
Although we have few a matted row growers remaining in our mountains, I do recall from my Cornell graduate student days (mid 70s) that my Pomology professor, Dr. John Tomkins, used to talk about mulching matted row strawberries with straw, and he would even quote from James S. Shoemaker's book, Small Fruit Culture, 4th edit. p. 141:
"The best time to mulch for winter in the North is determined by the temperature and previous exposure of the plants to frost rather than by the calendar. In general, mulch for winter only after the plants have been exposed to several frosts and growth has stopped, but before the plants have been exposed to temperatures lower than 20 F."
With plasticulture production in the Upper Mountains of NC, I would attempt to have a row cover applied fairly soon – you may recall the discussion yesterday about  the yield bump that row covers in Nov can provide Camarosa in areas of Piedmont. But, what I failed to point out is that row covers applied in mid-Nov at the Upper Mountain Research Station in Laurel Springs, have been quite beneficial for  Chandler!
In the graph below,  I would pay particular attention to how row cover application on 15 Nov (for the Sept 19 plant date) was more effective than covers being applied a month later (15-Dec). Applying row covers in mid Jan did nothing!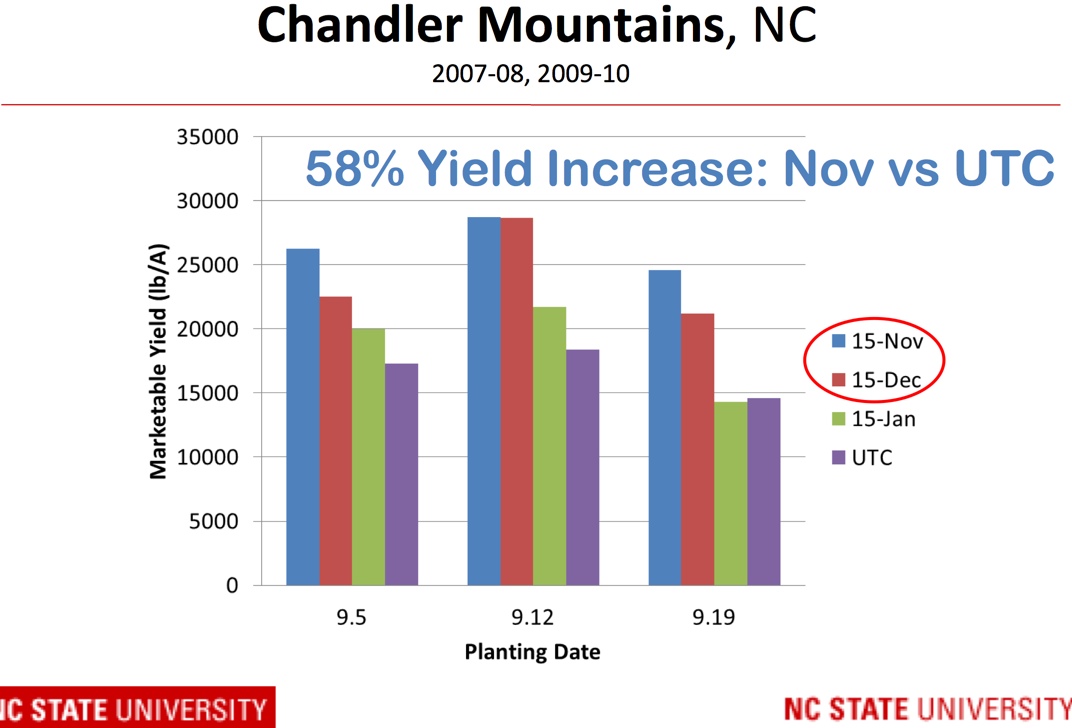 VA,  Mid-Atlantic and Midwest
Fig. 6. The current minimum temp map for VA, Mid-Atlantic and Midwest on Sunday morning.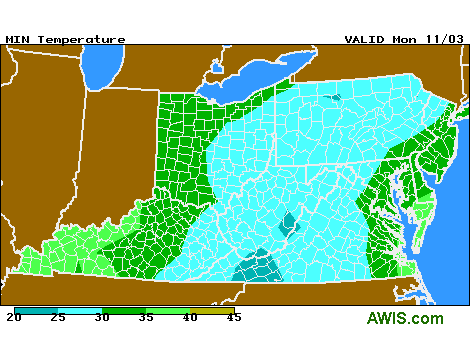 Fig. 7. The current minimum temp map for VA, Mid-Atlantic and Midwest on Monday  morning.
Conclusion:  By this time of year we should be having these types of cold events! This is no big deal. But, if you wish to play it safe in the Upper Mountain regions, I would recommend row application if the forecast is for mid-20s of lower. Research data in previous years has actually demonstrated some yield benefits from applying row covers in mid-Nov vs. mid-Dec. Applying row covers in mid-Jan for a planting made Sept 19 was no different than the control (no cover). The one thing I would keep in mind regarding this particular intrusion of cold air from Canada is that the day-neutral Albion appears to be more cold sensitive in the fall season than either Chandler or Camarosa, and it may be well to cover this variety in areas with minimums of 25 or lower in the near term forecast. Good luck!
Dr. E. Barclay Poling
Professor Emeritus (Strawberry Plasticulture Researcher)
& Interim Exec. Dir., NC Strawberry Assn., Inc.
Department of Horticultural Science
Campus Box 7609, 162A Kilgore Hall
NC State University
Raleigh, NC 27695-7609