Rains by Weekend, But… (1:10pm, 10/9/14)
…that's not enough for "new" strawberry transplants!
1. Dry spell continues:  We are 0.80 inch "behind" on average rainfall for this time in October in Raleigh area. We have another beautiful day on tap today, but there is almost NO chance of a decent shower until "maybe" this weekend:  only 40% Sat, 40% Sun and Mon 30%. I was out visiting farms in Greensboro area last Friday, and some locations have been extremely dry all summer – contrary to many growing areas where it rained and rained all through Sept. But, it is safe to say that most areas have been very dry since planting.
With strawberries, unlike some agronomic crops (e.g. tobacco), we have zero flexibility in regard to:
a) CRITICAL NECESSITY of moist beds at planting
b) Lots and lots of irrigation IMMEDIATELY FOLLOWING TRANSPLANTING.
2. Disaster strikes!  Yet, I cannot tell you how many questions I have gotten this week from new growers who are asking questions like this one:
"We are raising 1 acre on plastic. I have run into some water problems and have had 6000 gallons of water hauled in that I have ran through the drip tape. How hardy are these plants without good water, we are hoping for rain. The wind is killing us also. The plants stand up pretty good at night but now at 3:00 in the afternoon with full sun and high winds they are wilted over on the plastic pretty bad. What can we do to further prevent any loss? I do not have over head irrigation, we plan to use row covers for frost protection and I knew I didn't have the water to support over head."

I am afraid that there may be no way to really recover from this disastrous situation. And, in talking about this situation with Michael Beal, veteran grower and former Pres. NCSA, he commented on how he "preaches" to all his new growers how critical management of this crop is on the frontside! He said, "Don't look for any miracles next spring if you don't get the plugs growing off good after you transplant."  One of the real problems he sees is with the black plastic itself. He said, "You take a day like yesterday when it hit 87 F (air), there is no telling how hot that plastic got."   He likes the overhead irrigation the first 2-3 days on plugs to simply help cool things down! Michael also advises, "Run the drip hard from day 4-10 (he will sometimes run drip up to 3 hours/day for plugs if it is sunny, warm and windy).
In speaking with Gregg Gordon last evening (President Aarons Creek, Buffalo Jct., VA), he commented on how very strange the weather has been over the last week or so, and he was especially concerned with warmer temps and sustained winds. These are conditions under which you really must "run the drip hard," as Michael Beal says!
3. Too much watering at transplanting?  Is there anything such as too much watering following transplanting? I really don't think so. One year we had an experiment comparing fresh dugs vs. plugs vs. cutoffs, and the way it worked out, the plugs got the same non-stop overhead irrigation regime as the plugs for the first 5 days (9 a.m. – 6 p.m.) – it was one of the nicest plug crops we ever grew at Clayton Central Crops. I remember that  In just 24 hours Icould see new feeder rootlets breaking from the root-ball!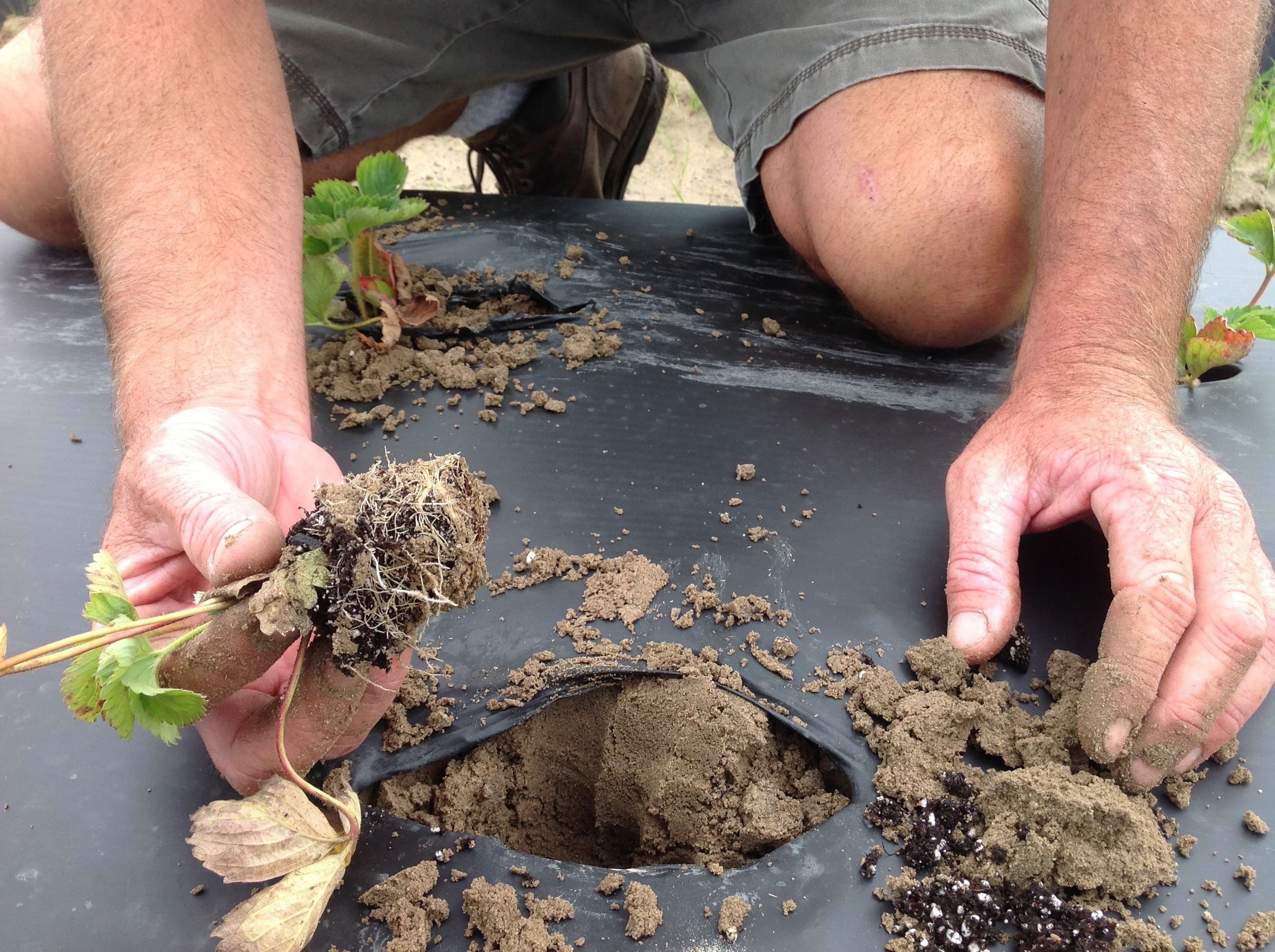 New feeder rootlets breaking from root-ball – this was Day 3 on a farm in Willow Springs.
4. NCSU literature is very clear on subject of transplant watering. In all of our literature over the years, it is emphasized how crucial watering is in the first 10 to 12 days following transplanting. In the text below you can see the major emphasis being placed on IRRIGATING: https://strawberries.ces.ncsu.edu/strawberries-production-planting/
Transplanting Plugs. The ideal age of the plug for field transplanting is four weeks. Plugs held for six weeks in the trays are not as desirable and may have a slower initial growth rate in the field following transplanting. Plug plants pose less serious problems than freshly dugs for field transplanting. Pot-mulch planters or vegetable water-wheels can be used to mechanically transplant and water strawberry plugs. Careful size-grading of tip plants will produce more uniform plugs for efficient machine transplanting.
Depth. Do not "bury" the growing point of the plug plant by setting too deeply. Plug plants are not very deep; the rootballs are only 2¼-inches in depth for 50-cell trays. The planting hole should not be quite as deep as the plug rootball. A 2-inch hole is recommended for a 2¼- to 2½-inch rootball. Press the plug into the hole so that the top of the rootball is about even with the soil surface. Even if you are mechanically setting plugs with a water wheel, it is a good idea to have one or two workers following the transplanter to brush a light layer of soil around the top of the plug's rootball without covering the growing point. This soil layer is helpful in keeping the plug moisture from "wicking out." Without this slight soil layer, moisture will be wicked out of the exposed rooting media very rapidly on sunny, windy days.
Starter Fertilization. Tray-grown transplants that have been under a plug propagation nutritional program do not require a starter solution at transplanting. A typical feeding program for plug transplants while they are still in the trays is to apply 1 pound of 20-20-20 per 100 gallons of water (in weeks three and four) before transplanting. This supplies roughly the equivalent of 240 parts per million (ppm) nitrogen.
Irrigation. A few hours of overhead sprinkler irrigation immediately following transplanting of plugs is recommended. A number of commercial growers in North Carolina use light overhead sprinkling (1/10-inch per hour) for the first, second and possibly third day following transplanting for approximately 5 hours, 3 hours and 2 hours per day, respectively.
Establishing Fresh Dugs. The establishment procedure for highly perishable freshly dug transplants depends on intense overhead sprinkling for one to two weeks, depending on weather and plant condition. Fresh dugs exposed to cooler temperatures or chilling in the nursery (or both) will require less time for establishment than fresh dugs produced in warmer climates.
Irrigating. Start overhead irrigation as soon as plants are set-no more than 30 to 45 minutes should elapse. These plants will require irrigation varying from 7 to 14 days after transplanting. Irrigation for the first several days usually begins no later than 9 a.m. and will run continuously until 5:30 p.m. Each morning, start irrigation when plants show moderate wilt, and continue to irrigate until the hot part of the day has passed. After several days, irrigation can be initiated a little later in the morning and can be discontinued earlier in the afternoon. The primary purpose of these irrigations is to prevent foliage loss until the root system can develop and absorb sufficient moisture to sustain the plant. Plants should have three or more fully green leaves remaining at the end of the establishment period. Only a relatively small volume of water is required for mist cooling. Growers at N.C. State have been successfully using 1/10-inch per hour.
 5. Sad start to 2015 crop for several new growers:   We have been unlucky with not getting any good, soaking kinds of rains after planting this fall (last year we got lucky and very little supplemental irrigation was required). Sadly, the situation with the new grower mentioned above (No. 2) was actually repeated by several other new growers this past week. I rank good irrigation management of new transplants right up there with importance of making a good bed, planting on time and having healthy transplants. Obviously, irrigation of new transplants is something we better start talking about a lot more  in our grower education meetings.  In this regard, I am pleased to share that Michael Beal has agreed this morning to lead off the "Getting Started in Plasticulture Workshop" at Expo (Nov. 17, 9 a.m.-12:30 p.m.). I strongly advise anyone who is even just thinking about growing strawberries in the plasticulture system, to sign up for that workshop. Michael has a unique style for conveying crucial ideas in strawberry plasticulure growing, like his comment to me this morning, "You can't expect a Cadillac type outcome (with this crop) if you start with a horse and buggy (low) investment strategy."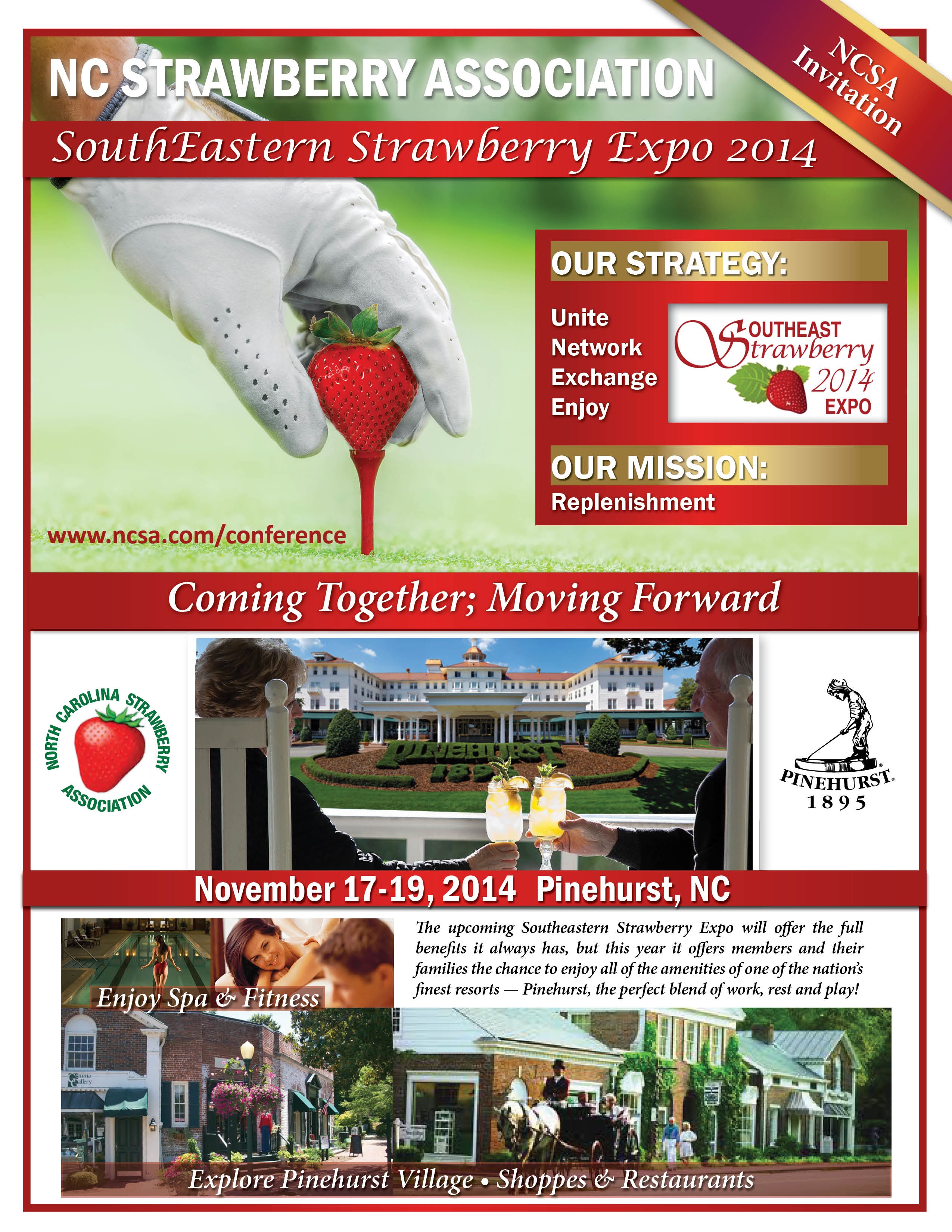 Expo Program: WorkingAgenda10_9_14
Expo Registration: StraOctober2014
Conclusion – not having adequate irrigation resources in the event of a dry fall, is part of a horse and buggy approach. You won't ever hear me, or Michael Beal, advocate a let's try to get lucky with the weather approach to strawberry plug transplant establishment. With a new strawberry crop it is essential to have a reliable water source that allows you to irrigate each and every day during dry weather that may follow planting.
Dr. E. Barclay Poling
Professor Emeritus (Strawberry Plasticulture Researcher)
& Interim Exec. Dir., NC Strawberry Assn., Inc.
Department of Horticultural Science
Campus Box 7609, 162A Kilgore Hall
NC State University
Raleigh, NC 27695-7609
"When everyone is thinking the  same…  someone isn't   thinking …."  —  George S  Patton
"Moral courage is the most valuable and usually the most absent characteristic in men."
General George S. Patton.