Grower Updates Today (10/14/14)
Good evening!
Register before Nov. 10 for Southeast Strawberry Expo (Nov. 17-19)
I was hoping to get this posted this by early afternoon, but I have been working most of today with the Expo planning staff on the big conference coming up in Pinehurst that is now a little more than a month away. We are very excited to now have nearly 150 people registered, and more than 1/2 of these folks will be on 11/17 Sandhills Farm Tour. As a little heads up, you may wish to try to register before Nov. 10 and avoid the late registration charge of $50 – here is a registration form: Expo Registration Forms – updated 10-6-2014
Also, we reserved 218 rooms at Pinehurst Resort, and as of yesterday we sold 220! The hotel tells us they have more rooms left, but I would not put off making your room reservation too much longer.Please proceed ahead with making you hotel reservation at 1-855-860-6613 (Booking ID #:44010). Hotel reservations must be completed before Friday, October 24th
If you have any question about the conference, please contact: Kristy Phillips, Executive Secretary, 919/537-2287 or info@ncstrawberry.com.
Rainy conditions today, tomorrow
We are experiencing some rainfall activity in Raleigh area and may see up to 2 inches Oct 14-15. That is good news if you are already planted, but could be trouble if you are still trying to plant! In the Franklin/Wake County area it is normal to be planted by no later than perhaps Oct 6-8, but things are definitely running later this year due to rainy conditions in early Sept. that caused some pretty serious delays in fumigation and planting.
Actually, a number of producers are "just now" receiving Chandler cut-off plants from CA (this variety is generally not available until about now in mid-October). In case field conditions do "turn real muddy" it is still possible to go ahead transplant these cutoff plants with a hand-pulled rig like the one shown below for marking the holes in the plastic (Fig. 1).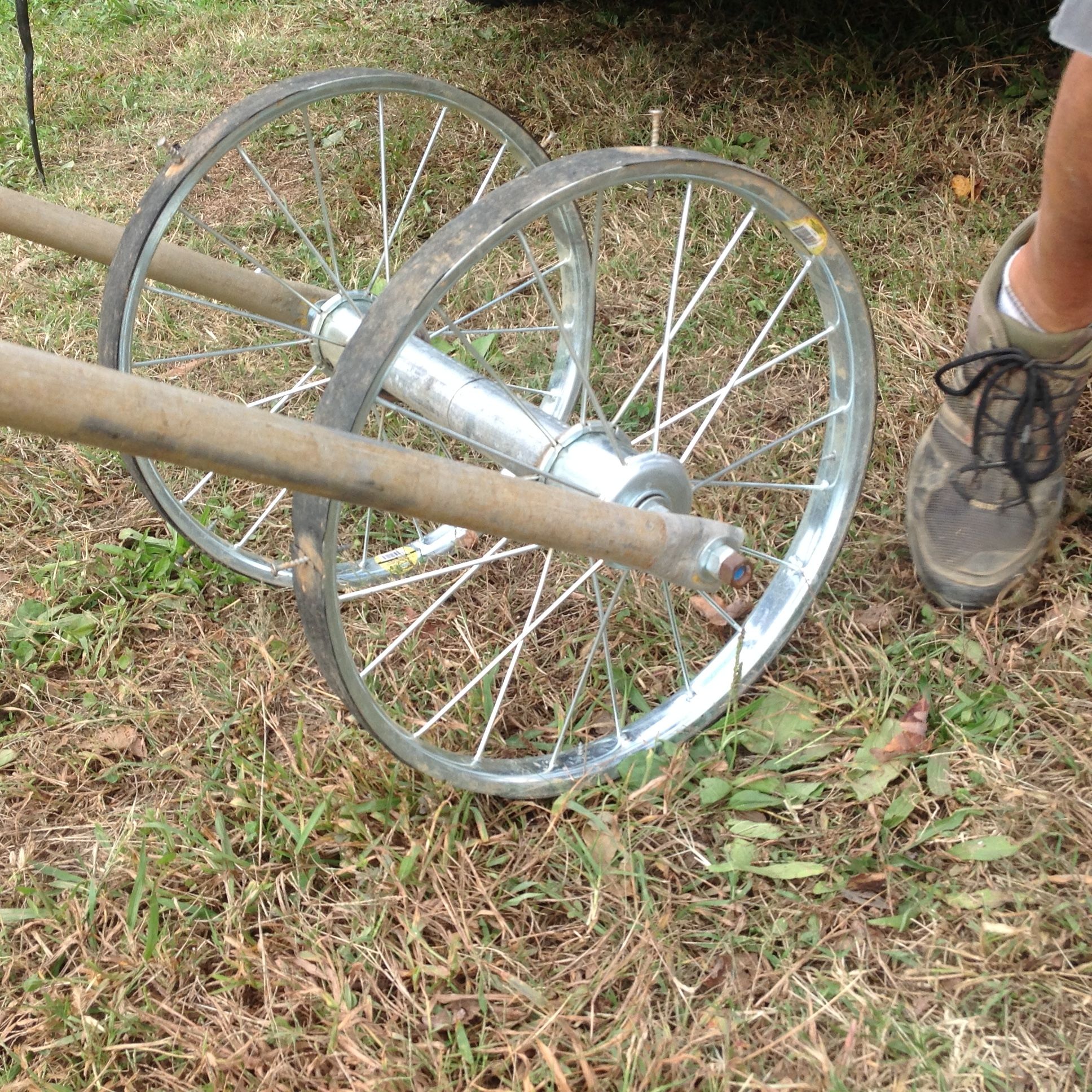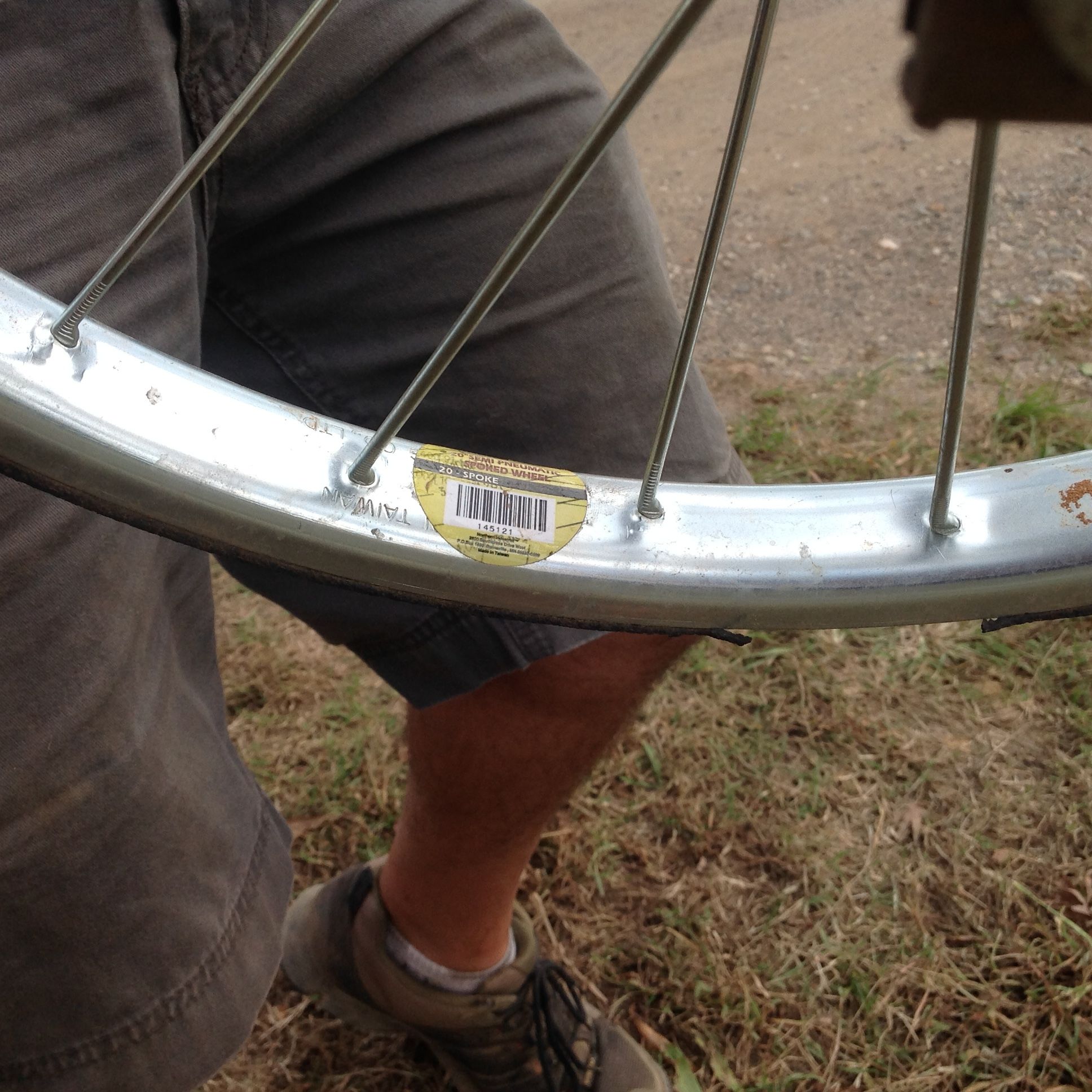 Fig. 1a and 1b. Two row "bicycle wheel" that is very lightweight and can be pulled through field by one person to mark holes for transplanting. A device such as is ideal for marking plant holes when conditions are too wet for normal field equipment. It can be pulled through the field by one person.
Other tools for setting cutoffs, or plugs:
Fig. 2. This same hand tool that is traditionally used for setting fresh dug plants (by hand) is ideal for setting cutoffs-the tool on left is about the right length for cutoffs. The ones on right are sort of "overkill" and remind me of a cartoon I saw in Montana this summer about needing a bigger dog (Fig. 3). Honestly, I don't think you will need a 14-15 inch tool for planting cut-offs with roots of maybe 8 inches in length (Fig. 4).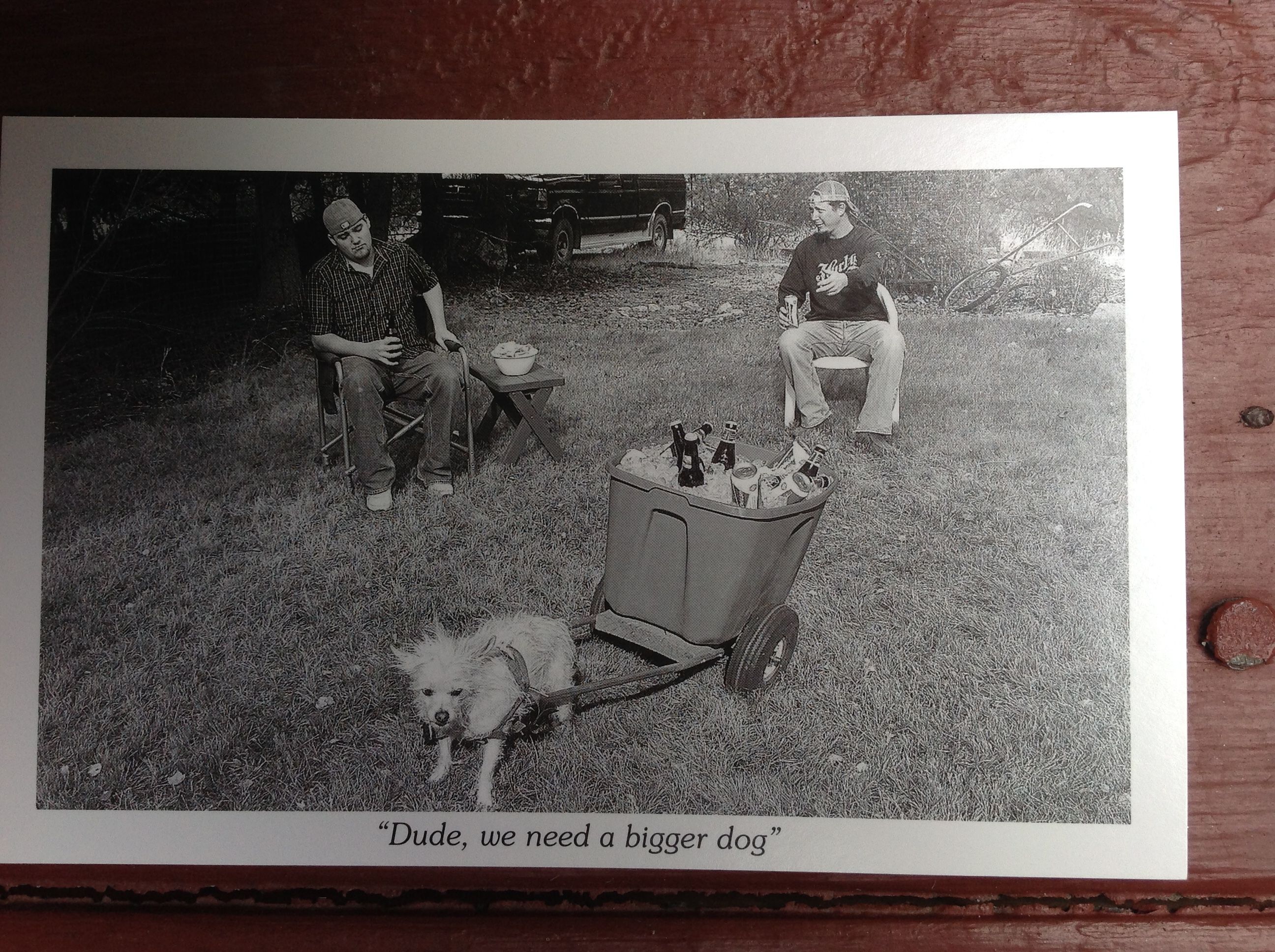 Fig. 3. Montana humor.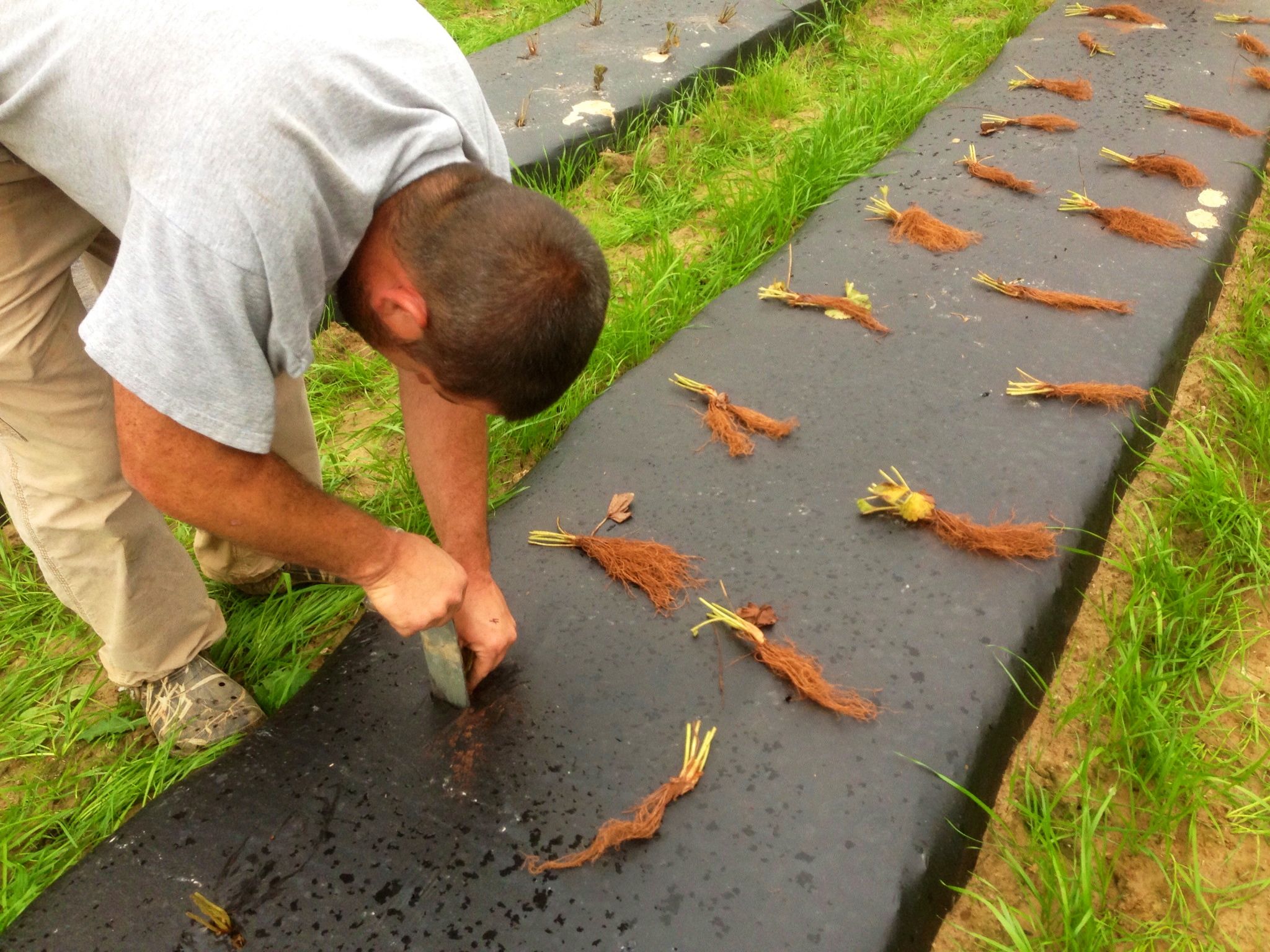 Fig. 4. Typical cutoffs with roots trimmed to about 6 inches
Is it time to cut runners on Albion?
I received this photo from Lee Berry this afternoon. These are Albion plugs conditioned in a high elevation location in WNC this summer, and set 9/13/14 in Sandhills (Ellerbe, NC). He seemed surprised to see this many runners forming a month or so after setting. My response to Lee will be "Welcome to the World of Albion."  It loves to runner in conditions like we are having now (70s and 80s in day), and it will continue to runner into early Nov. Since Lee is trying to produce some berries from these plants (this fall), I would recommend removing the runners in another week or so. Furthermore, if you are growing Albion in a more conventional way this fall (e.g. setting Albion plugs in late Sept), you may still wish to do some runner removal in late Oct/early Nov. The other thing to be concerned about with Albion is it's high susceptibility to freeze injure in the fall compared to Chandler or Camarosa. A low of 23 F in late October can really set Albion back! Row covers are necessary to protect this variety against a sudden freeze event.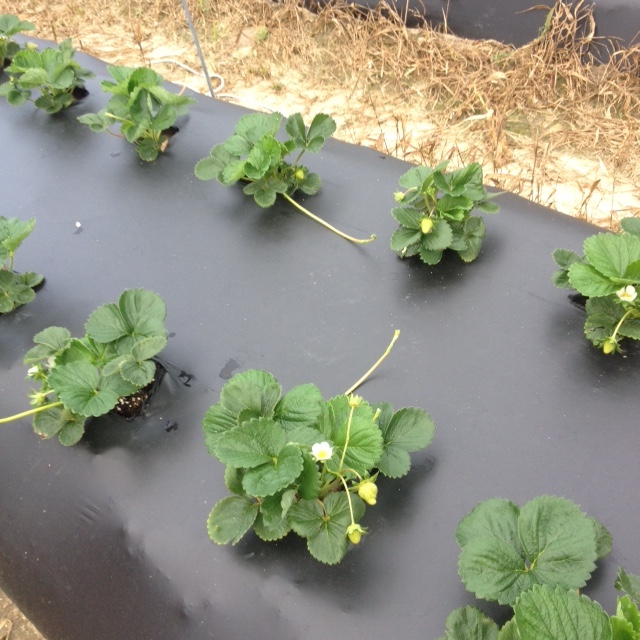 Fig. 5. Albion plugs set 9/13/14 and how they look one month later in Sandhills. This particular planting will be featured on Farm Tour at Expo on 11/17/14.
Some questions about what virus infected plants may look like?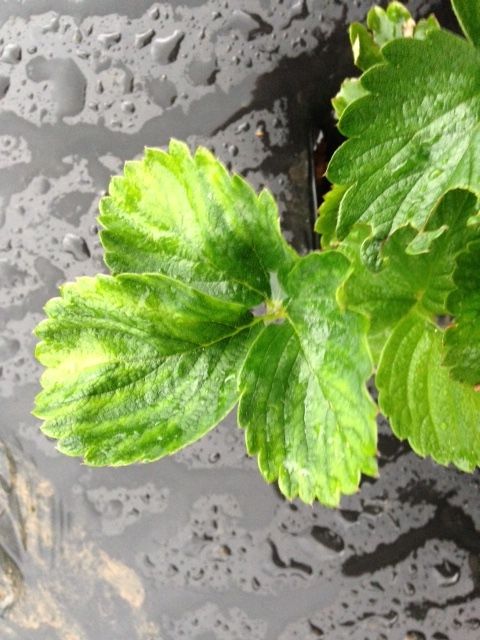 Fig. 6. I received this photo today from a producer who was concerned about the potential of virus in this plant. He ruled out any herbicide type injury, but wasn't sure about the possibility of a fertility issue?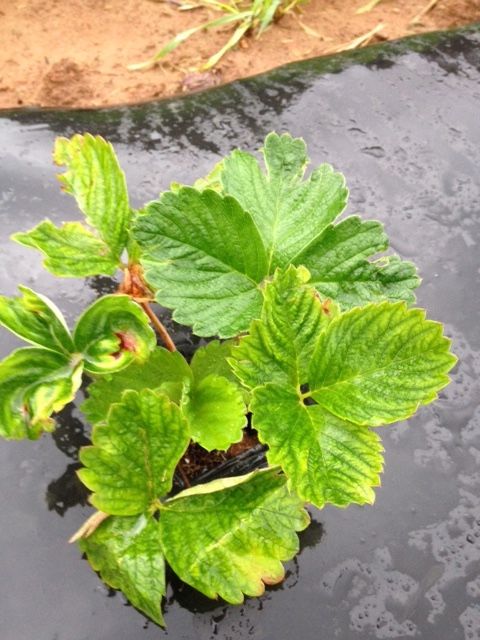 Fig. 7. Another plant photographed today by same producer.
In a follow-up email the grower who sent be these 2 photos wrote:
"I just got in from looking at more of the field and feel a lot more optimistic. I really feel like it may be a bit of a nutritional issue, and like you said, some mild shock (from transplanting – I shared that a number of years ago I did a trial in FL with fresh dug plants and we were amazed with how many odd looking plant symptoms we observed in a block where the grower delayed running his overhead irrigation on the fresh dugs – where he got the water running quickly, we saw no symptoms)."
The grower continued, "Matter of fact, the leaves that appear most effected are the older leaves that were present at transplanting. The symptoms are not wide spread although there are plants showing these characteristics spread out over a wide area. The plants as a whole look very good and are growing very strongly. I picked a few plants that showed symptoms and dug them up. Their roots look good and have grown to a better than expected depth. I tried to pull up a few plants thinking they may just pop up out of the ground, but they actually required a pretty good effort even with the saturated ground. I have flagged a number of plants to keep an eye on over the next few days/weeks and track their progress."
So, we'll keep monitoring this situation. I thought growers might be interested in seeing how a planting that really was infected with SMYEV and SMoV looked at this time of year a few years ago. The first photo was taken October 15, 2012.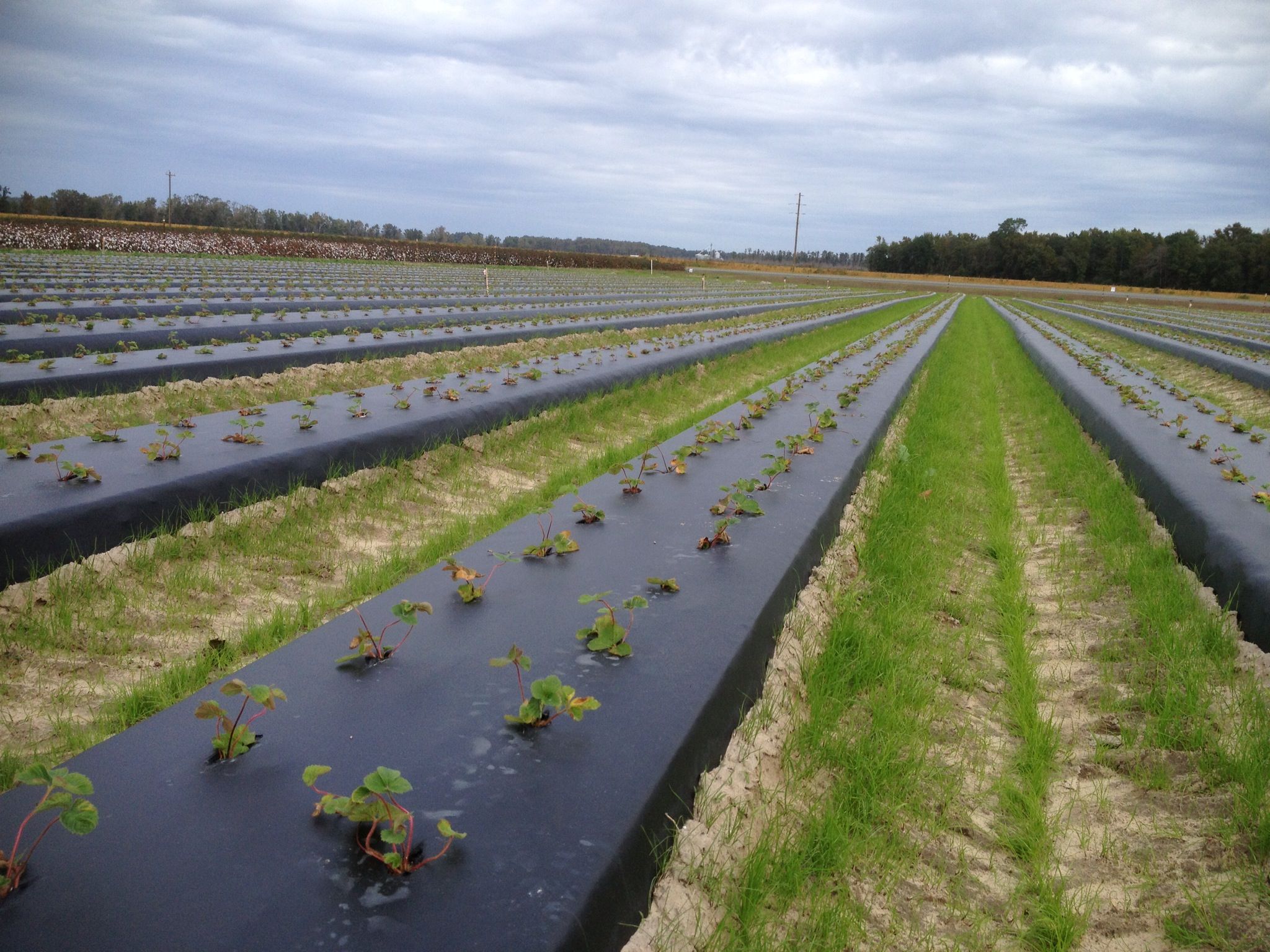 Fig. 8. A NC planting that was virus infected on 10/15/12 (near Tarboro).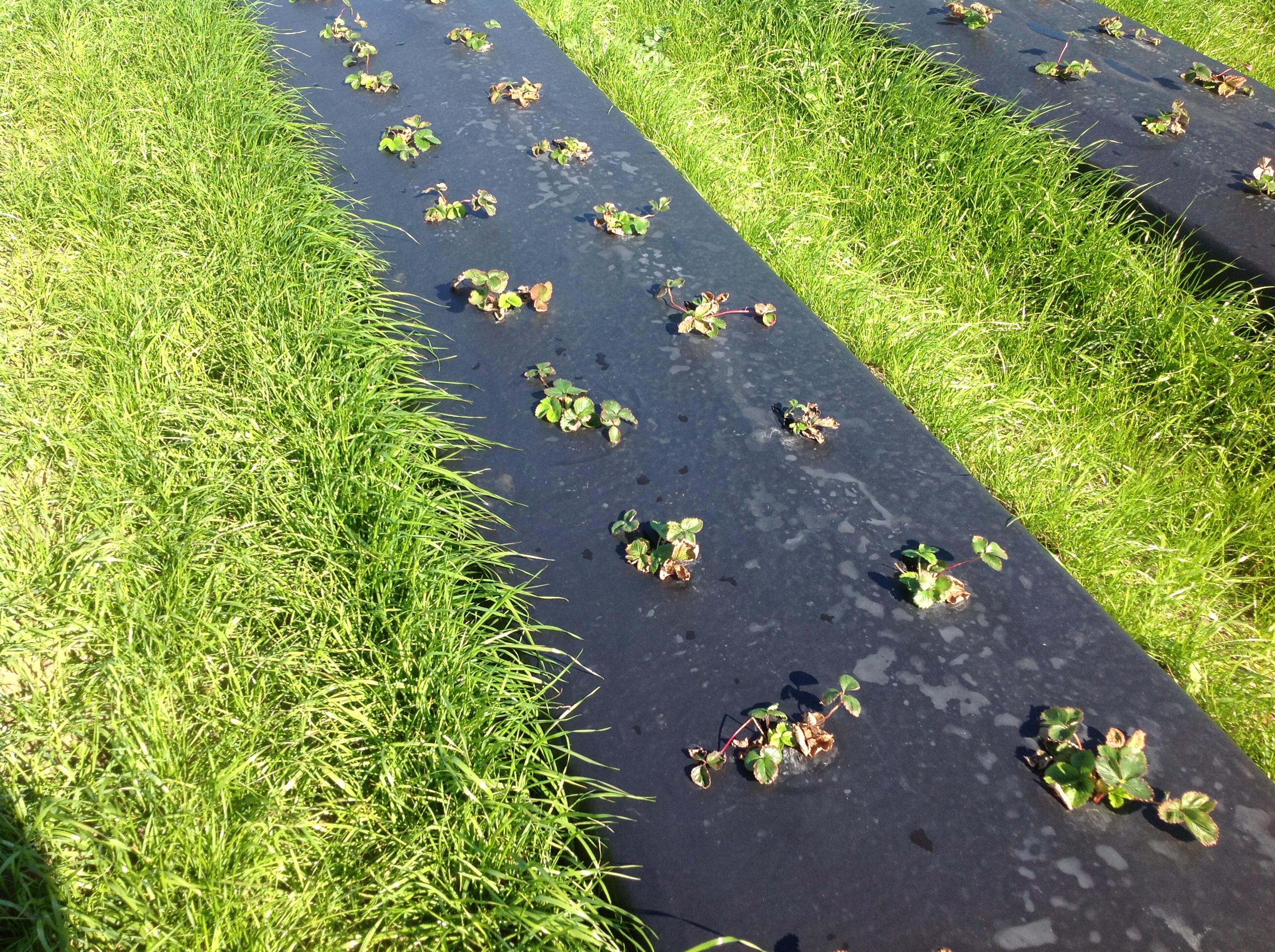 Fig. 9. The same virus infected field on 11.8.12 – note the further decline in plants since 10.15.12 photo. For a long time we suspected salt injury in this planting, but it was later verified it was a virus complex (SMYEV +SMoV).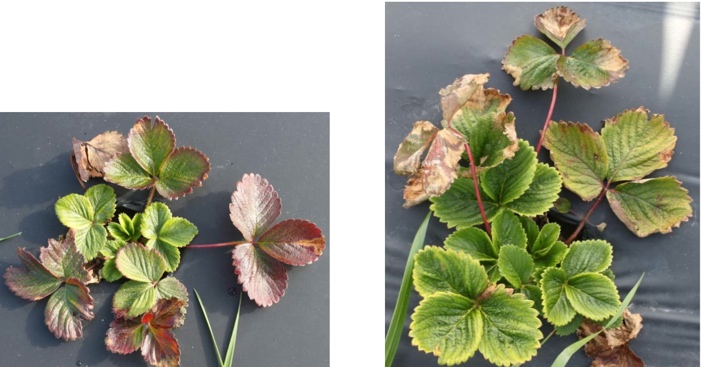 Fig. 10a and 10b. On Dec 19, 2012, Dr. Chuck Johnson, VA Tech, shared these photos with us of virus infected plants in VA.
Dr. Johnson wrote:
"Initially, the cause of these problems was thought to perhaps involve soil and/or fertility conditions, such as low soil moisture and/or pH, boron toxicity, or fertilizer burn, perhaps associated with weather and/or errors in custom- blended fertilizers. However, similar problems were observed in Florida, North Carolina, and other southern states, including Virginia. The images below were taken from strawberry fields in Virginia Beach and Chesapeake that Roy Flanagan, Watson Lawrence, and I visited on December 19th."
Summary – I have received NO reports of a virus problem in this year's crop. If your crop is exhibiting unusual symptoms follow transplanting such as the photos shown in Figs. 6 & 7, it may be worth investigating a potential fertility related issue or something to do with transplant shock. But, if the plants continue to grow through the condition, that is a very good sign. In fall 2012, plants that were found to be virus infected, did not grow off normally, and eventually ended up looking like the plants shown in Figs. 10a and 10b.
Dr. E. Barclay Poling
Professor Emeritus (Strawberry Plasticulture Researcher)
& Interim Exec. Dir., NC Strawberry Assn., Inc.
Department of Horticultural Science
Campus Box 7609, 162A Kilgore Hall
NC State University
Raleigh, NC 27695-7609
"When everyone is thinking the same… someone isn't  thinking …." — George S Patton
"Moral courage is the most valuable and usually the most absent characteristic in men."
General George S. Patton.
Was the information on this page helpful?
This page can also be accessed from:
go.ncsu.edu/readext?320498