October Growers Checklist (9/29/14)
1. Overhead irrigation is still the favored approach for plug establishment. Irrigate plugs 5 hours the first day, 3 hours the second and 2 hours the third day. (More may be needed if it is hot and sunny). It is a good idea to check several plug plants  2-3 days after planting  to make sure soil moisture is adequate — you should see new white roots within a couple days of transplanting.
2. You can also establish plugs with drip irrigation, but be sure to hook up the system before planting. Drip irrigate often enough after transplanting to keep beds near field capacity during the first 4 weeks. Don't over irrigate (avoid standing water in the aisles).
3. Irrigate fresh dug plants from 9 a.m. to 5 p.m. for 7-12 days. Don't start irrigation in the morning until you see fresh dugs beginning to wilt down slightly (on rainy days like today, 10.1.12, you are getting a nice break!)
4. Check for dead plants and reset ASAP. A good rule of thumb is to have at least 5% extra plugs for re-planting. Plugs are also the ideal transplant for re-setting in fresh dug plantings, as they do not require constant watering each day for the first 7-12 days, as do fresh dugs! Cut-off plants may be an option for growers who cannot locate additional plug plants for re-planting.
5. Send suspicious-looking plants to the Disease & Insect Clinic for positive ID; notify plant seller of any problems. Be on the lookout for deer damage soon after planting.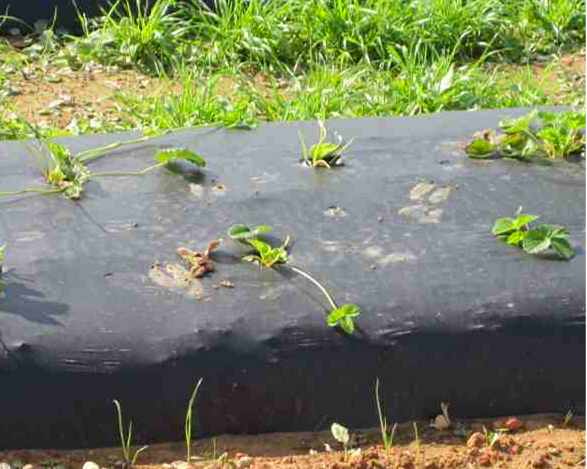 Fig. 1. Deer damage within 1 month of planting (Davidson Co, NC)
6. Have you considered some type of hail-insurance policy for this year's strawberry crop?
Fig. 2. Be sure to check out the Crop Insurance talk at Strawberry Expo this fall (Talk 15a). Here is an advance copy of that program<9.29.14 NCSA ExpoProgram At A Glance (subject to change)>
Here is the registration form for Strawberry Expo, Nov. 17-19: Strawberry Expo
6. Watch plants for disease problems, including angular leaf spot. The earlier you diagnose a problem with ALS, the better! Development and spread of ALS is favored by wet weather and overhead irrigation.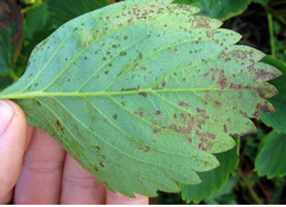 Fig. 3 Angular leaf spot (Xanthomonas fragariae) can be introduced on nursery plants, and is a more serious disease in cool-wet weather in fall and winter. It first appears on the undersides of leaves as small light green, water-soaked spots. If your transplants are infected with ALS, the sooner you can stop overhead irrigations for transplant establishment in fresh dugs, the better!
7. Scout for weeds. Hand weed emerging winter weeds established in the row near the strawberry plants. Winter weed pressures may be more serious on sites where fumigation had to be omitted due to wetter than normal field conditions in late August and September.
8. Occasionally, strawberry plants form runners in the fall after planting. These runners should be cut off – hand scissors do an excellent job. Do runner pruning in late October and again in early to mid-November. Do not "pull off"  the runners – you will possibly damage the plant's newly developing root system!
9. Runner removal may be combined with hand weeding operations
10. Depending on your planting site, you may need to inject Ridomil Gold soon after transplanting if there has been a history in the soil of Phytophthora Crown Rot – see 2014 NC Ag. Chem Manual or SRSFC IPM Guide for recommendations
11. Place order for row covers NOW; these will help to greatly conserve irrigation water for frost protection next spring.
12. A row cover applied in the first 2 weeks of November may enhance flower bud development in the crowns and improve spring yields – this may be especially helpful for later plantings of Chandler. Row cover research in the Mountains, Piedmont and Coastal Plain, has shown that Camarosa yields are optimized with 800 Growing Degree Day units in the fall (Oct-Nov-Dec), and Chandler needs about 650 GDD units.
13. Growers should consult seasonal climate data and predicted long range forecasts before they install row covers. Dr. Ryan Boyles, Director, State Climate Office (NC) suggests that growers look for guidance from the Climate Prediction Center's 6-10 and 8-14 day outlooks:
http://www.cpc.ncep.noaa.gov/products/predictions/610day/interactive/index.php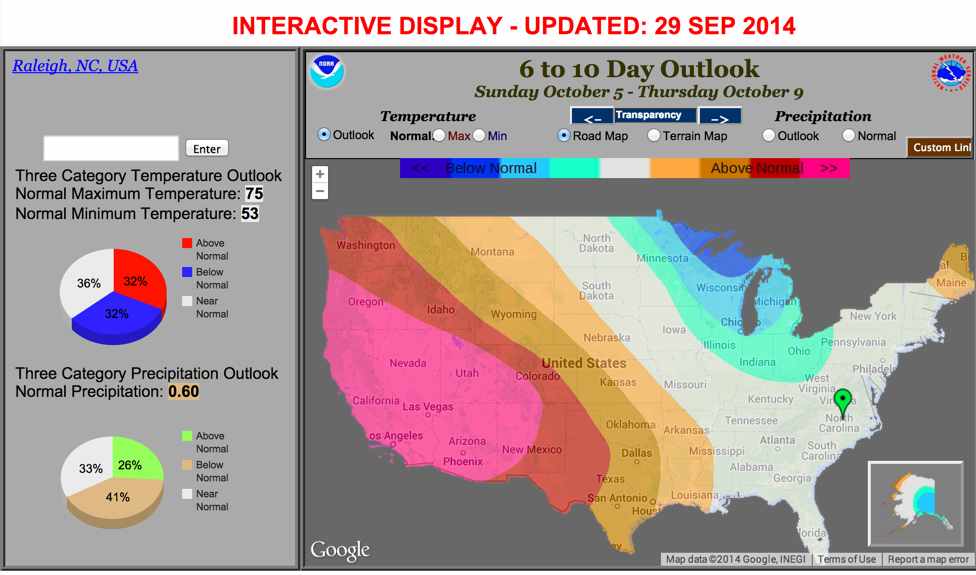 Here is the 8-14 day outlook link:
http://www.cpc.ncep.noaa.gov/products/predictions/814day/interactive/index.php
14. If unseasonably warm temperatures during rowcover treatment are followed by unseasonably cold temperatures, plants may not acclimate and tissues could have a reduced cold tolerance. One way to improve winter cold hardiness of Albion (day-neutral) is to de-blossom in the fall season (this may be needed on plug plants of Albion, but not cut-offs). Do not "pull off"  the blooms – you could damage root system (use small scissors). Also, be mindful that Albion is very susceptible to cold injury in the fall, and row covers must be applied in October if there is threat of any temperature below mid-20s.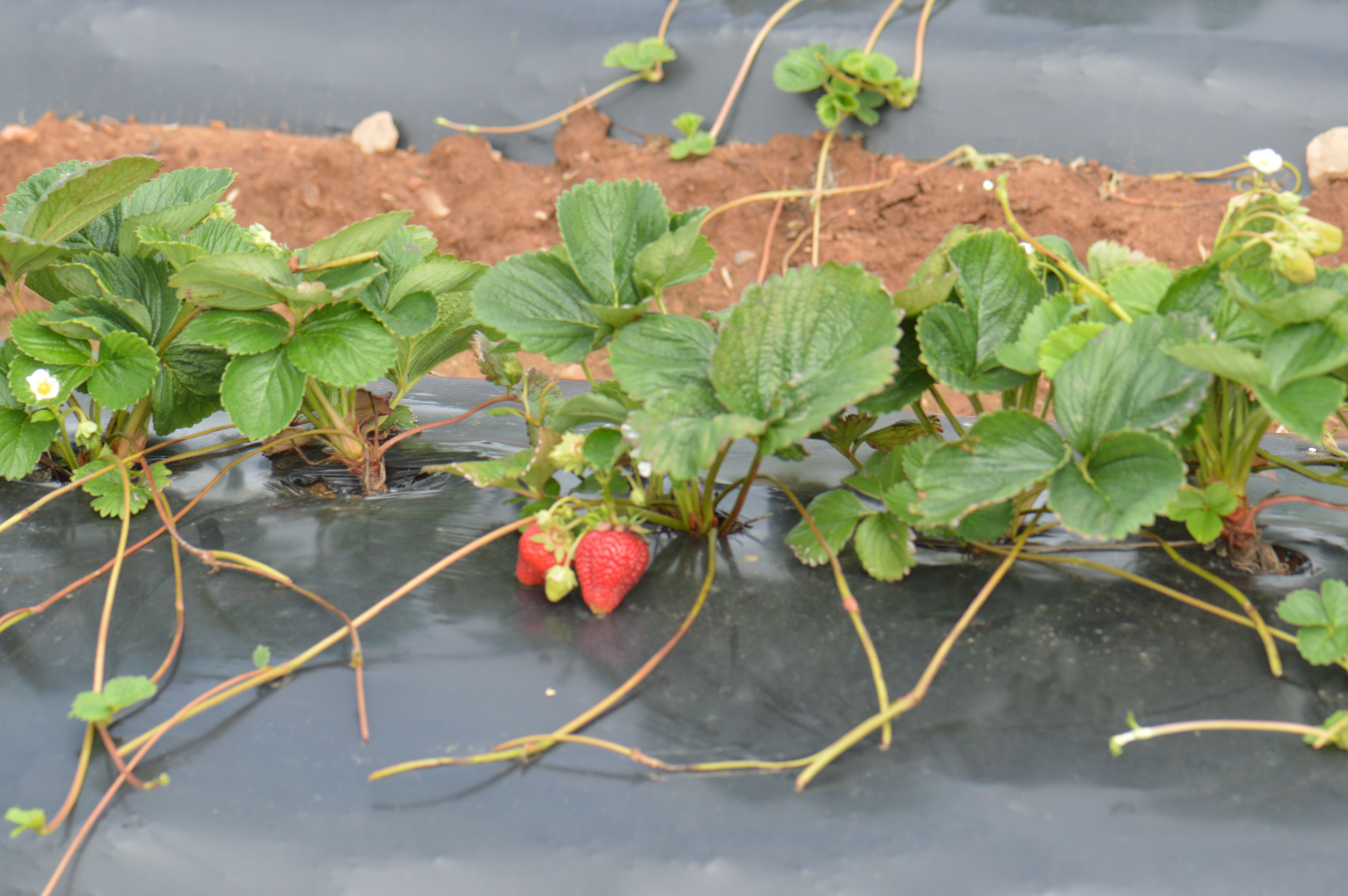 Fig. 4. Carefully remove runners and blooms on day-neutral plants in fall season following transplanting. If you are growing Albion, be sure to send blossom samples to Clemson this fall for botrytis resistance testing. There will be two talks at Expo specifically dealing with Smart Resistance management for both botrytis and anthracnose <see Talk No. 8, 9.29.14 NCSA ExpoProgram At A Glance (subject to change)>
15. Consider removing dead leaves from plants in Nov–Dec to minimize grey mold. Don't hand prune if anthracnose is know to be present. According to Clemson researcher, Dr. Guido Schnabel, good products for anthracnose control in grower fields are Captan, captan plus TopsinM (Colletotrichum gloeosporiodes, only), captan plus Switch, Cabrio, Pristine and Merivon.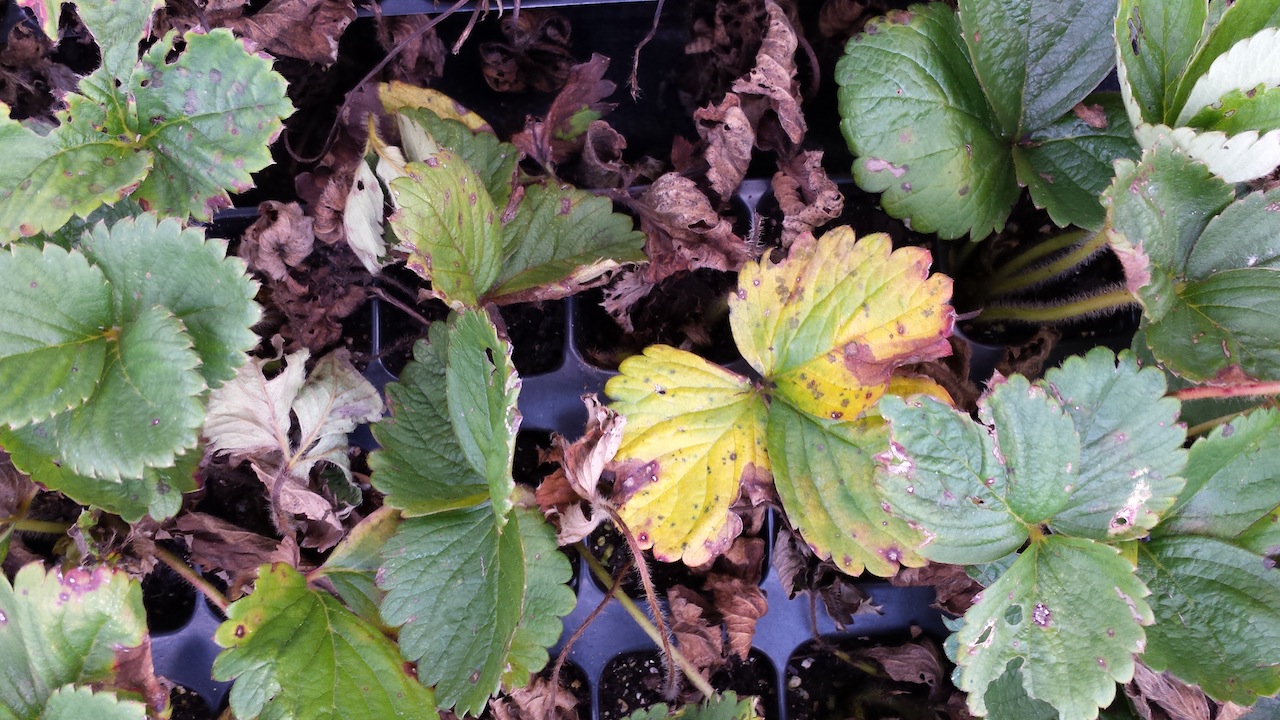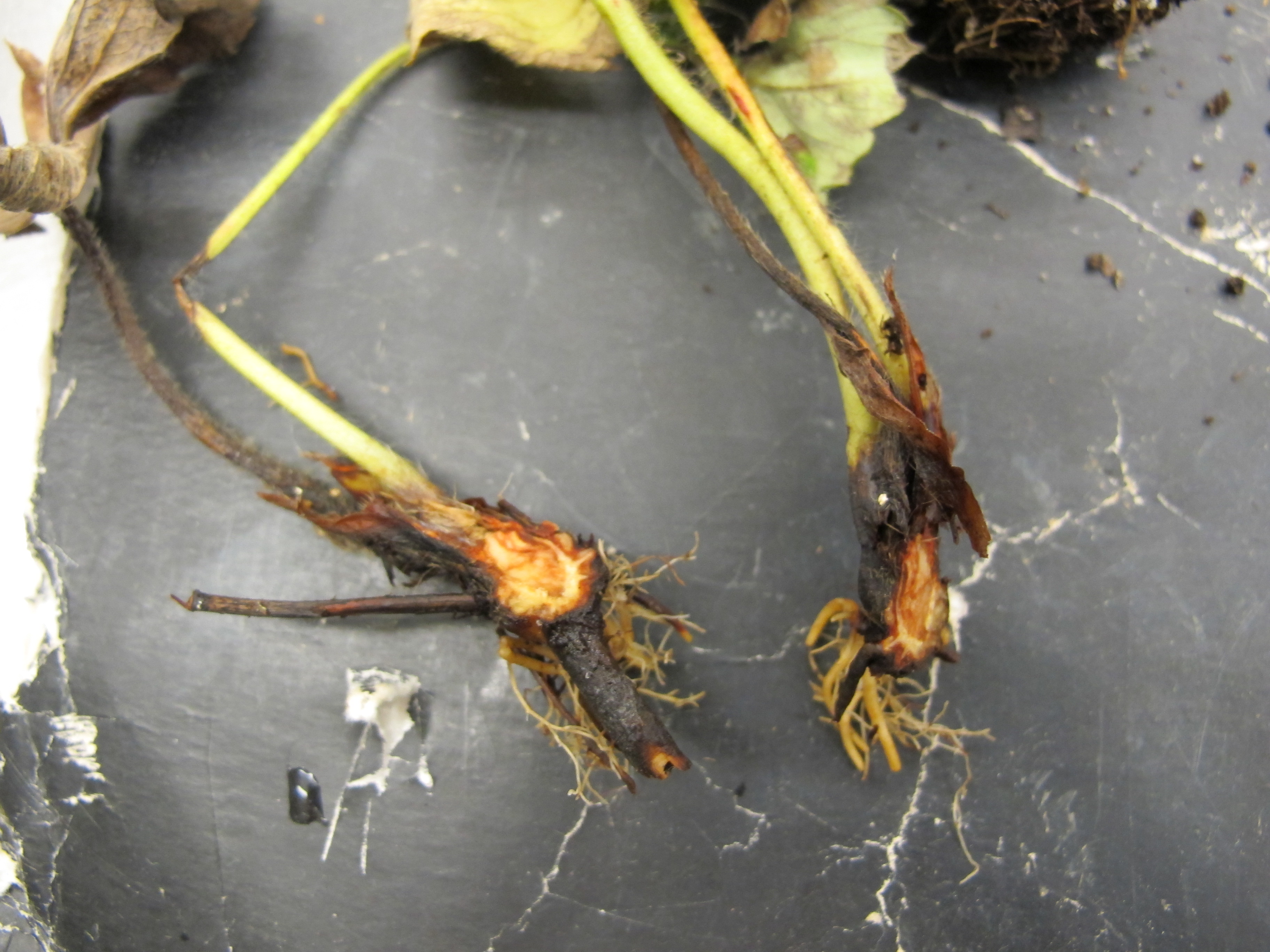 Fig. 5.a Strawberry plugs infected with Colletotrichum gloeosporiodes (aka C. glo). Dr. M. Mahfuz Rahman, PhD, will  be speaking at Expo about Glo (Talk No. 21a, Anthracnose Crown Rot of Strawberry: From wild host to nursery to fruiting field). In his research with  bare root plants that were latently infected plants (C. glo), and then planted in the fruiting field after fungicide dip,  Switch was found effective. However, there is little research work  that has been done with control of C. glo in plugs. 5b. Red marbling pattern in crown is diagnostic for C. glo.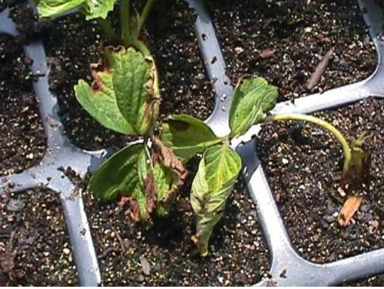 Fig. 6. Irregular leafspot symptoms on stawberry plugs infected with C. acutatum (this was from an outbreak some years ago in GA – photo provided by Dr. Phil Brannen, UGA)
NOTE:  Pesticide credits can be earned at Fall Strawberry Expo. We have applied to the NCDA Pesticide Division for a total of 5 hours (one hour each) for the following workshops and sessions:1. Getting started in Plasticulture (workshop, Nov. 17)
2. Smart Resistance Management (breakout session, Nov. 18 &Workshop, Nov. 19)
3. Managing Soil Borne Diseases (breakout session, Nov. 18)
4. Methyl Bromide Replacements (breakout session, Nov. 18)
5. Weed Control and Spotted Wing Drosophila Management (breakout session, Nov. 19)
Have a good evening!
Barclay Poling
p.s. Just as we went "to press" with this advisory, I had a call from a Sandhills grower who is seeing fire ants in new plasticulture  Please consult SRSFC IPM Guide for control recommendations: 2014SEStrawberryIPMGuide:
Dr. E. Barclay Poling
Professor Emeritus (Strawberry Plasticulture Researcher)
& Interim Exec. Dir., NC Strawberry Assn., Inc.
Department of Horticultural Science
Campus Box 7609, 162A Kilgore Hall
NC State University
Raleigh, NC 27695-7609
"When everyone is thinking the  same…  someone isn't   thinking …."  —  George S  Patton