Free 1 Hour Webinar on Food Safety Regulations This Friday (7:37am, 9/16/14)
Hello!
I was able to attend a  Food Safety workshop in Orlando this past Summer (part of the Amer. Society for Hort. Sci. annual conference), and in addition to hearing some terrific talks by NC State faculty who work in this area, I was very impressed by what the folks at Rutgers are doing…so, this may be of interest?
Food Safety is an important issue to all of us. Rutgers University is hosting a free food safety webinar that you  may be interested in attending.
This FREE 1 hour webinar will focus on the new Food Safety Modernization Act (FSMA), farm sampling results and where there is the most risk on the farm.
Please join us this Friday for "Food Safety Regulations That Produce Growers Need To Know About".
September 19, 2014
12:00-1:00 p.m. EST
To register: http://tinyurl.com/otj5xsy Fill out the brief survey and the webinar link will be emailed to you the day before.
See attached flier for more information.
AP14 Food Safety Webinar Flyer National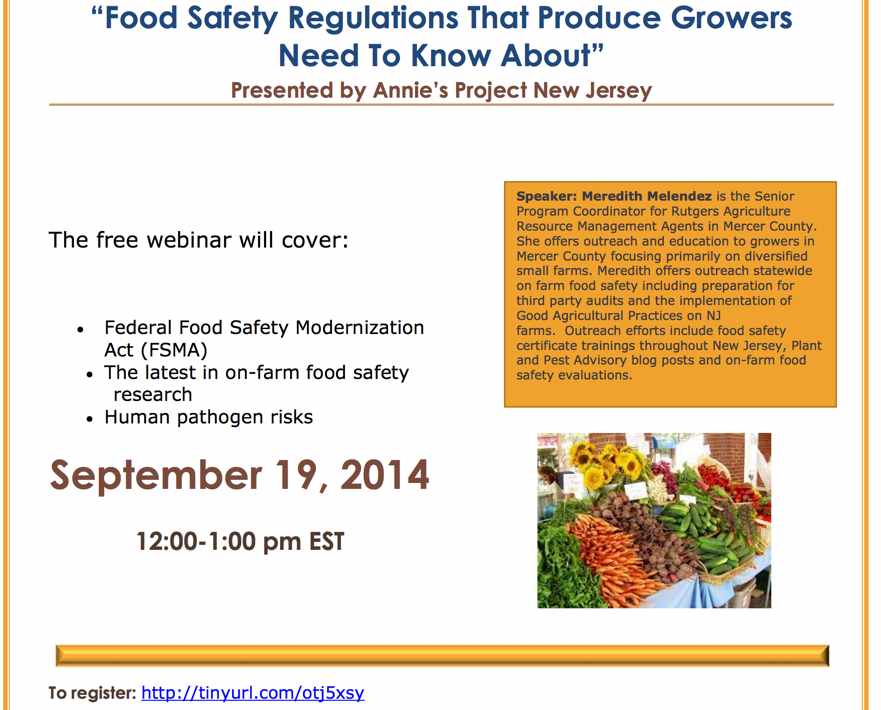 Dr. E. Barclay Poling
Professor Emeritus (Strawberry Plasticulture Researcher)
& Interim Exec. Dir., NC Strawberry Assn., Inc.
Department of Horticultural Science
Campus Box 7609, 162A Kilgore Hall
NC State University
Raleigh, NC 27695-7609
"When everyone is thinking the  same…  someone isn't   thinking …."  —  George S  Patton
"Moral courage is the most valuable and usually the most absent characteristic in men."
General George S. Patton.