An Update on the Biofumigant Dominus (9/15/14)
Dear Growers, Agents, Agronomists and Friends,
A member of the NCSA just contacted me this past Saturday (9/13), with the question, "Any thoughts on the bio-fumigant "Dominus" for those who have not yet laid plastic?"
With very wet field conditions in mid-Sept, I realize that many many growers are now becoming quite anxious about getting fumigated. Currently registered fumigants like Pic-Clor 60 (chloropicrin + 1,3-D) have a 3 week plant back interval. Thus, if you were to lay plastic and fumigate today (Sept 15), the earliest you could safely plant would be 3 weeks from today, or around Oct 7. That would be ok if you could get fumigated today for planting a variety like Chandler at Clayton, NC (transition piedmont/coastal plain), because I know from experience at this location that we can handle planting as late as Oct. 10 at this location in just about every year, though we would def. prefer to set around Oct. 3-5. But, this has turned into a more serious situation this year with wetter field conditions than any of us could have imagined for the first two weeks of September. Welcome to the new normal, I guess!
Sadly, it is so wet in many areas that it could be another  5-7 days before it is possible to even think about laying plastic and fumigating. If you are located down in Robeson or Columbus Counties (Southeastern Coastal Plain, NC), the situation is not as worrisome as it might be for a farmer in areas with earlier planting dates, like Apex, or Raleigh. I know of many growers who would like to set Camarosa plugs as early as say 9/25 in the county where I live (Wake – Raleigh, Apex, Cary, etc.).
Clearly, this presents a very serious problem for fumigant with a 3 week plantback (e.g. Pic-Clor 60 (chloropicrin + 1,3-D).
So, would it not be like hitting gold if we could quickly identify an alternative fumigant that had a 10-day plantback?
So, what about the new biofumigant Dominus? UC researcher, Dr. Husein Ajwa, has found in his strawberry trials that Dominus controls or suppresses soil-born pathogens, nematodes and weeds (http://www.goodfruit.com/new-biofumigant-registered/), it also has a relatively short plantback, as confirmed by Dr. Mike Allan, President, ISAGRO USA, who I posed this question to yesterday:
"Hey Mike
We are running seriously behind in getting fumigation done on account of rainy weather pattern. I was reading the label for Dominus and it would be great if we could plant in 10 days."
Barclay
Reply today (9/15):
Barclay,
Yes, the planting interval is 10 days from application. As always there is a precaution to consider that in NC soils must be well understood under conditions where soil is saturated. DOMINUS degradates under microbial action. If there is not enough microbial activity in the soil then degradation can be delayed and planting time will need to be delayed as well. We have not tested extensively on NC soils and I understand that your soils present a unique condition with the need to have crops in the ground as soon after fumigation as possible with even 1 week delay can be critical for plant growth and yields. In order to best evaluate the fit we need to discuss the conditions thoroughly before coming to a final decision. It could be a terrific fit but we need to error on the side of caution until we are all comfortable with the possible outcomes.
Mike (Mike Allan), President, ISAGRO USA, 415/254-5711 Cell
919/321-5200 Main Office; mallan@isagro-usa.com
Translation?   Sorry folks, but I don't think we hit gold, or, at least not yet. MORE TESTING OF THIS PRODUCT IS NECESSARY!
In the last few days, Dr. Joe Noling, University of Florida, was contacted by a plant pathologist in our region, who posed a similar question to him about Dominus, and whether this biofumigant could be an answer to our 10-day plantback question. Here is what Joe had to say:
"We don't yet know the consistency of Dominus and or its range of activity. At this stage we don't even know  how it is to be applied and whether the strawberry crop has pest history. Dominus has a very low vapor pressure and until I see otherwise, shanks have to be positioned horizontally and vertically to account for such limited movement. I would not counsel the grower to bet the entire farm based on the idea that time is limited."
The Good News for Now
The good news for now is that  if there is any group that can help us figure out the way forward with Dominus, they will be present at Expo (Pinehurst, NC, Nov 17-19). Dr. Allan will be there, as well Dr. Joe Noling, who accepted our invitation to come back on August 14th to come. At that time he wrote:
"Barclay,  Thank you for the invitation. It looks like a great program and I would be honored to participate. I should also tell you that we have built a new soil research tool (pictured below) which is shedding considerable light on many different aspects of fumigant movement and nematode distribution in the soil profile (below)"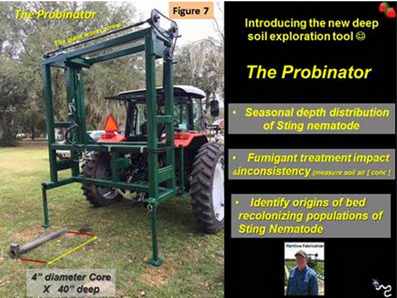 Lots more information about Dominus will be presented at Expo in Nov.: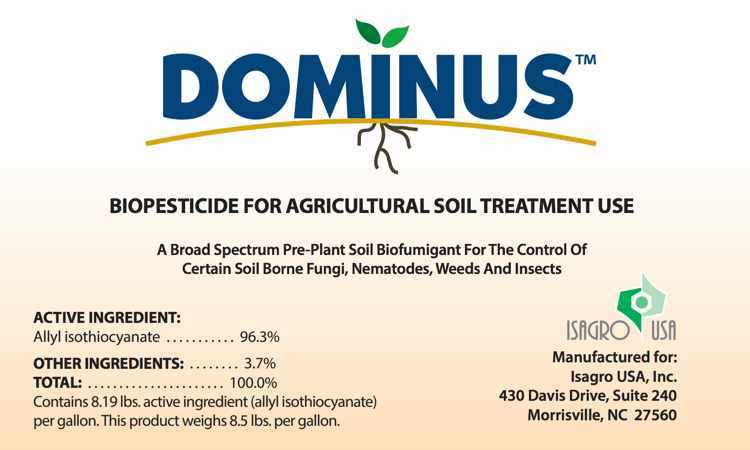 I have been pretty immersed these last few weeks with work on the  Expo Program for Pinehurst, NC, Nov. 17-19, and I want to let you know that we also have Dr. Chuck Johnson, VA-Tech and Dr. Allen Straw, VA Tech, who will be presenting further details on their work with bio-fumigants from their Virginia trials. They both spoke at the VA Preplant Summer programs in Virginia Beach (7/21, Dr. Johnson) and Charlottesville (7/22, Dr. Straw).
Summary:
I am retired from Extension now, and  I am happy that the university still allows me the privilege to make occasional postings like this one. From my perspective, if you make two quick calls about a product, and you get these kinds of responses,  I'd say you better proceed with CAUTION.
Dominus may be a terrific product for our region, but it still needs  testing before any  recommendation can be made about it's use under our growing conditions. Of course, you might ask, what are those  growing conditions? It seems those conditions we've come to expect over the years are now changing each year. For example, I asked one grower last week why he waited until early Sept. to get started with fumigation?
He simply told me,  "I've always been able to slip by in other years."
So much for the slipping by school of thought in September 2014!
Dr. E. Barclay Poling
Professor Emeritus (Strawberry Plasticulture Researcher)
& Interim Exec. Dir., NC Strawberry Assn., Inc.
Department of Horticultural Science
Campus Box 7609, 162A Kilgore Hall
NC State University
Raleigh, NC 27695-7609
"When everyone is thinking the  same…  someone isn't   thinking …."  —  George S  Patton
"Moral courage is the most valuable and usually the most absent characteristic in men."
General George S. Patton.