Don't Sit This One Out! (Preplant in Burlington Tonight – 5:30 to 8:30pm, Aug. 7, 2014)
Good morning!
The N.C. Cooperative Extension Service and the NC Strawberry Association, Inc., are hosting a strawberry preplant meeting for Piedmont growers this evening in Burlington, NC (Location:  Alamance County Center, 209-C N Graham-Hopedale Rd, Burlington, NC 27217). There is no registration fee, but please call ahead to let Alamance County Extension folks know that you are planning to come.
Their phone number is (336) 570-6740.
There will be an industry sponsored meal beginning at 5:40 pm. The educational program begins at 6:10 pm.
Strawberry growers in the Piedmont region plant in late September, and early October, and I (Barclay Poling) will be reviewing some time-tested ideas on how you can optimize your planting strategy to achieve a more extended spring harvest season in 2015. Other speakers include Viola Glenn, Research Coordinator, RAFI. She will be discussing an important "crop insurance" opportunity for strawberry growers in North Carolina. Grace Tuschak,  the new Education and Outreach Coordinator for the NC Strawberry Association, will be sharing details about the fall 'Expo' in Pinehurst (Nov. 17-19), and she will also mention how growers can join, or re-join the NCSA, at a very favorable price!
Hope to see you in Burlington this evening!
Meeting Agenda
5:30 –Welcome and introductions – Mark Danieley, Interim County Extension Director Horticulture Extension Agent, Alamance Cooperative Extension
Meal served
6:10- 6:30 – Strawberry crop insurance, Viola Glenn, Research Coordinator, Rural Advancement Foundation International (RAFI)
6:30-6:45 – Comments about NC Strawberry Association and Expo in Pinehurst, Grace Tuschak, Education and Marketing Coordinator, NCSA
6:45-7:30– Strawberry Insect Management Update, Dr. Hannah Burrack, Associate Professor & Extension Specialist Department of Entomology – NC State University
7:30-8:15 – More Effective Harvesting, New Cultivars (including Albion), Albion Management and Brief Report on Canada Strawberry Nursery Visits to PEI and Nova Scotia, Dr. Barclay Poling, Professor Emeritus & Interim Exec. Dir., NC Strawberry Assn., Inc.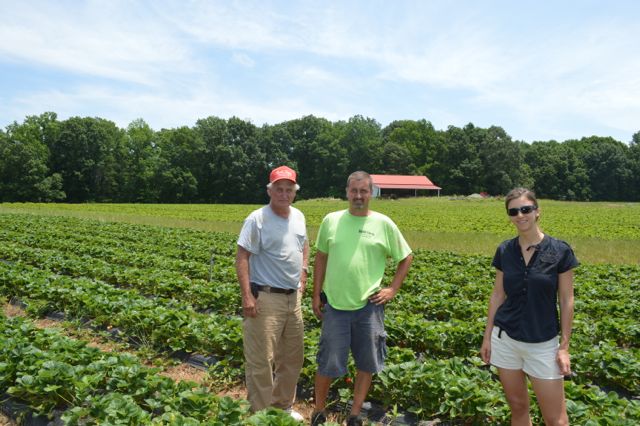 Figure 1. Grace Tuschak (right), will be speaking this evening at the Preplant Meeting in Burlington. She is the new Education and Outreach Coordinator for the NCSA. At the far left in the photo is strawberry grower Kenneth Rudd, who was the former President of the NCSA, and his son Kenneth is standing in the middle. This photo was taken on June 11th when the Rudds were still picking Albion – one of the newer varieties I will be discussing this evening.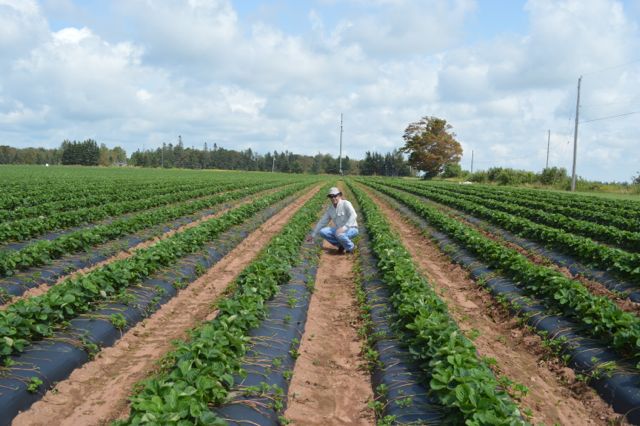 Fig. 2. As part of my talk tonight, I will  be giving highlights on our recently completed round of visits to strawberry nurseries in PEI and Nova Scotia. This photo was taken by Dr. Guido Schnabel of me (Barclay Poling) in a block of Camarosa strawberry tips at Balamore Farms, Great Village, Nova Scotia (Aug. 4, 2014).
Was the information on this page helpful?
This page can also be accessed from:
go.ncsu.edu/readext?310818